Tools for the Task: Recording Interfaces
If a song or riff idea was played but not recorded, did it really happen?
Today's recording interfaces continue to evolve, with more features, better audio, and increased portability, all while making it easier for even the newbiest of newbies to join the home-recording community. We've rounded up 10 interfaces that'll get your music to tape (so to speak) in style.
UNIVERSAL AUDIO
Arrow
This Thunderbolt 3-powered interface boasts near-zero latency tracking with classic UAD plug-ins, and features the company's Unison technology for preamp emulations.
$499 street

uaudio.com
ROLAND
Rubix24
Engineered to have extremely low noise from input to output, this Rubix model includes a hardware compressor/limiter for controlling highly dynamic sources.
$199 street
TASCAM
US-1x2
This compact interface can record from virtually any source thanks to its selection of inputs, and it delivers high-quality, 96 kHz/24-bit recording for less than a hundred bucks.
$99 street

PRESONUS
Studio 1810
With four class A XMAX preamps intended to give instruments and mics big and open sound, this interface also allows wireless control via the company's UC Surface software.
$399 street
STEINBERG
UR-RT4
Featuring switchable Rupert Neve Designs transformers on the front inputs, this interface is also equipped with Yamaha D-Pre preamps for detailed and transparent sound.
$599 street
FOCUSRITE
Clarett 4Pre
This interface houses ultra-low-noise Clarett mic preamps, which include an "Air" feature to switch in an analog model of the classic transformer-based Focusrite ISA mic pre.
$599 street
AUDIENT
iD44
Four class-A mic pres delivering 60 dB of gain, two ADAT inputs/outputs, and the option to add up to 16 additional channels of mic pres are just a few features of this packed interface.
$699 street
IK MULTIMEDIA
iRig Pro I/O
It's small enough to fit in a pocket, but rack-quality recording and monitoring can be had thanks to this interface's 24-bit A/D and D/A converters with a 96 kHz sample rate.
$149 street
JOECO LIMITED
Cello
With features like a built-in talkback mic and onboard monitor controls, this interface has a true-analog front end and boasts operation up to a whopping 384k.
$1,125 street
joeco.co.uk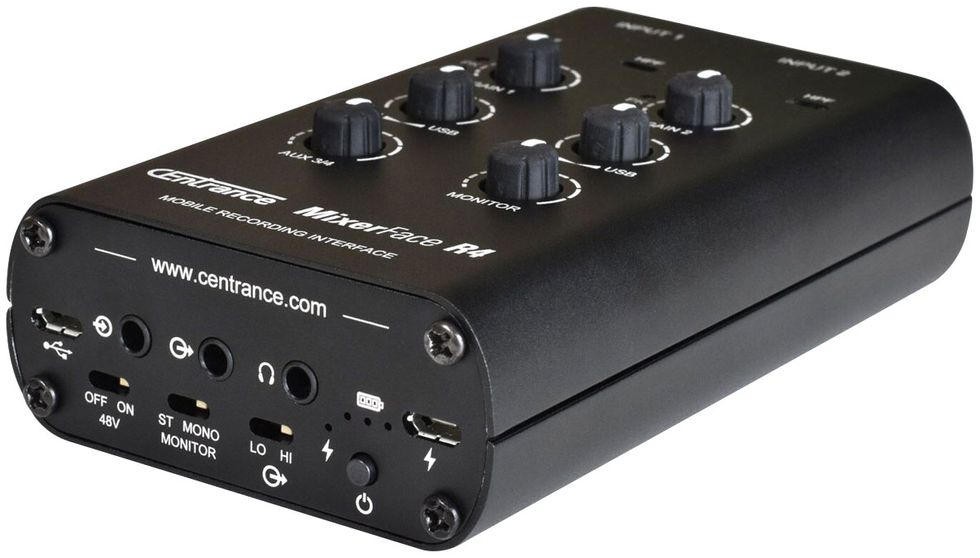 CENTRANCE
MixerFace R4
For songwriters on the go, this interface can run up to 8 hours on batter power, works with most smart-phone and tablet recording apps, and features a durable aluminum chassis.
$349 street