Photo by Marty Moffatt
Once, the blues-rock hero was motivated by anger. Now he's enjoying a Zen-like balance of his 6-string, singing, and songwriting skills.
Be sure to check out our Rig Rundown with Joe Bonamassa.
Backstage at the 2,500-seat Eccles Theater in Salt Lake City, Joe Bonamassa is limbering up on one of his prized possessions: a '56 sunburst Strat. His demeanor is almost disarmingly relaxed for a guy who's about to play for a packed house in less than an hour. "I'm just so lucky," he says with noticeable humility, "because every night I walk out there with, in my opinion, the best musicians in the world. They're just a dream band. When we unleash and we're rocking on all cylinders, it's pretty awesome."
It hasn't always been this way for the 41-year-old guitarslinger, who first came to notoriety at the tender age of 12 as the precocious opening act for B.B. King on a festival date in upstate New York—an appearance that led to a 20-show tour with the blues legend. Bonamassa's father, Len, a respected guitar dealer and player, had fostered in his son not only a love of the instrument, but a keen interest in the British blues-rock explosion led by Jeff Beck, Jimmy Page, and Eric Clapton. The youngster channeled his inspiration into an exhaustive work ethic. As a teenager, he was eventually kicked out of his own band, Bloodline, an early '90s hype experiment with the sons of Miles Davis, Robby Krieger, and Berry Oakley, because he favored long hours of practicing over partying like a rock star.
By 2004, Bonamassa had four solo albums under his belt, but the years of trying to live up to the pressure of being branded a prodigy, even a savior of the blues, had taken their toll. "I had chips on both shoulders," he told the U.K.'s Independent newspaper in 2014.
"I was so angry, I was pissing vinegar. I'd struggled my whole career to get noticed, and I was like, 'Okay, I've got to play faster and louder than the rest of you, and I'm going to make you notice me.' I didn't care how many people I had to rub the wrong way."
These days, he no longer feels like he has something to prove. Calmer, mellower, and, we might say, unusually Zen-like, Bonamassa has expanded his horizons over the last few years to carve out a deep and rewarding creative groove. He has collaborated with everyone from John Hiatt to Paul Rodgers to Glenn Hughes (the latter in the supergroup Black Country Communion). He also recorded two excellent albums with singer-songwriter Beth Hart, including the Grammy-nominated Seesaw. And for four years running, he's been touring and recording with an all-star core backing band that features Reese Wynans (keyboards), Michael Rhodes (bass), and Anton Fig (drums). Can life get any better?
His latest album, Redemption, answers that question in a rousing affirmative. Tracked with longtime friend, mentor, and producer Kevin Shirley at the controls, it's the conceptual mirror image of 2016's hard-edged Blues of Desperation—although Bonamassa is quick to point out that he's more inclined to look at the album as a natural progression, rather than a meticulously crafted sequel.
"On the last three or four records we've made, the concept has been 'the best song wins,'" he explains. "Anything else doesn't matter. Each record we do always has a concept behind it, or a one-word phrase—but since the last one was Blues of Desperation, the idea of Redemption was just the next logical step. The thing is, with this album, it took over two years to do it, which is a lot more time than usual. The songwriting process took a lot more time and patience to get right."
"I've figured out that everybody has their lot in life, and you're lucky once you find it. And my niche that gets people going is that if you unleash me over blues changes, I just overplay."
Bonamassa also took the bold step of inviting two accomplished guitarists to the sessions, with Kenny Greenberg providing the "meat and potatoes" rhythm parts and Doug Lancio adding colors and effects. "My job essentially on my own solo albums is to be the bull in the china shop," he quips. "That's always how it's been. So Kenny and Doug are doing the coloration stuff that I would've done subsequently—if I were to come up with that stuff at all, which I probably wouldn't have. They're reacting to what I'm playing and listening to the rest of the band, and coming up with these tasty, killer, signature rhythm parts that, to me, really make the songs glue together."
At its essence, Redemption finds Bonamassa coming into his own as a singer-songwriter. Of course, he's also digging heavy into tone, expression, and variety on a veritable fleet of vintage guitars, from his stalwart '59 "Skinnerburst" Les Paul to his equally favored '59 "Snakebite" Les Paul (so named for the holes where the Bigsby tremolo used to be) to his pristinely balanced '51 Fender Nocaster. But the opening cut, "Evil Mama," sets the stage. It's a rambunctious and funky workout that showcases Bonamassa's newfound exuberance, roiling mid-song with a teeth-gnashing solo that morphs smoothly into wah-filtered double-stops reminiscent of Johnny Winter or Rick Derringer. From there, he dips into barrelhouse blues ("King Bee Shakedown"), Texas-style balladry ("Self-Inflicted Wounds"), and even up-tempo country-rock ("The Ghost of Macon Jones," with session ace Rob McNelley sitting in on rhythm guitar)—all with a comfort level on the microphone that reveals a sure-footed singer to be reckoned with.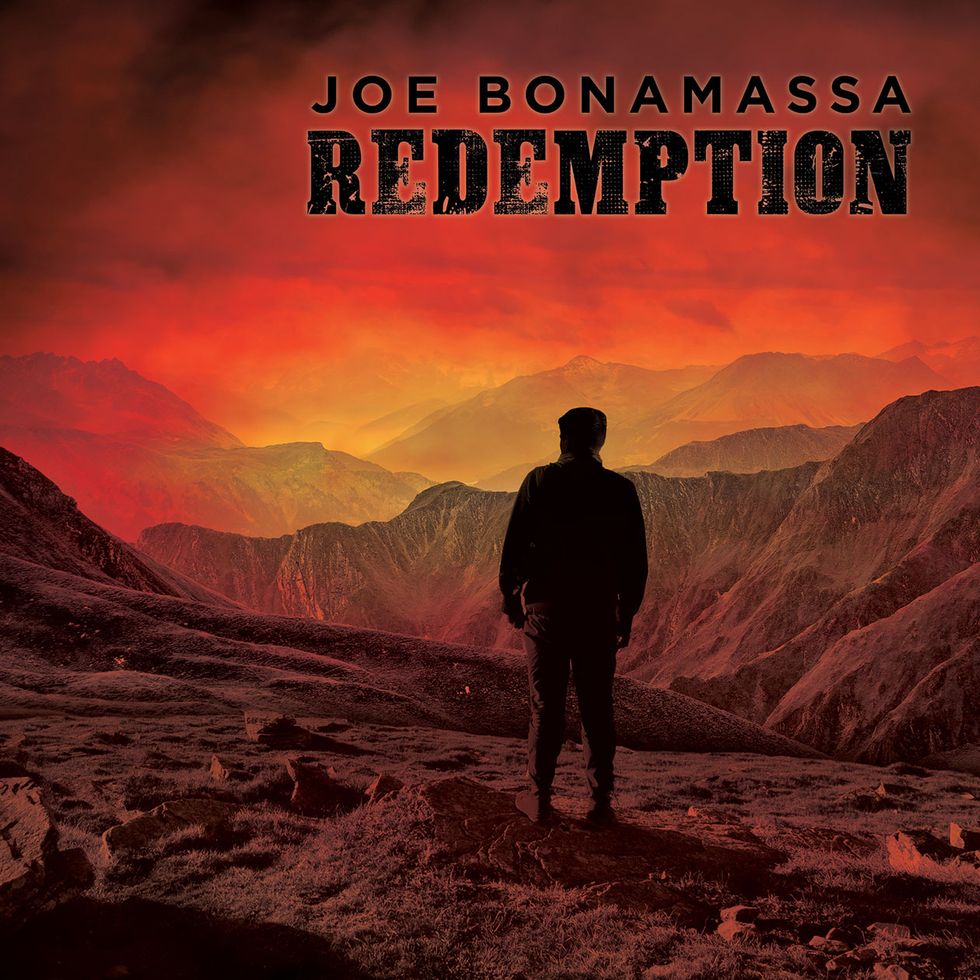 TIDBIT: Bonamassa says the sessions for his new album, cut in Nashville's Blackbird Studio, featured nary a new guitar, and relied on a core sample of his stockpile of vintage Gibsons and Fenders.
That transformation comes through in vivid detail on the gospel-infused title track, co-written with frequent collaborator James House, and with crucial input from the rock 'n' roll wanderer himself, Dion DiMucci. "It's quite a combination of people," muses Bonamassa. "Dion is such a soulful writer. I mean, you forget he was playing surf ballrooms back in '59, you know? He's a great musician, a great blues and rock writer, and he's just so passionate about music. That was the last song we cut for the album, about a year-and-a-half after the whole thing started. It's my favorite song, and I think it's one of the better songs I've written in a long time."
In the song's official music video, Bonamassa kicks things off with a slide figure, played on a Gibson three-quarter scale LG-2—yet another in a cadre of guitars that were used on the album. He can't quite remember which ones made the cut, but just like the amplifiers he relied on—a custom Dumble, several tweed Fender Twins (one of which served as the model for Bonamassa's signature Twin, released by Fender earlier this year), a Fender Brown Deluxe, a Marshall "Bluesbreaker" combo, and undoubtedly more—each one has its place in a living narrative of dedicated owners and players, landmark gigs and recordings, and good old-fashioned mojo.
"Contrary to popular belief, I don't own every guitar in the world," he jokes matter-of-factly, poking fun at his well-publicized jones for gear hunting. (For an in-depth dive down the Bonamassa rabbit hole, check our our recent Rig Rundown interview.) "The thing about guitar collecting, at least for me—and everyone has their own rationale for it, because it's an addiction … what I look for is the extraordinary in a sea of very ordinary. In terms of what's out there now, online or even in premium guitar shops around the country, for me it doesn't have to be high-end or expensive. It just has to have a story behind it."