Vintage Vault: 1957 Gibson Byrdland Natural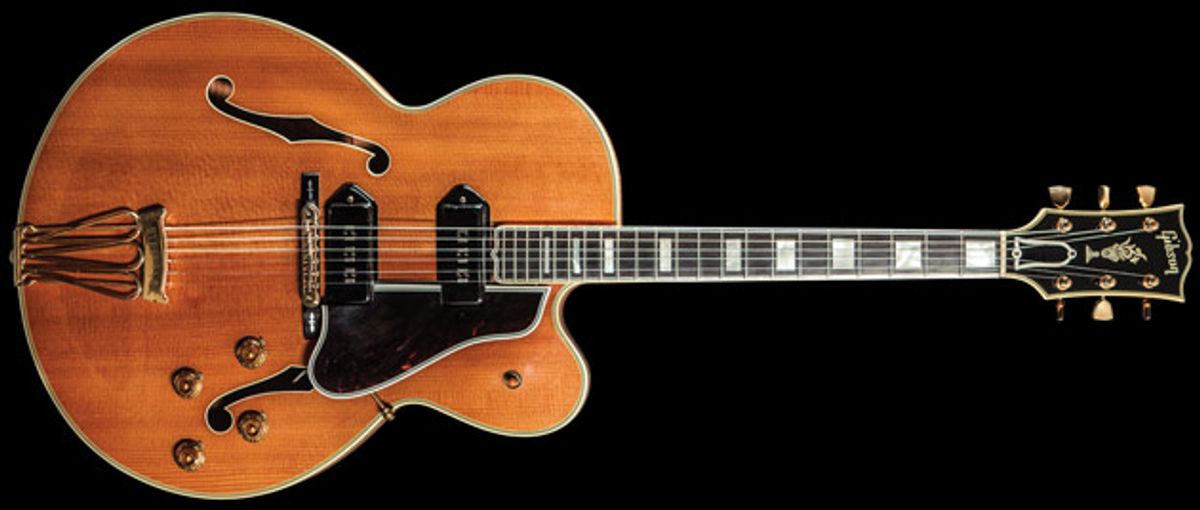 Nashville session guitarists helped develop a classy thinline alternative to heavy solidbodies and traditional jazz boxes.
In 1955, Gibson developed a slimmer hollowbody electric guitar for players wanting a more comfortable instrument that didn't weigh as much as a solidbody. They enlisted the aid of Nashville session aces Hank Garland and Billy Byrd, and the result of this collaboration was a thin-bodied L-5 CES with a shorter 23 1/2" scale neck (instead of the L-5's 25 1/2" scale) and a 2 1/4" deep body (the L-5 was 3 3/8" deep). This new high-end electric with the same upscale appointments as the L-5 was named the Byrdland, after its endorsers. Shortly before its introduction at the July 1955 NAMM show, Gibson decided to make the most of the new thinline idea by adding two more-affordable models: the ES-350T (featuring a laminated wood body with the same dimensions as the Byrdland) and the economy ES-225T. The 1956 Gibson catalog describes the benefits of the new guitars: "These revolutionary 'Thin' models represent the latest advance in the design of Electric Guitars. The thin body—only 2 1/4" deep—fits close, reducing the right arm stretch and relaxing the wrist. The slim, short-scale neck is phenomenally fast."

This side view shows the elegant grain of the curly maple rims, which match the guitar's back, and provides a closer look
at the artful trapeze tailpiece.
The 1957 Byrdland pictured here has the characteristics most often associated with the classic guitar that year. These are best described in the 1958 Gibson catalog: "Hand-graduated, carved top of choice close-grain spruce—arched, highly figured curly maple back with matching curly maple rims—alternate black and white ivoroid binding—three-piece curly maple neck with Gibson Adjustable Truss Rod—multiple-bound ebony fingerboard with block pearl inlays—Tune-o-matic bridge—twin, powerful pickups positioned for contrasting treble and bass response—individually adjustable pole pieces—separate tone and volume controls which can be preset—toggle switch to activate either or both pickups—gold-plated metal parts—stunning new tailpiece design—hand-bound pickguard—individual machine heads with deluxe buttons."

Gibson initially reserved the Greek urn headstock inlay for premium models, and it has periodically resurfaced
on various guitars during the company's history.
This Byrdland still has the original style Alnico V "staple" single-coil pickups that lasted on the model until the next year, when they were upgraded to humbuckers.Fifty-two natural-finished Byrdlands were shipped in 1957, with a list price of $590. The current value for one in excellent all-original condition is $10,000.
Sources for this article include Gibson Electrics: The Classic Years by A.R. Duchossoir, Gibson Guitars: Ted McCarty's Golden Era 1948-1966 by Gil Hembree, Gibson Shipment Totals: 1937-1979 by Larry Meiners, and the 1956 and 1958 Gibson catalogs.