Vintage Vault: 1962 Gretsch 6196 Country Club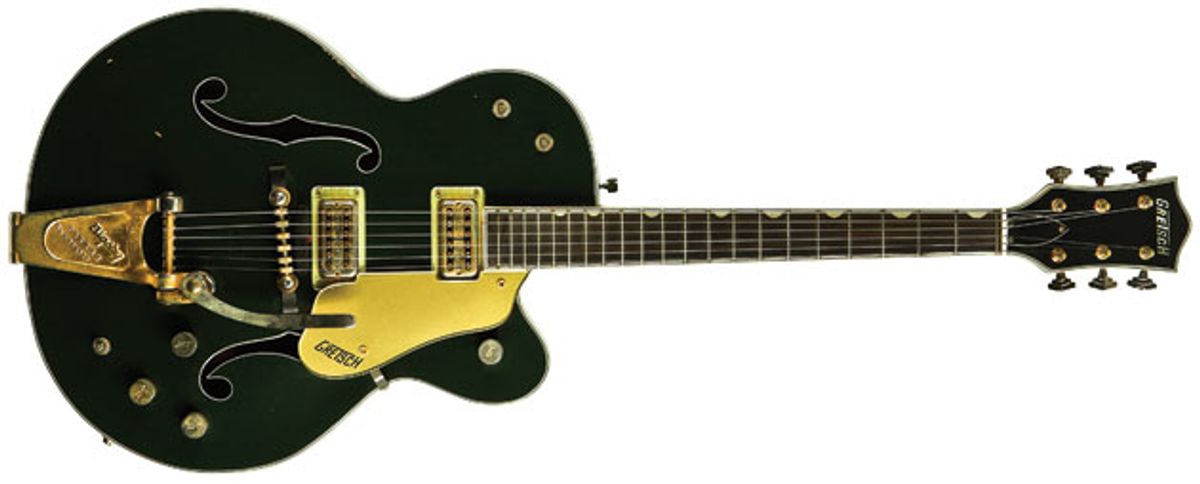 Gretsch's first cutaway electrics made their debut in 1951. Discover when the Cadillac Green 6196 joined the Country Club line.
The Fred Gretsch Manufacturing Company had been making drums, banjos, and lower-priced student guitars distributed by other brands since 1883, but it wasn't until the early 1930s that it began making acoustic archtops under the Gretsch brand name. In 1939, while expanding the line to include high-end archtops, Gretsch also reacted to Gibson's first electric Spanish guitar—the ES-150, introduced in 1936—by debuting the Electromatic Spanish Model. These non-cutaway 16"-wide guitars were equipped with a pickup coming out of the body below the fretboard.
Gretsch released its first cutaway electric guitars in 1951, this time in response to Gibson's ES-350 Premier (1947) and L-5 CES (1951). These Gretsch cutaways were the Electro II 6192 (in sunburst finish) and 6193 (natural). The 17" guitars were equipped with gold-plated hardware and two pickups. By 1954 the Cadillac Green 6196 was added, and the name Country Club was used to describe all three models.

Rolling saddles on the Space Control bridge let you adjust string spacing on the fly.
Here's how the 1955 Gretsch catalog described the Country Club: "For the progressive jazz guitarist looking for the best there is in tonal resonance and response combined with the new look and wonderful new feel that make playing a pleasure. Curly maple throughout, finished in choicest lacquer, polished by hand to flashing brilliance."
The 1962 Country Club pictured here—serial number 47040—has the features most often associated with Gretsches of that year, including a "cushioned for comfort" back pad that hid a hole designed to provide easy access to the interior wiring, a built-in string mute, and a standby switch. The gold Filter'Tron humbuckers (replacing single-coil DeArmonds), Space Control bridge (replacing the Melita), and ebony fretboard with Neo-Classic inlays had been standard since 1958. Instead of the stock "G" tailpiece, this guitar sports a non-original Bigsby vibrato.

Promoted as cushioning, the back pad actually hides an access hole to the Country Club's wiring.
The 1962 Gretsch Catalog listed a Cadillac Green Country Club at $475. The current value in excellent all-original condition is $3,500.
Sources for this article include Gretsch—The Guitars of the Fred Gretsch Company by Jay Scott, Gretsch 6120: The History of a Legendary Guitar by Edward Ball, 50 Years of Gretsch Electrics by Tony Bacon, and Gibson Electrics—The Classic Years by A.R. Duchossoir.