Vintage Vault: 1967 Gibson Trini Lopez Standard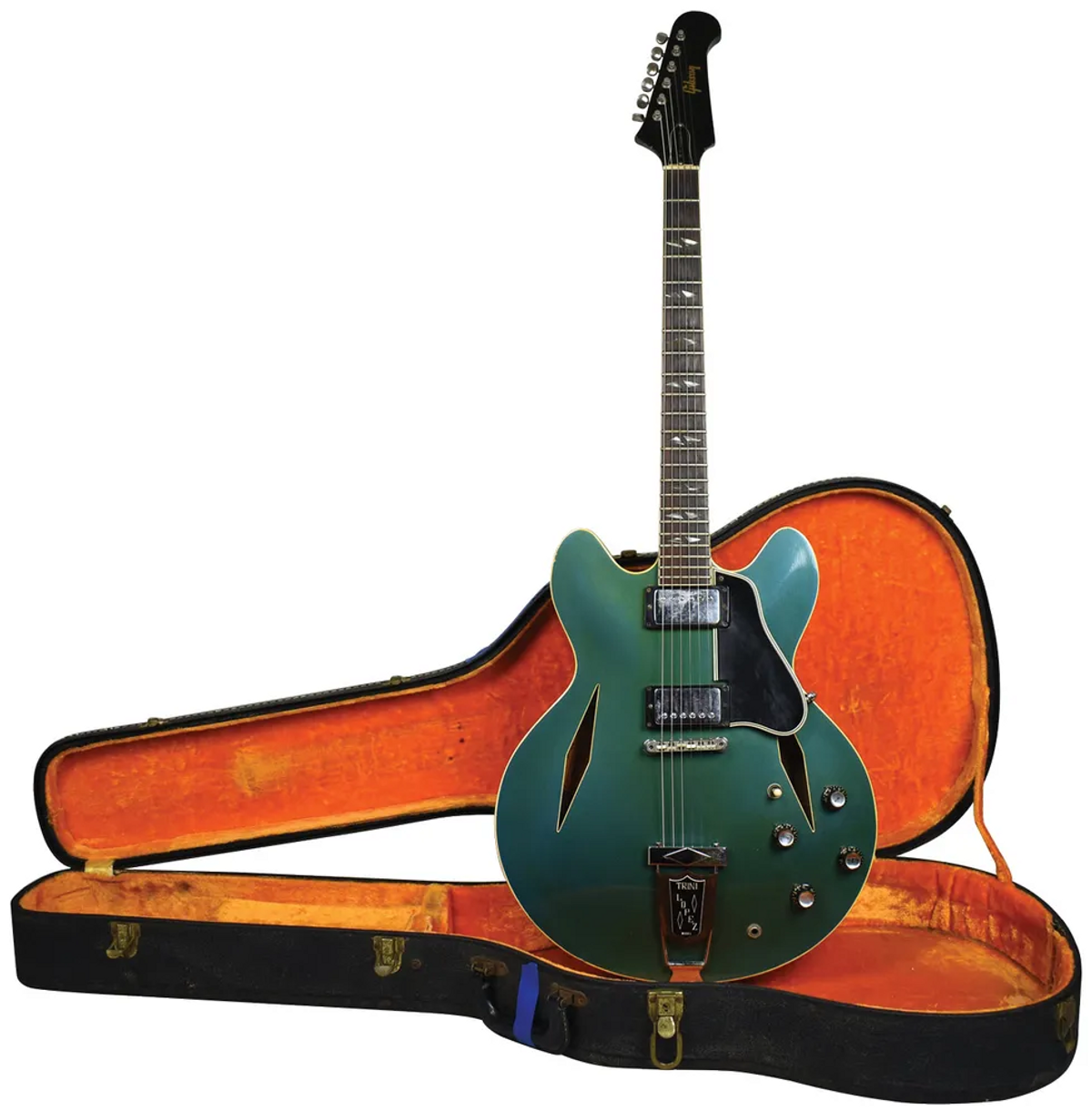 A vintage signature model benefits from "the Grohl Effect."
Starting in 1961, amidst the rising popularity of solidbody and thinline guitars, Gibson doubled down on its lineup of larger-sized hollowbodies with a series of artist models. First came the Johnny Smith and Barney Kessel models in 1961, followed by the Tal Farlow signature in '62. A few years later, this artist line expanded with the launch of two Trini Lopez models: the Standard and the Deluxe.
The cover image for his breakout LP showed Lopez with a Gibson Barney Kessel, which undoubtedly inspired Gibson to seek Lopez out as an endorsee.
At the time, the native Texan singer's star was rising, with his 1963 hit debut, Trini Lopez at PJ's, scaling the charts with a set of rockin' folk and pop covers including a rousing take on "If I Had a Hammer" that reached No. 3 on Billboard's Hot 100 chart. The cover image for his breakout LP showed Lopez with a Gibson Barney Kessel, which undoubtedly inspired Gibson to seek Lopez out as an endorsee.

This handsome guitar, which used the ES-335 as its design springboard, has a distinctive personality thanks to elements like the signature trapeze-style tailpiece and the diamond patterns that recur on that tailpiece, in the guitar's fretboard, and in the shape of its f-holes.
Gibson and Lopez collaborated on the designs of the two new models, which were released in 1964. Sporting a bevy of highly stylized components, the Trini Lopez Standard was essentially a variation on the ES-335, while the Deluxe found its counterpart in the Barney Kessel model, with a deeper body and sharper Florentine cutaways. With these body styles as their base, the Lopez models added distinct diamond-shaped soundholes, split-diamond inlays, a slanted Fender-esque headstock, and a "Trini Lopez" signature tailpiece.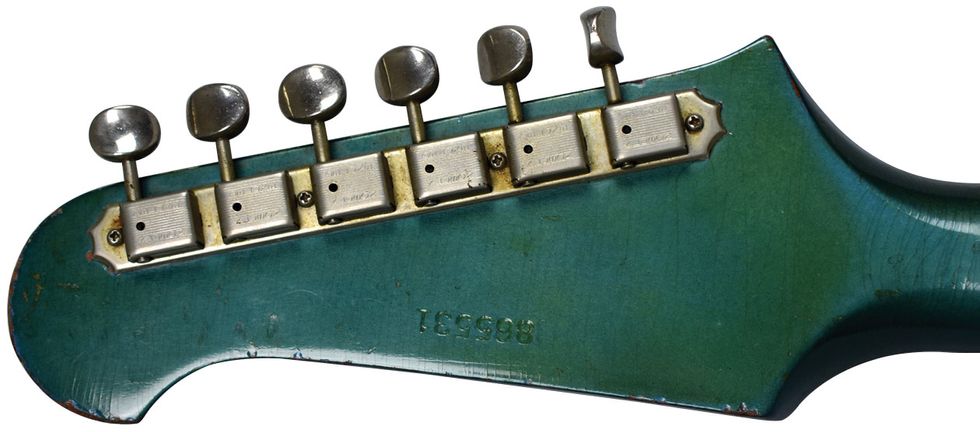 Like the solidbody Firebird, which debuted in 1963, Trini Lopez models were among the first Gibsons to sport single-sided-tuner headstocks. Note the serial number 885531 and Kluson tuners.
As a 1965 Gibson ad described, "The Gibson guitar that was inspired by Trini Lopez is as exciting as the young performer who helped create it. Again, skilled and patient Gibson craftsmanship has been coupled with inspired electronic engineering to create superbly sensitive instruments."



The diamond motif continues up the fretboard, which rests atop a slim-taper mahogany neck. The guitar also has a maple top on its 16"-wide body.
In the mid '60s, a Trini Lopez Standard listed for $415, which was cheaper than other models in Gibson's artist series. This column's specimen comes from Imperial Vintage Guitars in Burbank, California, and showcases a wonderfully faded original Pelham Blue finish, which would've added an upcharge to the original price point.


Other than a few scrape marks and neck wear, this guitar seems in good condition from all angles, although it's certainly "the Grohl Effect" that helped push its price to $18,000.
Notably, the Pelham Blue Trini Lopez guitar serves as the basis for Dave Grohl's own signature Gibson, which has been built in various limited editions over the past few years. Sunburst and Cherry Trini Lopez Standards typically fetch between $3,000 and $5,000, with a few very pristine examples nearing $6,000. This guitar, which is the only original Pelham Blue example that's been sold on Reverb.com, went for $18,000. Call it the Grohl effect. PG
This article draws from Gibson Electrics: The Classic Years by A. R. Duchossoir as well as The Gibson Electric Guitar Book: Seventy Years of Classic Guitars by Walter Carter.