Vintage Vault: 1974 Rickenbacker 362/12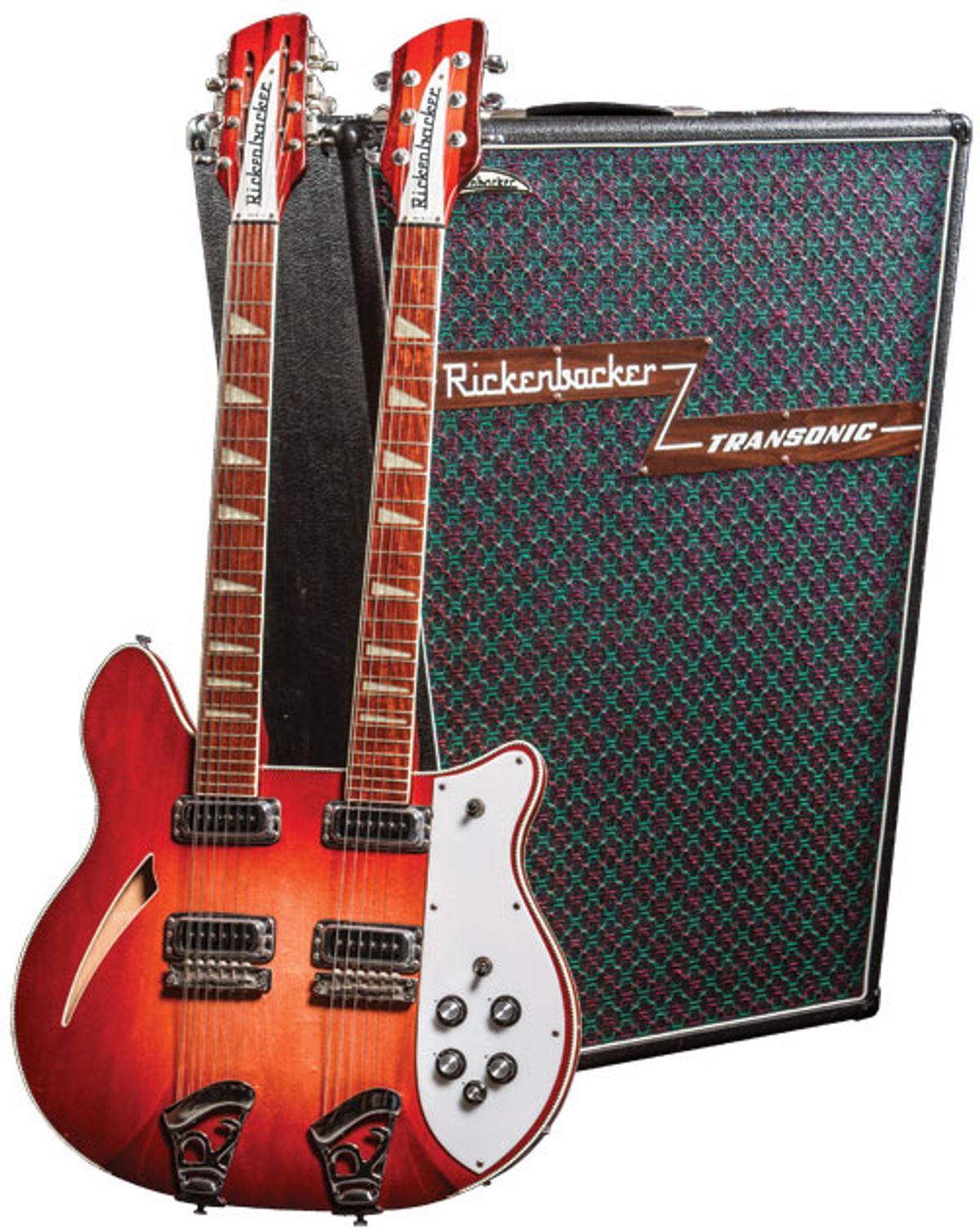 The electric answer to the '60s folk revival's acoustic 12-strings.
Adolph Rickenbacker began a successful Los Angeles, California, tool-and-die business in the 1920s, which eventually provided metal parts for guitar companies like National. When Rickenbacker codesigned and marketed the first "Frying Pan" electrified lap steel guitar, he helped usher in the sound of modern music.
F.C. Hall, owner of Radio & Television Equipment Co. (Radio-Tel), purchased the Electro String Company, which manufactured electric steel guitars, from Rickenbacker in 1953. Hall revamped the business and focused on electric standard guitars rather than steels. By 1963, with a full line of electric guitars in place, Hall decided to create an electric 12-string.
Pete Townshend, Roger McGuinn, and Paul Kantner adopted the Rickenbacker 12-string for crafting their signature sounds.

Acoustic 12-strings were already the early-'60s folk music revival's instrument of choice due to their big, full sound, so an electric edition seemed to be the logical next step. Other companies had made earlier 12-string electrics (Stratosphere Guitar Manufacturing, Danelectro, and Gibson), but it was Rickenbacker's version that eventually received the most notice due to its association with George Harrison.
Soon other top players including Pete Townshend, Roger McGuinn of the Byrds, and Paul Kantner of Jefferson Airplane (to name only a few) adopted the Rickenbacker 12-string for crafting their signature sounds.

Two "Hi-Gain" single-coil pickups per neck and a maple body with checkerboard binding blend tone and charisma.
Doubleneck electric guitars such as the Stratosphere Twin (1955) and the Gibson EDS-1275 (1958) had been available to players wishing to switch between 6-string and 12-string configurations without bringing an extra guitar. Rickenbacker eventually released its own production doubleneck, the 362/12, in 1975. (Some 362/12s preceding the production run were built, including one in 1972 for McGuinn.)
The 1974 362/12 pictured has the features most often associated with deluxe Rickenbacker models. These include bound maple necks, gloss finished rosewood fretboards with triangle inlays, two "Hi-Gain" single-coil pickups per neck, a maple body with checkerboard binding on the back and front, a slash soundhole, and "R" tailpieces. An additional switch was added to select which neck would be engaged. This example is finished in Rickenbacker's standard Fireglo. The original list price was $1,500. The current value is $5,000.

It might take an entire afternoon to string this up, but imagine the thrill of having 18 jangling strings at your fingertips.
The amp behind the guitar is a late '60s Rickenbacker Transonic 100. The Transonic amp line was designed by Bob Rissi and consisted of 100-watt and 200-watt models. The original list price for the TS100 combo was $895. The current value for the amp is $1,000.
Sources for this article include
Rickenbacker Electric 12 String
by Tony Bacon,
The History of Rickenbacker Guitars
by Richard R. Smith, and
The Rickenbacker Book: A Complete History of Rickenbacker Electric Guitars
by Tony Bacon and Paul Day.