Vox TB35C2 Bruno Amp Review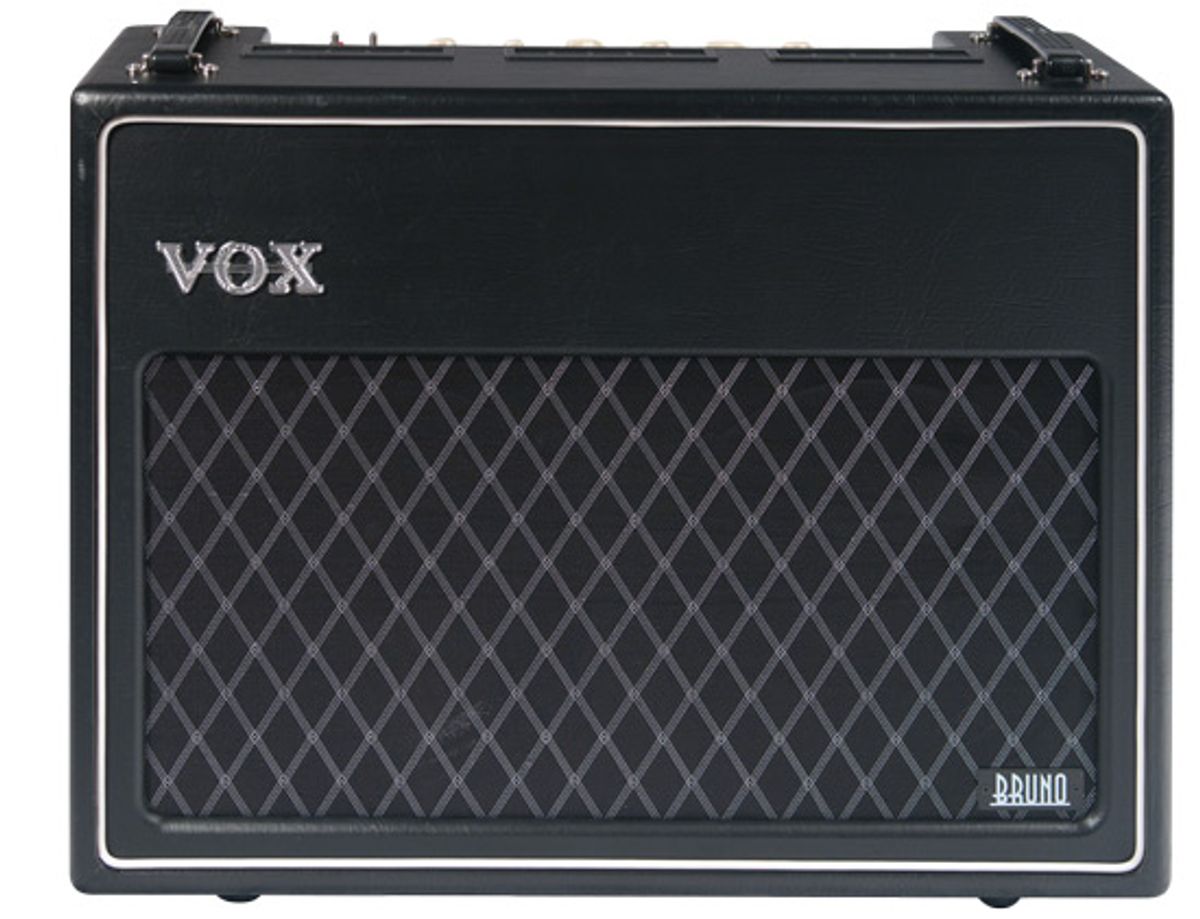 For those expecting these latest Voxes to be an Underground 30 lurking in diamond grille-cloth clothing, the TB35C2 may be a surprise. With four 6V6s, it's unmistakably American-voiced at its core—even with twin, 65-watt Celestion G12-65 12" speakers.
When boutique designer Tony Bruno built the Underground 30—the amp that went on to be his signature piece—it was often lauded for successfully adding something of an American accent to the classic Vox tonality. The appeal of an amp that can live with a foot on either side of the Atlantic is obvious. It's also easier said than done. But it's an idea that must have stewed in the brains of Bruno and the folks at Vox alike, because now, 15 or so years after the Underground 30 hit the streets, we have the first products from an official mind meld between these two amplifier legends—the 35-watt TB35C 1x12 combo and the TB35C2 2x12 reviewed here.
For those expecting these latest Voxes to be an Underground 30 lurking in diamond grille-cloth clothing, the TB35C2 may be a surprise. With four 6V6s, it's unmistakably American-voiced at its core—even with twin, 65-watt Celestion G12-65 12" speakers. But just as Bruno found a way to sprinkle a little California valve flavor on his EL84-driven Underground 30, the TB35C2 has more than a little Vox tone on tap—as well as a lot of very unique and individual tones that make it a worthy canvas for everyone from heavy blues-rock dudes to jangle-pop songsmiths.
Dark Disguise
You'd be forgiven for assuming that the TB35C2 is some kind of custom derivative of the AC30 line at first glance. The dimensions are virtually identical, and the control-panel location and top-mounted handles all are vintage Vox design elements lifted from the company's most famous design. But there are subtle differences, too: It's covered in vinyl that's smoother than the cloth-like texture of the classic AC30 covering, there's no strip of gold just above the grille, and the grille cloth itself is crises-crossed by diamonds of silver thread rather than Vox's trademark green, red, and white thread. As a whole, the amp has a more aggressive, get-down- to-business stance—sort of a surly James Bond to the AC30's more refined John Steed.
Once you begin to navigate the Bruno's controls, you realize you're most certainly not dealing with a classic AC30-style circuit. There's a simple array of six chicken-head knobs for Master Volume, Reverb, Bass, Middle, Treble, and Volume. But there are also three switches that can have enormous impact on your tone. The first is a ultra-valuable master volume bypass (labeled "MV Bypass"), which greatly enhances the TB35C2's flexibility and headroom. A very self-explanatory and useful Bass Boost switch is located between the Bass and Middle knobs. And the more curiously named (but apt) Macho switch—which can also be activated with the included footswitch—boosts both gain and midrange to effectively give the single-channel amp a separate lead channel, albeit without the benefit of completely different EQ settings.
The guts of the amp look impressively streamlined and built for power, with three 12AX7 preamp tubes, and a 12AT7 and 12AX7 dedicated to the spring-reverb unit.
Bossy in Black
For players accustomed to distinctly Vox or Fender tones, the TB35C2 can confound in the most pleasant way. With tone controls at high noon, Master Volume bypassed, and Volume at about 10 o'clock, the Vox was an agreeable companion to all of my test guitars—a Fender 'E' Series
Stratocaster
, a Rickenbacker 330, and a humbucker-equipped Gibson SG. At these relatively neutral settings, the TB35C2 is more blackface Fender than anything else—harmonically even, but a little bit spongy like a bigger, brawnier Deluxe or even a tweed Bassman, but not as bright as a Twin.
Dial up a little more mids and treble, though, and the TB35C2 comes alive with a brighter, more articulate top end that sounded lovely with ringing R.E.M.- and Smiths-style arpeggios and Heartbreakers-flavored jangling on all three guitars, as well as round-but-biting single-note stabs from the SG. Kicking on the Macho switch gave the same lead lines from the SG an enormously dirty and long-sustaining girth that you could drive to the brink of very controllable feedback with a bump of the amp's volume. While big and certainly very present, the Macho feature doesn't facilitate a lead tone nearly as cutting as, say, Paul Kossoff stabbing at a Marshall or Jeff Beck hurling sonic daggers from a top-boost AC30—or a Fender Twin, for that matter. Instead, it ranges between the big, blunted—but still overtone-rich—clout of a Hiwatt or Neil Young's tweed tones. The Macho switch also does a fine trick of retaining detail for high-gain chording—preserving the chiming characteristics of the Rickenbacker, as well as the Stratocaster's bridge pickup, while adding an impressively muscular growl that could drive a '70s-style power trio. Further, whether the Macho function is on or off, the amp always retains a remarkable touch sensitivity.
Given the TB35C2's impressive bass presence, it struck me as odd at first that Bruno included the Bass Boost switch. If you play in a power trio or duo, it will give you substantially more weight, but it can be a bit woofy unless you dial in a fair bit of high and mid content—and it can swallow a lot of harmonic content from humbuckers. Still, it's an impressive sound that also sounds great with fuzz or an overdrive geared for Tube Screamer-style midrange, and it could set your bass player free to explore some Jack Bruce-flavored runs high up on the fretboard.
Rest assured, the TB35C2 has a place in more civilized environments, too. It's very sensitive to volume adjustments on your guitar, and it can be dialed back into zones where the amp retains its full and impressive harmonic spectrum without taking on a bullying presence in a band mix. Roll back your guitar volume, and it remains chiming and rich, again, provided you've dialed up enough mid and high end. And the Master Volume is effective for scaling back the amp's burlier characteristics— even though you do sacrifice a little of the clarity you get in bypass mode.
The Verdict
Versatile, beautifully designed, and relatively affordable, the Vox TB35C2 is an intriguing intertwining of the Bruno and Vox tone and design philosophies. The fundamentally American voice of Bruno's 6V6 circuit is rangy enough to flirt with very Vox-like performance, but it also has a personality all its own—inhabiting a kind of ideal tone zone where the rounded edges and give of a Bassman live alongside the sharp clarity and grit of an AC30. There are lots of in-between-and-beyond tones at your fingertips, depending on your pick attack and how aggressively you dial up the mid and highs. And it loves pedals too, especially fuzzes and boxes with pronounced midrange. Those hoping for a Vox-branded Underground 30 will be better served opting for a Top Boost AC30 or one of Bruno's own amps, but if you're interested in covering a lot of stylistic ground with a single amp that retains a distinct character and color, this impressive collaboration will make a solid cornerstone for your sound.
Buy if...
you're after a 6V6-powered, do-itall tube combo with a foot on the British Isles.
Skip if...
you believe anything other than EL84s in a Vox amounts to blasphemy.
Rating...