Covid caused a huge uptick in guitar sales and repair requests. If you're considering trying to fix it yourself rather than wait in line, here's a simple rule of thumb to keep in mind.
The COVID pandemic clobbered many of our favorite pastimes but proved to be a boon for the sales of some things, especially musical instruments. But while guitars, unlike bicycles (another pandemic fave), can be shipped without any significant disassembly, that doesn't necessarily mean it's smooth sailing once the box arrives and you pull a new, or at least new-to-you, instrument out of its case.
You did your homework, you found the right guitar at the right price, and it arrived with no visible damage. Whew! And yet after a quick tuning, something obviously isn't right.... Now what? If you're lucky, a local guitar repair technician can look at the instrument and help you determine if there's something faulty or if the problem is simply a matter of adjusting it to suit your playing style. But while finding the right guitar was a lot harder than it would've been in 2019, finding a repair tech with enough time to help you may be even more difficult. What happened?
Welcome to another unexpected wrinkle of now: A lot of us have more money to buy stuff, but if you buy something that needs fixing and you can't fix it yourself, those newly memorized mantras about patience may be put to the test. The ratio of stuff needing fixing to people who can fix things is seriously out-of-whack.
One of the reasons is that the recent dramatic uptick in people playing guitars has far outstripped any increase in the number of people being trained to work on them. This mismatch is made worse by the fact that even learning how to diagnose guitar repair issues takes considerably longer than the time it took all those COVID-trapped souls to find their dream rig online and have it delivered. Others didn't have to buy anything but a set of strings because they pulled a long-neglected guitar out of the closet, or, worse yet, the attic or garage, only to discover that their 6-string vehicle for trips down memory lane was no longer drivable.
Guitar repair techs are often one part mechanic and two parts psychologist: They're good at what they do because they understand both you and your instruments.
And while I hate to make dire predictions, a quick survey of lutherie and guitar repair schools doesn't indicate that "Guitar Repair Tech" is high on anybody's YOLO list of alternative occupations. That means the long delays of getting your guitar repaired is probably not going to improve anytime soon, and the same holds true for amplifiers. (I'm using the term "repair tech" instead of "luthier" because many people assume luthiers only build guitars.)
Those readers familiar with the online world of guitar repair videos are probably asking, "What about YouTube?" While it's true that some excellent diagnosis and instruction is available online, the DIY movement isn't for everyone and not all the guitars needing help fit that category. Bringing your brother's Seagull acoustic back from purgatory is one thing, but dad's Martin D-28? The former seems like a fitting guitar for testing YouTube-instructed setup skills, but with the D-28 it's probably best to find a repair tech with experience working on Martin guitars.
A simple safety test to keep you from getting in over your head and doing real damage is this: If you're altering a replaceable part on a guitar, such as the bridge saddle on an acoustic, or if you're making an adjustment that can be reversed, such as to the truss rod, go for it. However, if you're disturbing glue joints or a major part of the guitar, slow down. Taking the saddle out of the bridge on an acoustic guitar and altering or replacing it is one thing, but trying to reglue a loose or cracked bridge can result in real damage. (My rule of thumb is that those who have paid someone else to restring their guitar are probably not candidates for learning even the most basic setup that requires only screwdrivers and Allen wrenches, such as on a Strat.)
Yet a long-term solution to delays for instrument repair is going to require a more basic adjustment, and that's in how people who fix things are regarded by society at large. While luthiers who build guitars get lots of respect, those who repair instruments do not, even though guitar repair techs often have a tougher job.
This is because while the guitars they work on may be very similar, the people playing them often vary widely. Yngwie Malmsteen and Ry Cooder approach the Fender Stratocaster with very different goals (and very different strings), and acoustic guitarists have an equally far-ranging approach to playing instruments that are remarkably similar despite different woods and body shapes. Favorite guitar repair techs are often one part mechanic and two parts psychologist: They're good at what they do because they understand both you and your instruments. Only when repair techs get more respect, and better pay, will there be enough of them to meet demand.
The company's first stomp carries a 4-pack of separate "gears" of variable analog overdrive textures and harmonic content along with a clean blend feature.
GENZLER® AMPLIFICATION proudly announces a "redux collaboration" that brings Jeff Genzler and Andy Field back together again -- developing a newline of bass effect pedals under the Genzler Amplification brand. Both forces have shared design passions that date back to the early 1990's while working together at Jeff's former company, Genz Benz. Andy and Jeff along with current Genzler Amplification engineer Scott Andres, were responsible for the products that put Genz Benz on the map so many years ago.
Along the way, corporate acquisitions of GB by KMCMusic and eventually Fender Musical Instruments, and the decisions that lead to the finale' of Genz Benz, all principals went their separate ways. Andy was soon brought-on at Mesa Boogie to develop their flagship line of Subway bass products. Eventually Jeff and his wife Catherine decided to jump back into the game, starting up Genzler Amplification with Scott Andres again as principal engineer. Jeff and Scott working together again developed such innovative products as the Bass Array cabinet designs, the Magellan series of bass amplification, the recent Nu Classic series bass cabs, andAcoustic Array combos.
While Andy remains at Mesa designing new Mesa specific products, with the blessings of management there, this new"gig" brings back the fun and collaboration of working closely with good ole' friends and compadres. "When you've worked so long together in the trenches over a few decades, having this team back together just feels good all over again"--- Genzler states.
"Through the years, and through all of the crazy adventures of this music products industry, we remained close friends"reminisces Andy Field. While chatting one day, they realized right then, that they missed the unique collaboration that had fueled years of design passion and decided that this would be as a good a time as any to "get the band back together" for a "fun and creative" side project (or reunion tour) that was more than 30 years in the making.
The Genzler Amplification pedal line will be exploring a variety of pedal concepts based on decades of collaboration together, looking back into hundreds of pages of their old design ideas, and to explore interesting circuits that were started but never used, blending them with new innovations. A retrospective of sorts, this is a chance to dig into their collective pasts to develop what they feel players would use and appreciate, going forward.
The first pedal in the line is the 4 ON THE FLOOR, CLASSIC BASS OVERDRIVE, offering 4 separate "gears" of variable analog overdrive textures and harmonic content along with a clean blend feature. HPF and LPF controls are included to shape the overdrive engine's signal path. This pedal offers touch sensitive asymmetrical and symmetrical overdrive characteristics, variations of compression and overdrive complexity, along with a true bypass. The versatility allows this to be used as a clean boost, shifting through various overdrive gears to all out heavy, saturated drive. This pedal also offers another level of versatility as it accepts nearly any power supply; 9 – 18 Volts, either polarity.
DRIVE (GEAR) DESCRIPTIONS – This 4-position switch works like the 4 speed gearshift on the transmission of your favorite classic car, selecting one of four available drive algorithms.
1st GEAR: Reminiscent of a tube amp's clean channel (including natural harmonics) with a bit of overdriven tone when driven hard. Many players will find that this works well as an "always on" tone.
2nd GEAR: Emulates a tube amp's mildly overdriven tone, with a small amount of dynamically compliant clipping asymmetry. This is a natural feeling, touch sensitive algorithm with very mild compression.
3rd GEAR: A more aggressive up-shift from 2nd gear, this moderate, asymmetrical overdrive is less compliant, with greater compression for a tighter feel.
4th GEAR: This is the most aggressive gear of all -- a heavier, symmetrical, low compliance overdrive that can enter distortion territory when driven hard.
The 4-OTF-PEDAL will be an excellent compliment to the companies MAGELLAN 350 and MAGELLAN 800 Bass amps. The new pedal will start shipping late June, 2021, and USA MAP is $229.99.
Genzler 4 on the Floor Demo
Genzler Amplification is looking forward (and backwards) to this new journey together and engaging with the player community on exciting new designs, while hoping the community appreciates these bonds of friendship and longevity that have joined up again to create exciting and enduring products. More to come, soon......
Photo by Chris Kies
Slowhand will hit cities in Texas, Louisiana, Georgia, Tennessee, and Florida with bassist Nathan East and guitarist Doyle Bramhall II backing him up.
Eric Clapton announced yesterday he will be hosting a series of concert dates across the U.S. in September 2021. Tickets for these shows will go on sale starting Friday, June 18th at 10am local time.
Eric Clapton's band for these shows will include Doyle Bramhall II, Paul Carrack, Nathan East, Sonny Emory, Steve Gadd and Chris Stainton with Sharon White and Katie Kissoon on backing vocals. The show will feature Jimmie Vaughan as special guest.
The newly announced shows will be Clapton's only North American dates for 2021 and will precede his European tour, which was recently rescheduled to Spring of 2022 due to ongoing COVID restrictions in Europe.
Eric Clapton North American 2021 Tour Dates:
September 13 - Fort Worth, TX Dickies Arena
September 15 - Austin, TX Frank Erwin Center
September 17 - Houston, TX Toyota Center
September 18 - New Orleans, LA Smoothie King Center
September 21 - Nashville, TN Bridgestone Arena
September 23 - Atlanta, GA Gas South Arena
September 25 - Tampa, FL Amalie Arena
September 26 - Hollywood, FL Seminole Hard Rock
Takamine has teamed up with acclaimed acoustic artist Jake Allen to give PG readers a chance to WIN! In celebration of Jake's great new single and video "Two Faced", Takamine is giving away a killer EF7M-LS acoustic – the same model that Jake uses onstage and in the studio. Watch the video below and enter for a chance to win this super versatile guitar.
Photo by Blake Armstrong
The sonic sorceress grabs her baritone Fender and leaps into the maelstrom with sludgemasters Thou for a pair of heavy, effects-laden collaborations: May Our Chambers Be Full and The Helm of Sorrow.
It's virtually impossible to interview anyone nowadays and not have the pandemic come up. The only difference in the conversations is the degree to which it has affected the subject's life. Last March, Emma Ruth Rundle was touring solo—as in, sans backing band—in support of her 2018 release On Dark Horses, when the severity of the pandemic hit. Her last live show was on March 10, at the Fonda Theater in Los Angeles.
"That was a very strange show, because of what was happening," she recalls. "I was on tour with Cult of Luna and Intronaut. We started in February and were in 'tour-land,' so you're kind of in a bubble, where the outside world doesn't really exist and the escalation of the virus—that news wasn't impacting us. We weren't seeing it, but by the time we got to Los Angeles ...," she drifts off, the disbelief still palpable. "I'm from L.A. I was born and raised there, and driving into Hollywood, the streets were fucking empty."
"Showing up with an electric guitar and no effects is my version of the nightmare people have where they go to school with no clothes on."
Riding into an upscale ghost town sounds like an apocalyptic scenario—especially when your livelihood depends on audiences. But the adaptability of Rundle, who recorded during the lockdown and recently released an album and an EP, has been a hallmark of her career. The 37-year-old rose to prominence in the early 2000s with the Nocturnes, a folkgaze ensemble blending chamber-pop, goth, and post-rock elements into the genre. Albums like A Year of Spring (2009) and Aokigahara(2011) spotlighted her as one of the millennium's most inspired rock singer-songwriters. While in the Nocturnes, she branched out to work with post-rockers Red Sparowes, and in 2012 forged a more-straight-ahead rock collaboration under the Marriages moniker with Sparowes bassist Greg Burns. In between her musical partnerships, the prolific Rundle has also released four dazzling solo albums.
A common thread through all of her recordings is her passion for the craft of guitar playing. And her thirst for the new is reflected in that, too. With On Dark Horses, she first delved into baritone guitars—their shadowed tones magnifying Rundle's already somewhat foreboding, light-versus-dark aesthetic. From succinct to bombastic, weighty to crushing, and nuanced to vulnerable, her playing—particularly her baritone-derived soundscapes—toes the line between lilting and bludgeoning.
Emma Ruth Rundle & Thou - The Valley (Official Audio)
Rundle's pair of recent recordings, late 2020's May Our Chambers Be Full and the new The Helm of Sorrow EP, mark yet another collaboration—this time with Louisiana sludge-metal lords Thou. Although Thou already had three guitar players, these releases are a perfect refuge for Rundle's low-tuned 6-strings. On Chambers' "Killing Floor," "Out of Existence," and "Magickal Cost," her playing weaves into Thou's majestic guitar tapestry as if it has always been there Meanwhile, her haunting, hypnotic vocals transcend the musical maelstrom with melodies that pierce Thou's musical armor, adding a welcome dimension to their muscular riffing. Check out Helm of Sorrow's cunning cover of the Cranberries' "Hollywood" for a slice of that sublime magic.
The Rundle/Thou union began with what she calls a long internet flirtation. "I've been such a massive fan," she admits. "I was listening to them a lot and tagging them on social media." Rundle, also a painter, would often listen to Thou while she worked. They finally met in 2018, backstage at the Northwest Terror Fest in Seattle. "It was so uncomfortable," she remembers. "There's a lot of them and they each have a very different flavor. Everyone's got a very different personality."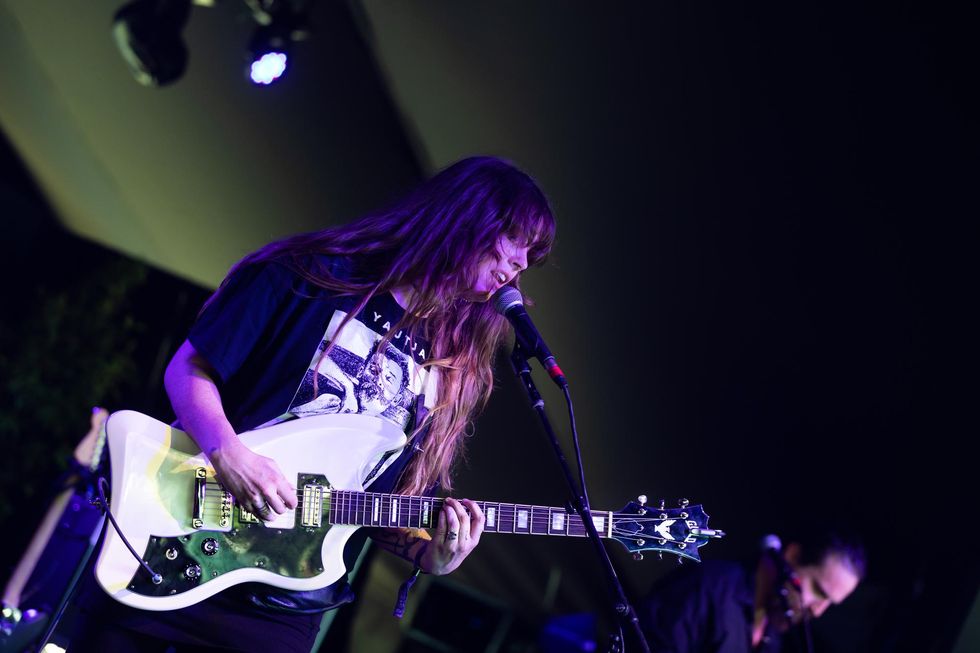 When it comes to conventional electrics, Rundle favors this Guild T-Bird or her Gibson SG Special. "I just don't think you can beat an SG," she says.
Photo by Debi Del Grande
Their musical partnership with Rundle kicked off when, in April 2019, Thou was invited to be the artists-in-residence at the Roadburn Festival in the Netherlands. Artists-in-residence perform a collaborative set with an artist of their choosing, so Thou asked Rundle. "That was so much fun," she explains. "I was like, 'Fuck yeah, I'm not going to miss this opportunity.' It was just such a dream come true to be asked to work with my favorite band. We had to come up with original material for a 40-minute set. That's how it started."
In preparation for Roadburn, they began meeting in New Orleans in February 2019. By then, Rundle and Thou guitarist Andy Gibbs had already been emailing ideas back and forth. "It started like a riff here, a riff there," she recalls. "KC [Stafford, guitar/vocals] came into the project with 'Monolith,' which they had written pretty much all the way through. We just fleshed it out." Rundle says the songwriting process was very involved and thinks maybe her Thou cohorts were a bit surprised by her level of commitment. "I think some of their other collaborations were just … expedient," she surmises, carefully choosing her words. "Whereas we were really crafting full songs from absolutely nothing."
"Because I play in a different tuning than everyone else, sometimes I couldn't play the same riffs as them—the voicing would be really strange."
Before heading off to Roadburn, Thou and Rundle embarked on a short tour to warm up for the festival. Rundle performed solo as an opener, and Thou would play their own set, and every few nights they would inject their collaborative performance. "It was like, if the final album is a sculpture that's realized, where you can see features and details, what we had by the time we got to Roadburn was just a lump of clay," she admits. "I recently heard the set from Roadburn, and I can tell I was totally making things up that just sounded like words. [laughs]. It evolved a lot more after we played that set."
A lot of Thou's mighty sound relies on the number of guitars playing the same down-tuned riff. In addition to Gibbs and Stafford, the band includes Matthew Thudium on guitar and Mitch Wells on bass, so fitting into that heavy alignment provided some challenges for Rundle. She says they made it work with the help of producer/engineer James Whitten, who she refers to as Thou's secret weapon. He recorded both May Our Chambers Be Full and The Helm of Sorrow at High Tower Music in New Orleans."
Emma Ruth Rundle's Gear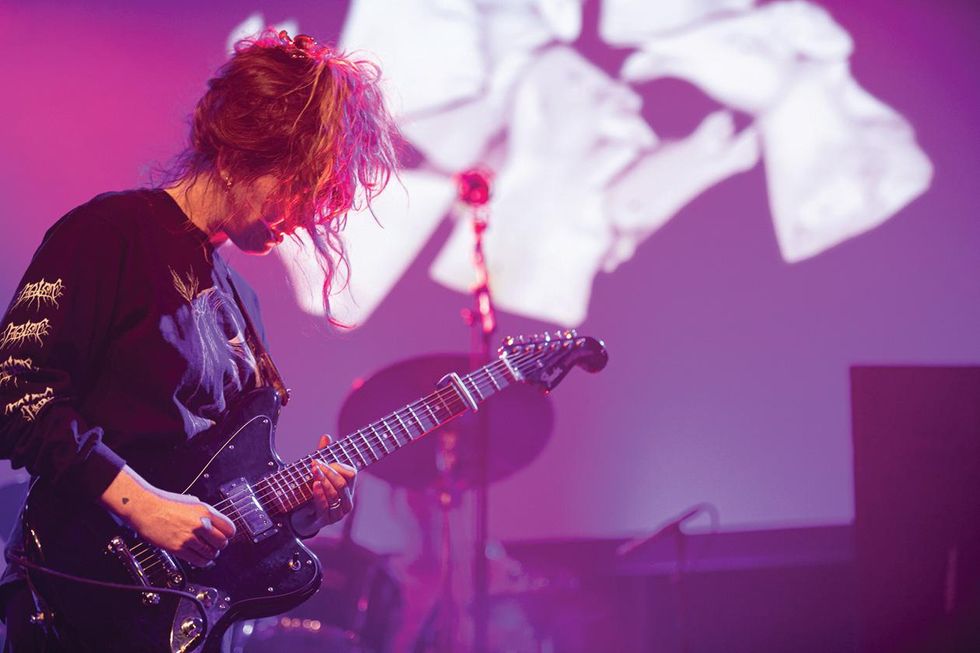 With 2018's On Dark Horses, Emma Ruth Rundle adopted the Fender Jaguar Special Baritone HH as her main instrument. "They don't make it anymore," she relates, "but it has humbuckers, which is the reason why I really love it."
Photo by Tim Bugbee/Tinnitus Photography
Guitars
Two Fender Jaguar Special Baritone HHs
Gibson SG Special
Guild S-200 T-Bird
Dunable Yeti
Cordoba Luthier Series GK Pro
Blueridge BR-143 Historic Series
Strings
D'Addario EJ21 sets (standard-scale guitars)
D'Addario EXL158 sets (baritones)
D'Addario EJ46 sets (nylon strings)
D'Addario EJ17 sets (steel-string acoustics)
Amps
Roland JC-120

Verellen 2x12 combo based on the Loucks head
Effects

Korg Pitchblack tuner
Electro-Harmonix Pitch Fork
EarthQuaker Devices Arrows
EarthQuaker Devices Palisades
Keeley Loomer
Electro-Harmonix Stereo Memory Man with Hazarai
Line 6 M9
Two Boss DD-6 Digital Delays
Boss RV-5 Digital Reverb
Red Panda Context
James is a genius with guitar tone and with finding a place for all of the guitars," Rundle says. "There is some mystery and mystique to his method. There's no way to have four guitars happening all the time and have it sound that good. I think he's doing some magic and picking and choosing. It was a surprise to hear what moments came out."
It's worth noting that Rundle plays in a different tuning than the rest of Thou, which further complicated how the guitars intermingled. The tuning on Rundle's baritone is G#–C#– G#–A#–C#–G#—an open tuning that lets her barre chords with a single index finger. Thou's tuning, according to Gibbs, is G# standard, just like standard tuning, except the lowest string is G#. "The process went like this," Rundle says. "There would be basic riffs. We would all learn them together, and that would form the basis of the song. But because I play in a different tuning than everyone else, sometimes I couldn't play the same riffs as them—the voicing would be really strange." In some cases, Rundle says it also just didn't make sense to have four guitars and a bass player playing the same drop-tuned riff together. So sometimes she would play other parts. "It made sense to have a little lead melody happening or a different chord voicing," she says. "That's how we made it work. There are times where I'm playing the same 'sort-of' riffs, but there are a lot of moments where it's either a finger-picked thing or a little lead line."
Emma Ruth Rundle Rig Rundown
Exclusively a fingerstylist, Rundle uses acrylic nails to pluck her primary guitar, a Fender Jaguar Special Baritone HH. "They don't make it anymore," she relates, "but it has humbuckers, which is the reason why I really love it. That specific model was what got me into playing baritone guitars."
Because the baritone is "pretty wonky" intonation-wise, Rundle also wields a Gibson SG Special, a Guild S-200 T-Bird (both in C# tuning), and a new Dunable Yeti that was custom built for her by Intronaut's Sacha Dunable. "With the Fender, you can't get the intonation right," she says. "It's just the nature of the scale length—and then I'm doing drop-tuning on a drop-tuned instrument! It's flawed in so many ways." [Editor's note: The Jaguar Special bari has a 27" scale, whereas "true" baritones are typically 28" or more in order to intonate more accurately across the fretboard.] Ultimately, she concludes, "I just don't think you can beat an SG." She says that instrument's fretboard reminds her of the classical guitars she learned to fingerpick on—and that she still uses to write and practice on. "To me, the SG is the perfect guitar."
In addition to the baritone, effects are crucial to Rundle's sound and style. "I consider my pedalboard an instrument that I wouldn't want to do any of this stuff without. It's like a palette of tones and effects that you know will work in any given situation. After a certain amount of time, you just know when something has to have a super-hot fuzz with an octave on it for it to cut through at the right moment and make sense. And if I have an EBow, I know it's always going to go with either a slide or a really slow delay."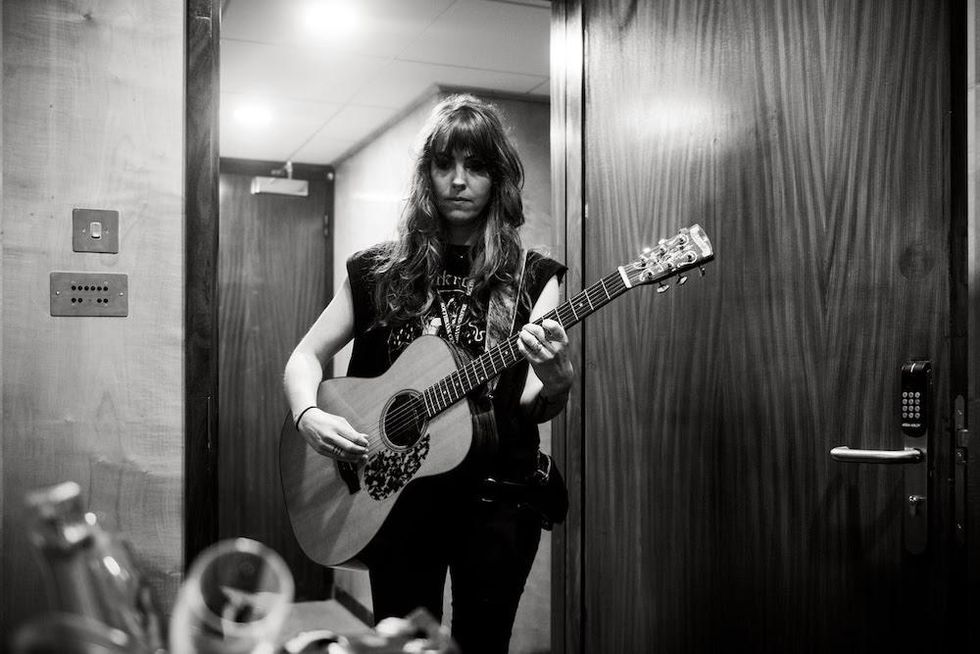 For acoustic guitars, Rundle uses either a Cordoba GK Pro nylon-string or this Blueridge BR-143 Historic Series steel string.
Photo by Geert Breakers
Rundle says her fascination with effects and electric guitar playing happened in parallel. "I got a multi-effects pedal with my first guitar. I think showing up with an electric guitar and no effects is my version of the nightmare people have where they go to school with no clothes on," she laughs. "It's not a place I want to be, you know?"
Speaking of school, it was while working a 13-year stint at McCabe's Guitar Shop, a folk music center in Santa Monica, California, that she received her informal musical education. "We sold instruments, we had concerts, and we had lessons. A lot of the things that I've learned that have made their way into my playing just came from the people there—the teachers that would come down. Pete Steinberg is an amazing, award-winning finger picker, and he'd just be like, 'Come over here. I'm going to show you something.'" And on the rock side, she credits the inspiration of Jimi Hendrix, Billy Corgan, Kurt Cobain, Courtney Love, P.J. Harvey, and, especially, Nancy Wilson.
"I had this revelation when I learned about Heart. It blew my mind—just seeing a woman shred like that. I felt, when I was super young, that I didn't see myself reflected in guitar magazines or in rock music, necessarily. I'm stoked that we don't have the 'bikini-fashion-show-guitar-thing' anymore, you know what I mean?"
Texas slinger Zach Person joins us in sharing the ditties we play when sizing up a new axe to see if it meets our needs. Plus, we discuss current musical obsessions.
You enter your local guitar store. An instrument calls you over, you pick it up ... what do you play? Do you have a go-to riff when testing out new gear?
Zach Person — Guest Picker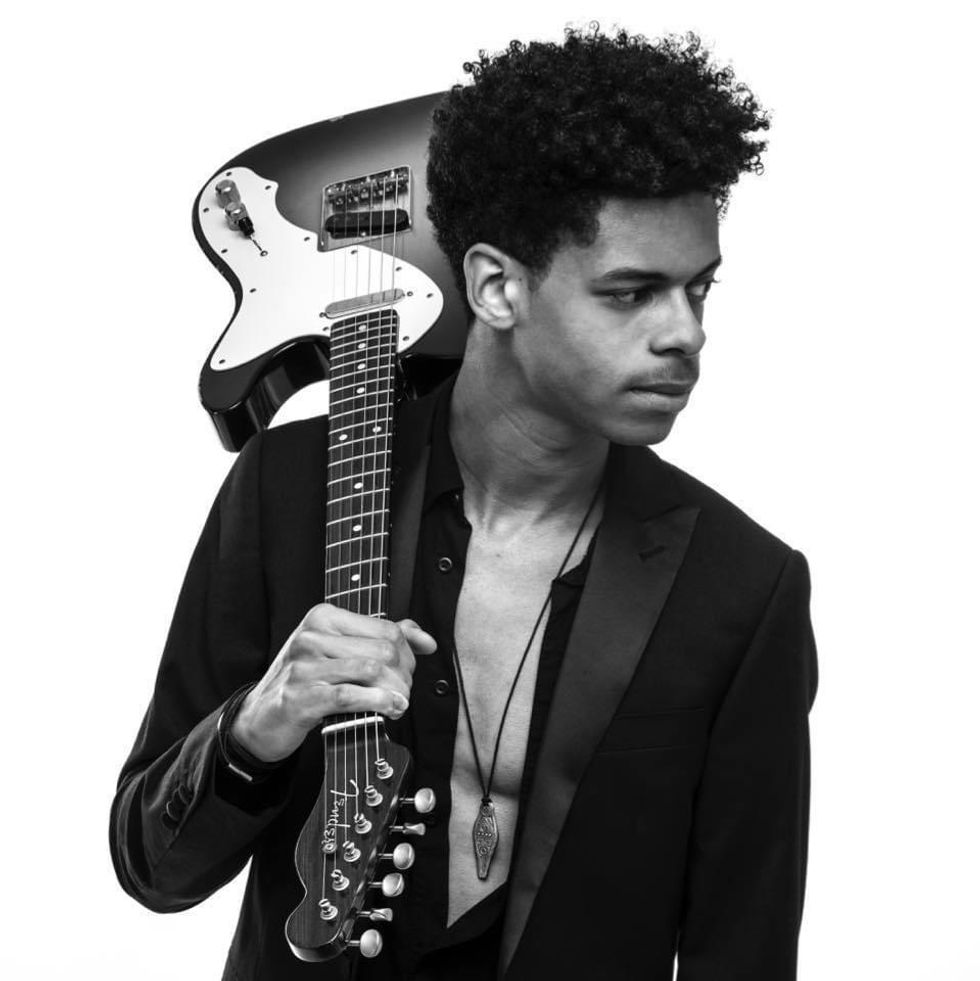 Photo by Nathan Hall
A: I usually will set the amp really clean so that I can hear the true sound of the instrument. I'll almost instinctively play through a variety of pentatonic and Lydian-esque passages, and big open chords to get a feel for how it handles tuning, intonation, etc. If it proves to sing through all of these "tests," then I'll add some drive and continue exploring. At that point, any person accompanying me knows that they've lost me for the next half hour!
Current obsession: An artist in town (Austin, Texas) named Dave Scher. He is truly my favorite guitarist, and he inspires a lot of my playing. He's so melodic, and his improvisation never feels stale. He's one of those guys that can plug straight into any amp and make it sound like he's running through a $3K+ pedal rig. Before the pandemic he was on the road for several months with Eric Johnson playing rhythm guitar (and bass on some songs), but he has his own solo project here in town. Go check him out. You can thank me later!
Dave Scher "Georgia On My Mind"
Felipe Gonzalez — Reader of the Month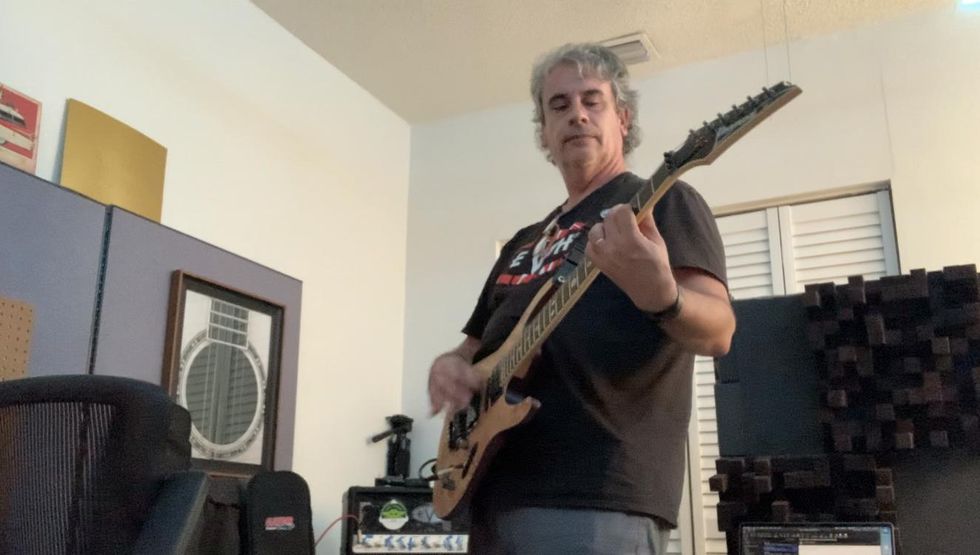 A: I tune it down to D, then play "Hate by Design" by Killswitch Engage. If it resists the abuse of that riff, it's worth it. The reasoning behind playing this riff to test guitars is the mix of precise downstrokes, palm-muted notes, and ringing notes in an up-tempo song. (It's KSE, after all.) It's challenging and delightful to play. I love the power of their riffs—to play them is tricky and will develop your timing in a very good way. I think Adam and Joel are one of the best guitar tandems on the metal scene of all time.
Riff Rundown - Killswitch Engage's Hate by Design
Current obsession: My current musical obsessions are three bands I discovered by chance: God Is an Astronaut, Earthside, and Distant Dream. Sometimes the YouTube algorithm works nicely for you, and that's how I found them. I love their melodic approach in their composition and the lack of virtuosic playing, which in the end, makes me tired. This is music, not a competition.
GOD IS AN ASTRONAUT - Fade (Official Video) | Napalm Records
Ted Drozdowski — Senior Editor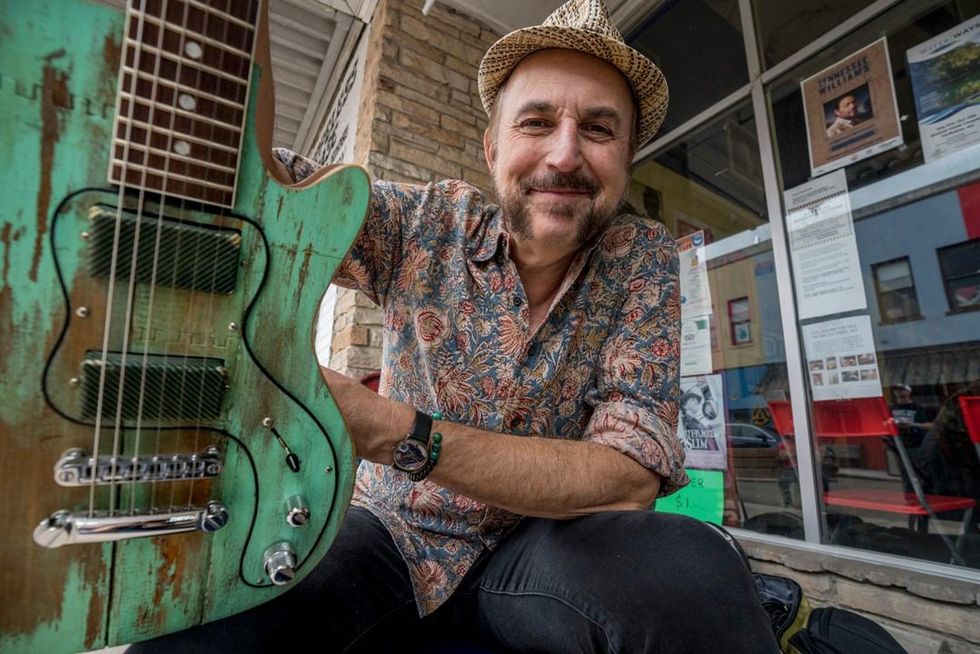 A: I have a very specific ritual: a rip on the riff from Beck's "Devil's Haircut" followed by the four-note riff and opening barre chords from "Shine on You Crazy Diamond, Part II" and then some blues licks and campfire chords. If there's no buzz, it rings out, and the neck feels like love, then I plug in.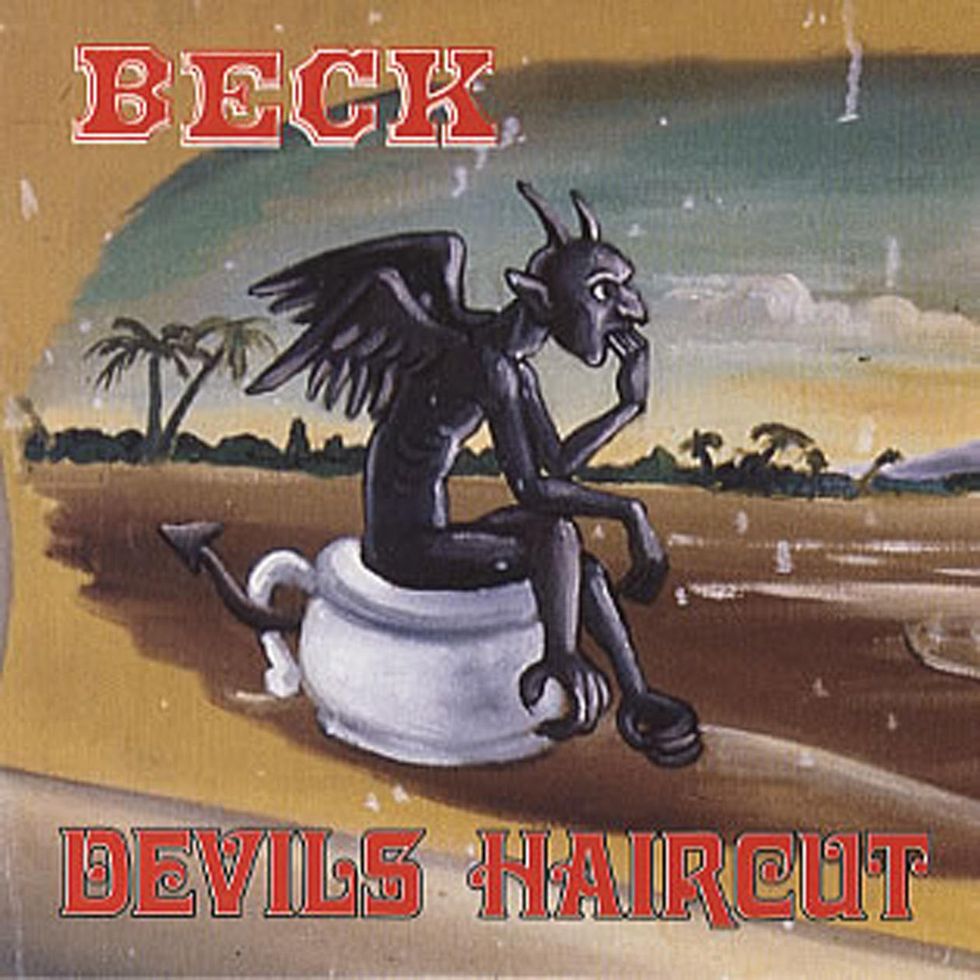 Current Obsession: Figuring out how and when to return to live performance. My band, Coyote Motel, just had its first rehearsal in 14 months and we could feel the rust, but the gears were still turning beautifully underneath. Now what?
David Von Bader — Contributing Writer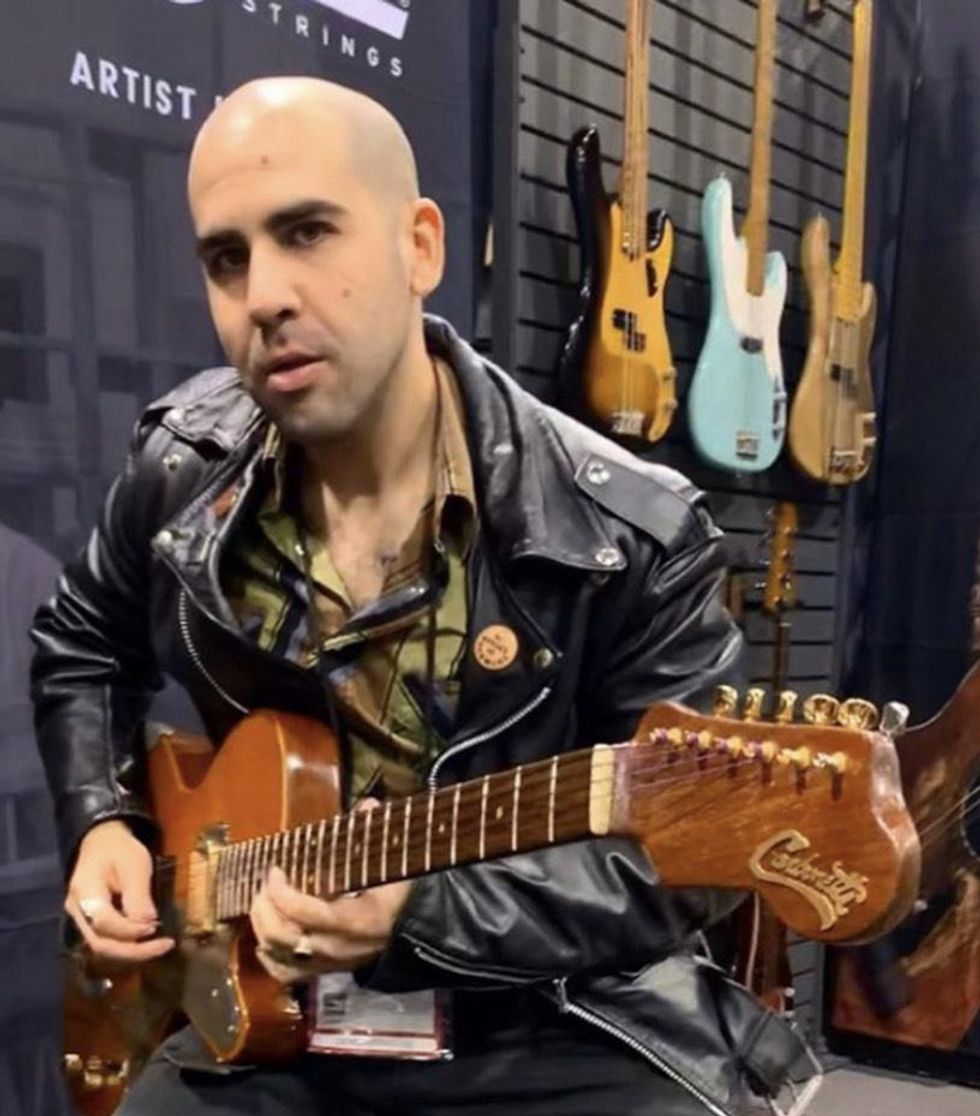 A: I have one rootsy-sounding, slippery ascending riff that starts with the open low E and slides into a little double-stop sequence that I tend to play when my hands are on autopilot. It's a lick that makes it sound like I kinda know what I'm doing, but without being too showy. As someone that put in a few years working at a busy but physically small vintage guitar shop in Brooklyn, I'm hyper aware of in-store demo etiquette and the last thing I want to do is subject shop employees to any ego riffing beyond what I really need to get a feel for a guitar or amp or pedal.
Current Obsession: I've been absolutely punishing the Walker Brothers' 1978 release Nite Flights lately. It was the last album they released as a group, but it's essentially three solo EPs smashed together. The songs each of the band's three members (they weren't actually related) respectively wrote and sang appear sequenced together in clusters. The four Scott Walker tunes that open the album are dark, wonderfully dramatic, incredibly catchy, and subtly telegraph the avant-garde (and occasionally quite terrifying) direction of his late-career solo work.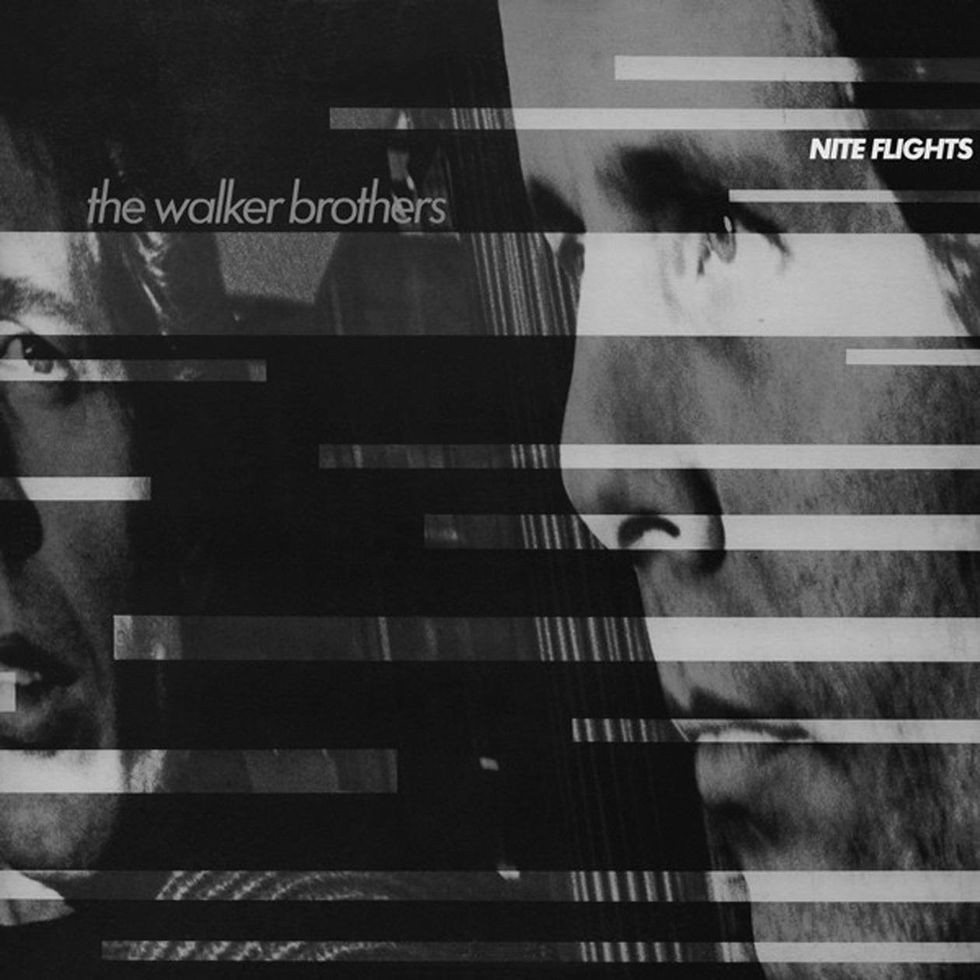 The album features some truly phenomenal guitar work by famed British session ace Big Jim Sullivan, as well as hired soloist Les Davidson, who rips a proper barn burner of a solo on the album's opener "Shutout" that perfectly accentuates the song's bad drug trip at the disco feel.