Mark Tremonti and Myles Kennedy take PG through their Alter Bridge road rigs.
PG's John Bohlinger hung with Alter Bridge's two-man guitar army, Mark Tremonti and Myles Kennedy, before their sold-out show at The Orpheum Theater in Memphis. Tremonti and Kennedy showcased some beautiful signature Paul Reed Smith guitars, as well as a not-yet-released PRS signature amp.
Thanks to techs Dave Pate and Scott Davis for their help with the details.
Brought to you by D'Addario Strings.
Brown Sound
Not surprisingly, Tremonti exclusively plays his Paul Reed Smith Mark Tremonti Signature.
The first is an early model from around 2002, sporting a signature brown burst with a tremolo bar. All guitars have D'Addario strings, though gauges vary by tuning. This one is tuned to Eb with 49–38– 28–17–13–10. Tremonti uses Dunlop Tortex 1.3 mm picks.
Spare Some Change?
This is Dime—short for Dimebag—Tremonti's second PRS single-cut with a whammy bar.
Don't Call Me Daughter
This is Stella, named after Tremonti's two-year old daughter. Tremonti and Paul Reed Smith came up with the body design together. PRS isn't set up to mass-produce this shape, so there won't be a wide-scale production.
Bearded Beauty
This "Fenton" graphic guitar is one of 20 produced. This was a 20th anniversary model with original art painted by Joe Fenton.
Outlaw Style
H.A. (Hell's Angels) was the second prototype Tremonti signature made by PRS. The pickups are early prototypes.
Mark Tremonti's Pedalboard
Tremonti's signal starts with an Evidence Audio 'The Reveal' cable from his guitar to his pedals, and Mogami W2319 and Square Plug SP5 plugs for patch cables. Pedals include a Morley "Mark Tremonti" Signature Wah, Ibanez TS808HW, Boss TU-3, Boss OC-5, Digitech The Drop, MXR Smart Gate, Mark Tremonti prototype signature chorus/vibrato, and a Lehle Little Lehle III true bypass loop pedal. There's also a G-Lab SD-1 running into the amp's effects loop.
The Big Reveal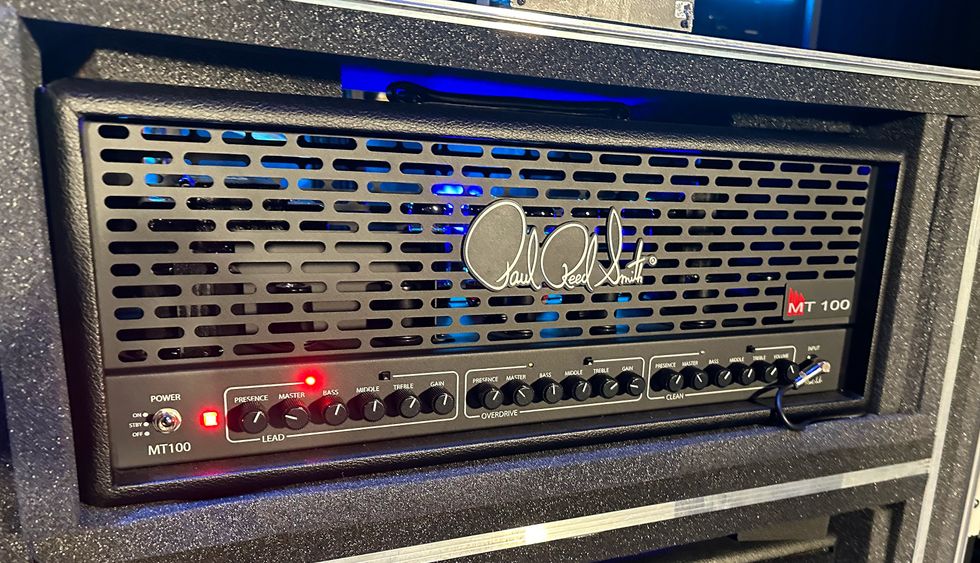 The PRS MT 100 Mark Tremonti Signature 100-watt three-channel head has not been officially released yet, but Tremonti has been touring with it for a while, as a shake-down cruise.
Crushin' Cabs
He runs this tube-driven beast into two oversized Mesa 4x12 cabs, loaded with Celestion British V30s wired at 8 ohms. The amp uses a Kikusui PCR1000M voltage regulator/power conditioner, plus there's a Lehle P-Split for splitting signals to main and backup heads.
The Four Horsemen
Kennedy tours with four of his new PRS Signature guitars. The ones finished in natural and white are both tuned to Eb or Eb with a dropped C#, depending on the song. The signature is a bolt neck, T-style guitar with 10" radius, and Narrowfield pickups. All guitars are strung with D'Addario Light Top/Heavy Bottom Strings (.010-.052).
Dr. Hoo
Kennedy reveres owls for their wisdom and adaptability. PRS has a long-standing tradition of using bird silhouettes for inlay markers, so it only made sense that Kennedy and PRS would incorporate their collective avis admiration in the signature model.
Green Machine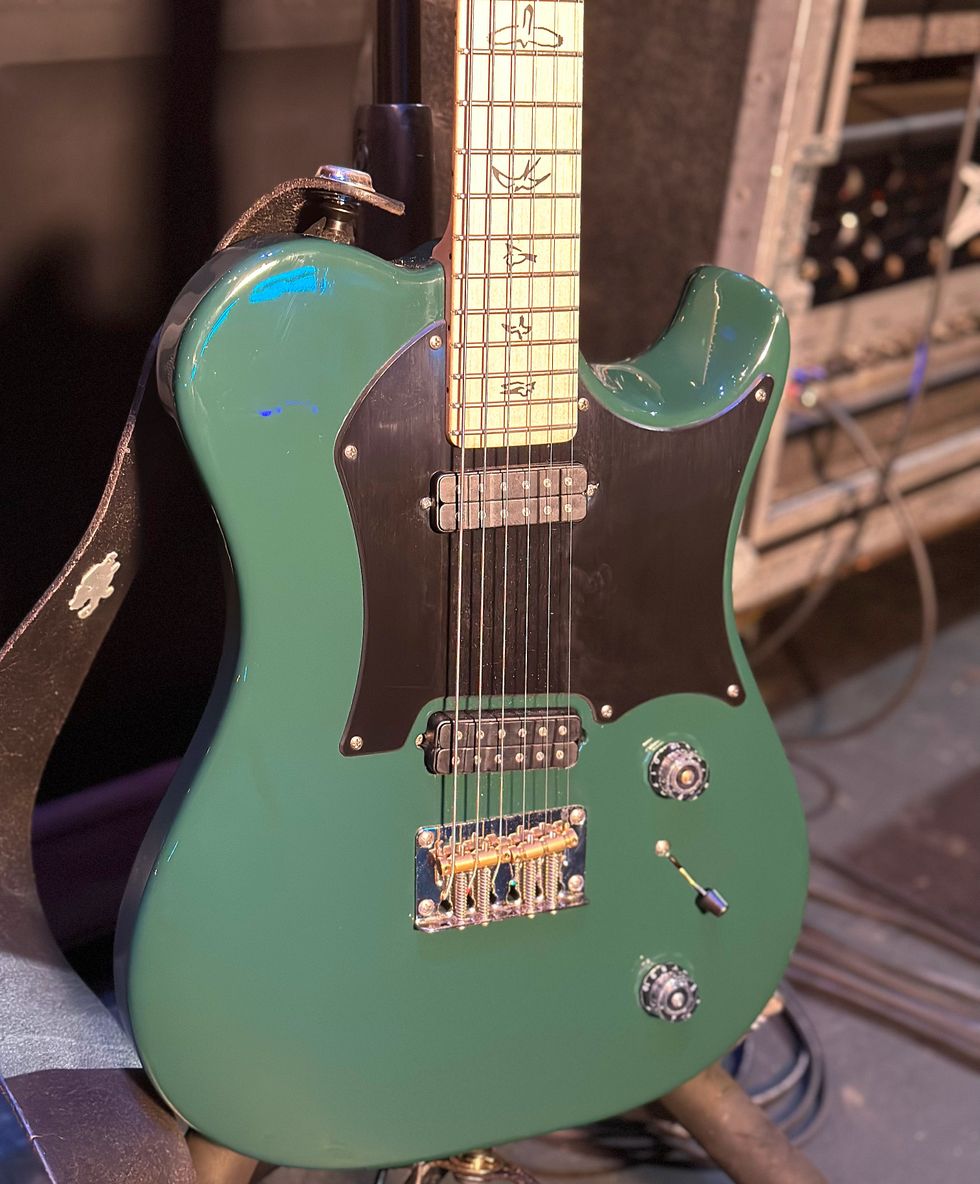 Kennedy's green Signature is tuned to A#–G#–C#–F#–A–#D#, and G–#G–#C#–F#–A#–D#, depending on the song.
Back(up) In Black
Kennedy's black Signature is strictly a backup in case there are problems with any of the others.
Diezel Power
Kennedy runs two Diezel heads: a Diezel VH4 and a Diezel Herbert. The amps run into two Diezel 4x12 cabs loaded with green Tone Tubby Hempcone 40/40 Ceramic speakers.
Myles Kennedy's Pedalboard
Kennedy runs his MXR Carbon Copy and an EarthQuaker Devices Dispatch Master in the VH4's clean loop. Over on his pedalboard, there's a Dunlop MC404 CAE Wah, Boss TU-2 tuner, Electro-Harmonix's Nano POG, Lizard Queen, and Freeze, a Ceriatone Centura, Strymon Deco, Line 6 MM4, and a Boss RV-6.
While our columnist started out averse to the classic distortion pedal, they soon dove deep into its circuits to invent their own take.
It's undeniable—the Fuzz Face is the most popular fuzz pedal in music history. Although it wasn't the first fuzz ever created, nearly every stompbox manufacturer has attempted to replicate its circuitry. Furthermore, almost every guitarist has, at some point, incorporated it on their pedalboard. The question arises: Why? Is it due to its distinctive enclosure shape? Or, the eternal cliché question: Is it simply because Jimi Hendrix used it?
Well, I admit—I'm not even a Hendrix fan! My dad used to play his songs when I was a kid, but that's precisely why I rebelled against it, countering Hendrix with Circle Jerks and Rancid! As a guitarist, I avoided the Fuzz Face for almost two decades. However, everything changed when I met Keket, my partner at Sehat Effectors. I found that he listened to Hendrix and music I'd never heard of before. Strangely enough, we still had something in common: Neither of us liked the Fuzz Face! For the first time, I'd met a guitarist who found inspiration in Hendrix's songs, but didn't like that pedal. And yet, there's an expectation of me, as an effects-pedal builder, to offer my customers a version of the hallowed stomp. So, here, I'll share my spiritual journey as a pedal builder lost in the endless labyrinth of the Fuzz Face.
In the process of creating our pedal that we came to call the Blown Face, I experimented with all sorts of variants of transistors and technology—from the highly sought-after germanium NKT275 version, to different types of germanium and silicon transistors from various series; then delving into the SMD/SMT versions that many dislike. I even took on digital emulations. In this journey, my main issue with the Fuzz Face was that its volume, at least with my simple setup, is too low for my liking (remember, I'm a fan of Circle Jerks!). This issue is even more pronounced when considering my band's context, which also leans towards that same musical style. My ears have become accustomed to heavy and loud distortion, especially as a musician who frequently plays small gigs.
When I finally did develop the Blown Face into something loud and explosive, that still wasn't enough. I wanted to replicate the original Fuzz Face enclosure, which, of course, I wanted to make my own using the sand-casting method. I also brought in features like the bias knob and a toggle switch that lets me turn it into a Tone Bender MkII, since, fundamentally, the Fuzz Face is descended from the Tone Bender Mk1.5. By adding a transistor to the input stage, it instantly becomes a MkII.
"Why is Stevie Ray Vaughan great? Because he's heavily influenced by Jimi Hendrix, but still manages to find his own style."
So, what is the point? Well, I'm not a purist! I'm not trying to sound wise here. As a builder, I simply believe that being yourself isn't a bad thing. Even though, we're quite sure there are pedal builders out there who better understand and are far more inspired by the Fuzz Face than Sehat Effectors—legends like Analog Man with their iconic Sun Face, and other big names like Dunlop, MXR, Fulltone, Wren and Cuff, JAM Pedals…. They're all great almost by definition at this point. Why is Jimi Hendrix great? Because he's Jimi Hendrix! But, at the same time, why is Stevie Ray Vaughan great? Because he's heavily influenced by Jimi Hendrix, and still manages to find his own style. This kind of analogy will always go on.
In diving into my Fuzz Face journey, my objective was simple: to see where the labyrinth would lead. Fuzz Face is a temporal anomaly. In an era where guitar-effects technology is advancing rapidly and has even reached sophisticated digital emulation, the pedal has managed to carve out its own unique, lasting existence. In my opinion, it should have been included in the Voyager Golden Record, sailing through a universe that is believed to have no end and is continuously expanding. Eventually, it might reach another Jimi Hendrix, who's billions of light years away from our beloved Third Stone From the Sun. Or, perhaps it could land in the hands of an extraterrestrial being in a galaxy we haven't yet named. Though, that extraterrestrial being might pick it up and say, "Why is this thing coming to me?"
Stymon's new UltraViolet pedal recreates the sound and feel of the original Shin Ei Univibe units from the '60s, popularized by players like Jimi Hendrix, Robin Trower, David Gilmour and Doyle Bramhall II, but adds a number of different options that were never available on the original units for greater flexibility.
Housed in the same smaller chassis as Strymon's recent Cloudburst and Brig releases, Ultraviolet also takes advantage of all of the features of the new platform, including full MIDI implementation and 300 presets, USB-C connectivity, stereo IO on TRS jacks, a rear-panel mono-stereo switch and a discrete JFET input preamp for unmatched touch-sensitivity and tone.
UltraViolet's simple and responsive controls provide a wider range of sounds than traditional vibe pedals. In addition to the familiar Chorus (50% wet) and Vibrato (100% wet) settings, there is a new Blend setting (30% wet) for an inspiring variety of more subtle effects. A Bias switch gives you three distinct flavors of sweep shape and tone emphasis, allowing for tons of sonic variation.
At slow speeds, the intensity range has been expanded beyond that of traditional vibe circuits to push even further into warmly undulating sonic territory. UltraViolet gives you all the classic vibe tones—and more.
Strymon UltraViolet Vintage Vibe
UltraViolet features a new algorithm in which all the elements of the classic optical vibe circuit (and their interdependencies) have been meticulously recreated for a dynamic playing response. From the effects of bias, speed and LFO waveshape on the pulsing of the lamp, to the response of the light-dependent resistors that set the center frequencies of the staggered phasing filters, the entire system has been duplicated and carefully tuned to produce the very best sounds a vibe pedal can offer.
TRS stereo input and output in a dual mono configuration means you can place UltraViolet at any point in your pedal chain with no impact on your stereo image. Full MIDI implementation with 300 available preset locations ensures that UltraViolet is ready for your MIDI rig. In addition to TRS MIDI, there is a USB-C jack for controlling the pedal via MIDI from a computer or for performing firmware updates. For hands-free control without MIDI you can connect an expression pedal for control over any combination of knobs in any direction. (Expression pedal controls Speed by default.) Or attach an optional external switch for tap tempo or favorite recall. Finally, a high-impedance, ultra-low noise discrete Class A JFET stereo input preamp provides exceptional touch sensitivity, dynamics and feel—all in a rugged and elegantly compact form factor.
Strymon UltraViolet Vintage Vibe – Deep Dive with Sound Designer Pete Celi
Learn more about UltraViolet ► http://strymon.net/ultravioletIn this video, Strymon co-founder and senior DSP engineer Pete Celi takes you on an in-depth tou...

"Good grief this thing is addicting to play!", said Sean Halley, Strymon's Head of Marketing. "It has all of the low frequency girth that the best pricey boutique big-box pedal versions have, but it can do so much more than the originals could and it's small enough to fit on any board. It's the very first digital vibe I've ever heard that sounds this big".

Pete Celi, Strymon's co-founder and DSP guru adds "After deeply studying a bunch of the best analog units we ended up giving UltraViolet three different Bias settings, so you can really fine-tune the response to fit the music you're playing. Also, in addition to the traditional Chorus (50/50) and Vibrato (100% wet) modes, the new Blend mode gives you a 70/30 mix of dry and wet, for more subtle versions of the effect. It can totally do the hyper-authentic '60s thing, but it can do a bunch of other stuff that makes it much more versatile than the original units."

UltraViolet is available now directly from Strymon and from dealers worldwide for $259 US.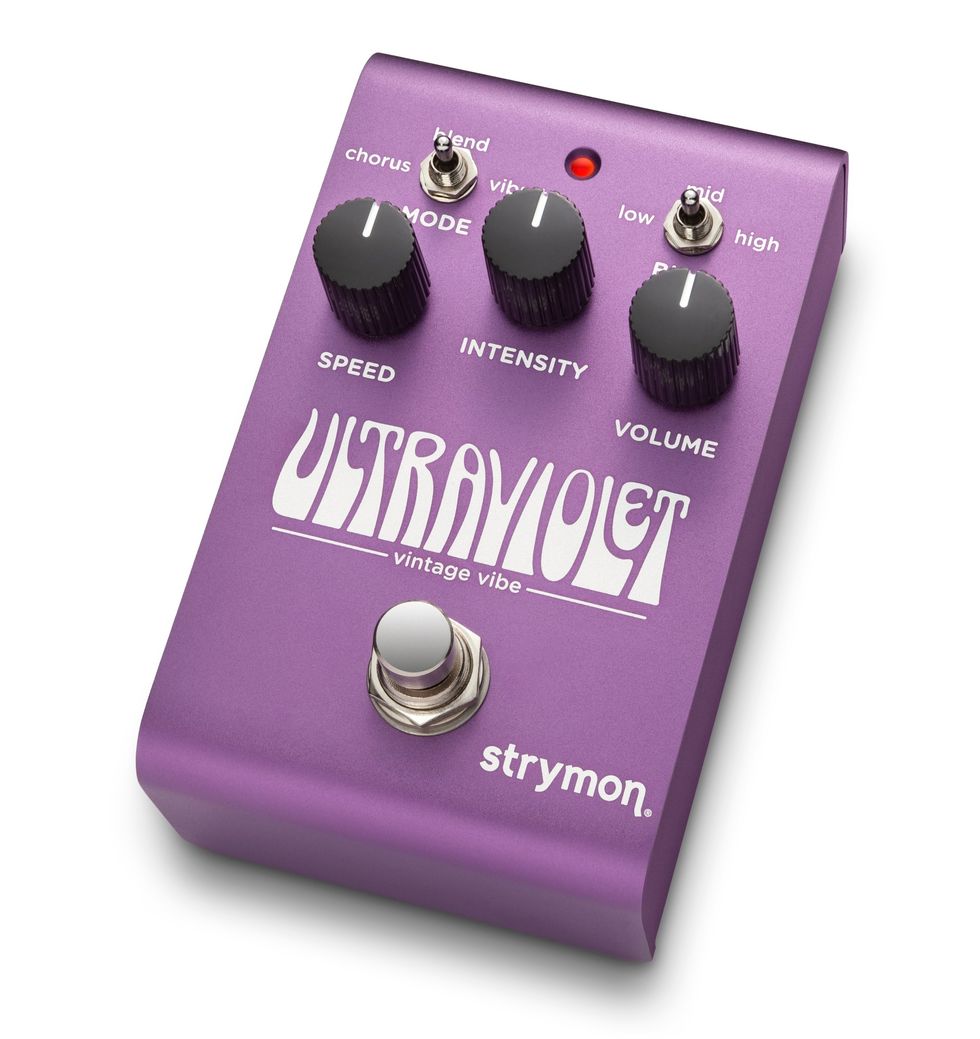 Much more than a re-creation of the legendary Uni-Vibe effect, Strymon's UltraViolet Vintage Vibe chorus and vibrato pedal elevates classic rock's most psychedelic effect with a significantly enhanced control section and modernized features. This pedal starts with an extraordinarily precise digital replica of the original Uni-Vibe's Chorus and Vibrato modes, then ups the ante with a more subtle Blend mode — a 70/30 split of your dry/wet signal, as opposed to the 50/50 split of Chorus mode. Speed, Intensity, and Volume significantly increase your ability to sculpt and shape Uni-Vibe tones to your liking. Meanwhile, Strymon's addition of a 3-position Bias switch drastically alters the UltraViolet's voice by modifying the center frequency of the effect's sweep. You also get all the cutting-edge benefits inherent to Strymon's compact pedal lineup, including full MIDI implementation, a premium discrete analog input preamp, 300 presets, USB-C, and mono/stereo operation. Compact, versatile, and beaming with vintage-accurate swirl — Strymon's UltraViolet is a must-have pedal for any Uni-Vibe fanatic.
Strymon