Joe Gore's The Subversive Guitarist: Learning to Love Flat Keys - Jan. '19 Ex. 5
John Bohlinger demos the Godin Radium-X! Showcasing both acoustic and electric tones, this Canadian made guitar could be an ultra-versatile addition to your rig.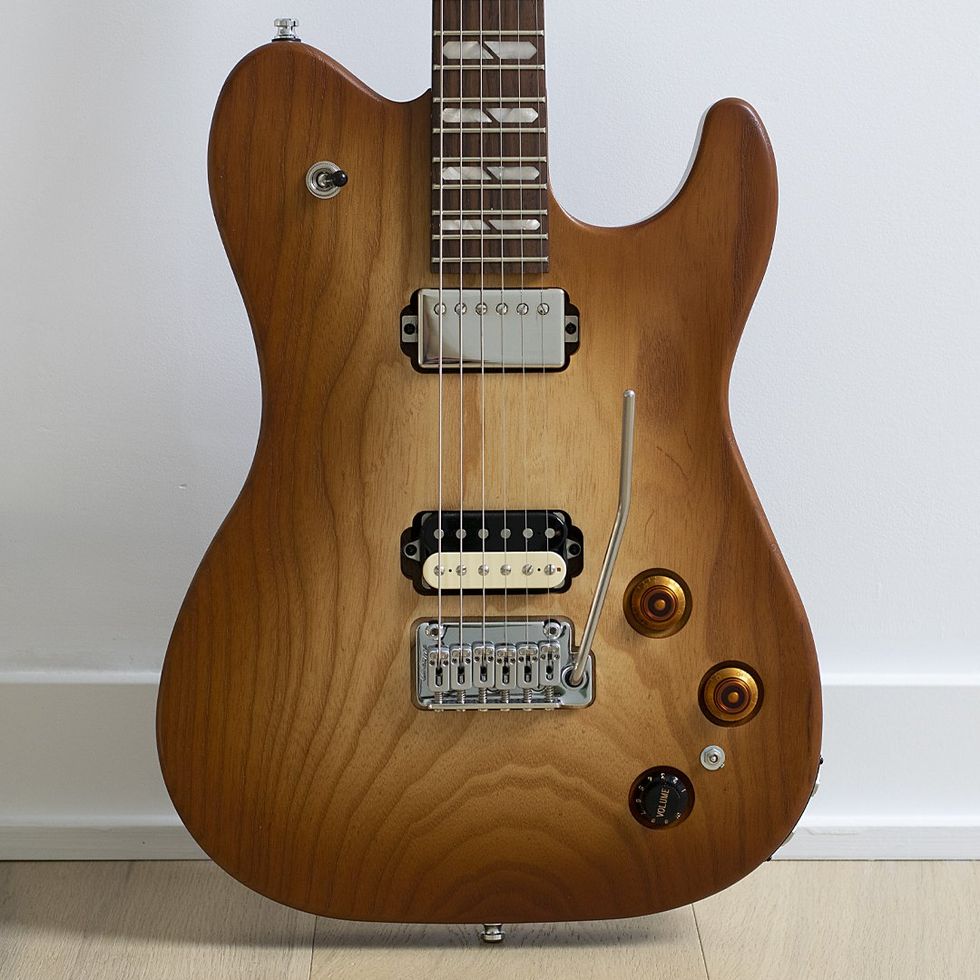 After over 30 years of hand-crafting award-winning multi-voice guitars, celebrated by players world-wide, we are proud to introduce the Godin Radium-X! Designed to be ultra versatile, the Godin Radium-X delivers both electric and acoustic tones, right at your fingertips! Proudly made in Canada, this two-voice guitar features a chambered Mahogany body, carved Swamp Ash top, 25.5" scale Mahogany neck and Rosewood Fingerboard. With a Seymour Duncan Jazz SH-2 at the neck and a Bare Knuckle Boot Camp True Grit Zebra at the bridge, the Radium-X is a powerhouse of tone. This diverse magnetic pickup combo is capable of delivering powerful, warm distortion to clear, glassy tones, appealing to a wide range of players and musical styles. The Radium-X's stunning acoustic voice comes courtesy of a custom-designed LR-Baggs X-Bridge tremolo with six built-in "HEX" saddle transducers. This electronic combination can be controlled independently or blended together and offers an unprecedented range of electric-acoustic options to explore. The Radium-X also incorporates dual output jacks that can be used as separate 'electric/acoustic' outs, or as a combined 'mix' out. It also has a traditional magnetic volume, tone and 3-way toggle, plus an 'acoustic/mix/magnetic' 3-way mini-selector and 'acoustic volume/blend' control to easily sculpt your sound. Elevate your performance with the two-voice Radium-X!
Learn More: https://godinguitars.com/product/radium-x-rustic-burst
Godin Guitars
Veteran bassist and longtime PG contributor Steve Cook provides a no-nonsense guide to finding the best strings to fit your bass and playing style.
He works with varied types of bass strings, all by D'Addario, with flavors from snappy and bright to mellow and subdued. Along the way he investigates materials, coatings, and gauges. (Medium strings are probably what your bass wore when it left the factory.) Steve plays the same licks throughout the video, to be sure the focus is on the strings exclusively. And before launching into the experiment with his slightly modded Fender Precision Deluxe, he advises to always let you own ears make the judgement about what sounds right for you. (Did you hear that?)
First up: XL high-carbon steel-core strings with nickel-plated wrap wire. Then, it is warmer and fatter sounding Pro Steels, with a high-carbon steel core and stainless steel wrap wire. Those are followed by XL Chromes, with a high-carbon steel core, and a stainless steel-flattened ribbon wrap. The NYXLs that now arrive have a steel core and nickel-plated steel wrap wire. The XT Nickels on his bass have D'Addario's XT coating and a steel core, with nickel-plated steel wrap wire. Following that, it's XL half-rounds with a high-carbon steel core and pure nickel wrap wire, trailed by Nylon Tapewounds with a high-carbon steel core and a flattened black nylon wrap. And the next XLs, regular Nickels, have a high-carbon steel core and nickel-steel-plated wrap wire. Steve finally shifts to a second riff, to display the sounds of a slightly different approach. And then he starts snapping and popping, for the funkateers out there, followed by a walking bass line. And yes, he plays with a pick as well as his fingers.
By the time Steve's finished, you hear all these string sets with a compendium of approaches. And then it's your turn.
The DiMarzio Model J is designed to be 50 percent quieter than the original Fender Jazz bass single coil pickups, and it's 60 percent louder.
Tanya O'Callaghan, famed for her dynamic stage presence, in-the-pocket timing, and world-class touring resume talks about her new favorite bass pickup, the DiMarzio Relentless J.
Tanya has toured with Whitesnake, Bruce Dickinson (Iron Maiden), Maynard James Keenan (Tool/APC), Dee Snider (Twisted Sister), Steven Adler (Guns N' Roses), Nuno Bettencourt (Extreme), The Riverdance, The Voice, Orianthi, Michael Angelo Batio, Kevin Godley, Sharon Corr (The Corrs) and David Grey, to name a few…
DiMarzio introduced the world's first Fender Jazz bass replacement pickups at the NAMM show of 1977. DiMarzio invented the dual bar ceramic magnet structure for extra power and included twin hum-cancelling coils for decreased noise. The DiMarzio Model J is 50 percent quieter than the original Fender Jazz bass single coil pickups, and it's 60 percent louder.
We also added adjustable pole pieces to improve the string balance and designed them in our signature cream color. At its introduction, the DiMarzio Model J immediately become an industry standard and has been the pickup of choice on thousands of hit recordings.
With the introduction of the Relentless P bass pickups, co-designed with Billy Sheehan, we began to think how we could make our Jazz Bass pickup even better.
As with the Relentless pickups, we removed all the hard edges from the standard J Bass pickup and added an arch to the top of the pickup to bring the sensing coils and pole pieces closer to the strings. These improvements increase the dynamic range and make active circuits unnecessary.
We invented (patent pending) parallelogram-shaped coils to add dimension, punch, and dynamics to the Relentless J sound, and we incorporated metal covers with foil-shielded cables to further suppress the background noise.
DiMarzio's extra shielding makes the Relentless J better for both recording and stage performances. We mounted it onto a robust .09375" thick circuit board base plate so we could eliminate the annoying protruding mounting screws — ultimately creating a more comfortable and consistent foundation to rest your fingers on.
Tanya O'Callaghan for DiMarzio Relentless J Bass Pickups
​To improve the balance when both pickups are used together, we made the bridge position pickup louder than the neck position pickup. When the pickups are blended, you get a better volume match.
The Relentless pickups incorporate Neodymium magnets and produce 70 percent more output than traditional passive pickups, and they're dead quiet. We've expanded the mid-range punch, adding snappy highs and precise lows. These pickups have a broad magnetic field so you can even bend notes without volume dropout.
Relentless J pickups will breathe new life into any bass, increase playability, and work well for any style of music from Motown to metal.
For more information, please visit dimarzio.com.