Johnny Smith: Extraordinary Man, Extraordinary Guitar
Johnny Smith once said of himself that he wasn't a jazz guitarist, but don't believe it for a minute. Ever the humble, reserved homebody, Smith did as much as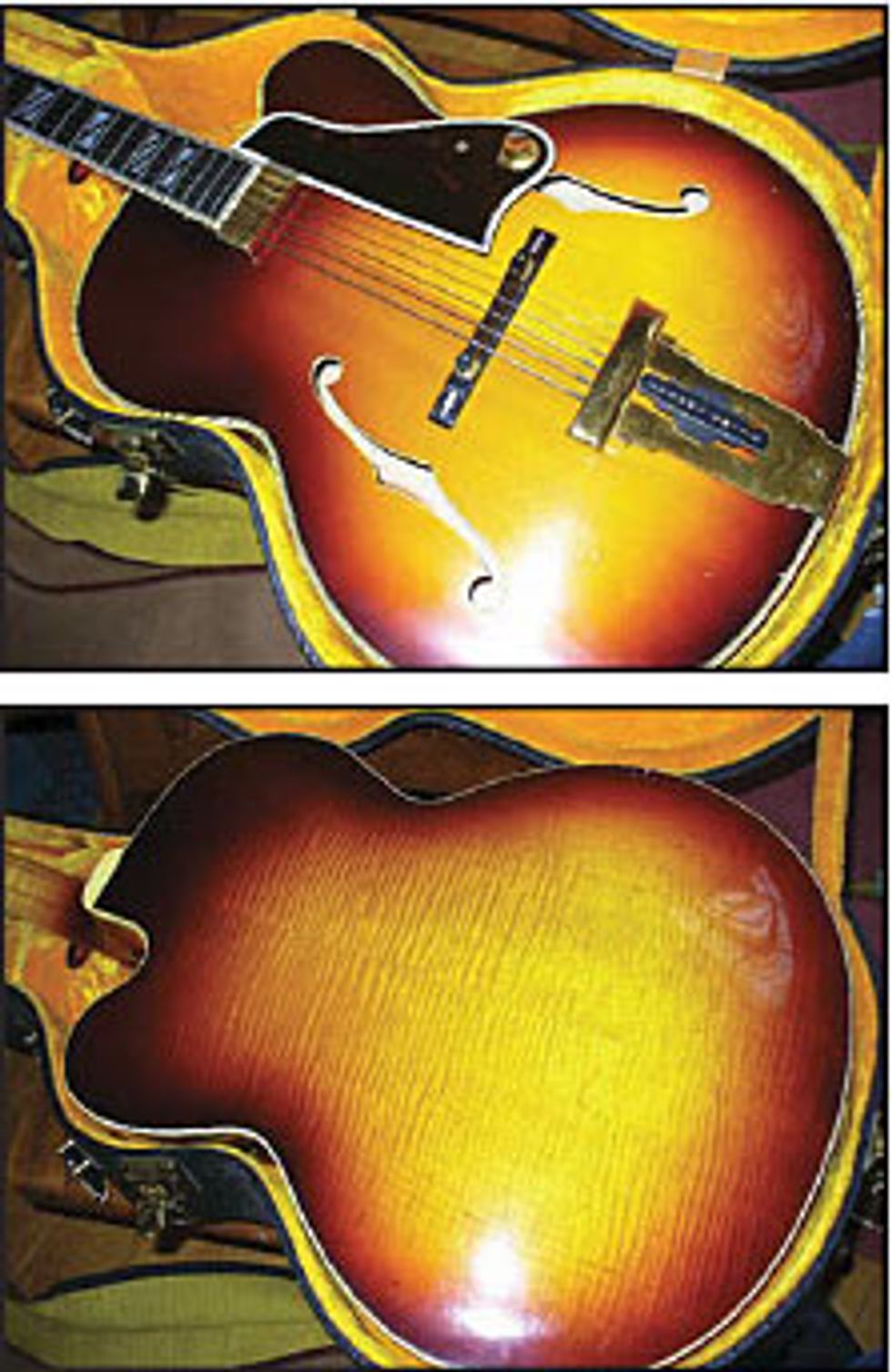 Johnny Smith once said of himself that he wasn't a jazz guitarist, but don't believe it for a minute. Ever the humble, reserved homebody, Smith did as much as any great artist to help define the role and capability of the electric archtop as it is used in jazz performance, especially in regards to sophistication and refinement of technique.
In the fifties, a time still considered early in the evolution of modern electric jazz guitar, Smith helped define a new genre of jazz guitar that was rooted in the reserved, cool jazz school, but displayed highly refined, almost classical guitar technique and virtuosity. The mastery he has displayed throughout his career is characterized by clear articulation, close voicings in chordmelody work, virtuosic runs that can cover the neck and highly compositional improvisations. We could almost call his music "chamber jazz," since most of his recordings feature a tightly arranged, emotionally reserved small group that demonstrates dazzling technical mastery with healthy doses of classical references.
Smith's place within the annals of guitar history is now well established. His history is highlighted by many successful small group recordings, such as the "Moonlight in Vermont" recording with Stan Getz which brought him to fame in 1952; the composition "Walk, Don't Run," later becoming a hit for the Ventures; several guitar poll prizes with Down Beat and Metronome magazines in the fifties and a slew of signature models from leading guitar makers. His playing may lack the edge and grit of a Wes Montgomery or Grant Green, but he certainly makes up for that with a unique and instantly recognizable voice that is otherworldly in its sophistication and style. "Johnny Smith style" is now almost synonymous with smooth virtuosic technique and the use of a single floating pickup on an archtop.
One of his greatest contributions to guitar lore may be found in the Johnny Smith signature models. During the fifties, Smith played a D'Angelico, but he also endorsed a Guild JS model. The fifties Guild JS Award model was a high-end, 17" archtop that was brought back by Guild and Bob Benedetto in the nineties. Arguably, the finest JS signature model with the greatest notoriety is the early sixties Gibson version; Gibson contacted three important jazz guitarists in 1960 – Johnny Smith, Tal Farlow and Barney Kessel – in hopes of creating artist models and with the goal of breathing new life into the traditional archtop. See the August '07 Jazz Guitar Hardball column for a discussion on the BK model.
Unlike the limited role that Barney Kessel had in developing the BK model, Johnny Smith was extremely involved in the development of the Johnny Smith model. Smith insisted that the guitar be one that he would play full-time before he would associate his name with it. The JS model was to have a unique scale length of 25" (a Super 400 or L-5 has a scale length of 25.5"), a floating pickup so that the tone was fully acoustic, a slightly smaller L-5 body and a Super 400-sized headstock. Narrower fholes and Johnny's name on the L-5 style tailpiece elegantly completed the design. In 1961 this guitar, with the Lifton black/yellow case and canvas case cover, commanded the princely sum of $795. In 1963, the JS-D, a two pickup version of the JS, went on the market, although I have never seen anyone ever use the bridge pickup! The JS models were the longest running signature jazz guitars, lasting in the Gibson line until 1989. In 1993 Gibson essentially reintroduced the JS model, but named it the LeGrand.
The style of the Johnny Smith guitar continued under several names following Gibson. The Heritage Guitar Company picked up the torch and briefly made some very fine Johnny Smith models that were reminiscent of the Gibson JS single pickup model. However, in 1999, the torch was passed back to Guild, who made another JS model under the luthiery of Bob Benedetto, bringing full circle the story of a signature model that began with Guild, moved to Gibson, to Heritage and finally back to Guild. We are indebted to Mr. Smith for both his music and his guitar.
---
Jim Bastian
A clinician and jazz educator, Jim Bastian is a 10 year veteran of teaching guitar in higher education. Jim holds two masters degrees and has published 6 jazz studies texts, including the best-selling
How to Play Chordal Bebop Lines
, for Guitar (available from Jamey Aebersold). He actively performs on both guitar and bass on the East Coast.
An avid collector and trader in the vintage market, you can visit Jim's store at
premierguitar.com
(dealer: IslandFunhouse).