Keller Williams: Low-End Loop Master
One-man jam band Keller Williams reveals the trick to avoiding pesky loop drift, and tells how playing with the string cheese Incident inspired him to dive headlong into bass on his new reggaetrio album.
Photo by David Barnum

Listen to "I Am Elvis" from Bass:

Back in the early '90s, Keller Williams got tired of fading into the background as the barflies at his weekly gigs focused on inhaling every last 25-cent, happy-hour wing and half-price pitcher of Rolling Rock. It's not easy being a solo acoustic artist when the crowd treats you as nothing more than a human jukebox. The volume and spectacle of a full band might have helped get audiences to take more notice, but it would have also meant losing money at each gig. So, Williams decided to begin his one-manband looping explorations. That changed everything. "Then people started paying attention," says the Fredericksburg-Virginia native. Soon the crowd was dancing to his loop-a-licious grooves and Williams began garnering major buzz in the music scene.
It wasn't long after this artistic transformation that Williams made his mark in the jam-band world, of all places, both as a solo artist and also in collaboration with various luminaries in that scene. His album Stage, won a Jammy for Live Album of the Year in 2005, and his song "Cadillac" won a Jammy for Song of the Year in 2008. He also shared a Jammy with the String Cheese Incident and Umphrey's McGee, among others, for Tour of the Year in 2006. With these accolades, Williams' scenery changed from inattentive, pot-bellied plumbers and sullen schoolteachers at the local bar to completely engaged crowds of happy-go-lucky hippies and their hirsute companions at massive arenas.
Williams' music is often goofy and irreverent. In addition to penning a huge number of originals, he's also covered a broad rage of hilariously incongruous songs—from Ozzy Osbourne's "Crazy Train" to the Sugar Hill Gang's "Rapper's Delight." But while his music can be fun, make no mistake—Williams is a serious musician who keeps serious company. His 2007 release, Dream, counted icons like John Scofield, Bob Weir (who played on the Jammy-winning song "Cadillac"), Béla Fleck, Charlie Hunter, and Victor Wooten among its many guests.
Several years ago, Williams became a father, and this life change is reflected in his writing and recent career choices. In 2010, he released a children's album called Kids, and wrote a book entitled Because I Said So that's based on the album's song of the same name. He recently secured the highly coveted Super Music Friends section of the Yo Gabba Gabba! live tour. Even with the grueling demands of parenthood and these projects, however, Williams is always looking to the next frontier—like the loop-free, bluegrass-tinged Keller & the Keels and the Travelin' McCourys. In December 2011, he released Bass, his 17th album. For this album, Williams eschews the guitar for the first time in his recorded career, teams up with a reggae keyboardist and drummer, and leaves the one-man-band approach behind to pick up the—you guessed it—bass!
Let's talk about the newest and most unusual thing for you first—the fact that you're playing nothing but bass on Bass. How did you get into the instrument itself?
Well, I guess it started long ago when I was on tour with the String Cheese Incident. Keith Moseley's wife was due to have a baby shortly after the tour ended, and there was a possibility that the baby would come early and Keith would have to leave. So instead of hiring a bass player, they told me to learn 20 songs on bass just in case. So I learned 20 String Cheese songs on bass—I worked on them for 40 hours in one week, doing the 9-to-5 thing, learning songs. Luckily, the baby was on time and Keith never had to leave, but I was left with a love of this new instrument and started to incorporate that into my looping shows. That's kind of when things started to change for me, as far as people coming to shows and dancing. Low end has a huge impact on music in general. I can't understand how I went so long without it, as far as my solo act.
Was it hard transitioning from guitar to bass? A lot of people say, "Oh it's harder to go from guitar to bass, and to sing while playing bass." It's not, because my guitar style has always focused on the bass line, and now with the bass there are two less strings to deal with and tune. It's just glorious [laughs].
How did you first get into playing guitar?
A TV show called Hee Haw that had these cats playing guitar. You remember that show? [Ed. note: The CBS variety show ran from 1969 to 1992.] I think my parents knew one of the girls that would pop her head out of the little hay field after the jokes, so they would always have it on. I wanted to be like Roy Clark and Buck Owens, pickin' and grinnin'. It was cool, so I got a guitar when I was a kid and just pretended to play it.
What kind of guitar was it?
One of those little 3/4-scale guitars. I still have it. From that guitar, I moved to the hockey stick because it looked more like an electric guitar [laughs]. It was easier to hold and "play." Then a friend showed me some chords when I was, like, 12 or 13. I really took to it and took all the chords he showed me and put them to the songs on the radio. Three or four years later, I began making money by playing covers on a stool at a happy hour with a coat and tie.
Did you write all the music on Bass, or was it a collaborative effort?
Except for the obvious covers, "Hollywood Freaks" and "Buena," all the songs are originals. One of the originals was co-written by Robert Hunter. I'm very proud of that. The rest were written on guitar, and all of them have been road-tested. Some of them I've been playing for years, and they never really found a place on a record.
Does the road-testing of a song play a part in the final outcome of the recording?
Yeah, road-testing is definitely a big part of the final recording. It has a lot to do with the audience reaction. There are songs that have died a quick, painful death, never to be resurrected again, simply because they didn't go over live. Which is the total opposite of how it's normally done. Y'know, people usually go in and record songs, save them, and go out and play them live. I've never seemed to have that luxury. And there have been songs that were made up in the studio, and then they go out and get drastically changed live. I figure out exactly how I want it to be, and then record it.
Keller grooves on his Fender Road Worn P bass at a 2011 gig at Pearl Street Night Club in Northampton, Massachusetts. Photo by David Barnum
There's a YouTube video of you playing "2Bu" acoustically, and it's a totally different feel than the version on Bass.
"2Bu" is a drastic difference from what I do on guitar. All these songs are written on guitar, and when I took that into the studio with this trio, it turned into more of a reggae thing. It's really fun for me to do songs a different way, but it's not so different that people don't know what it is. The vocals are still constant and usually done at the same tempo and in the same key and in the same timbre. It's just that the music might change from an open, fast-picking tuning to kind of a laid-back, reggae style.
"I Am Elvis" is another one like that: On the Bass version, you add a reggae/soca feel to it, but in some of the older YouTube videos you play it in more of a singer-songwriter strumming style.
"I Am Elvis" is definitely done in a few different ways, but if you really put them side by side you'll see that they're very similar. My guitar style focuses on the bass lines. For instance, on the solo section, this is the bass line [scats bass line] and if you listen to the acoustic version, that bass line is there.
Unlike your other albums, Bass isn't a solo looping record.
K Dubalicious is the name of the trio. It's me and two of my favorite local musicians—Jay Starling [keyboards] and Mark D [drums] from a reggae band called the Transmitters. The guys are so good. I'm able to show them songs and they're able to pick up on them really easily.
What led you into looping originally?
That happened from years and years of being that guy in the corner at a bar, where there's no cover charge and there just happens to be a dude playing in the corner. No one's really coming to hear music, they're just coming because it's a bar and that's where they go. Years and years of playing background music, and people not really paying attention, and me wanting to go down different musical avenues and create more and more of a dance vibe. Once I started looping, it was more fun.
You create all your loops live, right?
Oh yeah—nothing is prerecorded.
Your looping can get really involved and have many layers. Was it always that intricate, or did you start off simpler?
It was a couple of years of just guitar and vocals—looping a rhythm line and soloing over the top of it—and putting a beat-box track over that. Once I added the bass, that's when it really started to change.
Which loopers do you use?
It started out being called the Echoplex back in the late '70s or '80s. It was a tape machine inside a bulky box. Then that went digital, and Oberheim had it for a while. Later, Gibson bought out Oberheim and then totally shut the whole thing down. They've been out of production for many years.
So where do you get your units then?
On eBay and Craigslist. Where the trickiness comes in with the crap that I use is that we have to find guys that know how to fix these things. Louis Gosain, who travels with me, is an electrical genius, but there's usually stuff he can't fix. So there are generally three units that are out being serviced, and we travel with four of them—we usually have four that are working really well. Or three out of those four are working well and probably three more are being used for parts or are out on a service call.
Have you used any of the other loopers on the market, like the Boss RC-300 Loop Station or any laptop-based rigs?
Those are great—all the new stuff that's happening is fantastic. So much is being done with computers these days, and I've definitely messed around with it but I haven't crossed over completely. What I need is to have them be able to tie together and have them synced up, because I usually use three at one time. The bass is on its own, the drums are on their own, and then there's one for guitars.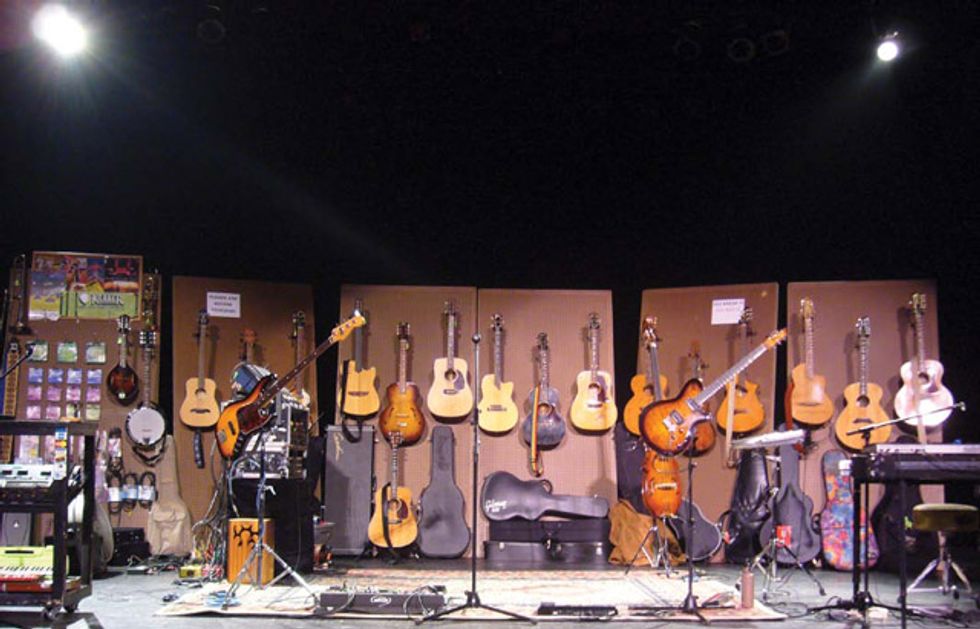 Photo By Louis Gosain
Have you ever had issues with recalling the wrong loop?
Not really, because everything is created right there. I'm not really going back and doing verse and chorus with different loops—it's a little simpler than that. I'll just play the verse and the chorus. My looping comes in for jam sections. Once they're all synced up and I have a loop going, I'm able to work that whole DJ formula with all the samples that I've created. I can drop out the bass, or I can have the drums play, or just let the bass play.
The loops must have to be pretty tightly controlled. Can you really get into the music, or do you have to constantly be alert to make sure you get to a particular loop in time?
There's a lot of starting, stopping, and starting over. But it's all done, hopefully, in time to make the first-timers think I meant to do it. The people that have seen me before kind of know what's going on, like where I wasn't quite satisfied with a loop so maybe I'll start over, maybe do it in real time. My three loopers are plugged into each other and are all synced together, and 90 percent of the time they'll stay synced but sometimes they'll drift. That's where the trickiness comes in and you have to start over again in the middle.
You'd think all loopers would stay perfectly synced, but they do drift.
Yeah, you'd think, "This is in time and this is in time, and they should be playing together." But they definitely drift. The problem with the new loopers is that you can't really sync them together.
One of the trickier aspects for people just getting into looping is getting the loop to stop and start exactly in time. Is there a trick to that?
Here it is: It's all on the one [the first beat of a measure]. You've got to figure out where your one is, no matter what time signature you're doing. Then you have to forget about the loop and concentrate on hitting the [record] button with your foot when you want it to start and, after you've played the phrase, you hit that button [stop]—but you just keep playing as if you're not looping at all. After two or three seconds, you slowly stop playing and it should be in time.
So keep playing—even when you've disengaged the original loop?
Correct. It's kind of like golf— looking down at the ball and not looking up to see where it went. My problem was always, like, "Here it comes, here it comes." Then I'd hit the button and I'd stop, and that's where the issue would happen—if you hit it too early or too late. Just keep playing, and you'll be exactly where you want to be.
What if your figure doesn't start on a downbeat—for example, if it comes on the and after the one? In that case, you wouldn't be playing on the one.
It's all about the initial loop— the start and stop of the first loop. Once you have that, you can kind of create things over top of it and start them in different times. You're kind of making your own click track.
Keller Williams' Gear
Basses
Fender fretless Jazz bass, Fender Road Worn Precision
Guitars
Martin HD-28, Gibson Chet Atkins SST with Roland synth pickup, Rick Turner Baritone 12-string
Effects
Roland GR-55 Guitar Synthesizer, Allen & Heath MixWizard mixer, Korg Kaossilator
Strings and Picks
Flatwound bass strings with a .105 low E, Elixir Acoustic 80/20 Bronze with Polyweb Resonator sets (.016–.056), Jim Dunlop 1.14 mm picks
Let's talk about your other gear. What are you using to cover the new bass-centric material?
On Bass, I used two Fender basses, both Mexican-made models. One's a Fender Jazz fretless, and the other is a Road Worn P bass.
And what about your main guitar gear?
My main guitar is a Martin HD-28. I also use a synthesizer pickup on a Gibson Chet Atkins SST, and that's my backup and my carry-on—I always get off the plane with a guitar. Nine times out of 10, all the other guitars show up, but there's the one time that they don't—so I always make sure I have a carry-on, and it has to be one with a strong, thin body. The Chet Atkins is definitely not the finest of guitars, but it's a block of wood, it fits in the overhead compartment of a small jet, and I don't have to gate-check it like a big, bulky Martin.
What are you running the synth pickup into?
I use it as a synthesizer guitar with the new Roland GR-55, which is insane. I used the GR-33 for years, and the technology involved in the 55 is unbelievable. I use the same pickup that I used with the 33, and with the 55 there's no latency. It's like real time. The stereo effects are just insane, too—the way you can mix and match a vibraphone on one side and a flute on the other side, and have that coming out in high volume in stereo is pretty interesting.
What about amps?
There are no amps. It's all plugged in direct. The stuff I bring around is the outboard gear that I use for looping. I use an Allen & Heath MixWizard soundboard, which acts as the brain. I also use a Korg Kaossilator—the handheld Kaoss pad that's now updated with synthesizer sounds. It's really an incredibly fun toy. You can set the key and the scale, and there are literally no wrong notes. It's like a poser's dream [laughs].
Youtube It
Though Keller Williams jokes about how the new Korg Kaossilator is "a poser's dream," the following YouTube clips quickly prove how self-deprecating the multitalented man truly is.

Williams performs his hit "Freeker by the Speaker" at the Hard Rock Café in New York City. Looping madness—including bass, beat-box, a guitar synth solo, and whistling—begins around 4:43.

Here's a clip from Keller's performance as the Super Music Friend from a live Yo Gabba Gabba! show in San Francisco. Although it's from a kiddie show, it's defi - nitely not child's play. This clip is a magnifi cent example of how to build a loop from the ground up.

In this clip from the 2010 Summer Camp Festival in Chillicothe, Illinois, Williams is road-testing the song "I Am Elvis." Compare it to the full-band version on Bass.