Monster Guitar Method Vol. 1 - DVD/CD
With the appearance of video games like Guitar Hero, adolescent dreams of rocking out have been realized, albiet in a virtual world. For those who are tired of racking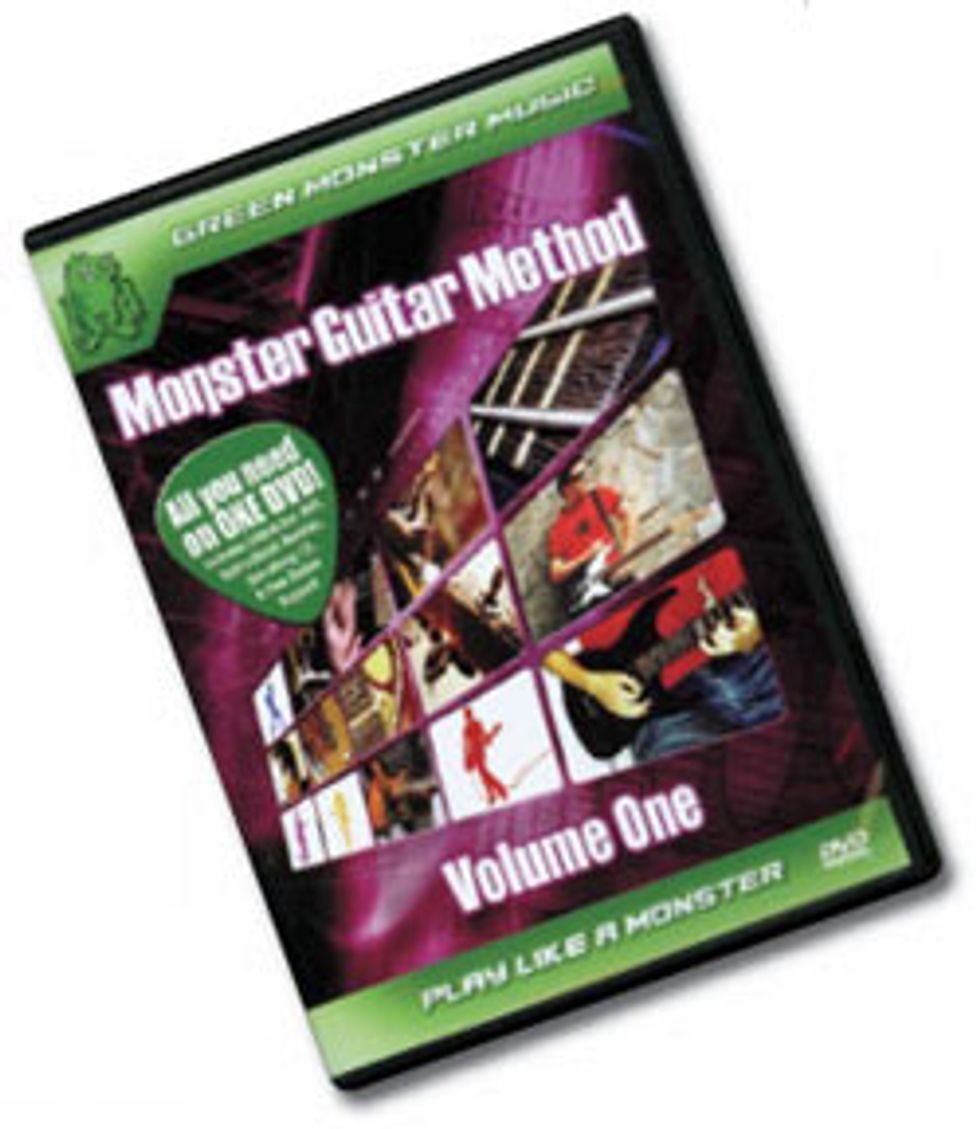 With the appearance of video games like Guitar Hero, adolescent dreams of rocking out have been realized, albiet in a virtual world. For those who are tired of racking up endless points on the Playstation 2,
Monster Guitar Method Vol. 1
provides users with a complete, easy-to-follow course of study, meaning true rockstar glory remains within grasp.
Monster Guitar
starts off with basic notes, quickly incorporating C major, minor and pentatonic scales. Although the DVD moves fast, it ignites a motivational fire under students to keep up with the lessons and progress as players. The lessons are taught by musician John Maurice Doyle and aided with a complimentary booklet containing fundamental chords, chord changes and tablature.
Each lesson is broken down into weekly segments with specific scales and licks, providing a challenging but flexible learning schedule. With unique "follow the bouncing ball" style graphics on chord charts and necks, it enables players to actually visualize chords and scales. For example, the use of on-screen, color-coded strings allow students to easily follow lessons without staring at their hands. Doyle does a commendable job of building off previous lessons and introducing the player to changes and chord progressions, eventually incorporating basic pentatonic and blues licks.
A truly rare feature included with Monster Guitar is the ability for students to directly email the instructor for assistance – something you won't find with other DVDs. Students needing additional assistance can also connect with other players through Monstersponsored message boards and live chat rooms. Furthermore, the package allows students to combine visual lessons with ten jam-along CD tracks to keep the learning process fresh and fun. Although Vol. 1 may be below many PG players' skill levels (other levels are available), it could be the perfect gift for any young, aspiring guitarist on your holiday gift list.
---
$29.95
greenmonstermusic.com
Our expert has stated his case, now we want to hear yours. Log on and share your comments and ratings.