Here are the albums that teased PG editors' ears and made our heads explode with delight! Plus, some of the most-anticipated recordings—real or wish-listed—of 2023.
And the winners are…
---
Jason Shadrick — Associate Editor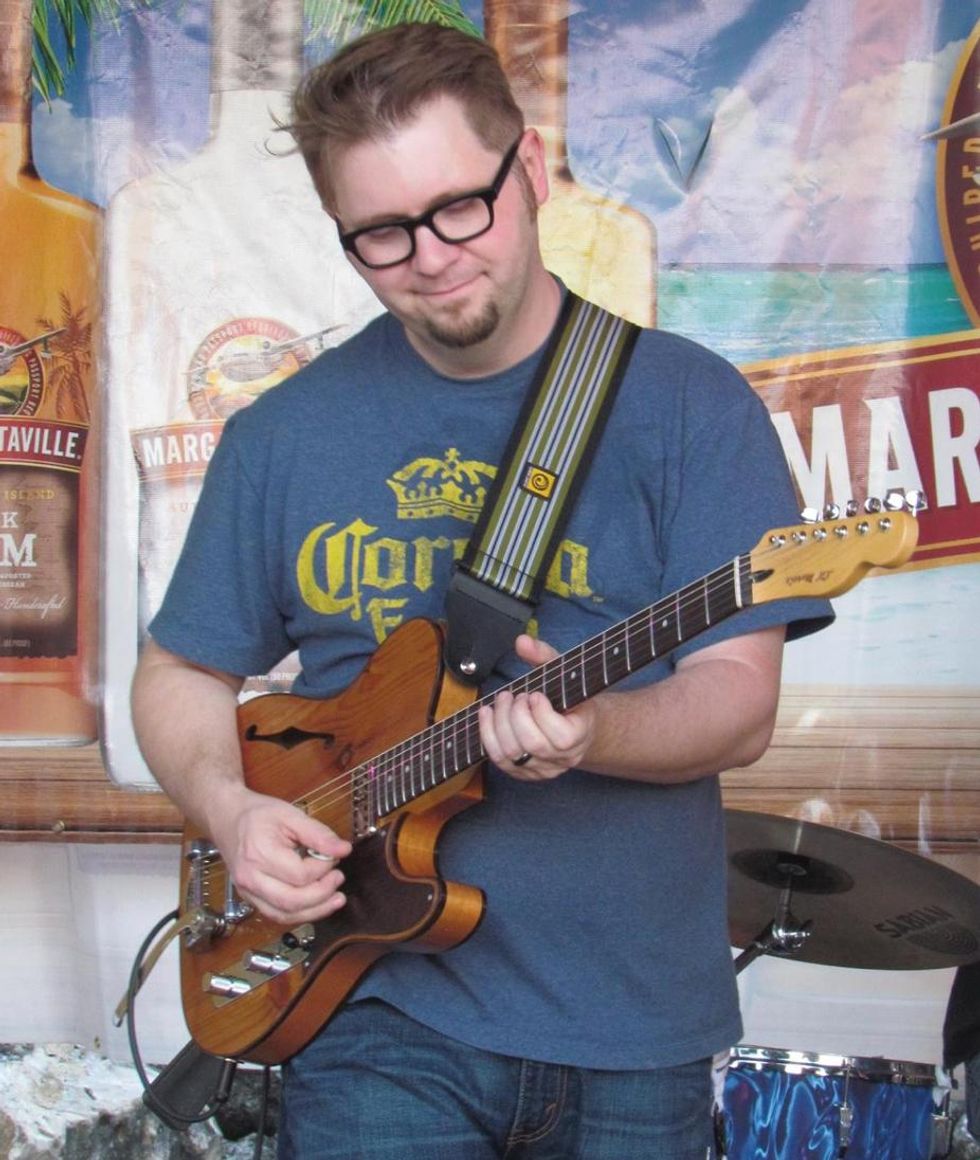 Molly Tuttle & Golden Highway
Crooked Tree
It seemed like this year the "young lions" of bluegrass guitar finally broke through. While Billy Strings was on his way to arena-level stardom via the jam band crowd, Molly Tuttle took a less experimental route with a dynamite new album (produced by bluegrass legend Jerry Douglas) and new band. At times her voice echoes Alison Krauss, but her playing is firmly influenced by Tony Rice, Bryan Sutton, and Doc Watson. Songs like "Flatland Girl" and "Over the Line" are bouncing bluegrass jams that move with such a level of relaxed comfort it's not until Tuttle's break that you realize she's straight up shredding. There's also a fierce and undeniable force in Tuttle's rhythm playing. At times she can play like a high-speed freight train on cruise control, but she can also dial it back without losing any intensity—just check out her incredible duet with Dan Tyminski on "San Francisco Bay Blues." It's easy to see why ripping acoustic guitar is popular again with albums like this.
Must hear tracks: "Flatland Girl," "Dooley's Farm," "Goodbye Girl"
Molly Tuttle & Golden Highway - Crooked Tree (Live at the Station Inn)
Madison Cunningham
Revealer
After Madison's last full-length album, Who Are You Now, I was very intrigued as to how she could put a bigger spotlight on her devastatingly great playing. Thankfully, Revealer has done the job—and then some. Cunningham combines low-tuned oddball guitars with an always-on swirly dual vibrato in the background to amazing effect. It's a sound in which she not only feels comfortable but thrives in a way few singer/songwriters can. Her riffs and parts are surprising in a way that forces you to listen deeper each time around. The lead single, "Hospital," has a gritty, nasty tone that is such a welcome juxtaposition against the rather pretty melody that it makes me think of the best of Elliot Smith at times. It's obvious that her playing style isn't an accident, but rather a well-focused and deliberate path that will inspire many young songwriters to go beyond simple strumming.
Must hear tracks: "Hospital," "Life According to Raechel," "Our Rebellion"
Madison Cunningham - Life According To Raechel (Live At Sonic Ranch Big Blue)
Cardinal Black
January Came Close
About a year ago Chris Buck dropped a video debuting his new band, Cardinal Black. The tune "Tell Me How It Feels" was incredibly crafted and featured Buck's signature emotive style. Now, a year later, the band's full-length album is out, and it delivers. The rich tones that Buck coaxes out of his Revstar are rooted in classic rock and blues, but in the context of Cardinal Black they have more textural elements than the typical pentatonic bashing found in so many blues players. "Half Way" sports a massive chorus that brings to mind the best power-pop tunes of the 1970s. You could see this band rocking an old-school blues club and Royal Albert Hall (which they just recently did with Peter Frampton.) Great tunes, great playing, and great tones. What else can you ask for?
Must-hear tracks: "Tell Me How It Feels," "Half Way," "Warm Love"
Cardinal Black - Ain't My Time (Abbey Road Live Session)
Most-anticipated 2023 releases: Metallica's (probable) return to old-school thrash, Nickel Creek, a live Julian Lage album, and at least 12 Cory Wong albums.
Tessa Jeffers — Managing Editor
Wu-Lu
LOGGERHEAD
In the middle of his song "South," Miles Romans-Hopcraft, aka Wu-Lu, lets out a scream so guttural and jarring, you might wonder if he's okay. But it's so deliciously cathartic to the core that I understand why primal scream therapy is trending in this year of our lord 2022-almost-2023. Wu-Lu's shrieky bellow will get your attention but stick around for his mad-scientist kitchen of sounds. This debut album is an arresting amalgamation of truly original inception. He filets disparate instrumentation and influences into modern hip-hop infused songs wrapped in an entrée of punk. The best part is, he's sampling himself. After recording late-night, guitar-improv jams, Wu-Lu dissects and distills them into usable musical spices to sprinkle into his songs. I'm amused, entertained, made happy by artists who construct in a way I've not quite experienced before, and Romans-Hopcraft's process floors me. Guess what else? Wu-Lu is even better live, in the flesh, 3D, outside the Matrix. Watch the performance video below while I go scream primally into a pillow as an ode to Wu-Lu for the drum-n-bass wonder he's done.
Must-hear tracks: "South," "Blame"
Wu-Lu - Echoes with Jehnny Beth - @ARTE Concert
Angel Olsen
Big Time
I recently read a book about poets who lived during the first half of the 20th century. It explored how word troubadours were the first rock stars, the champions of counterculture and leaders in expression arts before rock music gave way to a new generation of minstrel messengers. Angel Olsen writes songs how poets be poet'ing. It's all storytelling, but magic comes in making choices of movement, placement, adding, taking away, and, oh, the vulnerability. Making a twangy "Nashville Sound" heartbreak album suits Olsen's truth-tellin' ways. A few months ago, I attended a solo acoustic performance by Olsen, where she plucked out each emotion dynamically on her strings, light touch, and with tortured spacing, hard land. She bared some soul, made it accessible, and by doing so, commanded all attention in the room, stared down hard moments, made jokes in between, and shared personal vignettes of painful and beautiful shuffling around this orb of topsoil, water, wind, and fire. This is her take on a country-fied album, but Angel is a rock star.
Must-hear tracks: "All the Good Times," "Ghost On"
Angel Olsen - All The Good Times (Official Video)
Nick Millevoi — Associate Editor
​Bill Orcutt
Music for Four Guitars
The coolest, most intriguing album of guitar music I've heard this year is, without a doubt, Bill Orcutt's quartet for overdubbed 4-string electric guitars. Over the course of 14 tracks—each of which comes in around a short-and-sweet two minutes—Orcutt writes in the familiar vocab of his improvised work. But here, his riffage is focused into contrapuntal cellular structures that evoke minimalism by way of composers Glenn Branca (in the overtone puree of "Or from behind") and Louis Andriessen (in the angular dissonance of "Only at dusk"). There's also major-key melodic eloquence (on "At a distance") that borders on Reichian, but with a raw-er, more treble-soaked tone than anyone who's tackled the composer's "Electric Counterpoint" has dared to attempt (to my knowledge, at least). Throughout the album, repeated listening reveals new shapes and structures, and I keep coming back, ready to discover more. Bonus: The digital release comes with an 84-page PDF score, hand-tabbed by forward-thinking guitar adventurer Shane Parish, so anyone can play along once they cut a couple strings off their guitar and detune.
Must-hear tracks: "Or from behind," "Only at dusk," "At a distance"
Hermanos Gutiérrez
El Bueno Y El Malo
I knew I'd love this album as soon as I saw the video for the first single, "El Bueno Y El Malo." I was right, and I've since become a huge fan of all the Hermanos' records. These guys just have their aesthetic completely dialed in, and their songs draw from classic sources like Santo & Johnny, Neil Young, and Ennio Morricone. It helps that they recorded this one at Easy Eye Sound, but the Gutiérrez brothers would sound good if they recorded on an iPhone. When I saw them live this fall in Philadelphia, I was truly blown away by the nuances in each brother's playing, but even more by the focused energy they conjure with their playing. This is serious vibe music, fit to accompany a modern Western or a long drive on an open road.
Must-hear tracks: "El Bueno Y El Malo," "Thunderbird," "Tres Hermanos (feat. Dan Auerbach)"
Hermanos Gutiérrez - "El Bueno Y El Malo" [Official Music Video]
Various Artists
Imaginational Anthem vol. XI: Chrome Universal - A Survey of Modern Pedal Steel
The latest in an ongoing series of well-curated comps from Tompkins Square, this one has easily become my favorite. Compiled by Nashville's Luke Schneider, volume XI focuses on the wide world of contemporary pedal-steel players. Each of the nine featured artists reach beyond the stratosphere to create mostly ambient explorations that challenge the common notions of what their instrument is capable of. I was drawn to this set because it includes three players whose work I greatly admire: Susan Alcorn, Rocco DeLuca, and BJ Cole. I've since spent time deep diving through the works of every player on the album, getting to know and love each of their distinct voices. Much more than a great playlist that serves as a strong introduction to each steeler (which, of course, it is), I keep thinking of this record as a single work, which is probably as big an endorsement of Schneider's curation as I can imagine.
Must-hear tracks: "An Ode to Dungeness" by Spencer Cullum, "Lysglimt" by Maggie Bjorklund, "Gilmor Blue" by Susan Alcorn
Lysglimt - Maggie Bjorklund
Charles Saufley — Gear Editor
​Necronomicon
Tips zum Selbstmord
I burn out on guitar rock pretty easily these days. That doesn't, however, mean I need the adrenaline rush it provides any less. In these moments, I tend to look to primal sources. Thankfully, my buddy Ben tipped me to this 50th anniversary reissue of the stupidly rare Tips zum Selbstmord, a lost masterwork of brilliant-to-demented German prog/psych-punk hybridization. Tips… is pretty intense at times. Well, most of the time. There are traces of Deep Purple, Pink Floyd, Iron Butterfly, maybe even some Stooges and fellow heavy Krautrock freak vanguards like Guru Guru and Amon Duul II. (Necronomicon also share AD II's affinity for unexpected, inexplicable bursts of distinctly untrained, quasi-operatic vocals.) But while Necronomicon clearly worked hard in the practice room, and gave these sprawling arrangements much thought, there is an atavistic edge and immediacy here that suggests a band creeping forth from primordial muck. Best of all, it feels utterly, amazingly lacking in self-awareness—a thrilling thing to hear in an era of relentless, calculated self-presentation.

Necronomicon = Tips Zum Selbstmord - 1972 - (Full Album)
Misha Panfilov
The Sea Will Outlive Us All
The cover of The Sea Will Outlive Us All, pays homage to private press LPs of the late '60s and early '70s. In some ways, Estonian multi-instrumentalist Misha Panfilov wears musical influences from that period on his sleeve too. But while it's easy to hear trace elements of Franco/Italian soundtrack gems and circa-'69 Pink Floyd, these instrumental meditations exist quite outside of time. And like a lot of music I cherish, they suggest utopian possibilities, future/past fusions uncolored by cynicism, and endlessly unfolding days when summer looms ever closer.
Misha Panfilov - The Sea Will Outlive Us All (Full Album 2022)
Ted Drozdowski — Editorial Director
​The Linda Lindas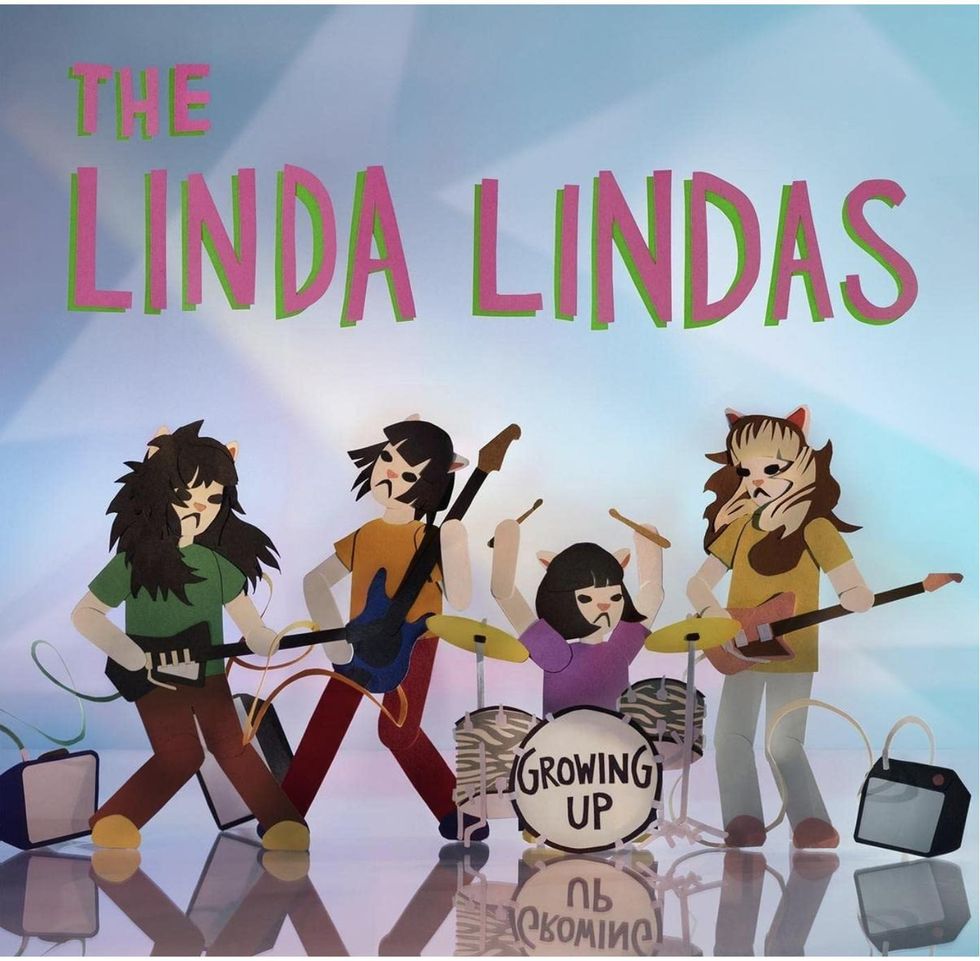 Growing Up
Even I'm shocked that my favorite album of the year is by four teenaged girls from Los Angeles. But I love this record! Bela Salazar and Lucia de la Garza slam down a wall of guitars that resonates between the Ramones and epic '90s alt-rock. All four Lindas sing killer harmony, and they've got great hooks and melodies in their pockets. And listening to their lyrics about the trials and trips of young life makes me wish I was as smart and self-aware as they are when I was their age. Oh, and they're tough onstage, too. Check out the performance video of their song "Racist, Sexist Boy" … at the L.A. Public Library, of all places. The icing for me was interviewing Salazar and de la Garza for our "10 Young Guitar Players to Watch" feature in the November PG. They were funny, poised, and candid about just how much they didn't know about playing guitar—and that takes way more confidence than I had as a teenager. In today's music, the Linda Lindas are the cool kids.
Must hear tracks: "Growing Up," "Talking to Myself," Racist, Sexist Boy," and "Nino."
The Linda Lindas - "Growing Up"
Valerie June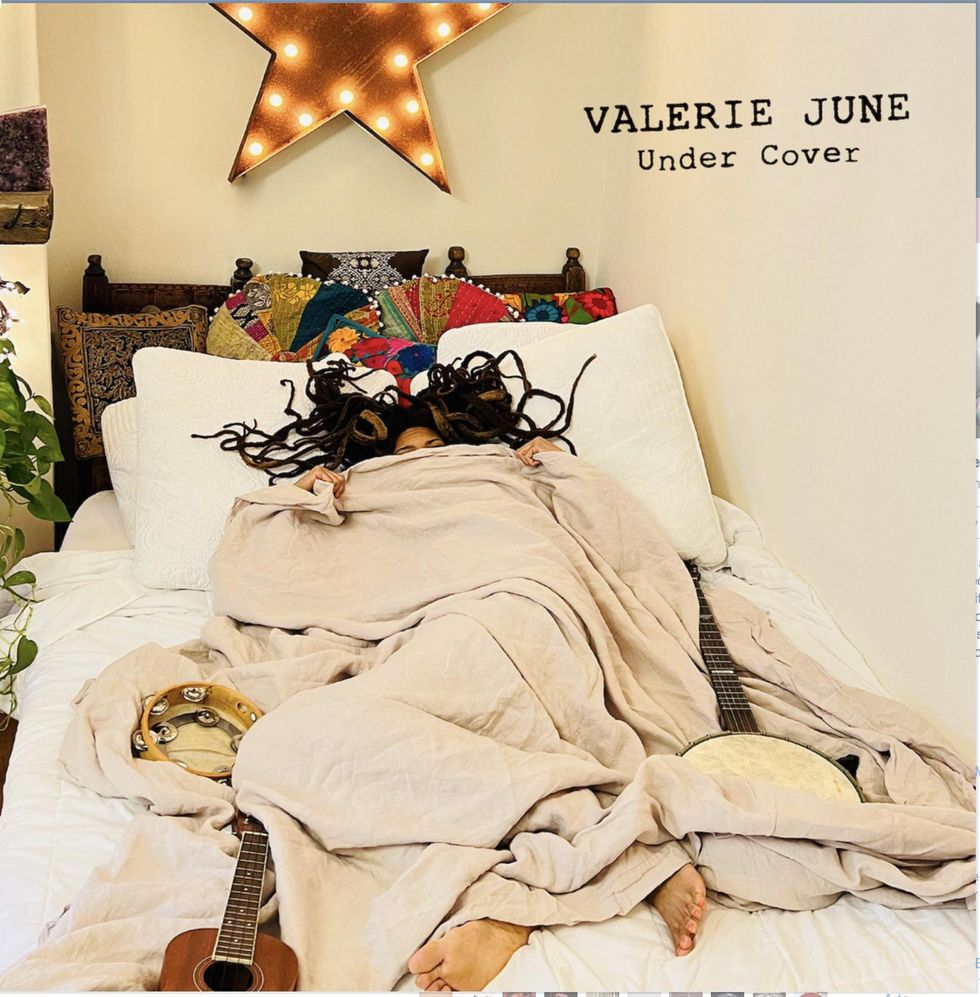 Under Cover
Sure, it's a covers album, but I could listen to Valerie June sing a menu and be entirely satisfied—especially if she was able to layer her vocals and use reverb the way she does here as co-producer with Jack Splash, whose own credits run deep in the contemporary R&B world. The spare-to-perfection instrumentation adds the right emotional underpinning, too. She turns great songs by Nick Drake ("Pink Moon"), Nick Cave ("Into My Arms"), John Lennon ("Imagine"), Mazzy Star ("Fade Into You"), Joe South ("Don't It Make You Want To Go Home"), and others into magic carpet rides. I find that irresistible.
Must-hear tracks: "Fade Into You," "Pink Moon," "Imagine"
Valerie June - Fade Into You
Charlie Musselwhite
Mississippi Son
When I profiled this old lion of the blues in PG over the summer, in a piece titled "Charlie Musselwhite Goes Back to the Delta," I described this album as "beautiful as a fresh magnolia blossom with hints of dust on its petals." But it also contains the mysticism of the greatest of Mississippi's traditional music—partly gothic, reflective of the history and the soil it took place upon, echoing with the voices of the past that still resonate—particularly in Musselwhite's head and heart—like Big Joe Williams and John Lee Hooker. Fans of the harmonica virtuoso have known of his estimable skill at Delta-style country blues guitar for ages, but in more than a half-century of recording he's not revealed it until this album. Ricocheting between original songs and durable classics, Musselwhite sounds like an oracle—especially on the talking blues "The Dark," a Guy Clark number. His message—to paraphrase Sam Phillips: This is music that comes from a place where the soul of a man or woman never dies.
Must-hear tracks: "The Dark," "Pea Vine Blues," "Crawling Kingsnake"
The Dark
Most-anticipated 2023 releases: Hummmm, maybe that Sonny Sharrock tribute album Carlos Santana has been putting together? And the new Messthetics project, plus more work by Mike Baggetta, Bill Frisell, and PJ Harvey. And—I know, I ask every year—new music by Tom Waits? More gems from Dan Auerbach's trove of unreleased historic live blues recordings would also be welcome. And Dan, isn't it time to produce an album for Kenny Brown? And finally, that new Metallica album is on the way! Thank you, Santa.