New gear from Koch, Fender, Gibson, PRS, Nik Huber, Laney, Ashdown, and more.
See more from Messe: Day 1 - Day 2 - Day 3
Frankfurt, Germany
(April 8, 2011) -- PG's editors on the ground, Shawn Hammond and Charles Saufley, scoped out even more gear on day three of the show. Here's what caught their eye today.
Koch Amps debuted two affordable new hybrid amps that feature 12AX7-driven preamps, solid-state power sections, two EQ-sharing channels, and a boost function. The Startrooper (left) is voiced for higher-gain tones and features a custom Koch 12" speaker modeled after a Celestion Vintage 30. The Jupiter (right) has a 12" Jensen speaker with a neodymium magnet and is voiced for blues and rock tones. Both sounded remarkably tube-like from the floor of the show. koch-amps.com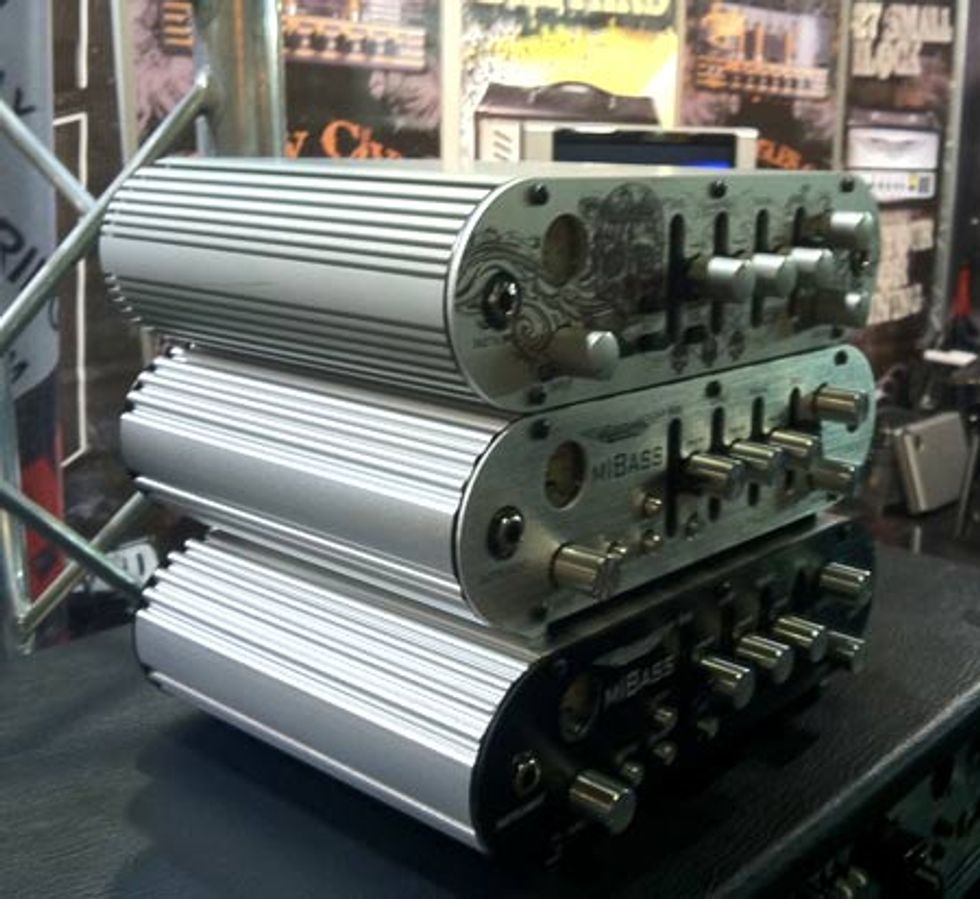 Ashdown Engineering's new MiBass head is available in ultra-light 220- and 500-watt versions and has a 7-band parametric EQ and four front-panel buttons (Active, Shape, and Deep). You can order it with a front panel in four different colors (black, blue, silver, or purple) or with one you design online at their website. The top one here was created using their online customizing app. ashdownmusic.com
PG Gear Editor Charles Saufley dug the Lord of the Rings-style aesthetics of this Mesa/Boogie Mark V "Topteil" head and 1x12 Lone Star 23 "Gitarrenbox" cab on display at Boogie's Musikmesse 2011 booth. mesaboogie.com
Fender brings back the Super-Sonic series with the Super-Sonic 100 head, Super-Sonic 100 straight- and slant-front cabs, and the Super-Sonic Twin (shown here). The head and combo have unique new features such as Automatic Bias, Notch Tune, Arena/Club (for 25- to 100-watt operation), a Vintage channel based on Twin and Showman amps, and a Burn channel. Available in black and blonde covering. fender.com
See more from Messe: Day 1 - Day 2 - Day 3
Gibson's new Les Paul Junior Double Cutaway bass has a mahogany body and neck, a 30 1/2" scale, a Corian nut, Grover Shamrock tuners, and TB Plus neck and TB mini-humbucker bridge pickups. gibson.com
The new 30 1/2"-scale Gibson Thunderbird Short Scale has a mahogany body, a 3-point adjustable bridge, Grover tuners, TB Plus pickups, and two Volumes and one Tone knob. gibson.com
Haussel unveils new vintage-style single-coils with wiring of different colors. hauessel.com
The Jet City AttiTube G20 is powered by EL84s and features Tone and Volume knobs, as well as a 3-way toggle for Naughty, Breezy, and Moody modes--all of which have very chimey British character. The matching 1x12 cab features an equally futuristic-looking design and is loaded with a custom driver. jetcityamplification.com
See more from Messe: Day 1 - Day 2 - Day 3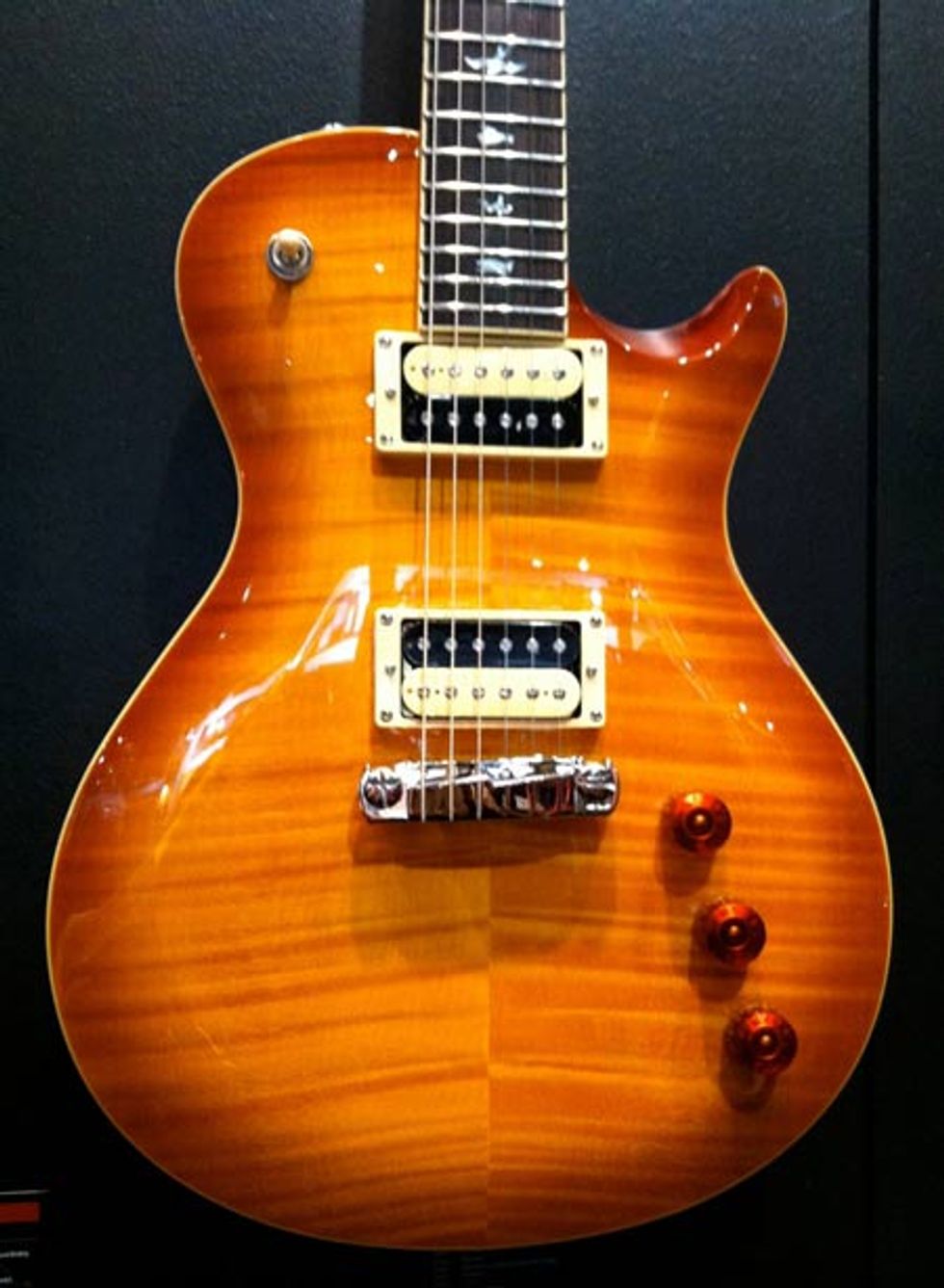 The new PRS SE Bernie Marsden single-cutaway features two Volumes and a Tone knob, as well as a wide-fat neck. prsguitars.com
Joe Striebel's immaculate new 17" hollowbody has a spruce top and back and sides of African anigre--which properties similar to maple, including beautiful wood grain! striebelguitars.com
The new Vox Virage II VG2SC Green Fox from the special-edition Butterfly Series has the standard Virage mahogany body in a very organic and alluring finish that shows dark wood grain through the green hues. It also has lovely butterfly fretboard and headstock inlays. voxvirage.com
Germany's Nik Huber updated the Krautster I and II (shown here) with a thin oxidized-silver top that looks pretty darn cool. nikhuber-guitars.com
Laney unveiled the three-channel IronHeart prototype at NAMM in January, and at Musikmesse they showed the final version, which features incredible flexibility (including a continuously variable 1-120-watt wattage knob) and an astounding array of tones from warm and clean to very, very mean. laney.co.uk