Excellent value. Plenty of analog authenticity.
No tap tempo. Could benefit from a tone control.
4
4.5
4
4.5
An extremely affordable digital take on analog echoes.
Fender's Space Delay, from the company's recent Hammertone series, is a digital delay with a tape-echo's soul. Back in June we reviewed the more conventional Hammertone Delay, which we noted was " a lot more fun than most inexpensive digital delays." That holds true for the company's more analog-style—and equally affordable—Space Delay.
Echo Family Resemblance
Tape echo-inspired delays typically utilize rhythmic patterns and modulation to approximate the multi-head capabilities and tape warble in real tape delays. But there's a secondary benefit to this kind of functionality: It's fun! And I often found myself situating the Space Delay within arm's reach rather than at my feet so that I could use each function to the fullest.
The Space Delay is configured a lot like the Hammertone Delay, except the Space Delay swaps the type switch for a pattern control which moves between quarter-note delay, pattern 1, and pattern 2, which are pre-programed rhythmic patterns. To some extent, the two patterns offer the ping-pong echo interplay that you hear in vintage multi-head echo units like the Roland Space Echo and the Binson Echorec. And playing to the gallop-style feel of each pattern is inspiring. Each pattern is made up of quarter and eighth notes, Pattern 1 situates the quarter-note first in the pattern, while pattern 2 situates the faster repeat first in the sequence. The pronounced attack on each initial delay is crisp and accurate, which helps drive the rhythmic push for each pattern and the phrases you create with them.
The other switch turns on the modulation and there are two small controls on the inside of the pedal to adjust modulation speed and depth. The factory setting is a nice, flowing setting that stops well short of seasick vibes. Still, it was a bit heavy on the depth, so I turned that down a bit to allow the modulation to sit more comfortably in the background. Extreme modulation depth settings are fun too if you're in the mood to get noisy. Some of the chorus-like tones at these settings might be a bit metallic sounding in the high end for some, but they still mesh nicely with cleaner low-repeat, high-feedback settings.
Dirty Deeds
For many, the primary appeal of tape- and analog-style delay is how repeats degrade and lose fidelity as they repeat. The Space Delay nails that haze. There's enough natural grit on the repeats to pass as an all-analog creation in many cases, and you can hear a lot of analog-style warmth in the audio clips that accompany the digital version of this article. As nice as those dark repeats can sound, I still wish there was a tone control to brighten those repeats up at times. Amid the swirling sound of a loud gig, darker repeats can go missing, and I tend to prefer digital delays in those settings for that reason. So, it's worth trying the Space Delay before you buy to see how the darker repeats fit with the other elements of your signal chain.
There's enough natural grit on the repeats to pass as an all-analog creation in many cases
The feedback is satisfying in very analog-like ways too. It's especially cool to be able to use heavy feedback settings—right at the edge of oscillation—and then walk the line between a long wash of repeats and self-oscillation, simply by adjusting your picking dynamics. It's not easy to coax that sensitivity out of more pristine digital units.
The Verdict
The Space Delay is a great gateway to the world of tape-echo ambience at a exceptional price. I do wish there was a bit more flexibility in the repeat patterns, a way to brighten repeats up, or maybe even tap tempo. But for $99 the Space Delay is a killer way to work a little warble, tape-style fog, and rhythmic drive into your delay textures.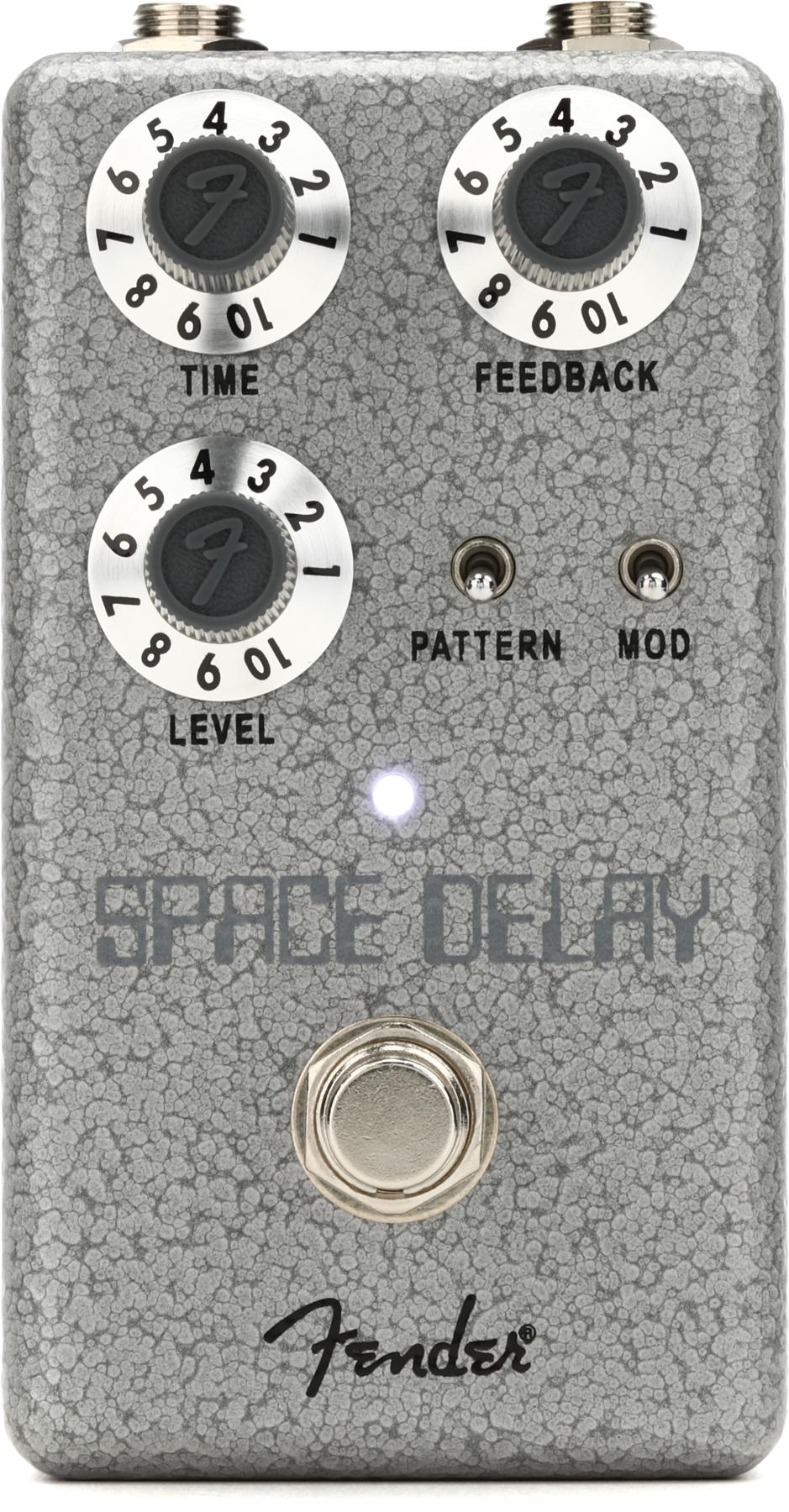 Classic analog tape delay warble in a budget-friendly package!
Pattern and Modulation switching provide stellar creative foundations
Time, Feedback, and Level controls allow for maximum delay customization
Analog Dry-Through technology expertly preserves your guitar tone while in use
True-bypass switching for easy integration into your pedal chain
Fender
Taylor's redesigned 500 Series, featuring Urban Ironbark, a brand-new tonewood that debuts as the back and sides of its 514ce and 512ce models.
The tonewood joins Urban Ash as the second tonewood in Taylor's product line to come from Taylor's urban sourcing initiative in collaboration with WestCoast Arborists, Inc. (WCA). The reimagined 500 Series models feature Taylor's revolutionary, award-winning V-Class bracing system as well as a torrefied spruce top, yielding a sound that's robust, muscular, and sweet.
Urban Ironbark, otherwise known as red ironbark eucalyptus (Eucalyptus sideroxylon), is one of more than 700 eucalyptus species found around the world. Taylor's partnership with West Coast Arborists allows access to select urban trees from Southern California — part of a municipality's managed public tree population — that are designated for removal after reaching the end of their life cycle or posing a safety risk to the community. Typically, these end-of-life trees are converted into firewood or mulch. However, Taylor's innovative partnership with WCA allows the trees to live on as beautiful acoustic guitars.
The new urban tonewood has a physical density comparable to ebony while also delivering the sonic depth and richness of Indian rosewood, but pushed to another level. The voicing recipe for the new guitars include a torrefied (roasted) Sitka spruce top paired with Taylor's V-Class bracing. The result can be described as a fresh variation on the classic spruce/rosewood sound with the help of Taylor's modern acoustic engineering, and with the guitar's enhanced volume and projection immediately evident, even with a lighter playing touch.
The appointments on the new 500 Series offer a nod to the classic heritage of Taylor's 500 Series, which were previously mahogany guitars. The back and sides feature a stain that deepens ironbark's natural reddish and golden-brown hues, along with a lightly shaded edge burst on the body and neck. Other details include new Aerialinlays in Italian acrylic, faux tortoise shell binding and pickguard, and a single-ring abalone rosette with maple and black purfling. Both models include onboard ES2 electronics and a mahogany neck with Taylor nickel tuners.
The 514ce and 512ce include a Taylor Deluxe Hardshell Case and can be found for $3299 at authorized Taylor dealers worldwide. For more information about the new models and the entire Taylor lineup, please visit taylorguitars.com.
With its powerful speaker and long-lasting lithium battery, the Nomad is the ideal solution for portable premium tone.
The guitar amp everyone can't stop talking about is back and better than ever!
Templo Device's iconic NOMAD rechargeable lithium-battery powered guitar amp is making a return with new and improved features that will take your playing to new heights.
​With its compact design and lightweight neodymium speaker, this amp is decked out to allow you to play wherever you want.
​Featuring a new 3-way tone switch and a real spring reverb, the NOMAD 2.0 is designed to please even the pickiest of tone hounds.
The microphone tone is better than ever, with a handy XLR microphone input and retains the indispensable 9 volt output to power your pedals. The presale is now open with limited quantities and you won't find anything else like this on the market. Make sure you get your hands on this unit before it sells out again!
For more information, please visit templodevices.com.