Epiphone Releases the Jared James Nichols "Gold Glory" Les Paul Custom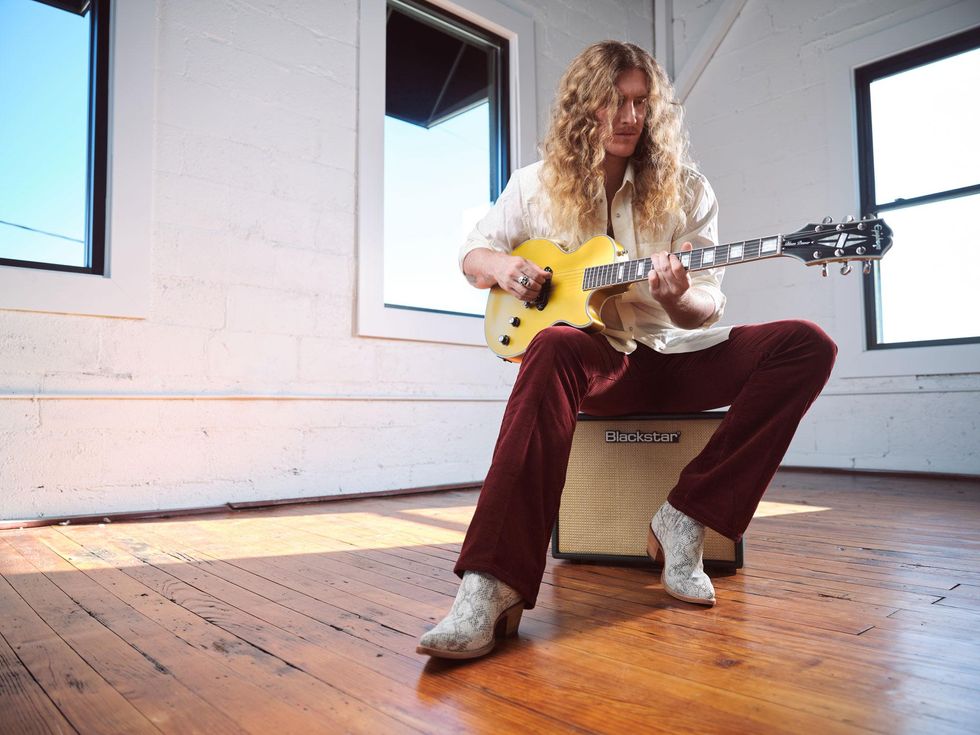 Photo by Epiphone
The new Jared James Nichols "Gold Glory" Les Paul Custom, is a limited edition take on the Black-finished "Old Glory" signature model by the rising star who is originally from Les Paul's hometown. The Jared James Nichols "Gold Glory" features a classic 1955 style Les Paul Custom body with a distinctive Double Gold Aged finish, a single Seymour Duncan P-90 Dogear pickup, an ebony fingerboard with traditional block inlays, Grover Rotomatic tuners, and an EpiLite case.
---
"'Gold Glory' is an ICON of a guitar," says Jared James Nichols. "Between the beauty of the tone, and glitter of the gold, it is breathtaking and bold. It's simplistic, and powerful, a complete classic, yet rooted in today. I am honored to continue my 'Glory Days' with this incredible new signature model. I cannot wait to get this guitar out into the world and into the hands of players looking to find their own unique voice. Simply put, 'Gold Glory' inspires me to play, create, and perform at my very best." "2021 is going to be a big year for Jared James Nichols," says Elizabeth Heidt, Vice President of Cultural Influence at Gibson Brands. "We are so inspired by Jared's artistry and can't wait to hear and support his new album. Jared James Nichols embodies everything that we are about at Epiphone and we are proud to have him as part of our family, and to bring the next evolution of Jared's guitar to his fans."
Epiphone | Jared James Nichols "Gold Glory" Les Paul Custom
Over the past few years Nashville, TN-based singer-songwriter-musician rock artist Jared James Nichols has performed over 400 live dates traveling around the world with his band. Known for his high-energy, pick-less guitar-playing Jared James Nichols signed his first record deal with Black Hill Records--a new label dedicated to rock, owned by independent publisher Round Hill Music and distributed worldwide by The Orchard--and will release new music later this year. The rising rock musician first collaborated with Epiphone in early 2019 on his first-ever signature guitar, the "Old Glory" a Les Paul Custom with an Ebony finish which quickly became a best-seller for Epiphone.
For more information:
Epiphone