The emotional wallop of the acoustic guitar sometimes flies under the radar. Even if you mostly play electric, here are some things to consider about unplugging.
I have a love-hate relationship with acoustic guitars. My infatuation with the 6-string really blasted off with the Ventures. That's the sound I wanted, and the way to get it was powered by electricity. Before I'd even held a guitar, I knew I wanted a Mosrite, which I was sure was made of fiberglass like the surfboards the Beach Boys, Surfaris, and the Challengers rode in their off time. Bristling with space-age switchgear and chrome-plated hardware, those solidbody hotrod guitars were the fighter jets of my musical dreams. I didn't even know what those old-timey round-hole guitars were called. As the singing cowboys Roy Rogers and Gene Autrey strummed off into the sunset, the pace of technology pushed the look and sound of the electric guitar (and bass) into the limelight and into my heart. Imagine my disappointment when I had to begin my guitar tutelage on a rented Gibson "student" acoustic. At least it sort of looked like the ones the Beatles occasionally played. Even so, I couldn't wait to trade it in.
By the late 1960s, everybody had to have an acoustic guitar. America's youth had gone through the Greenwich Village folk boom and entered the West Coast Laurel Canyon scene. Young women who wanted to be Joni Mitchell and Neil Young-inspired men floated on down to local musical instrument emporiums to pick out their badge of artistry. In Europe, folkies blended traditional troubadour tunes with blues and rock, creating a genre that survives to this day. The most fuzzed-out psychedelic combos proudly displayed their introspective acoustic side. Everybody had an acoustic guitar. Of course, country music never forgot. Except for a short interlude of microphone-hugging country crooners, Nashville kept the strum going.
So, what makes the acoustic guitar so indefatigable? First and foremost is the beauty of its sound. Like the violin or the piano, the unadorned guitar has a purity of sound and purpose that is moving in a way electronic instruments are not. In concert, the connection between the musician and the sound the audience hears is undeniable. It's a tightrope walk, where technology cannot fool the listener. The fewer links in the chain, the closer the bond between performer and patron—and that's the experience people crave.d
Before you write off the seemingly fragile, hollow-bodied cowpoke guitar as the electric's poorer cousin, think again.
Another more practical aspect is portability. Although buskers have more recently turned to elaborate amplifier and looper setups for street concerts, not much beats a great singer accompanied by an acoustic guitar. Certainly, I can't imagine dragging an amp and a synthesizer down to the beach to jam some Bill Evans while friends roast s'mores. Okay, maybe. But the simplicity of a naked guitar in a dorm hallway or in a coffee shop can be a refreshing break from the relentless attack of electronic pop culture. In a world of autotune, backing tracks, and the layered-to-death ambush of modern music, a fingerpicked guitar is like a walk in the woods on a spring day. The fact that it can be easily taken anywhere makes it the instrument of choice for so many.
Another strong argument for the acoustic axe is its supremacy as an accompanist. Being a singer-songwriter doesn't leave a lot of viable options. Although Chet Baker managed a career as a crooning trumpeter, playing a horn while vocalizing requires additional backup. Singing while playing the violin isn't much easier. The piano is probably the most versatile sounding accompanist, but as much as I like Diana Krall, Ray Charles, and Elton John, their instrument of choice forces them to bring the party to the piano, not the other way around. You can argue that the electric guitar is a contender. Unfortunately, the slight portability downside of needing an amp and its tendency to drown out vocals makes it the second choice, whereas the acoustic guitar checks all the right boxes.
This all isn't to say that an acoustic guitar lacks the ability to deliver impressive soloing performance. Some of the most inspiring and emotionally vibrant instrumental music is delivered on acoustics. The roster of players currently burning up the fretboard in every genre is immense—possibly the most in history. The acoustic guitar's forte is to bring passionate and thoughtful melody to any song. This secret weapon has been applied to recordings from artists as diverse as the Beatles, Kiss, and Dream Theater. In the rhythm department, the acoustic steel string has been responsible for the foundational power of the Who, Alice in Chains, Pink Floyd, Guns N' Roses, and countless other "heavy" bands.
So before you write off the seemingly fragile, hollow-bodied, cowpoke acoustic guitar as the electric's poorer cousin, think again. They might not be as loud, or as flashy, but they pack an emotional wallop that often flies under the radar. Many decades down the line, I wish I'd paid more attention to what that first student guitar had to offer me. Maybe I'd have kept it, too
Megadeth founder teams up with Gibson for his first acoustic guitar in the Dave Mustaine Collection.
For the new acoustic guitar, Gibson acoustic luthiers in Bozeman, Montana collaborated with Dave Mustaine the legendary guitarist, vocalist, songwriter, and founder of the multi-platinum selling and Grammy Award-winning band, Megadeth. The Gibson Dave Mustaine Songwriter in Ebony is available in a both a standard version and a limited edition model, signed by the artist. Part of the Dave Mustaine Collection, the new Dave Mustaine Songwriter in Ebony is the first 24-fret neck ever installed on a Gibson acoustic guitar. With a slightly thinner walnut body, the Dave Mustaine Songwriter guitar features a cutaway for easy access to the upper frets.
Megadeth has gone on to sell more than 50 million albums worldwide, earning many accolades along the way, including a Grammy Award for the title track from their most recent album Dystopia, along with 12 additional Grammy nominations, as well as five consecutive platinum/multi-platinum albums. Megadeth has headlined many of the biggest stages in the world and recently played their most successful tour ever, closing every night on the North American amphitheater "Metal Tour of the Year". Also, a New York Times bestselling author and sought after speaker, host, and commentator, Mustaine has remained a standard bearer for metal and heavy guitar rock, combining a musical and technical standard with the punk and rock n' roll ethos and attitude.
Icons: Dave Mustaine of Megadeth
Jazz virtuoso Lionel Loueke joins us in contemplating who we'd put at the helm while making the album of a lifetime. Plus, musical obsessions!
Q: If you could make an album with any producer, alive or dead, who would it be?
Lionel Loueke — Guest Picker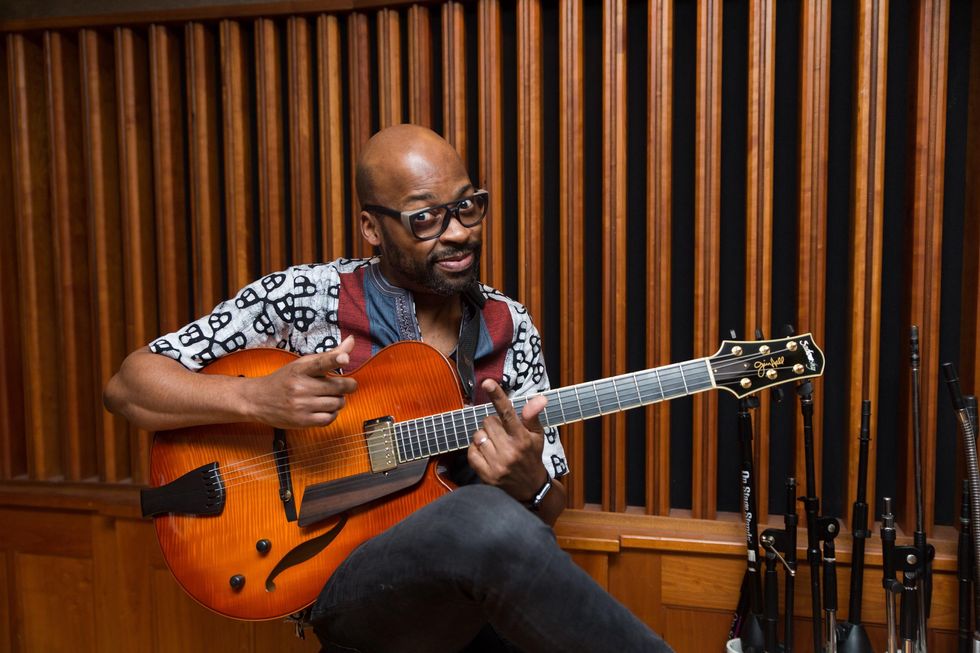 Photo by Elan Mehler
A: Quincy Jones. He's done so much. He's someone I'd love to work with just to get a different experience. I love his work but the main one for me is Michael Jackson's Thriller. I know him personally: I went to Morocco with him when he was presenting the Global Gumbo All Stars, and I also worked with him in the studio when I was playing with Herbie Hancock on his new project. Quincy wasn't producing, Terrace Martin was the producer, but it was so good to be in the studio with all those great musicians.
Photo by Sam Santos
What I really like about Quincy is how he detects talent. Producing is one thing, but he finds the right musicians who have something unique or different to say. I mean, Ray Charles … he's produced so many greats in all genres.
Lionel Loueke's Current Obsession:
Right now, my obsession is all about the drums. I feel like I present myself as being a frustrated drummer, because I play a lot of percussion on the guitar and I started as a percussion player, so it's always been part of what I do. I'm not looking to be a drummer, I just feel really connected to any percussion instrument, and I feel drums will help me go even deeper in my musical multitasking.
I think it was Miles Davis who said that every musician should try to play drums. And I truly believe that because with the drums you have four parts of your body to synchronize: legs, arms, feet, hands. When it comes to rhythmically thinking, drums are something every musician should try.
I just talked to my friend, drummer Ferenc Nemeth, who has been playing in my band for 20 years, about buying a drum kit because I don't have one. Right now, I have drumsticks and I'm beating on everything [laughing].
Matt Dunn — Reader of the Month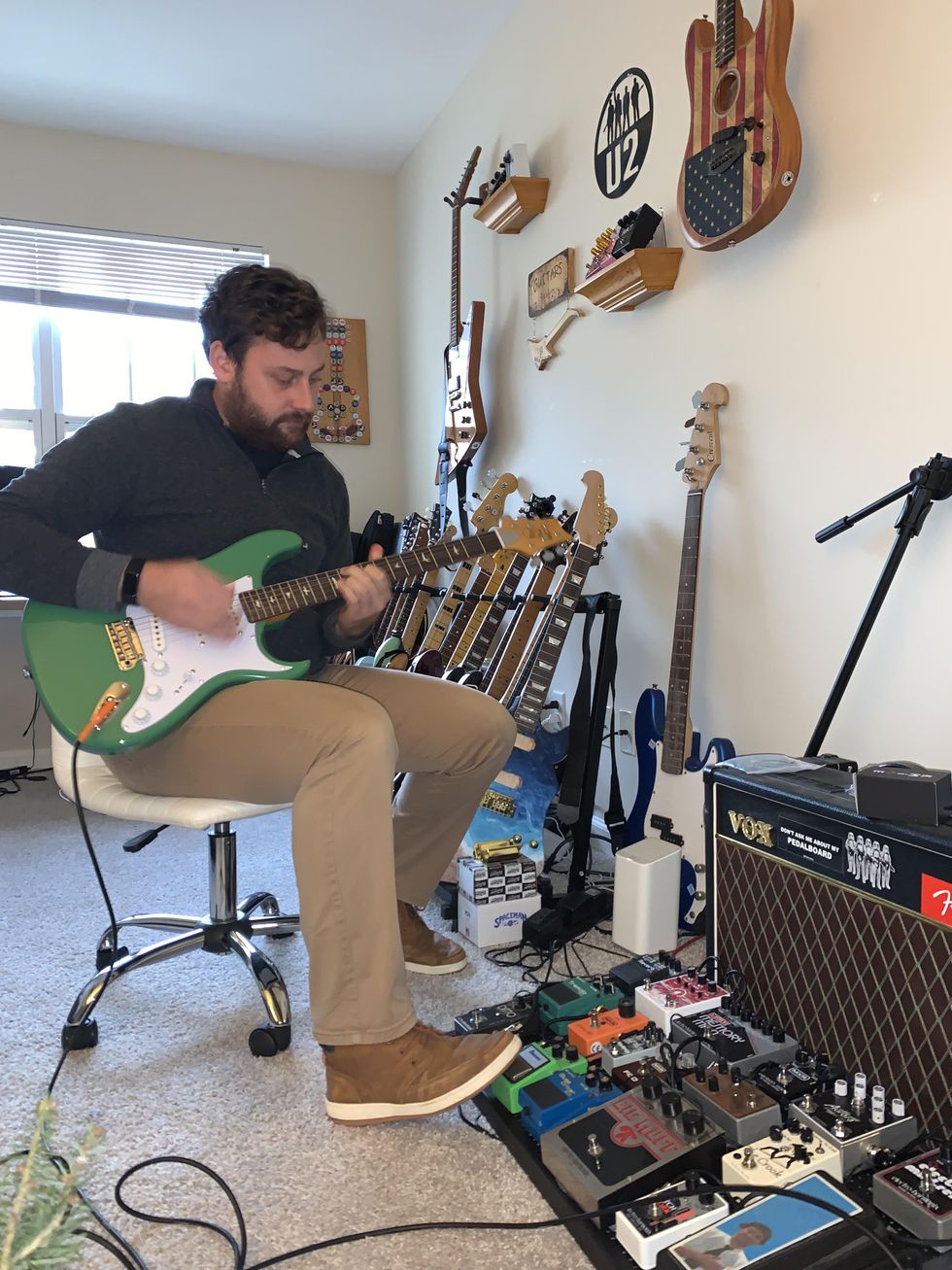 A: I would probably pick Brian Eno/Daniel Lanois specifically because of their work on The Unforgettable Fire album with U2. While I'm mostly into punk/garage rock, I was always so blown away by early U2 records and their approach to songwriting. I would do anything to write my own versions of "Bad" or "A Sort of Homecoming" with their guidance and production.
U̲2 - The Unforgettable Fire CD2 Deluxe (Full Album)
Matt Dunn's Current Obsession:
Bad Religion. Despite being a punk fan my whole life, I was always more into English and East Coast bands. I recently tried to expand my world to include those SoCal punk bands and I cannot find anyone better than them. "Streets of America," "American Jesus," and "We're Only Gonna Die" are on repeat.
Ted Drozdowski — Senior Editor
A: It's a toss between T Bone Burnett and Daniel Lanois.
I love the low sound T Bone perfected with his own The True False Identity and Alison Krauss/Robert Plant's Raising Sand. But I'm crazy about how Lanois brings the ambient playbook to roots music, producing great albums for Dylan, Emmylou Harris, the Nevilles, and more.
Ted Drozdowski's Current Obsession:
I'm in the early stages of working on a feature-length film incorporating songs, storytelling, psychedelic lighting, original artwork, and aerial dance. How could I not be obsessed about it?
Nick Millevoi — Associate Editor
A: The Flaming Lips and Dave Fridmann. I can't begin to predict how my music and their vision would really come together, and that's what I love about the idea of working with those guys. Every Lips album and side project is completely immersive and multidimensional. It would be a dream to tap into their whole technicolor vibe and see how they'd handle sounds, arrangements, and writing firsthand.
Flaming Lips - See the Leaves
Nick Millevoi's Current Obsession:
Eighties drum machines. I'm deep in the throes of an obsession: I recently bought an Alesis HR-16 and the sounds are so sick—and so '80s! —but it has opened up a potential gear wormhole.