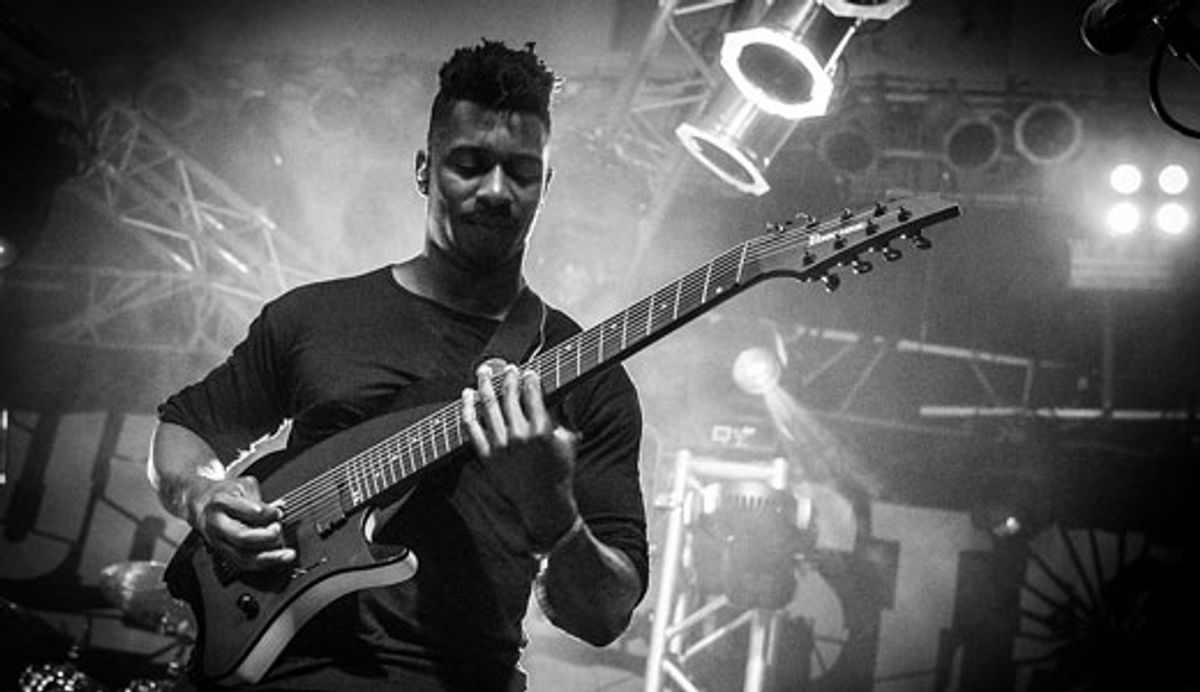 Add ethereal layers to your chord progressions by inserting a few carefully selected open strings.
One of the more exciting aspects of fretboard geometry is that it's possible to include wide intervallic leaps in licks and chords by using open strings. Open-string chords are extremely common in the progressive realm, as it makes it easier to add color to ordinary chords. You'll hear this regularly in the guitar playing of everyone from Alex Lifeson and John Petrucci to Misha Mansoor and Tosin Abasi.
If you're working in standard tuning, you have the notes E, A, D, G, and B that can be added to chord voicings. For example, play an A major triad at the 2nd fret on strings 3–1 (A–C#–E). Now replace the C# with the open 2nd string (B). Whoa—you've just created a jangly Asus2 (A–B–E), which sounds much more intriguing than a plain ol' A chord.
One of the quickest ways to get these chords under your belt is to take a simple chord voicing like an open E and move it up and down the neck while letting the top two strings (B and E, respectively) ring out. In Ex. 1,I take a simple grip on the lowest four strings and move it up and down the neck to create some interesting—and otherwise unplayable—sounds. Now, these chords aren't diatonic since they come from many different keys, but the open strings help to tie the progression together.
We explore a similar principle in Ex. 2, starting with a B5 chord. We're still keeping the top two open strings while moving the bass note around. This example works so well because it's not just the open strings tying the chords together, but also the F# and B on the 4th and 3rd strings, respectively. The tension takes on a new flavor with the F#11 chord when the 3rd-string B shifts down a half-step to A#, the 3 of the chord. But we still have that open ringing B on the 2nd string, which yields a tangy minor second interval against the A#.
Ex. 3 exploits a classic chord movement that takes an open C major shape and slides it up the neck two frets to create a Dadd11 chord. This is pleasing because the fretted notes change while the open notes remain static, resulting in sounds that are more complex than a regular D chord. The second two measures take fretted notes on the 4th, 3rd, and 1st strings and keeps the 2nd string open. Against an E bass note, these voicings create some colorful E minor flavors.
We move over to the djent side of things with Ex. 4. This one takes influence from Periphery's Mark Holcomb. (If you're into this style, be sure to check out my Periphery lesson.) Here, we're using a series of chords with multiple open strings. I find chords like this easier to approach when I focus on the fretted notes and consider the open strings just a bit of harmonious "noise." Which, in technical prog music, isn't a bad thing at all.
Let's break down these voicings a bit. In the first measure we have a Dm11, which is simply a D minor dyad with the open 3rd and 1st strings (G and E) acting as the 11 and 9, respectively. Our next chord is basically a vanilla C major triad on strings 5–4–3, but with a pair of E notes ringing on the top strings. The Am11 voicing adds a nice cluster on top of an open 5th string. The final two chords are essentially the same voicing, just slid up the neck. Once we shift up to the 8th fret, the function of the open 4th and 1st strings shift from a 3 and #11 to a 13 and a 7. It's essential to have your guitar properly intonated to make sure the chords ring true.
The basic chord progression for Ex. 5 comes from a layered section in my tune, "Fly Away." I wanted to create a nice texture over a chord progression while using open strings.
The second guitar part from this piece is shown in Ex. 6. Located roughly at the 6th position, the passage maintains the pattern on the top three strings while moving the bass line around on the 4th string. Presenting these two parts as though they're one creates a rich harmonic backdrop to solo over.
Ex. 7 expands on this idea and gives you a serious picking workout: Here we're playing a series of chords on strings 4–3–2 while leaving the open 1st string to ring out. As with previous examples, this common tone (or pedal) helps to connect chords that otherwise wouldn't work together.
Our final riff, Ex. 8, is inspired by Animals as Leaders' Tosin Abasi. (Although, yes—we are two strings short of his 8-string electric.) There are some big chords that are based around E Lydian (E–F#–G#–A#–B–C#–D#) and use the 6th and 2nd strings for color. In essence, the chords played are essentially maj13 shapes with an open 2nd string, but because of the huge range, they sound extremely fresh. Tosin is a master of wide-range voicings, so it's well worth checking him out further for more exciting ideas.
Obviously, we're merely scratching the surface of the possibilities here, and really the best thing to do is go out and learn as many prog songs as possible. When you find chords like these that appeal to you, make a note of them and then try weaving them into your own riffs and ideas.
Good luck, and I'll see you next month!
Looking for more great gear for the guitar player in your life (yourself included!)? Check out this year's Holiday Gear Finds!
This full-amp-stack-in-a-box pedal brings a new flavor to the Guitar Legend Tone Series of pedals, Missing Link Audio's flagship product line.
Adding to the company's line of premium-quality effects pedals, Missing Link Audio has unleashed the new AC/Overdrive pedal. This full-amp-stack-in-a-box pedal – the only Angus & Malcom all-in-one stompbox on the market – brings a new flavor to the Guitar Legend Tone Series of pedals, Missing Link Audio's flagship product line.
The AC/OD layout has three knobs to control Volume, Gain and Tone. That user-friendly format is perfect for quickly getting your ideal tone, and it also offers a ton of versatility. MLA's new AC/OD absolutely nails the Angus tone from the days of "High Voltage" to "Back in Black". You can also easily dial inMalcom with the turn of a knob. The pedal covers a broad range of sonic terrain, from boost to hot overdrive to complete tube-like saturation. The pedal is designed to leave on all the time and is very touch responsive. You can get everything from fat rhythm tones to a perfect lead tone just by using your guitar's volume knob and your right-hand attack.
Features 
Three knobs to control Volume, Gain and Tone
Die-cast aluminum cases for gig-worthy durability
Limited lifetime warranty
True bypass on/off switch
9-volt DC input
Made in the USA
MLA Pedals AC/OD - Music & Demo by A. Barrero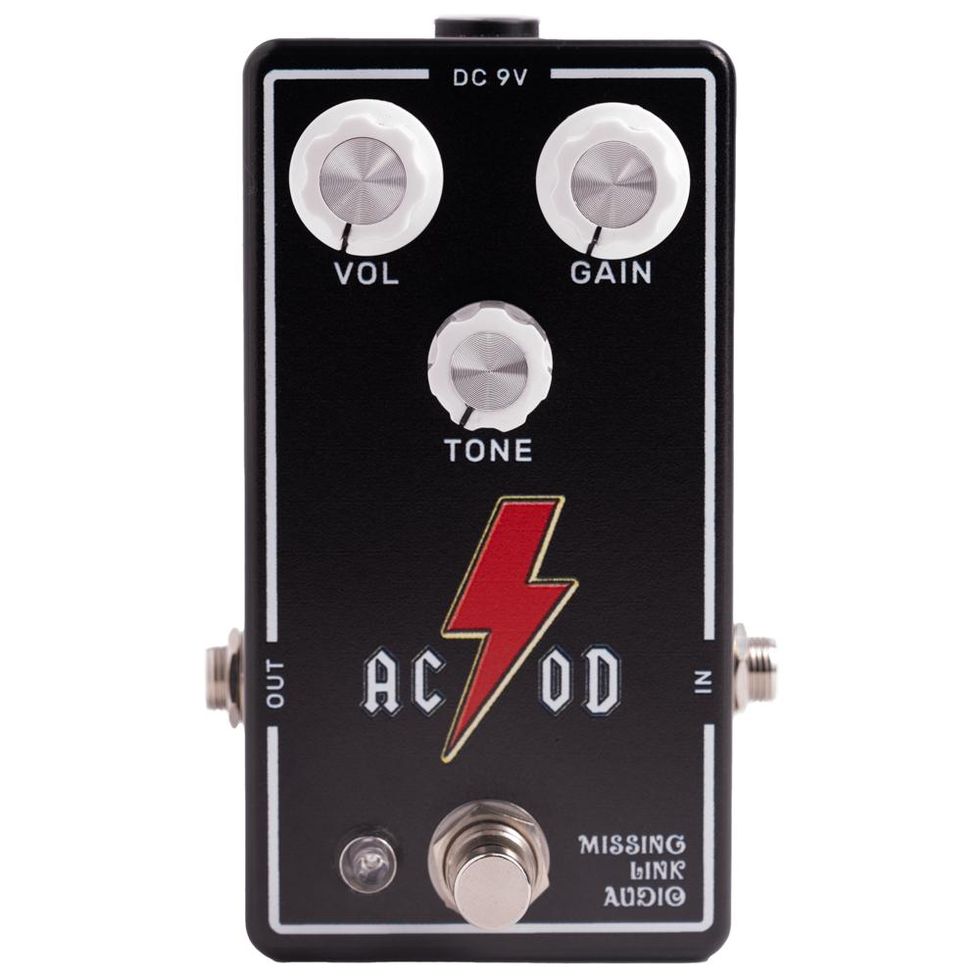 www.mlapedals.com.
Sporting custom artwork etched onto the covers, the Railhammer Billy Corgan Z-One Humcutters are designed to offer a fat midrange and a smooth top end.
Billy Corgan was looking for something for heavier Smashing Pumpkins songs, so Joe Naylor designed the Railhammer Billy Corgan Z-One pickup. Sporting custom artwork etched onto the covers, the Railhammer Billy Corgan Z-One Humcutters have a fat midrange and a smooth top end. This pickup combines the drive and sustain of a humbucker with the percussive attack and string clarity of a P90. Get beefy P90 tone plus amp-pummeling output with the Railhammer Billy Corgan Z-One.
Patented Railhammer Pickups take passive guitar pickups to a new level with rails under the wound strings lead to tighter lows, and poles under the plain strings offer fatter heights. With increased clarity, the passive pickup's tone is never sterile.
Railhammer Billy Corgan Signature Z-One Pickup Demo
Designed for utmost comfort and performance, the Vertigo Ultra Bass is Mono's answer to those who seek the ultimate gigging experience.
Complete with a range of game-changing design features, such as the patent-pending attachable FREERIDE Wheel System, premium water-resistant and reflective materials, shockproof shell structure and improved ergonomic features, the Vertigo Ultra Bass takes gear protection to the next level.
The Vertigo Ultra Bass features:
Patent-pending FREERIDE Wheel System that allows for wheels to be attached on the case in no time, giving you the option to travel with it seamlessly
Upgraded materials, including a water-resistant 1680D Ballistic Nylon outer shell, plush inner lining and new reflective trim for maximum backstage and night visibility
Enhanced protection with a shockproof shell structure and heavy-duty water-resistant YKK zippers for protection from the elements
Improved ergonomics and functionality including added back support and load-lifting detachable shoulder straps with side release buckles
Flexible storage options with added space for touring essentials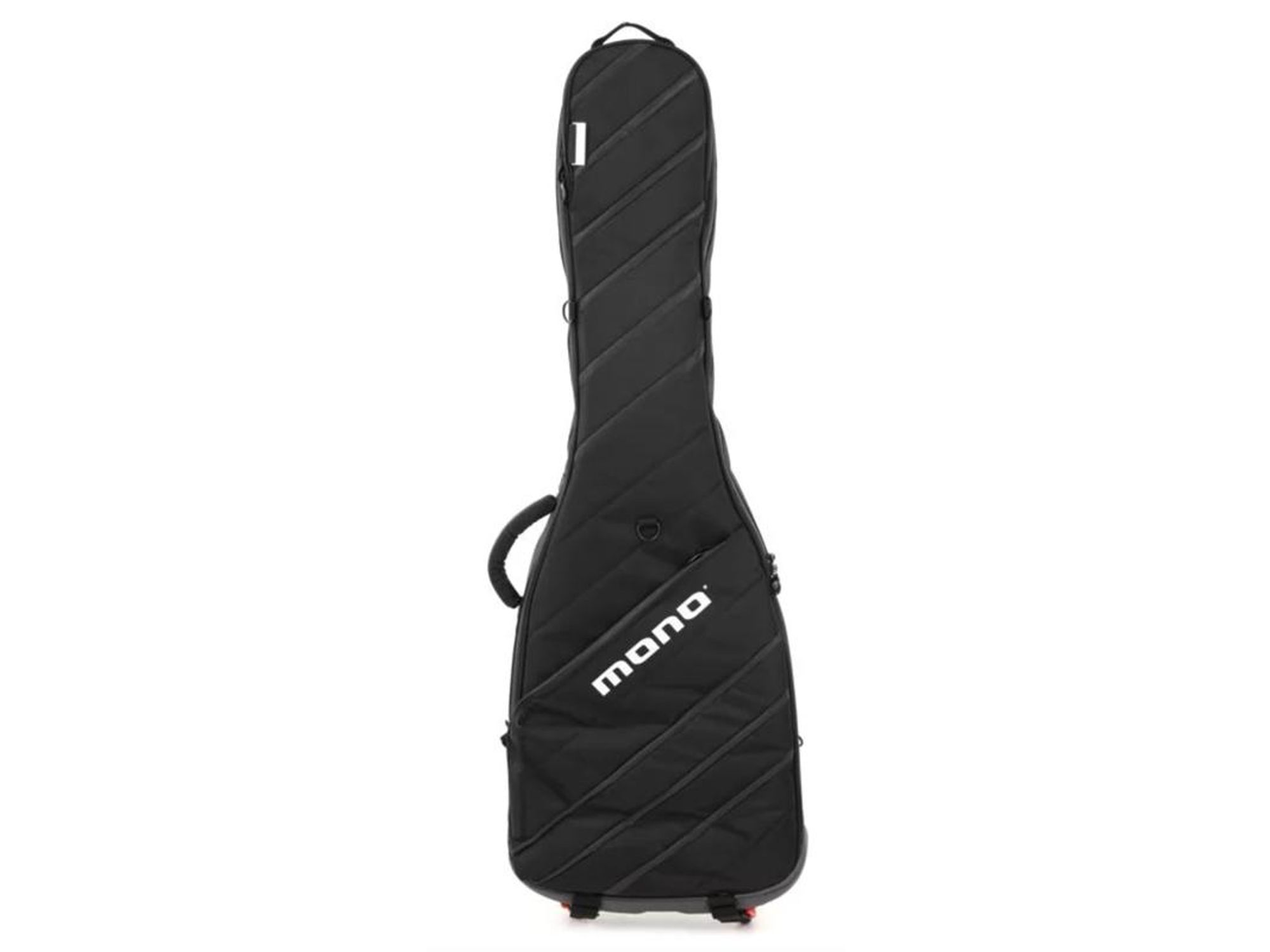 For more information, please visit monocreators.com.
Mono