This month we have a plethora of new products that may go on your wish-list.
N-Tune Onboard Chromatic Tuner



The N-Tune Onboard Chromatic Tuner lets you tune your guitar with a touch of a knob. Once installed into an electric guitar – without permanent modification – N-Tune allows guitarists to pull their volume knob to silently tune up and push it back down to play, thanks to N-Tune's true bypass design. N-Tune can be installed into almost any electric guitar or bass with passive pickups and is available as a single-coil kit (250k pots) or a humbucker kit (500k pots).

$79.99
ntune.com

---
ZT Lunchbox and Future Amps



The Lunchbox (200 watts, 7"x8"x4") and The Future Amp (200 watts, 13"x15"x8") are the debut products from ZT Amplifiers, based out of Berkeley, California. Both amps feature controls for Volume, Gain and Reverb. The Lunchbox features an additional knob for Tone, while the Future has both Treble and Bass knobs. The Lunchbox includes a 6.5" speaker and the Future has a 12" speaker.

MSRP $249 (Lunchbox)
MSRP $449 (Future)
ztamplifiers.com

---
Ibanez BTB780PB Bass



The Ibanez BTB780PB is the newest addition to Ibanez's "Boutique Bass Project" series of basses. The BTB780PB features custom Bartolini pickups along with a piezo pickup located in the individually isolated Mono-Rail bridge. The neck scale is an extra-long 35" and features neck-thru construction for improved sustain and upper-fret access. The limited production BTB780PB is finished in a charcoal brown.

MSRP $1199.99
ibanez.com

---





Reverend Roundhouse RT



Reverend has introduced the Roundhouse RT guitar, the latest addition to their Set-Neck Series. The RT features two Reverend RevTron pickups loaded in a single- cutaway korina solidbody, block inlays, neck binding, Reverend Pin-Lock tuners and a Bass Contour control. The pickups are custom designed with a slightly hotter bridge pickup for balanced tone and volume. The RevTrons are wound about 5 percent hotter overall than the originals for more sustain and punch. The Roundhouse comes in a silver sparkle or black finish.

MSRP $849
reverendguitars.com

---





Fender David Gilmour Stratocaster



The Fender David Gilmour "Black Strat" is a replication of the guitar used on some of the most definitive albums in rock music. Gilmour's Strat features an alder body, black over three-color sunburst finish, a black pickguard, a one-piece, straight-grain maple neck, three Custom Shop single-coils and Gilmour's customized electronics with a shortened vintage tremolo arm. The guitars come with a deluxe hardshell case, GHS DG Boomers strings and a 3-disc Live In Gdansk CD and DVD.

MSRP $3999.99 (NOS)
MSRP $4799.99 (Relic)
fender.com

---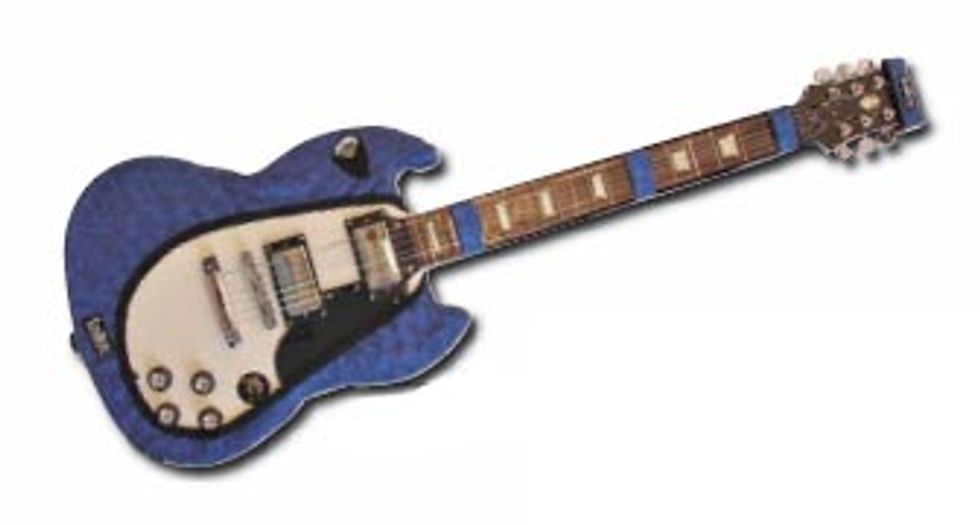 The AxeGlove



The AxeGlove is designed to protect your favorite guitars against belt buckles, guitar stands and guitar hangers by using washable two-piece neck and body double layer cotton flannel as a buffer. The AxeGlove comes in shapes for Strats, Teles, Les Pauls and SGs. It is designed to allow players to jam with the AxeGlove on their guitar, and also has a "pick pocket" to store extra picks.

MSRP $34.99
axeglove.com

---
Tone2 Warmverb



The Tone2 has announced Warmverb, a new modular multi-effect plug-in with 33 effects, including Reverb small, Reverb large, Reverb ultra, Delay, Ping Pong, Ping Pong Filter, Chorus, Ensemble and Flanger. The Warmverb can be programmed to combine effect chains using up to four effects per multi-effect program. A separate feedback module uses the output of the four effect modules and routes the signal back into the input to create feedback effects. In addition, the Warmverb offers a "Randomize" button and 150 presets which are just a click away.

MSRP $79
tone2.com

---
Korg BA-40 Bluegrass Tuner



Korg has expanded its line of tuners with a new model, the BA-40. The BA-40 is a tuner for bluegrass instruments with six tuning modes for banjo, fiddle, mandolin, guitar, resophonic guitar and bass. It has a compact size, a large LED display and sharp/flat tuning, allowing users to tune with a capo attached.

MSRP $35
korg.com

---
ENGL Steve Morse Signature 100



Steve Morse and ENGL's latest collaboration has given birth to a new head. The E 656 Steve Morse Signature 100 has three channels, a 100-watt EL34 power amp section and the new ENGL Mid Control Matrix. Designed to give guitarists a better grasp on midrange controls, it also features MIDI control, an integrated noise gate, two effects loops and tube protection.

MSRP $3249.99
engl-amps.com

Looking for more great gear for the guitar player in your life (yourself included!)? Check out this year's Holiday Gear Finds!
Outlaw Effects introduces their next generation of NOMAD rechargeable battery-powered pedal boards.
Available in two sizes, NOMAD ISO is a compact, versatile tool that offers the convenience of a fully powered board plus the additional freedom of not having to plug into an outlet. NOMAD ISO is ideal for stages with limited outlet availability, quick changeovers, busking outdoors, temporary rehearsal locations, and more!
NOMAD ISO builds upon the legacy of the ultra-convenient and reliable NOMAD rechargeable pedalboard line originally launched in 2018. The brand new NOMAD ISO editions feature eight isolated outputs (1 x 9V DC, and 1 switchable 9V/12V DC) for even more versatility and clean, quiet power. With an integrated lithium-ion battery pack boasting 12800mAh capacity, NOMAD ISO can fuel a wide array of pedals, and will last over 10 hours* on a single charge.
Each NOMAD ISO pedal board includes adhesive hook & loop pedal-mounting tape, eight (8) standard DC connector cables, and one (1) reverse polarity DC cable, giving you everything you need to build your ultimate "off-the-grid" rig. A rugged, road-ready padded gig bag with shoulder strap is also included, to safely protect your gear while you're on the move.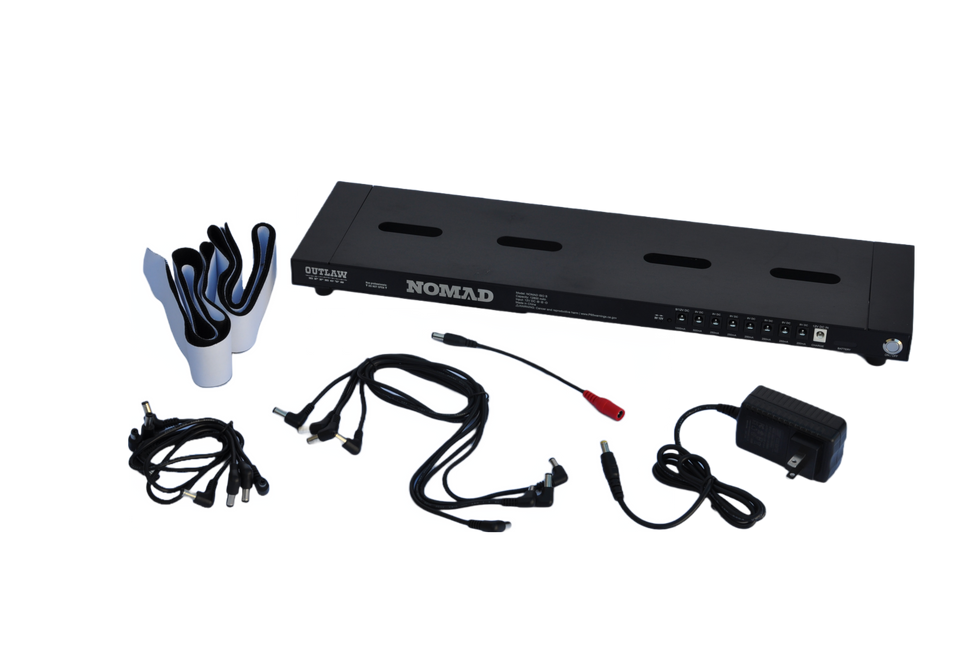 Dunable announce new Minotaur model featuring Grover Rotomatic Keystone tuners.
The Minotaur's DNA is rooted in their classic Moonflower model, which Dunable discontinued in 2017. However, they have long since wanted to create a fresh take on a carved top guitar design, and various attempts to rework the Moonflower led them to a brand new concept with the Minotuar.
Dunable's goal is to give the player a guitar that plays fast and smooth, sounds amazing, and gives maximum physical ergonomic comfort. The Minotaur's soft and meticulous contours, simple and effective control layout, and 25.5" scale length are designed to easily meet this criteria.

Dunable Minotaur!
Features
25.5" scale length
Dual Humbucker
one volume, one tone, push pull for coil splitting
Grover Rotomatic Keystone tuners
Grover Tune O Matic bridge with brass Kluson top-mount tailpiece
jumbo nickel frets
12" fretboard radius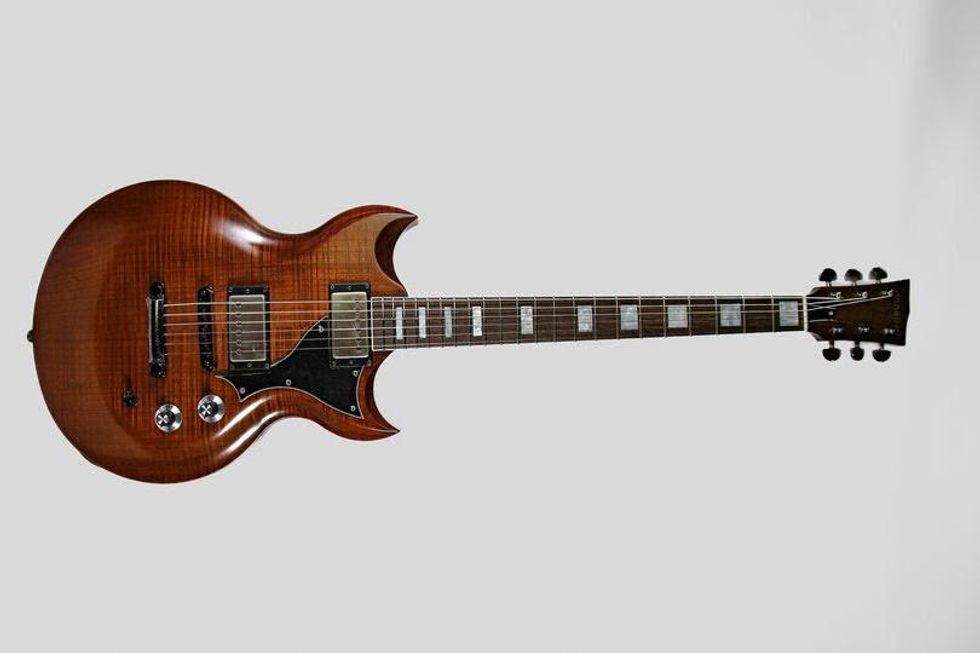 Dunable
This full-amp-stack-in-a-box pedal brings a new flavor to the Guitar Legend Tone Series of pedals, Missing Link Audio's flagship product line.
Adding to the company's line of premium-quality effects pedals, Missing Link Audio has unleashed the new AC/Overdrive pedal. This full-amp-stack-in-a-box pedal – the only Angus & Malcom all-in-one stompbox on the market – brings a new flavor to the Guitar Legend Tone Series of pedals, Missing Link Audio's flagship product line.
The AC/OD layout has three knobs to control Volume, Gain and Tone. That user-friendly format is perfect for quickly getting your ideal tone, and it also offers a ton of versatility. MLA's new AC/OD absolutely nails the Angus tone from the days of "High Voltage" to "Back in Black". You can also easily dial inMalcom with the turn of a knob. The pedal covers a broad range of sonic terrain, from boost to hot overdrive to complete tube-like saturation. The pedal is designed to leave on all the time and is very touch responsive. You can get everything from fat rhythm tones to a perfect lead tone just by using your guitar's volume knob and your right-hand attack.
Features 
Three knobs to control Volume, Gain and Tone
Die-cast aluminum cases for gig-worthy durability
Limited lifetime warranty
True bypass on/off switch
9-volt DC input
Made in the USA
MLA Pedals AC/OD - Music & Demo by A. Barrero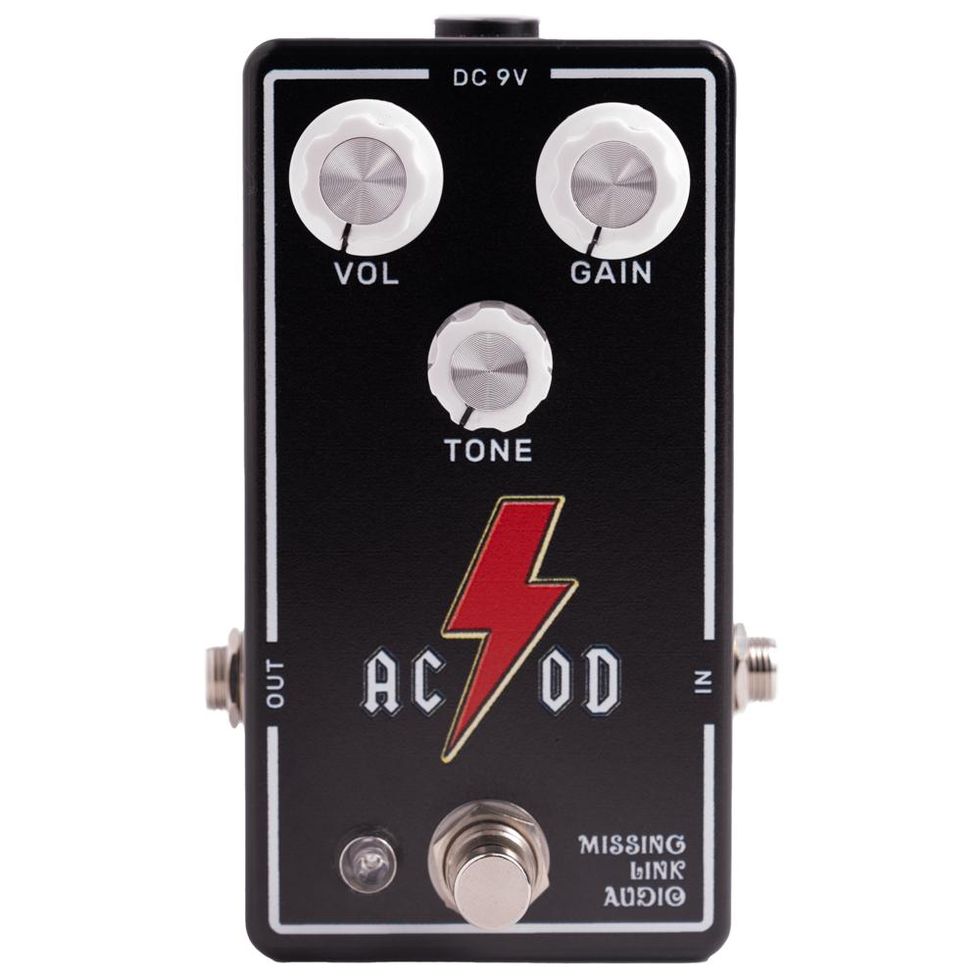 www.mlapedals.com.