Pettyjohn Electronics Introduces the PreDrive Studio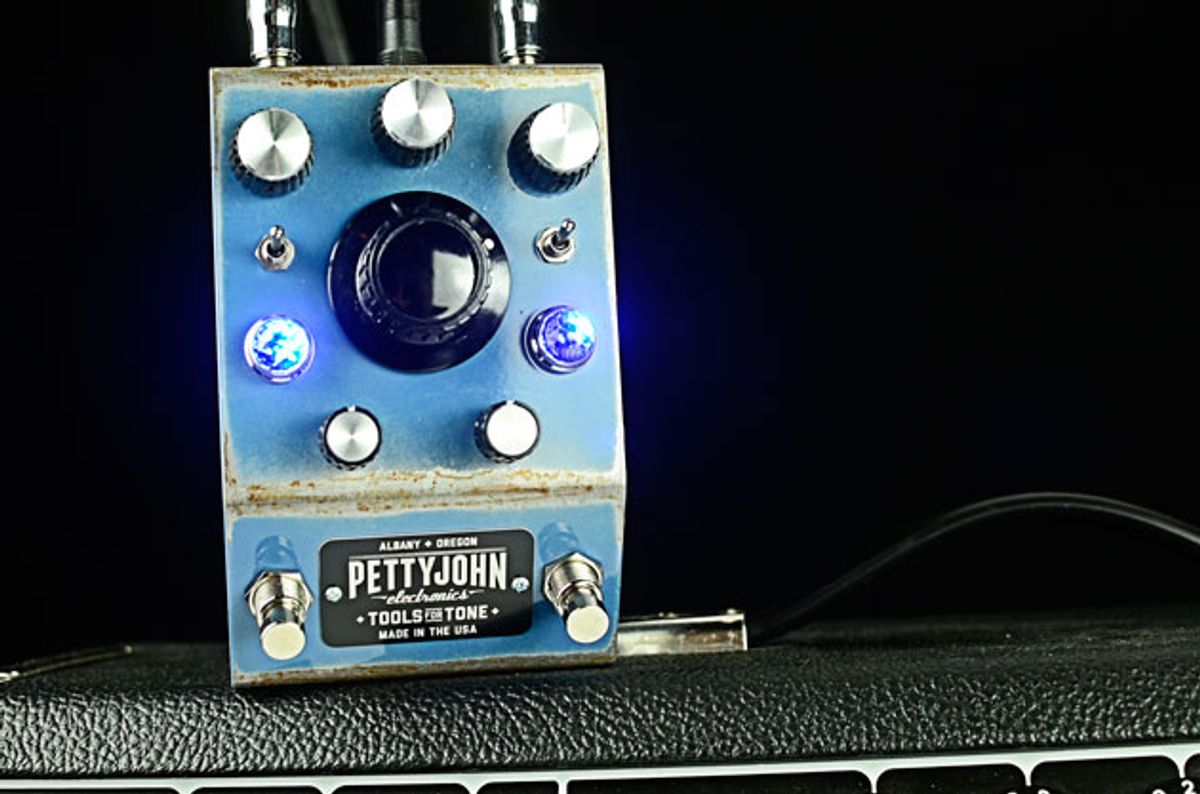 The pedal expands on the features of its predecessor, and features more gain, extended filter range, and high headroom.
Albany, OR (March 8, 2017) -- The PreDrive Studio expands on the popular "studio" features of its predecessor, improving its usability and flexibility that makes it an invaluable tool for tone in every studio session!
Powered by two studio-grade discrete opamps, the PreDrive Studio builds on the original PreDrive and Lift pedal offerings, now featuring even more gain on tap, extended filter range, high headroom, dual power-rail design with 9V-18V standard pedal power operation, and a whole slew of circuit optimizations and improved robust construction. Most notably, the PreDrive Studio now offers fully balanced in and out connections via TRS, along with standard unbalanced connections for instruments, making the it the ultimate studio Swiss Army Knife. The PreDrive Studio input can be selected as standard unbalanced for instruments or switched to a line level balanced input that readily excepts any balanced signal from your interface, patch bay, recording console, or even microphone! The balanced output continuously mirrors the unbalanced output without any tonal change. This makes it very handy in a number of creative studio applications. With the PreDrive Studio, you can easily and seamlessly interface between the unbalanced world of instruments and pedals and the balanced world of recording equipment. The PreDrive can be used as a re-amping tool as an obvious option. However, the options only start there with a vast array to choose from! You can easily interface a variety of guitar pedals into your mixing path, process line or microphone signals without quality degradation. Use it to re-amp or just use it as a audiophile grade direct box.
Shape your signal to perfection, in real time with the PreDrive Studio's two highly musical, fully analog, wide-range, sweepable HP and LP filters. Much care has gone into the design and implementation of the filters and you would be hard-pressed to find more musical or transparent filters on any recording console or studio rack unit around!
What are all the features without an uncompromising commitment to sound quality. We designed the PreDrive Studio to be a serious studio-grade, Tool for Tone with top shelf 990 style Discrete Opamps, based on the famed John hardy 990 chip. These discrete opamps are widely regarded as some of the best sounding, most detailed, transparent and musical opamps in the world. Drawing on knowledge pioneered by the world's first discrete Opamp based guitar pedal, the original PreDrive , we have totally redesigned and optimized the buffer and gain circuits in the PreDrive Studio with dual voltage rails for up to 2x the headroom for massive headroom and huge tone. Furthermore, we have utilized only top shelf audiophile parts to help deliver every ounce of sonic bliss these chips can produce! From the tone capacitors to the resistors, every part has gone under the microscope and has been optimized for maximum fidelity so you can be rest assured there isn't a more detailed or musical buffer/boost preamp or EQ on the market today!
The PreDrive Studio can run on 9v-18v DC, drawing around 50mA, while effectively providing 18v to 36v of internal voltage swing, rivaling headroom found in most studio rack gear! This translates to extra headroom for a truly studio-grade experience.
When we set out to create the PreDrive Studio and its upcoming counterpart, the PreDrive Live, we knew they had to be better in every way then the original, a seriously tall task. We believe the PreDrive Studio is the absolute pinnacle of studio grade guitar pedals, virtually erasing the line between the pro audio gear and guitar pedals.
Features:
Two Discrete Opamp Gain stages
Input Gain: Controls input buffer operation level from a unity buffer to 6 dB of gain.
Boost Gain: Foot-switchable boost stage, transparently and musically increases the discrete opamp based preamp gain up to 30 dB with virtually no distortion or artifacts.
Console Style Filter Section:
Lows Control: Wide-range sweep-able low cut filter allows for custom tailoring of the low end going into the drive engines. Go from full bass response to tight with a sweep range from 20hz to beyond 1Khz with a 6dB per octave slope for musical sweetening.
Highs Control: An audiophile approach to a high-cut filter using the famed Auricap. Clear, defined and sweet through out it's wide frequency sweep, from 22KHz down to 1 kHz, with a gentle 6 dB-per-octave slope.
High Performance Power:
Dual-rail power section with 9V to 18V operation range, providing 18V-36V of voltage swing for huge internal headroom while drawing around 50mA
Balanced Output:
The lower left TRS jack continuously mirrors the unbalanced output including EQ and Gain settings with true -10/+4dB operation.
Useful Level controls for flexible gain staging and level matching in any situation:
Output trim control: The top middle knob adjust the level of the output buffer amp, thus trimming the operating level of both outputs a once.
Output Level control: The top left knob controls the level of the unbalanced output, independent of the balanced out level.
Audiophile, Studio-Grade Performance in a Pedal:
Audiophile grade, through-hole 1% metal film resistors
Top Shelf WIMA and Silver Mica caps used in tone sensitive operations
Auricap Audiophile high-cut tone cap
USA made PCB constructed with Audiophile lead-free silver solder
Extremely high headroom and low noise
True-Bypass Switching
Box and circuit Handmade in the beautiful Pacific Northwest, USA
For more information:
Pettyjohn Electronics