Ain't No Party Like an Archtop Party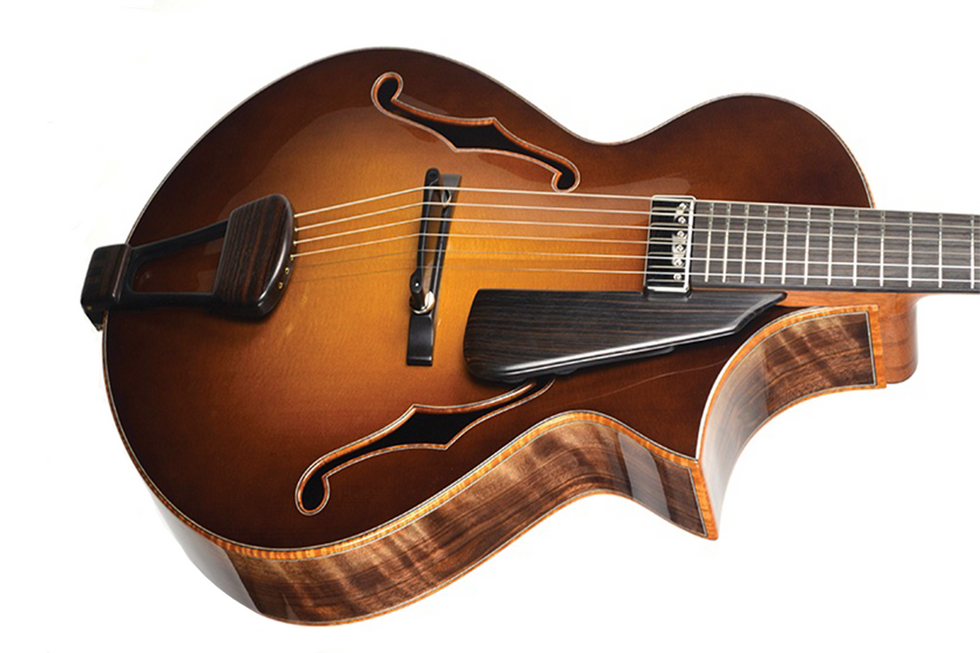 Luthier Maegen Wells recalls the moment she fell in love with the archtop and how it changed her world.
The archtop guitar is one of the greatest loves of my life, and over time it's become clear that our tale is perhaps an unlikely one. I showed up late to the archtop party, and it took a while to realize our pairing was atypical. I had no idea that I had fallen head-over-heels in love with everything about what's commonly perceived as a "jazz guitar." No clue whatsoever. And, to be honest, I kind of miss those days. But one can only hear the question, "Why do you want to build jazz guitars if you don't play jazz?" so many times before starting to wonder what the hell everyone's talking about.
---
Contrary to popular belief, archtop guitars have the potential to be some of the most versatile on the planet. Yet a huge corner of the music world insists on keeping them in a straitjacket. What's up with that? Even as a little-girl player, I always felt archtops were the most beautiful guitars of them all. So beautiful that they were untouchable. I didn't need someone to tell me I didn't play the "right kind of music" to feel unworthy of them. But the word on the street was that archtops were meant for a very particular and sophisticated style of music.
This is not the guitar for you. I believed it. I could feel it. I am not worthy. Instead, I picked up an OM and headed down a very different musical path in life. Tying down the restraints not only on the archtop, but myself. Does this sound familiar?
This is not what music and guitars should do to us. So, who put this straitjacket on? Did I put it on myself? Did I put the archtop guitar in one? Are there others?! Help! How did this happen? I spent the next 11 years walking around in a singer/songwriter straitjacket. It wasn't until I showed up at the Galloup School of Guitar Building and Repair that I was able to bust out of that thing with some chisels and gouges. It was there that I got my first glimpse at the archtop party.
The first private moment I had with my completed archtop, I was stunned to silence. My soul shifted, and there a song was found hiding—my very first instrumental fingerstyle piece.
My intentions were to be a flattop builder, but I was changed forever when my archtop construction began. Enthralled by the versatility of skills the process demanded, the woodworker in me was ignited. The experience of building a variety of guitars was why I wanted to take the Galloup Masters Program. With that came the experience of playing a variety of guitars that I normally would not play,which was equally educational and life changing—something that has now become essential to my musical inspiration.
The first private moment I had with my completed archtop, I was stunned to silence. My soul shifted, and there a song was found hiding—my very first instrumental fingerstyle piece. I was so hypnotized by the voice of this guitar that it launched me in a completely different musical direction. I did not sing another note for almost 7 years; this instrument's voice was the only one I wanted to hear. It was everything I've ever wanted: acoustic, electric, sensitive, powerful, delicate, strong. Our love was effortless, and it found music living inside of me that I had no idea existed. Isn't that what it's all about?
I share this dusty story with you today because I know I'm not alone. There are others out there who have allowed the restraints to come between them and these remarkable instruments. Because at some point along the way, they were told they're not supposed to do that with an archtop. I hear this all of the time. Whatever happened to just picking up a guitar, closing your eyes, and letting it pull something out of you? I'm not at all denying the fact that certain instruments excel with certain genres and styles of playing, but we can't let that prevent us from exploring the things we're curious about.You could be missing out on one of the great loves of your life.
I almost missed out on the archtop party, but thankfully I came in through the woodshop window. And I have good news: The others at this party are on a similar mission to free the archtop from its straitjacket. Not to mention, the music at this party is off the hook. Is there jazz? YES! But that's not all—we have fingerstyle, honky-tonk, funk, blues, rock, weird space music, and everything else you're not supposed to do on an archtop. With today's premier archtop builders such as Danny Koentopp, Tim Frick, Wyatt Wilkie, LHT, Otto D'Ambrosio, or Retrograde, just to name a few, there is undoubtedly something for everyone to be inspired by.
This is your official invitation to the archtop party. Leave your straitjacket at the door and join us, 'cause an archtop party don't stop.