On Bass: The Song Guys, Part 2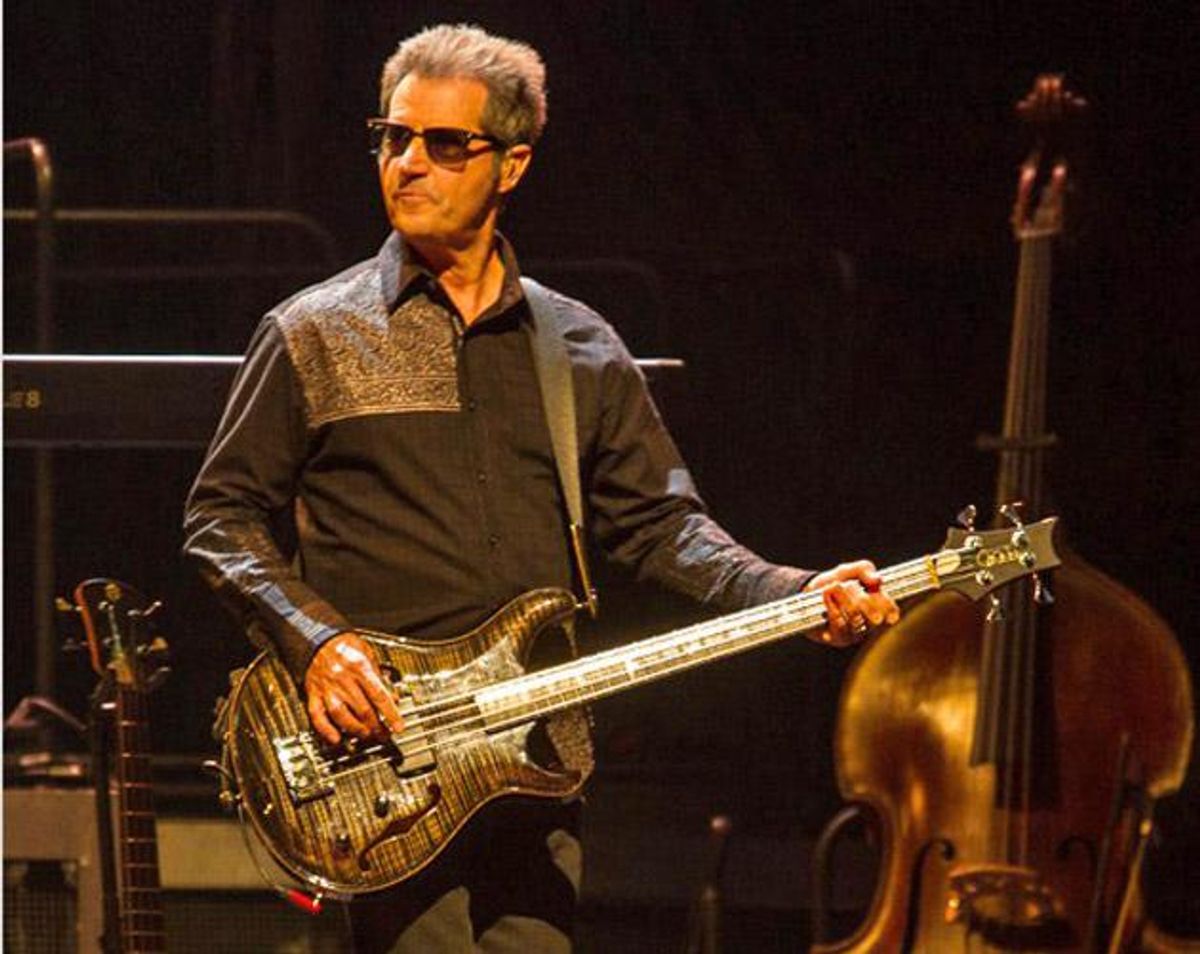 They might not be household names, but these four stellar bassists offer a wealth of inspiration to tap into.
In a previous column, I wrote about a few incredible players who might not be on everyone's list for their next song-learning session ["The Song Guys," September 2014]. Due to the simple nature of the instrument, the world of bass guitar has a large number of unsung heroes who keep their heads down and support bands with all of their might. This is why I feel it's high time for another set of these guys to get their moment in the sun. Like any true artists, these bassists all have a specific set of tools in their playing that separates them from the pack, and that's why you absolutely need to be aware of them.
Garry Tallent, E Street Band. When I was 12 years old, my first bass hero was Garry Tallent, the original bassist behind Bruce Springsteen. He still plays with the Boss to this day. Tallent is clearly influenced by the bounce of Motown bass lines and the swagger and attack of some of the great rockabilly and surf-guitar players. He incorporates the attitude of those players by doing half-step hammer-ons in the lower register, thereby dirtying up the sound and making the whole band sound looser. Tallent achieves a similar effect by using the higher register on the lower strings to create a woofy sound. (Check out the chorus of "Cadillac Ranch" for this effect, when he slides octaves up on one string.)
Between warm, upper-register fills in interesting places and McCartney-esque melodies in the lower register, the experience of listening to the bass almost becomes the same as listening to a very creative rhythm guitarist.

The strong groove of "Downbound Train" blew my mind when I first heard it, and the bounce and direction of Tallent's line gets me to this day. Still, his pièce de résistance for me is "The Ties That Bind," a simple rock song that gets a furiously energetic bass treatment.
Peter Baltes, Accept. After talking about Cliff Williams of AC/DC in the first installment of "The Song Guys," it's a natural progression to mention Accept's Peter Baltes, who is equally unselfish in his delivery of root-note thunder. Accept's sound is classic heavy metal and features heavy guitar riffs over mostly straight-ahead, eighth-note-driven bass. Baltes is different from many metal bassists because of his clean, Precision-inspired tone with a modern, clear high end that is never shrill and never distorts. As a result of his tone, the amount of attack from the bass is astounding on most Accept records.
For a prime example, check out the bass break 40 seconds into "Teutonic Terror." When the bass gets a moment to shine without guitars, his parts are very heavy sounding, even when they aren't played with full attack. The band's biggest hit, "Balls to the Wall," has a bass hook in the breakdown that sounds menacing without being too aggressive. For hard rock, I often come back to his playing for inspiration.

Peter Baltes is pure heavy metal, but sets himself apart from many other players in the genre through his clean tone
with a huge attack.
Nick Seymour, Crowded House. A player on the very opposite end of the spectrum from Peter Baltes is Nick Seymour. Seymour uses his bass as a paintbrush to add accents to music and to comment on an already existing canvas from the rhythm guitar and drums. This type of playing can occasionally feel somewhat noncommittal to listeners and players like myself, who normally prefer the bass to be the backbone of the music, but Seymour successfully avoids that trap by being constantly interesting. Between warm, upper-register fills in interesting places and McCartney-esque melodies in the lower register, the experience of listening to the bass almost becomes the same as listening to a very creative rhythm guitarist.
There is a subtle, old-school funkiness to Seymour's playing that can be heard on songs like "World Where You Live." The band's hit, "Don't Dream It's Over," has a beautiful flowing bass pattern in the verses that pops out over the traditional bass drum pattern with subtle syncopation and octave skips. And the fill that starts the song catches the listener completely off guard. Brilliant!
Joe Chemay, session great. Before I moved to Nashville in January 2000, I had already spent the previous few years being tremendously inspired by what had come out of Nashville in the mid-to-late '90s. "Pop country" at the time was still country, but filled with beautiful pop melodies reminiscent of the slick pop being made in Los Angles in the late '80s. Most of this Nashville goodness was happening on the albums released by females, and some of the session musicians playing on those records were recent transplants from L.A. This was the case with Joe Chemay, who had enjoyed a great career in L.A. as a session bassist, world-class harmony singer, and arranger.
I first discovered Chemay on the song "Safe in the Arms of Love" by Martina McBride. Chemay played the song with a pick, and the roar of the fretboard wood is very present in the mix—on a country record! Joe plays aggressively and melodically, and achieves a yin and yang effect between the beautiful melodies and the very grind-y tone that I love. That approach has given me the confidence to really dig in on some sessions where the rest of the band maybe isn't delivering quite as aggressively. As if the bright pick playing wasn't enough on that same up-tempo, eighth-note-driven song, Chemay overdubs a fretless on top of the picked bass, making big sweeping movements like a cello player.
These guys might not have numerous feature stories written about them, but check them out and I promise you'll be inspired.