Redland Music Products AxeMat
We've all put our guitars on some ridiculous things to keep them comfortable while we're working: pillows, mattresses and even the occasional tour t-shirt. It's certainly not the most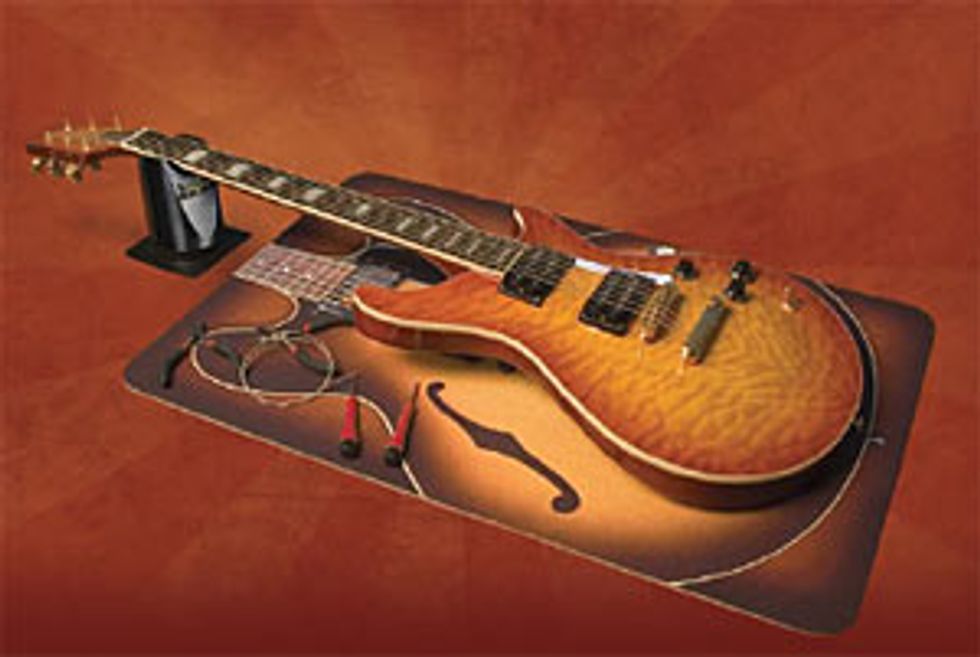 We've all put our guitars on some ridiculous things to keep them comfortable while we're working: pillows, mattresses and even the occasional tour t-shirt. It's certainly not the most stable – or the most glamorous, for that matter – platform to work upon, which is why Redland Music Products has been such a godsend for people like us. Their new AxeMat guitar repair mats offer up plenty of cushion and stability for even the most demanding operations.
From first blush, it's obvious that the people at Redland care about keeping your guitar's beauty intact. The AxeMat measures 19" by 29" and is big enough to protect any guitar you might put on it – you'll have plenty of surface area for even the biggest of hollowbodies. The high-density urethane backing provides a nice, thick surface to work on, and there's enough bite on the bottom of the mat to keep it from sliding around while you're working. We never had a problem getting it to lay flat, and when you're finished, it easily rolls up for storage in the accompanying clear tube.
But for all of the AxeMat's ease of use, the biggest selling point remains the high-resolution guitar photography adorning each one. A quick peek at Redland's website reveals 36 designs to chose from, featuring everything from Teles to Rickenbackers. The images are permanently dyed into the top fabric, and are guaranteed to never crack, fade or wash off. And while you probably won't buy this mat just for the image, why would you buy a plain version when you could get one with a gorgeous photograph of your favorite guitar?
There's really no reason not to buy one of these mats – when you've spent a couple thousand on a guitar, what's a few more to provide quality protection? Your axe will thank you.
---
MSRP $39.99
redlandmusic.com
Our expert has stated his case, now we want to hear yours. Log on and share your comments and ratings.