You could win a Fable Granular Soundscape Generator from Walrus Audio!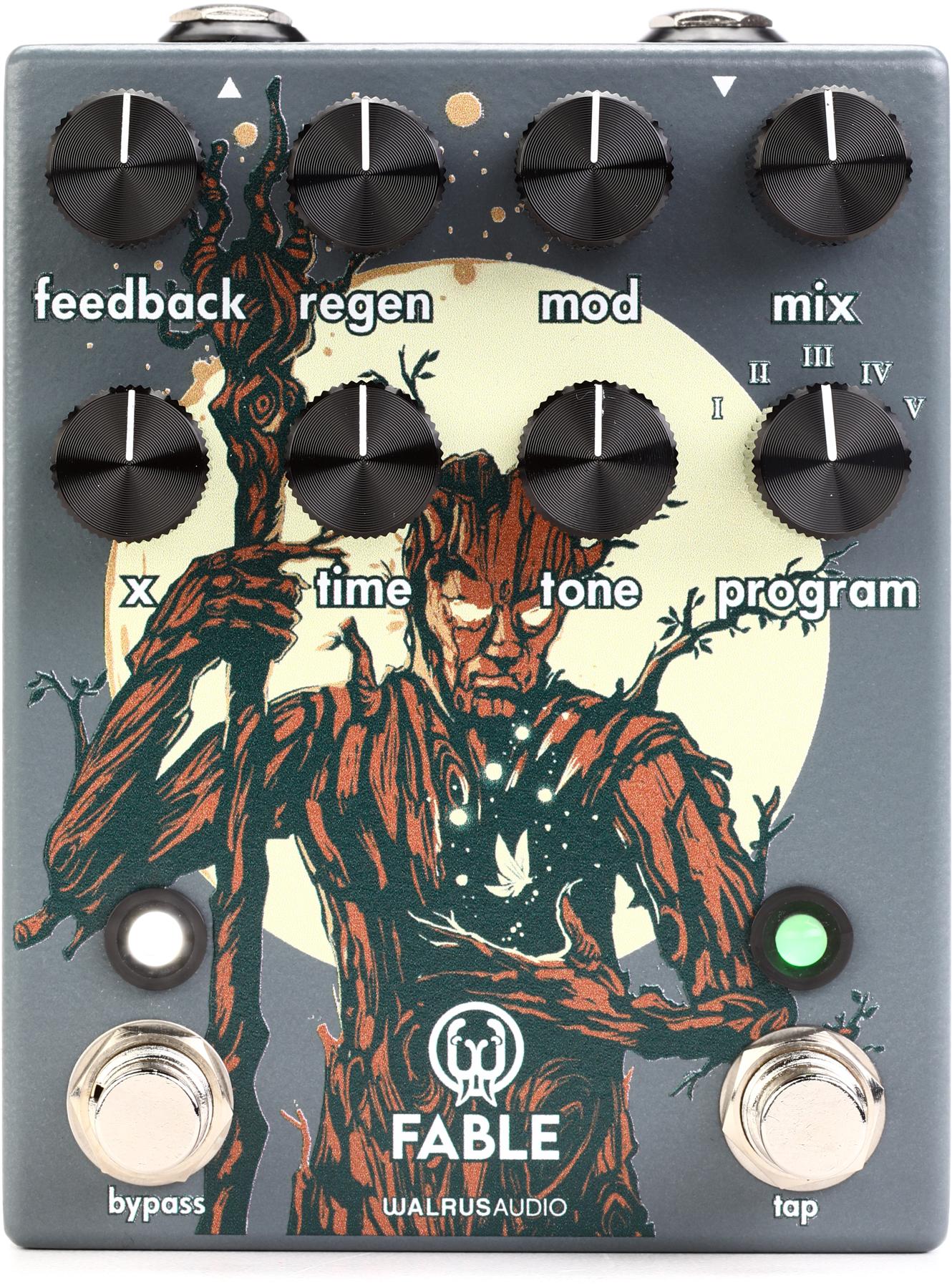 Let your storybook adventure grow with the Fable Granular Soundscape Generator. The Fable creates new sonic adventures with five granular delay programs centered around sample and chop algorithms that create bizarrely beautiful networks of sampled and resampled sounds.
Walrus Audio
This Chris Stapleton signature Epiphone acoustic is made in Gibson's factory in Bozeman, Montana and features a thermally aged Sitka spruce top, figured maple back and sides, and double-engraved pickguards.
The Epiphone Chris Stapleton Frontier comes with its own Custom Hardshell Case with Pink Interior and an intricate Tooled Exterior, only 300 guitars will be crafted for this special limited-edition run.
"Epiphone has done an incredible job of getting every detail as it should be on this instrument, and I can tell you firsthand it's stage-worthy and will get the job done at any venue you want to play in. It's a work of art that does the work." --Chris Stapleton

The FT-110 debuted in 1939 and it was renamed the Frontier after Gibson acquired Epiphone in 1958. It was the first square-shouldered dreadnought made in Gibson's Kalamazoo factory, predating the Dove and Hummingbird models. The Frontier acquired its iconic Rope & Cactus pickguard in 1961 and it was made until 1970, returning for a few select limited runs in the 1990s and 2000s and eventually returning to the core lineup in 2019. The Frontier was an integral part of both Tom Petty's classic album Damn the Torpedoes, as wells as, Noel Gallagher's epic playing on Oasis' second album What's The Story Morning Glory. Other well-known Frontier players include Sheryl Crow, Graham Parsons, Mick Taylor, Bones Owens, and Greene Wall, among others.
Kentucky-born Chris Stapleton is an 8x Grammy, 15x CMA and 10x ACM Award-winner and one of America's most respected and beloved musicians. Most recently, he was named CMA Male Vocalist of the Year for the sixth time--setting the record for the most wins ever in the category. Stapleton's most recent album Starting Over, also recently won Best Country Album at the 67th Annual GRAMMYs as well as earning Album of the Year honors at both the 54th Annual CMA Awards and the 56th ACM Awards. The record follows Stapleton's pair of Platinum-certified releases from 2017, From a Room: Volume 1 and From A Room: Volume 2, as well as his x5 Platinum breakthrough solo debut album, Traveller.
Chris Stapleton Epiphone Frontier
For more information, please visit epiphone.com.
Epiphone
The DiMarzio Model J is designed to be 50 percent quieter than the original Fender Jazz bass single coil pickups, and it's 60 percent louder.
Tanya O'Callaghan, famed for her dynamic stage presence, in-the-pocket timing, and world-class touring resume talks about her new favorite bass pickup, the DiMarzio Relentless J.
Tanya has toured with Whitesnake, Bruce Dickinson (Iron Maiden), Maynard James Keenan (Tool/APC), Dee Snider (Twisted Sister), Steven Adler (Guns N' Roses), Nuno Bettencourt (Extreme), The Riverdance, The Voice, Orianthi, Michael Angelo Batio, Kevin Godley, Sharon Corr (The Corrs) and David Grey, to name a few…
DiMarzio introduced the world's first Fender Jazz bass replacement pickups at the NAMM show of 1977. DiMarzio invented the dual bar ceramic magnet structure for extra power and included twin hum-cancelling coils for decreased noise. The DiMarzio Model J is 50 percent quieter than the original Fender Jazz bass single coil pickups, and it's 60 percent louder.
We also added adjustable pole pieces to improve the string balance and designed them in our signature cream color. At its introduction, the DiMarzio Model J immediately become an industry standard and has been the pickup of choice on thousands of hit recordings.
With the introduction of the Relentless P bass pickups, co-designed with Billy Sheehan, we began to think how we could make our Jazz Bass pickup even better.
As with the Relentless pickups, we removed all the hard edges from the standard J Bass pickup and added an arch to the top of the pickup to bring the sensing coils and pole pieces closer to the strings. These improvements increase the dynamic range and make active circuits unnecessary.
We invented (patent pending) parallelogram-shaped coils to add dimension, punch, and dynamics to the Relentless J sound, and we incorporated metal covers with foil-shielded cables to further suppress the background noise.
DiMarzio's extra shielding makes the Relentless J better for both recording and stage performances. We mounted it onto a robust .09375" thick circuit board base plate so we could eliminate the annoying protruding mounting screws — ultimately creating a more comfortable and consistent foundation to rest your fingers on.
Tanya O'Callaghan for DiMarzio Relentless J Bass Pickups
​To improve the balance when both pickups are used together, we made the bridge position pickup louder than the neck position pickup. When the pickups are blended, you get a better volume match.
The Relentless pickups incorporate Neodymium magnets and produce 70 percent more output than traditional passive pickups, and they're dead quiet. We've expanded the mid-range punch, adding snappy highs and precise lows. These pickups have a broad magnetic field so you can even bend notes without volume dropout.
Relentless J pickups will breathe new life into any bass, increase playability, and work well for any style of music from Motown to metal.
For more information, please visit dimarzio.com.