Sneak Peek: Satriani and Leslie West On Tour
We take a first look into what''s shaping up to be this fall''s hottest tour
Get ready to be rocked to the core as virtuoso guitarist, Joe Satriani, returns to the states to wrap up his current world tour. It's all things "Satch" in 30-plus cities this fall, including Chicago, New York, Boston, Toronto, Cleveland, Washington D.C., Dallas, Los Angeles and more. But watching Satriani work the fretboard isn't the only thing to get psyched about – the tour will also feature very special guest, Mountain, with guitarist Leslie West.
Click here to hear our exclusive podcast with Joe Satriani about the tour and more.
Satriani's most recent tour comes in support of his latest album,
Professor Satchafunkilus and the Musterion of Rock
, one of his most electrifying albums to date. Fans old and new have already witnessed his one-of-a-kind performances abroad, with sold out dates in London, Paris, Moscow, Milan, Amsterdam and Sydney. After his 2005 world tour rocked through 25 countries, playing 100- plus shows, with three sold out shows in India alone, the passionate response to this tour comes as no surprise.
While Satriani promises to put on a monsterous show, the addition of Mountain and guitar legend, Leslie West, will ratchet up the intensity even more. Mountain is one of the heaviest bands of all time, known for creating legendary tracks like "Mississippi Queen," a classic rock staple to this day. This foursome has rocked crowds with their loud and aggressive playing since 1969; expect nothing less than cranked Marshalls and searing riffs.
In the past two decades, Satriani has consistently sold out stadiums worldwide, and this tour will be no different. If you're a last minute type of person, you'll want to heed our advice and get your tickets now. More info on ticket pricing and tour dates can be found at
satriani.com
. You can also move to the head of the line with Club Joe Meet & Greet ticket packages, which provide premium, reserved seats and exclusive meet-and-greet opportunities before the show – lucky package buyers may even get the chance to watch the encore from the side of the stage! Information on all packages is available online at
satriani.com
; you can also get your tickets through your local box office or
ticketmaster.com
.
Joe Satriani
During football practice at age 14, Joe Satriani learned of the death of Jimi Hendrix. At that moment, he told his coach he was quitting to become a guitarist and walked off the field. Almost 40 years later, Satriani could make music out of a doorknob if he had to, with over a dozen critically acclaimed studio albums that have sold over ten million copies worldwide. But Satriani is definitely not your average shredder; most of his guitar tricks sound like they come from another planet. His unique tones have made his albums runaway successes from the beginning, cracking Billboard's Top 20 and reaching multiplatinum status.
In 1974, Satriani began studying with jazz guitarist Billy Bauer and jazz pianist Lennie Tristano. Satriani was greatly influenced by Tristano's playing and began teaching guitar shortly after. One of his most notable students at the time was Long Island native, Steve Vai. In 1978, Satriani moved to Berkley, California to pursue a music career. In California, he continued teaching – several of his students are now very accomplished guitarists, including Kirk Hammett (Metallica), David Bryson (Counting Crows) and Kevin Cadogan (Third Eye Blind).
Throughout the late eighties and early nineties, Satriani focused on releasing superior albums. His second album, Surfing with the Alien, produced popular radio hits and was notable as one of the first all-instrumental albums to break into the Top 40 charts. In 1992, Satriani released
The Extremist
, considered one of his most critically acclaimed and commercially successful albums to date; in 1993, he joined the band Deep Purple for their Japanese tour as a short-term replacement for departed guitar legend, Ritchie Blackmore. After the successful tour, Deep Purple asked Satriani to join them permanently, but he declined the offer to focus on his multi-album solo deal with Sony.
Joe Satriani has never been one to sit still; in 1996, his search for something new led to the formation of G3, a concert tour of guitar music featuring Satriani with his close friend, Steve Vai, along with a floating third member (often including players like
Eric Johnson
, Yngwie Malmsteen and Robert Fripp).
But for Joe Satriani, creating great music is by far the most rewarding part of his career. On his most recent album,
Professor Satchifunklius and the Musterion of Rock
, he embarks on his most fascinating musical journey yet. The album is filled with epic themes ranging from deeply personal songs, to all-out rockers with a sci-fi crunch. Professor Satchifunklius and the Musterion of Rock is filled with the kind of arty vigor and bratty fever that has made Joe Satriani one of the greatest guitarists of his day.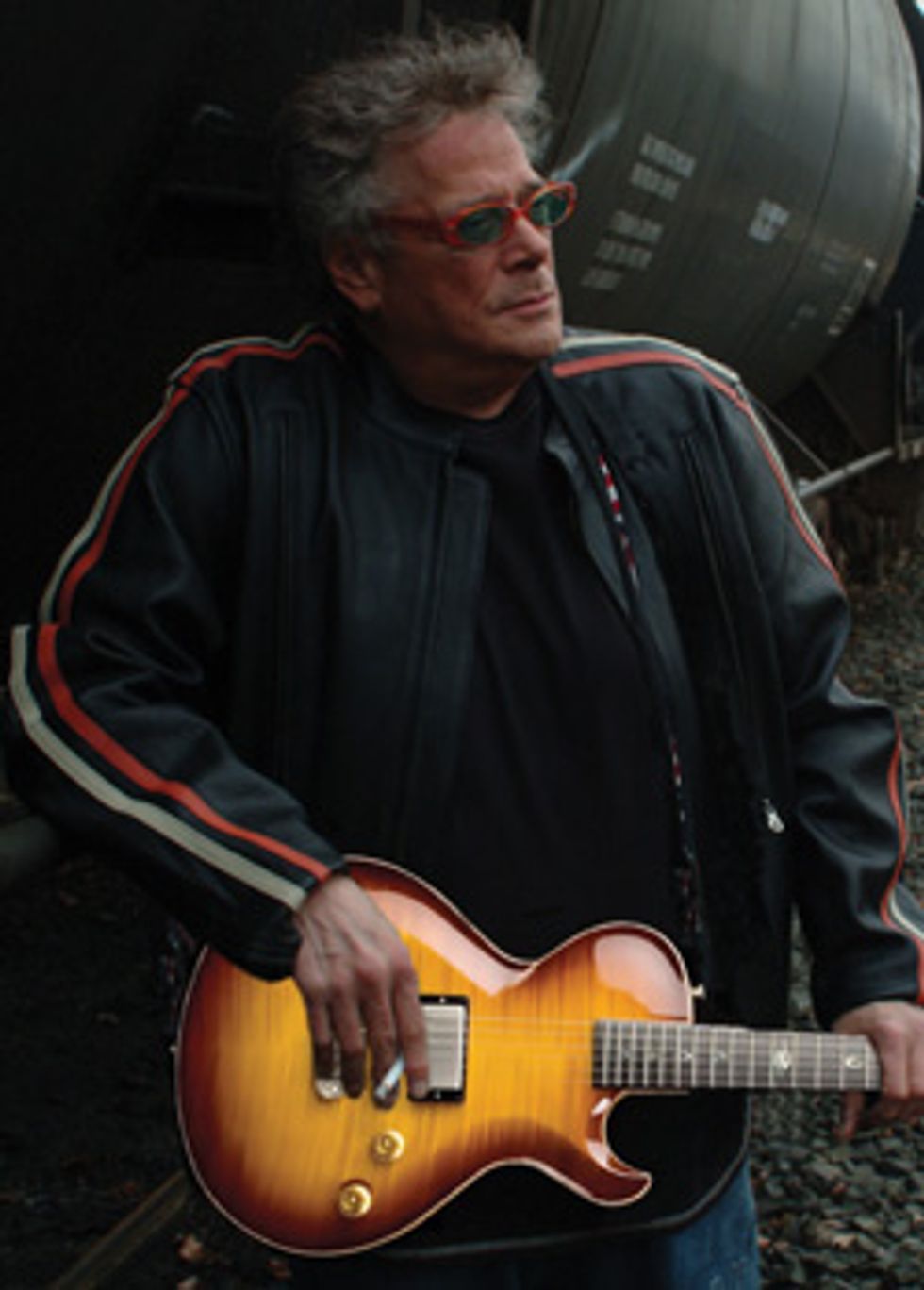 Leslie West
Leslie West is not only the guitarist for the explosive heavy rock band, Mountain, but he has also gained outstanding fame as one of the most innovative and influential musicians in the history of rock music. West's distinctive sound and tone are known throughout the music industry as one of the biggest guitar sounds ever created. His licks, tricks and musical creativity make him a one-of-a-kind, electrifying guitarist that you can't get enough of. Classics such as, "Mississippi Queen," "Never in My Life" and "Theme From An Imaginary Western" are to this day, staples of rock radio, and are even being introduced to a new generation through games like
Guitar Hero
.
During West's 30-plus year career he has recorded or played with numerous rock icons including Jimi Hendrix, Eddie Van Halen, The Who, Mick Jagger and Billy Joel. His versatility, zest for life and passion for all things music make him one of the most unique rock legends to date; now, even in his early-sixties, he shows no signs of slowing down. He has recently collaborated with Dean to create a signature guitar – the Dean Leslie West Signature – and Mountain just released their first album since 2002's Mystic Fire, Masters of War. The band is celebrating its 35th anniversary and continues to play for crowds big and small, just like they did in 1969.
Canadian and U.S. Tour Dates
10.3.08 Calgary, AB Canada – Jack Singer Concert Hall
10.4.08 Edmonton, AB Canada – Edmonton Event Centre
10.6.08 Winnipeg, MB Canada – Burton Cummings Theatre
10.7.08 Minneapolis, MN – The State Theatre
10.8.08 Chicago, IL – Chicago Theatre
10.9.08 Royal Oak, MI – Royal Oak Music Theatre
10.10.08 Cleveland, OH – House of Blues
10.11.08 Greensburg, PA – Palace Theatre
10.12.08 Buffalo, NY – Center for the Arts
10.14.08 Boston, MA – Orpheum Theatre
10.15.08 Kitchener, ON Canada – Centre in the Square
10.16.08 Toronto, ON Canada – Massey Hall
10.17.08 Montreal, QC Canada – Metropolis
10.18.08 New York, NY – United Palace
10.19.08 Glenside, PA – Keswick Theatre
10.21.08 Sayreville, NJ – Starland Ballroom
10.22.08 Baltimore, MD – Rams Head Live!
10.23.08 Washington, D.C. – Warner Theatre
10.24.08 Richmond, VA – The National
10.25.08 Durham, NC – Carolina Theatre
10.26.08 Atlanta, GA – Variety Playhouse
10.28.08 Jacksonville, FL – Florida Theater
10.29.08 Clearwater, FL – Ruth Eckerd Hall
10.30.08 Miami Beach, FL – Fillmore Miami Beach at Jackie Gleason Theatre
10.31.08 Lake Buena Vista, FL – House of Blues
11.1.08 West Palm, FL – Raymond F. Kravis Center for the Performing Arts
11.3.08 New Orleans, LA – House of Blues
11.4.08 Houston, TX – House of Blues
11.5.08 Austin, TX – Austin Music Hall
11.6.08 Dallas, TX – House of Blues
11.7.08 El Paso, TX – Plaza Theatre
11.8.08 Albuquerque, NM – Kiva Auditorium
11.9.08 Phoenix, AZ – Dodge Theatre
11.10.08 Las Vegas, NV – House of Blues
11.12.08 San Diego, CA – House of Blues
11.13.08 Los Angeles, CA – The Wiltern
11.14.08 Reno, NV – Silver Legacy Casino
11.15.08 San Francisco, CA – Warfield Theatre
For more information, visit
satriani.com
.