Looking for more great gear for the guitar player in your life (yourself included!)? Check out this year's Holiday Gear Finds!
The soulful slide wiz shows off his Teisco-inspired baritone and several "different" tone tools that have inspired his pandemic projects—including a knockout Custom Shop Jazzmaster.
Ariel Posen entered as a sideman. His scintillating work with the Bros. Landreth made him a guitarist's guitarist. He's since stepped out on his own to show he's more than just shadowy specialist.
His 2019 solo debut, How Long, caught some fans off guard and shined brightly because of his song-first approach. "These days, I like listening to songs and the story and the total package," Posen told PG in 2019. "I just trusted my gut and I can reach more people by playing songs, and I get moved more by a story and lyrics and harmony, so that's where I naturally go. The live show is a lot more guitar-centric."

But saying all that, Posen still gets down on the guitar. His slide might do most the talking (look no further than How Long's sizzling "Get You Back"), but his fingerstyle flourishes and potent phrasing make him an all-around threat. And on top of all that, the dude can sing, too!
His brand-new album Headway expands on the success of How Long by incorporating more rootsy Americana vibes ("Heart by Heart" or "Carry Me Home") and slinky neo-soul touches ("What Are We Doing Here"). And guitarists, don't worry, he still cuts a grooving, silky solo ("Coming Back" or "Heart by Heart").
Just before releasing his emotive, heartfelt 12-song collection, the burgeoning-songwriting guitarist virtually welcomed PG's Chris Kies into his Canadian-home jam space.
In this episode, we find out how a $50-pawnhsop purchase inspired his No. 1—a custom-made, S-style baritone—and he explains why all of his guitars (and their tones) have to be "different," and he goes through his travel-ready pedalboard that's been grounded for over a year, but has still been a big asset for recording.
D'Addario XPND Pedalboard: https://ddar.io/xpnd.rr
[Facing a mandatory shelter-in-place ordinance to limit the spread of COVID-19, PG enacted a hybrid approach to filming and producing Rig Rundowns. This is the 43rd video in that format.]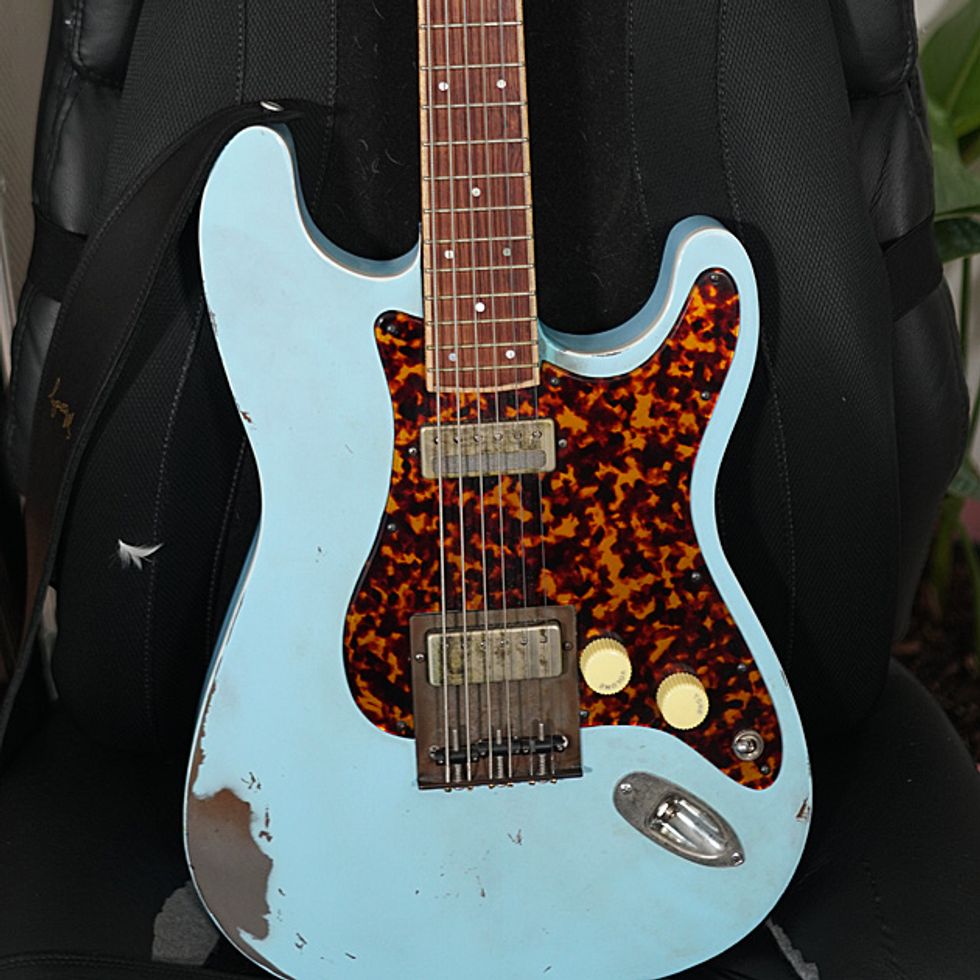 If you've spent any time with Ariel Posen's first solo record, How Long, an auditory high mark might be the ripping, raunchy slide solo packed within "Get You Back." As explained in a 2019 PG interview, Posen's pairing for that song were two cheapos—a $50 Teisco Del Ray into a Kay combo. However, when he took the pawnshop prize onstage, the magic was gone. "It wouldn't stay in tune and wouldn't stop feeding back—it was unbearable [laughs]."
Posen was familiar with Matt Eich of Mule Resophonic—who specializes in building metal-body resonators—so he approached the luthier to construct him a steel-bodied, Strat-style baritone. Eich was reluctant at first (he typically builds roundneck-resos and T-style-baritones), but after seeing a clip of Posen playing live the partnership was started.
The above steel-bodied Strat-style is Posen's second custom 25"-scale baritone. (On Mule Resophonic's website, it's affectionately named the "Posencaster.") The gold-foil-y pickups are handwound by luthier Matt Eich and are actually mini-humbuckers. He employs a custom Stringjoy set (.017–.064 with a wound G) and typically tunes to B standard. The massive strings allow the shorter-scale baritone to maintain a regular-tension feel. And when he gigs, he tours light (usually two guitars) and so he'll use a capo to morph into D or E standard.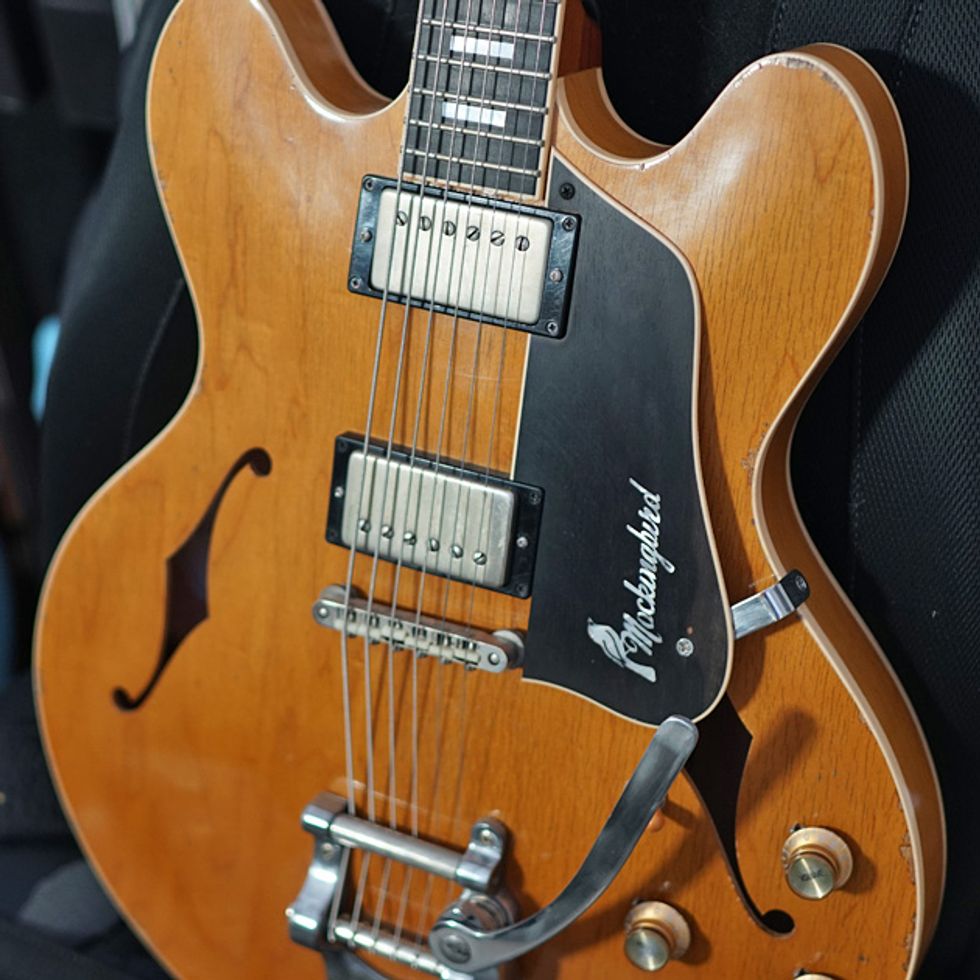 If touring were a thing right now, Posen would take this Josh Williams Guitars' Mockingbird on the road for open-C duties. (Again, also using a capo to unlock more doors while still traveling lean.) It speaks with a set of Ron Ellis PAFs that sit in the 7-8k range.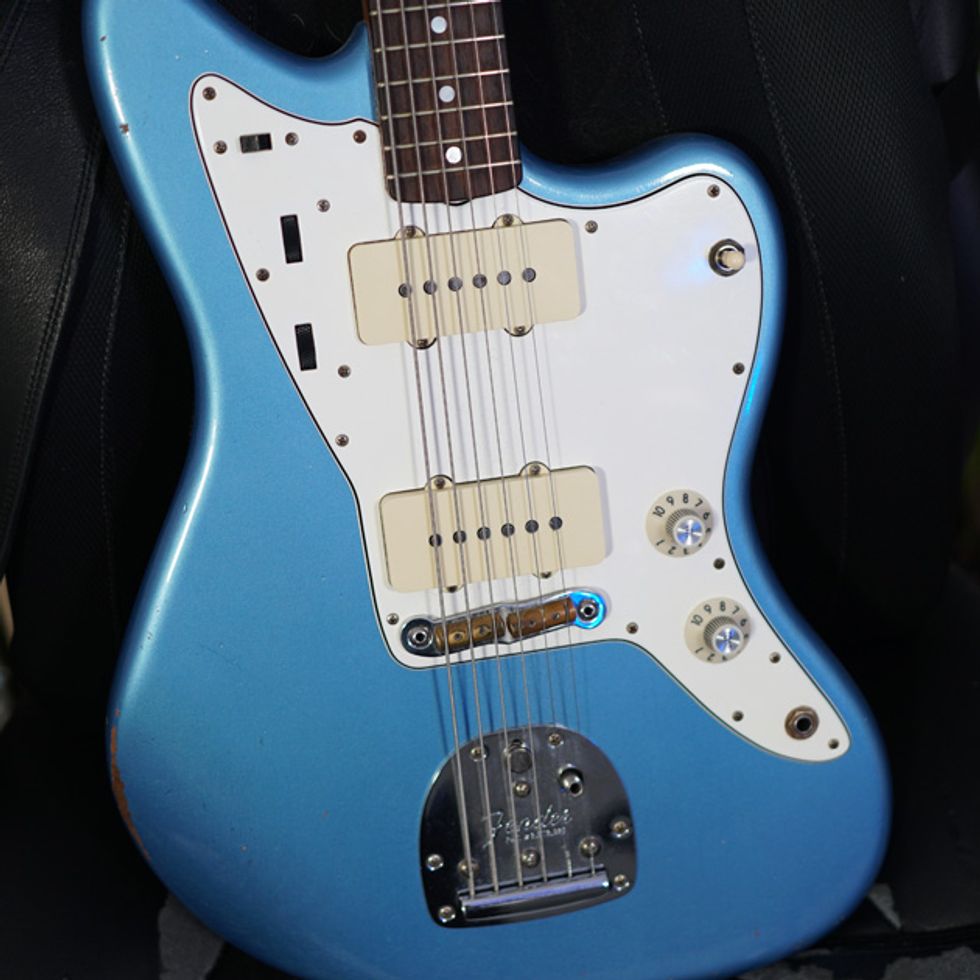 Another one that saw recording time for Headway is the above Fender Custom Shop Masterbuilt '60s Jazzmaster (by Carlos Lopez). Making it work better for him, he had the treble-bleed circuit removed, so when the guitar's volume is lowered, it actually gets warmer.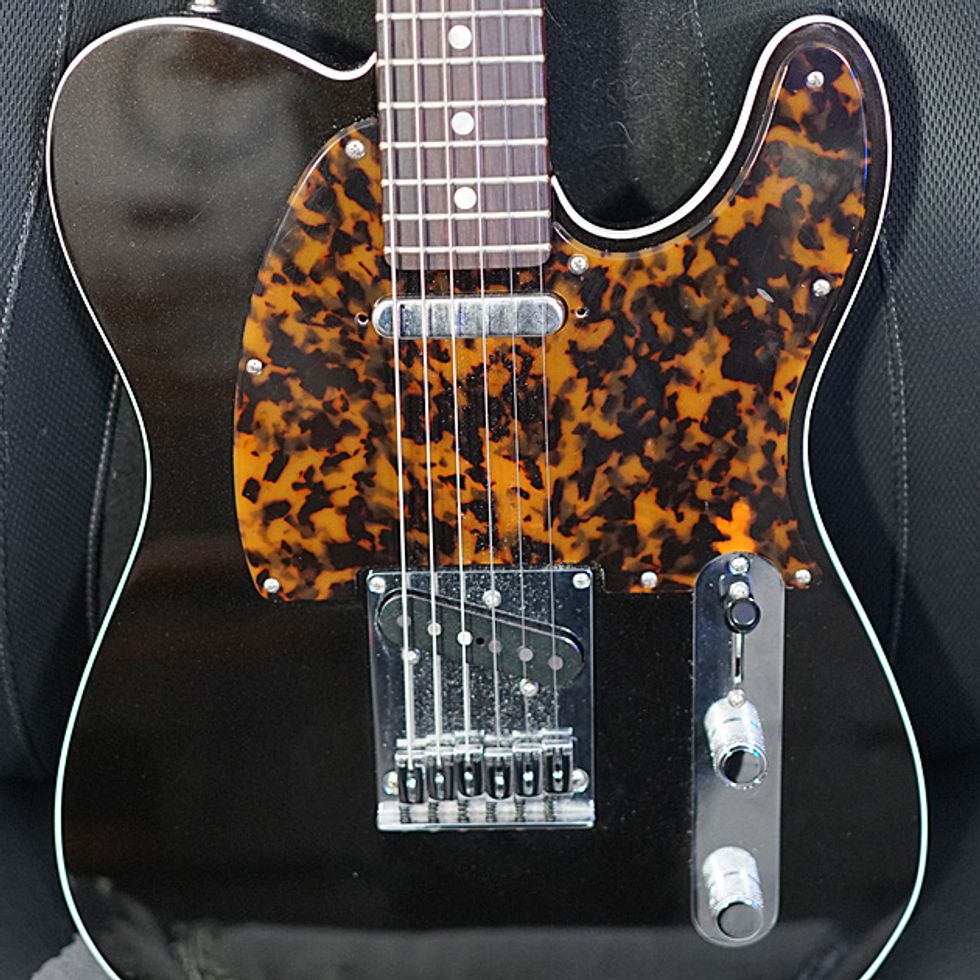 Here is Posen's Fender Ultra Telecaster that was recently upgraded with a sharp faux-tortoise-shell pickguard constructed by Chris Moffitt. (He's a Northern Ireland-based luthier who works under the name Kithara Guitars.) Another mod he did to this tele was swapping out the stock Ultra Noiseless pickups for a vintage-voiced, '50s-era, T-style set from Ron Ellis. For pandemic projects he's had this one set in standard tuning and outfitted with Ernie Ball Slinkys (.012s).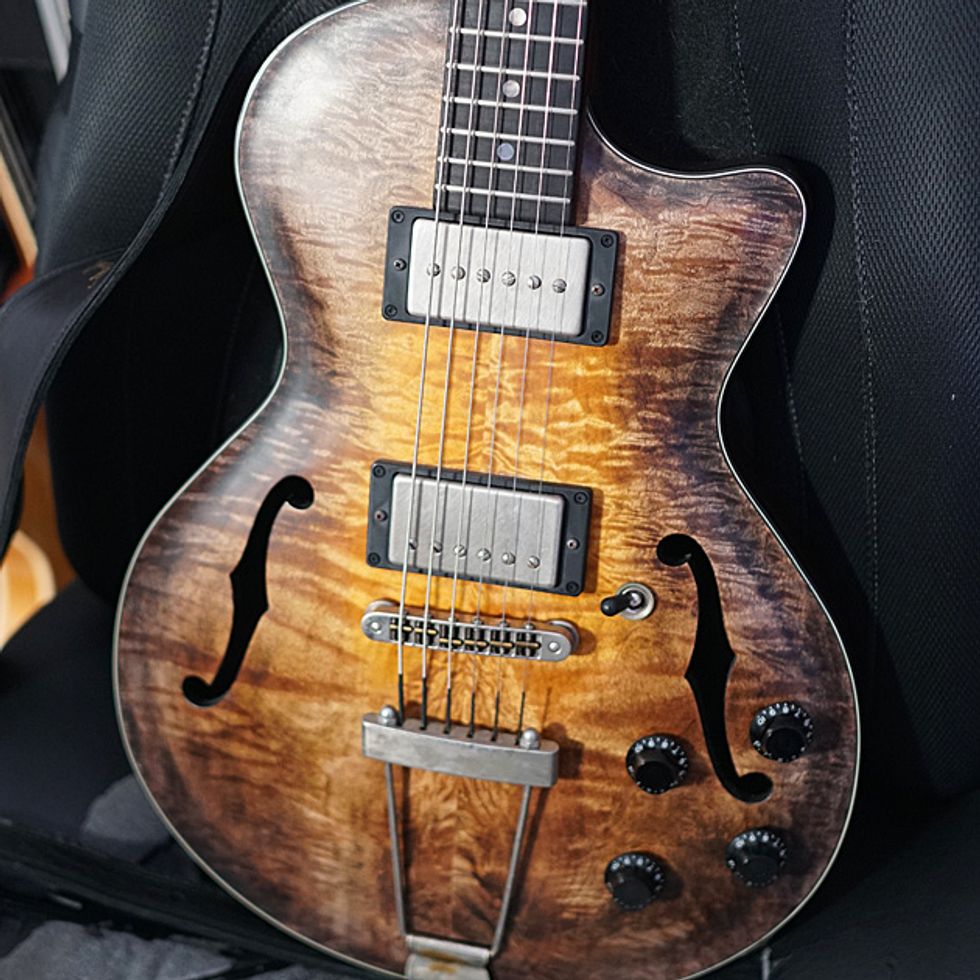 Above is a Wide Sky Guitars P125 Cutaway model built by luthier Patch Rubin. The New Mexico-based shop focuses on classic singlecut, LP-style electrics and golden-age acoustics. The P125 features a chambered sapele body with a carved maple top, mahogany neck with a bound ebony fretboard, and it came loaded with a mixed set of Curtis Novak pickups—a P-90 in the neck and a PAF in the bridge.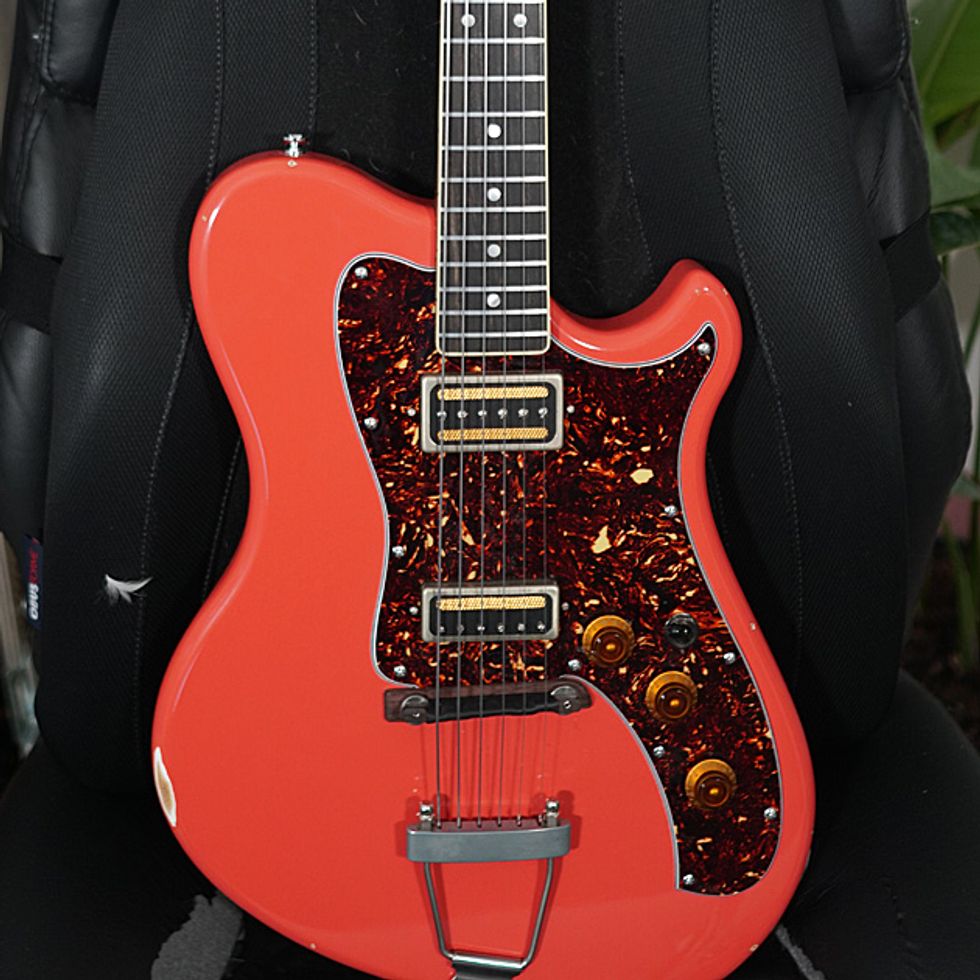 Easily the wonkiest guitar in Posen's collection is this custom ride created by Dahlberg Intruments. The body is based on their standard Crusader model, but the rest is unique to Ariel. Its fiesta red body is made from swamp ash, it has a walnut neck, a fretless ebony fretboard with aluminum fret markers, custom Lücking gold-foil pickups, and a rubber-coated floating wooden bridge.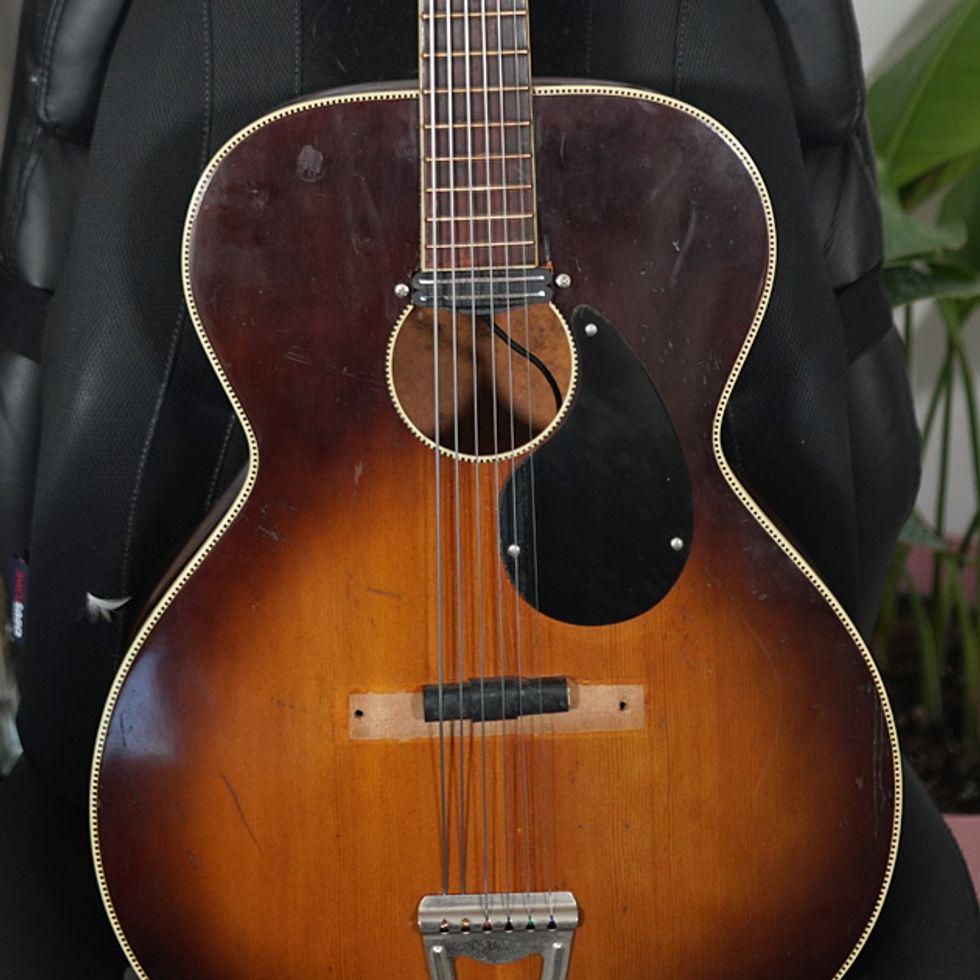 On the surface, this looks like a junky '50s Kay. And while you're not entirely wrong, the guitar is quite playable and has a character all its own thanks to being fully refurbished (completely with a Seymour Duncan Hot Rails in the soundhole) by luthier Reuben Cox of L.A.'s Old Style Guitar Shop.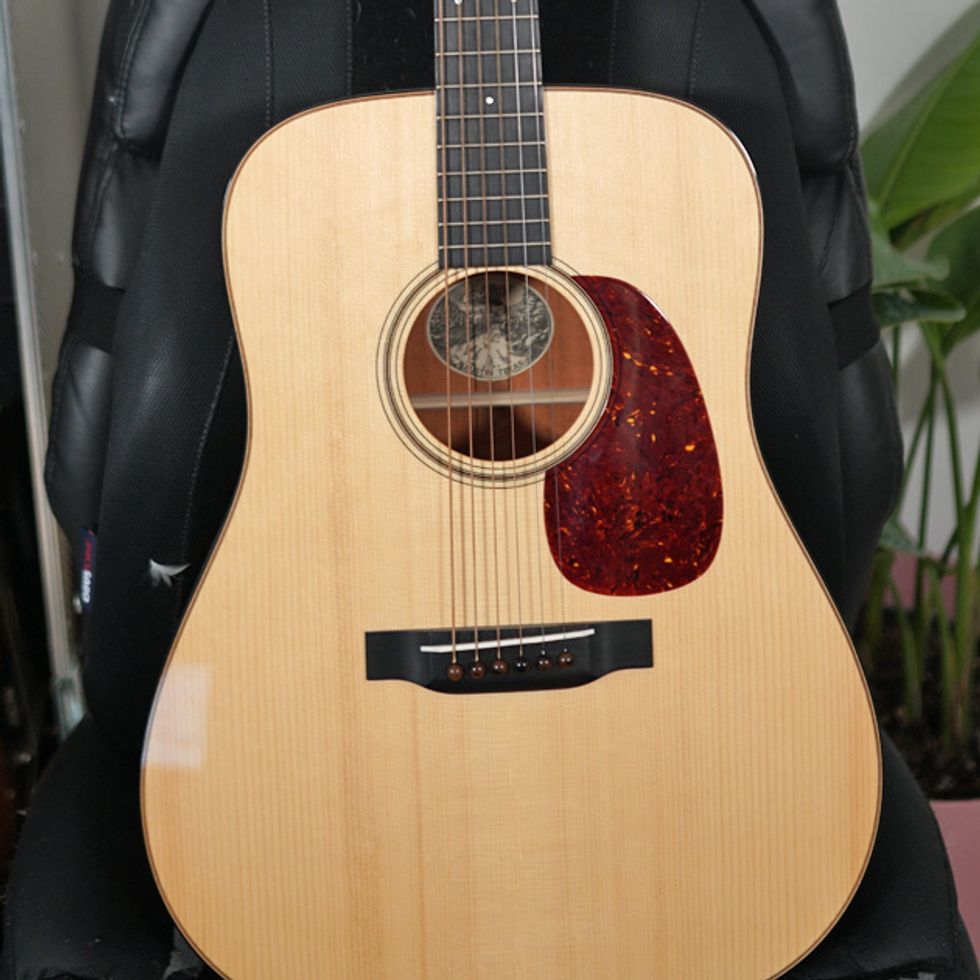 Posen's favorite style of acoustic is a dreadnought. His prized Martin D-28 rests back home in Winnipeg, but during quarantine he's been bonding with this Collings D1 T that's seen work during recent recording projects.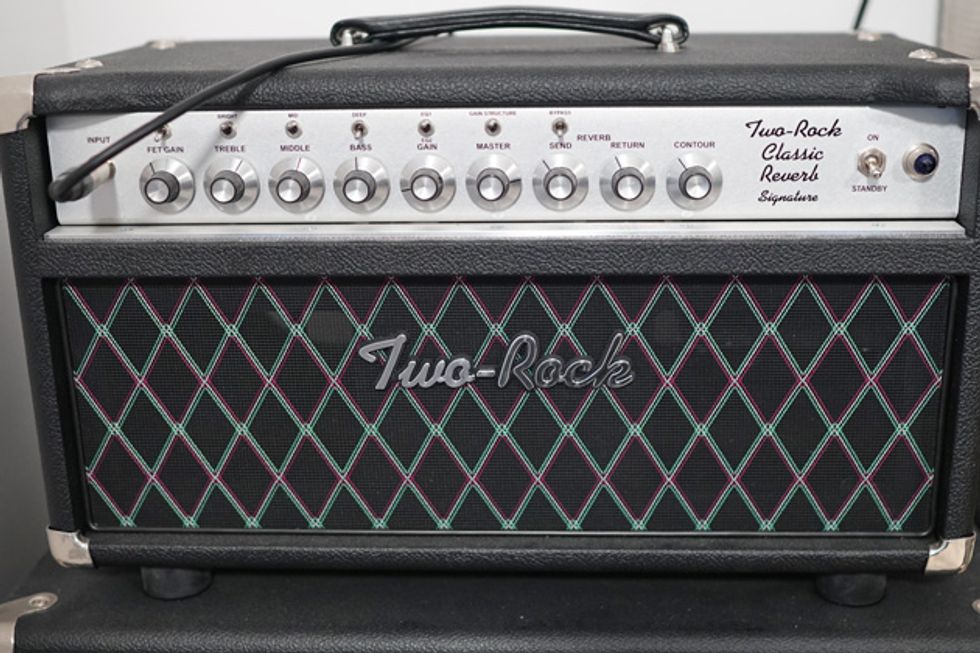 If you've caught Ariel onstage, you've probably seen him plug into a Two-Rock. For the recording purposes of this Rundown, he fired up his Classic Reverb and routed it into the Universal Audio Ox Load Box.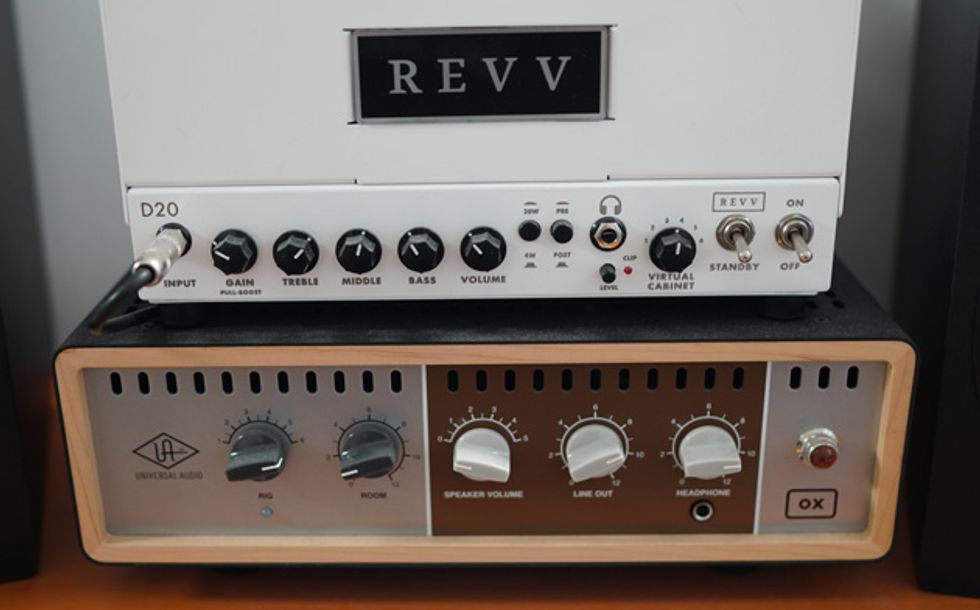 Another tone machine used during the pandemic is Posen's Revv D20 (sitting on top of the aforementioned UA Ox Box).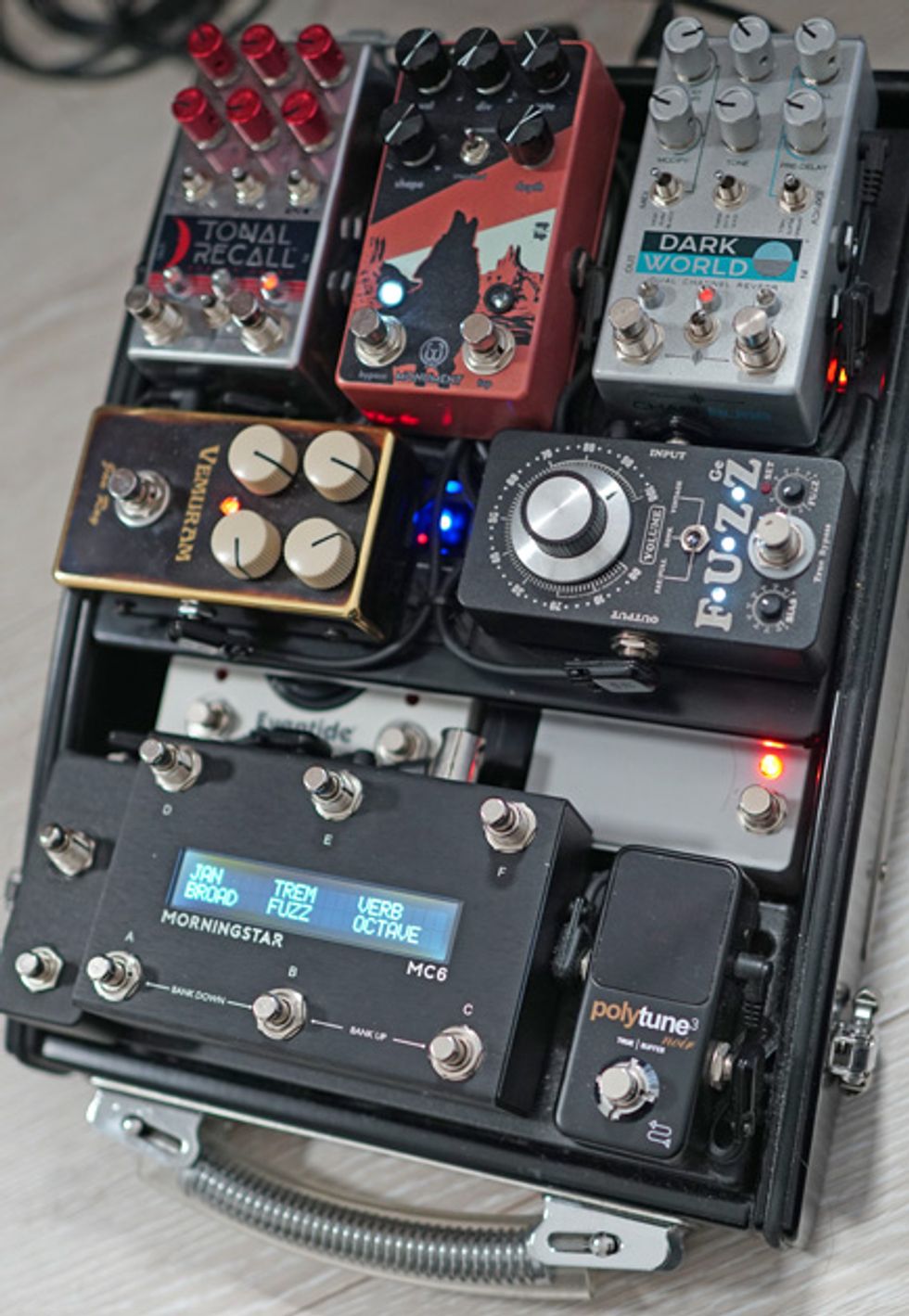 Posen toured with this setup for over a year before everything shut down. In the Rundown he mentions that he uses it quite a bit for sessions, proving to be flexible while compacted into a travel-friendly package.
Starting at the top left, you have a Chase Bliss Tonal Recall, Walrus Audio Monument, and a Chase Bliss Dark World. Down below that he has a Vemuram Jan Ray overdrive and a KingTone Germanium miniFUZZ. And the bottom row he has a Morningstar FX MC6 MIDI Controller and a TC Electronic PolyTune3 Mini Noir.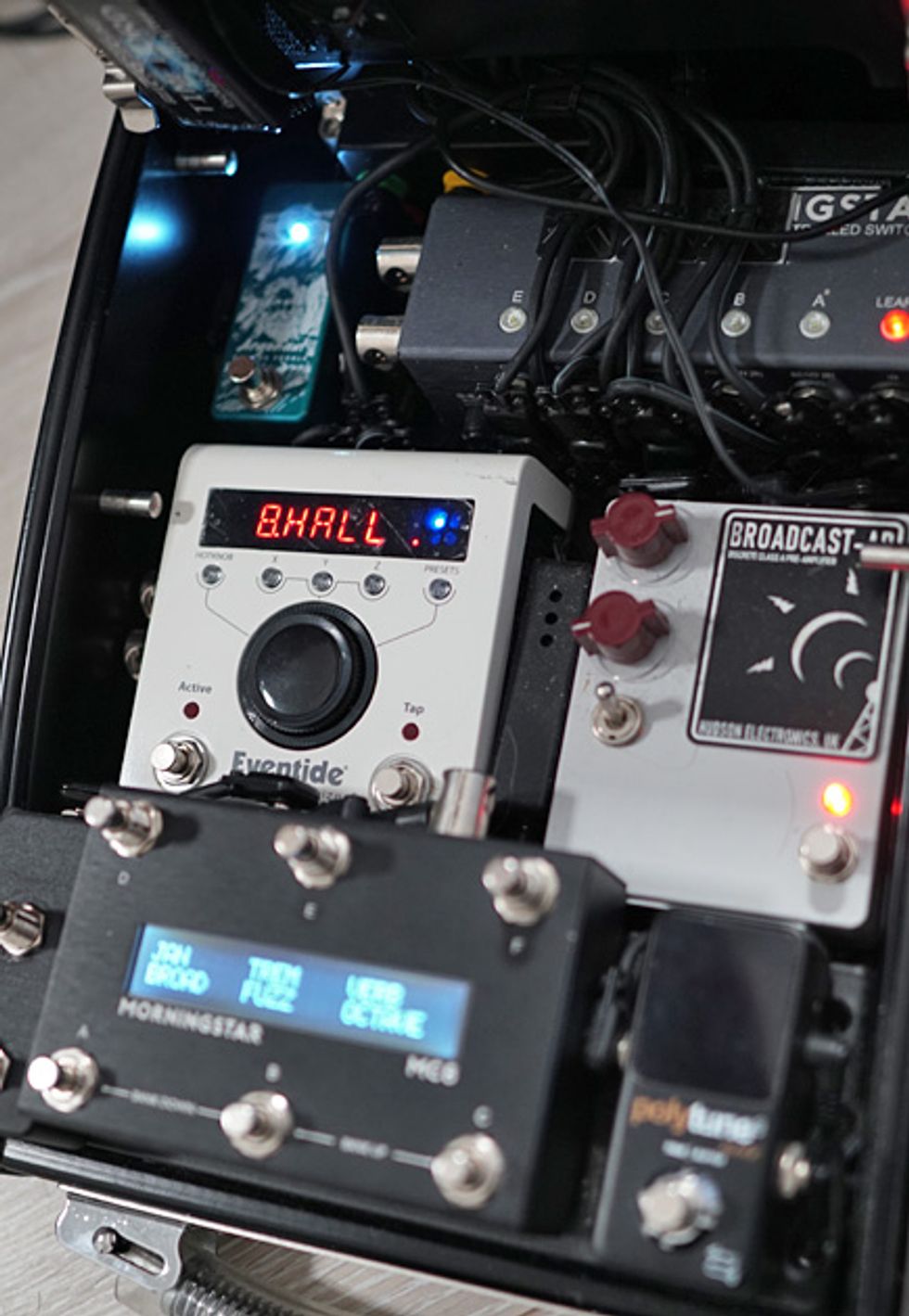 But wait … there's more!! Underneath the top two rows sits a trio of stomps—a Mythos Pedals' Argonaut Mini Octave Up, Eventide H9, and Ariel's signature Hudson Electronics Broadcast AP that he leaves on all the time (cleaning up with his guitar's volume knob).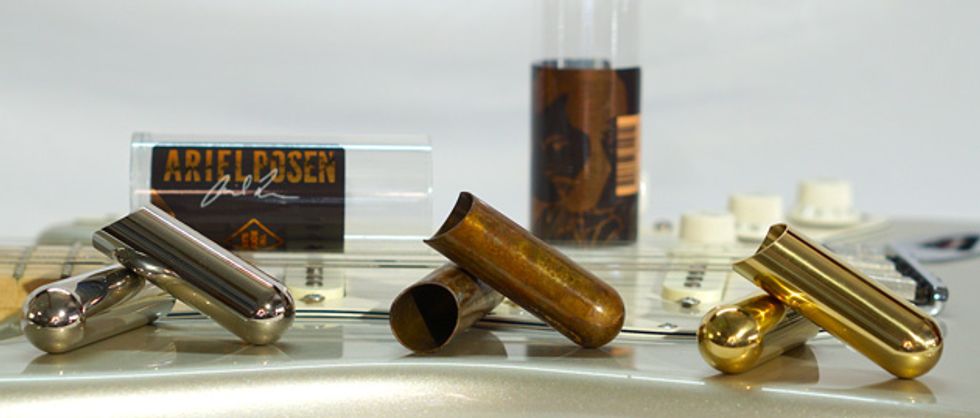 Another big piece of the tonal pie for Posen is using his signature brass Rock Slide. He worked alongside Rock Slide's Danny Songhurst to develop his namesake slide that features a round-tip end that helps Posen avoid dead spots or unwanted scratching. While he prefers polished brash, you can see about that it's also available in a nickel-plated finish and an aged brass.
A popular and particularly versatile mode from the Space and H9 processors is now an easy-to-use stompbox all its own.
Ratings

Pros:

Unusual, even organic, expansive reverb sounds. Well-designed, easy-to-use interface. Smart streamlined feature set. Intuitive, creative feel. Dedicated secondary function switch.

Cons:

Expensive.

Street:

$279

Eventide Blackhole eventideaudio.com

Tones: Ease of Use: Build/Design: Value:
Reviewing Eventide's Space reverb back in 2011, I was impressed with how many shades of ambience had been stuffed into one box. But I also distinctly remember spending more time in the Blackhole mode than any other. I was happy that the Blackhole settings sounded fantastically, cosmically expansive without relying on some of the more overt "shimmer" tricks that can be a big-reverb cliché. Later, out in the wider world, I started running into engineers that were using the Blackhole mode in the studio and even in live settings to add ambience to mixes.
So the fact that Eventide elected to give the Blackhole a dedicated stompbox of its own is no surprise. What is striking is how functionally streamlined the Blackhole is compared to the Space and H9 processors that are also home to Blackhole-mode sounds. Thanks to a well-conceived control interface, Blackhole isn't much more complicated than, say, a Boss pedal. But it's still very powerful, and its features have been distilled to a functional, practical group that facilitates intuitive, creative experimentation, reveals tremendous textural range, and is easy and super fun to use.
The Heart of the 'Hole
Any player that has messed with the Space—or Eventide's other larger-form stomps—will recognize the basic functionality of the Blackhole's control set. Each knob has two functions, and secondary functions are accessed via a small, LED-illuminated push button at the upper right of the pedal. Most are self-explanatory and common. Others, like "Gravity" (which regulates the level of reverse reverb) and "Q" (which controls the resonance of frequencies emphasized with the EQ ), are less-common reverb functions, but shape the reverb color profoundly. Other practical features include a freeze footswitch, stereo output capabilities, and a guitar/line level switch. You can also save and recall five presets via a sequence of footswitch and push-button maneuvers, though as many as 127 presets are available via midi.
Outer Limits, Dark Corners
Though you can get many pristine, soaring, and seemingly infinite reverb tones from Blackhole, its most appealing attribute might be its ability to generate organic, cloudy, diffuse, and complex ambience. For instance, adding quick delay and using the powerful EQ creatively along with reverse or long feedback settings can yield all kinds of artifacts and reverberative collisions that you may rationally recognize as digital in origin, but which sound deeply mysterious and relatively unpolluted by the hard-clipping, sterile tones, harmonics, and artifacts that make many big digital reverbs sound cheesy.
The Blackhole's most appealing attribute might be its ability to generate organic, cloudy, diffuse, and complex ambience.
My Bloody Valentine fans—especially those who chase the deep, slow-reverse warpage of "To Here Knows When" or "Moon Song"—will find immersive and addictive approximations of Kevin Shields' reverse reverb settings when the gravity is set about half-way to its deepest reverse position, the pre-delay is fast, and the mix is set to aggressive, if not 100 percent, wet mix settings. Even if you aren't a disciple of Shields, you may find a whole new way of relating to your instrument in those modes, and create unexpected sound worlds that can become the foundation for entire songs or melodic hooks.
Reverbs that suggest interstellar expanses and submarine environments are far from the only ones on tap. Smaller size settings, lower feedback, and careful EQ can generate awesome garage-y reverbs that sound a lot like a spring reverb amp recorded to tape and mic'd at a distance in a big, reverberative studio. If I was a engineer aiming for the mood and color of a mid-'60s studio guitar sound rather than perfect spring-reverb-in-an-amp authenticity, I might be inclined to use this setting instead of the finest spring reverb emulation. And though the Blackhole has clearly been optimized for performing players with overflowing pedalboards, it's easy to see the Blackhole finding favor in studio production situations—just as its big brother Space did.
The Verdict
Eventide's Blackhole reverb is a fantastic creative tool. There are reverbs, even within the Eventide family, that deliver more conventional, familiar, and accurate cosmic-scale, shimmer, and cathedral-style reverbs. But while Blackhole can generate many such sounds, its strengths—indeed, its heart—is its capacity for organic, tarnished, dusty, patina'd, reversed, and unfamiliar reverb voices that spur new creative vectors. That it's now available in such a simple, easy-to-navigate, and feature-rich compact stompbox marks a beautiful convergence of adventurous sound design and prosaic concerns for space and convenience. At $279 it's not cheap. But the musical ideas and directions Blackhole can inspire are harder to put a price on.
Be sure to watch our First Look demo of the Eventide Blackhole: