Covid caused a huge uptick in guitar sales and repair requests. If you're considering trying to fix it yourself rather than wait in line, here's a simple rule of thumb to keep in mind.
The COVID pandemic clobbered many of our favorite pastimes but proved to be a boon for the sales of some things, especially musical instruments. But while guitars, unlike bicycles (another pandemic fave), can be shipped without any significant disassembly, that doesn't necessarily mean it's smooth sailing once the box arrives and you pull a new, or at least new-to-you, instrument out of its case.
You did your homework, you found the right guitar at the right price, and it arrived with no visible damage. Whew! And yet after a quick tuning, something obviously isn't right.... Now what? If you're lucky, a local guitar repair technician can look at the instrument and help you determine if there's something faulty or if the problem is simply a matter of adjusting it to suit your playing style. But while finding the right guitar was a lot harder than it would've been in 2019, finding a repair tech with enough time to help you may be even more difficult. What happened?
Welcome to another unexpected wrinkle of now: A lot of us have more money to buy stuff, but if you buy something that needs fixing and you can't fix it yourself, those newly memorized mantras about patience may be put to the test. The ratio of stuff needing fixing to people who can fix things is seriously out-of-whack.
One of the reasons is that the recent dramatic uptick in people playing guitars has far outstripped any increase in the number of people being trained to work on them. This mismatch is made worse by the fact that even learning how to diagnose guitar repair issues takes considerably longer than the time it took all those COVID-trapped souls to find their dream rig online and have it delivered. Others didn't have to buy anything but a set of strings because they pulled a long-neglected guitar out of the closet, or, worse yet, the attic or garage, only to discover that their 6-string vehicle for trips down memory lane was no longer drivable.
Guitar repair techs are often one part mechanic and two parts psychologist: They're good at what they do because they understand both you and your instruments.
And while I hate to make dire predictions, a quick survey of lutherie and guitar repair schools doesn't indicate that "Guitar Repair Tech" is high on anybody's YOLO list of alternative occupations. That means the long delays of getting your guitar repaired is probably not going to improve anytime soon, and the same holds true for amplifiers. (I'm using the term "repair tech" instead of "luthier" because many people assume luthiers only build guitars.)
Those readers familiar with the online world of guitar repair videos are probably asking, "What about YouTube?" While it's true that some excellent diagnosis and instruction is available online, the DIY movement isn't for everyone and not all the guitars needing help fit that category. Bringing your brother's Seagull acoustic back from purgatory is one thing, but dad's Martin D-28? The former seems like a fitting guitar for testing YouTube-instructed setup skills, but with the D-28 it's probably best to find a repair tech with experience working on Martin guitars.
A simple safety test to keep you from getting in over your head and doing real damage is this: If you're altering a replaceable part on a guitar, such as the bridge saddle on an acoustic, or if you're making an adjustment that can be reversed, such as to the truss rod, go for it. However, if you're disturbing glue joints or a major part of the guitar, slow down. Taking the saddle out of the bridge on an acoustic guitar and altering or replacing it is one thing, but trying to reglue a loose or cracked bridge can result in real damage. (My rule of thumb is that those who have paid someone else to restring their guitar are probably not candidates for learning even the most basic setup that requires only screwdrivers and Allen wrenches, such as on a Strat.)
Yet a long-term solution to delays for instrument repair is going to require a more basic adjustment, and that's in how people who fix things are regarded by society at large. While luthiers who build guitars get lots of respect, those who repair instruments do not, even though guitar repair techs often have a tougher job.
This is because while the guitars they work on may be very similar, the people playing them often vary widely. Yngwie Malmsteen and Ry Cooder approach the Fender Stratocaster with very different goals (and very different strings), and acoustic guitarists have an equally far-ranging approach to playing instruments that are remarkably similar despite different woods and body shapes. Favorite guitar repair techs are often one part mechanic and two parts psychologist: They're good at what they do because they understand both you and your instruments. Only when repair techs get more respect, and better pay, will there be enough of them to meet demand.
I recently presented a seminar for high school students interested in becoming guitar technicians and luthiers. As you can imagine, these hungry, young minds had all kinds of preconceived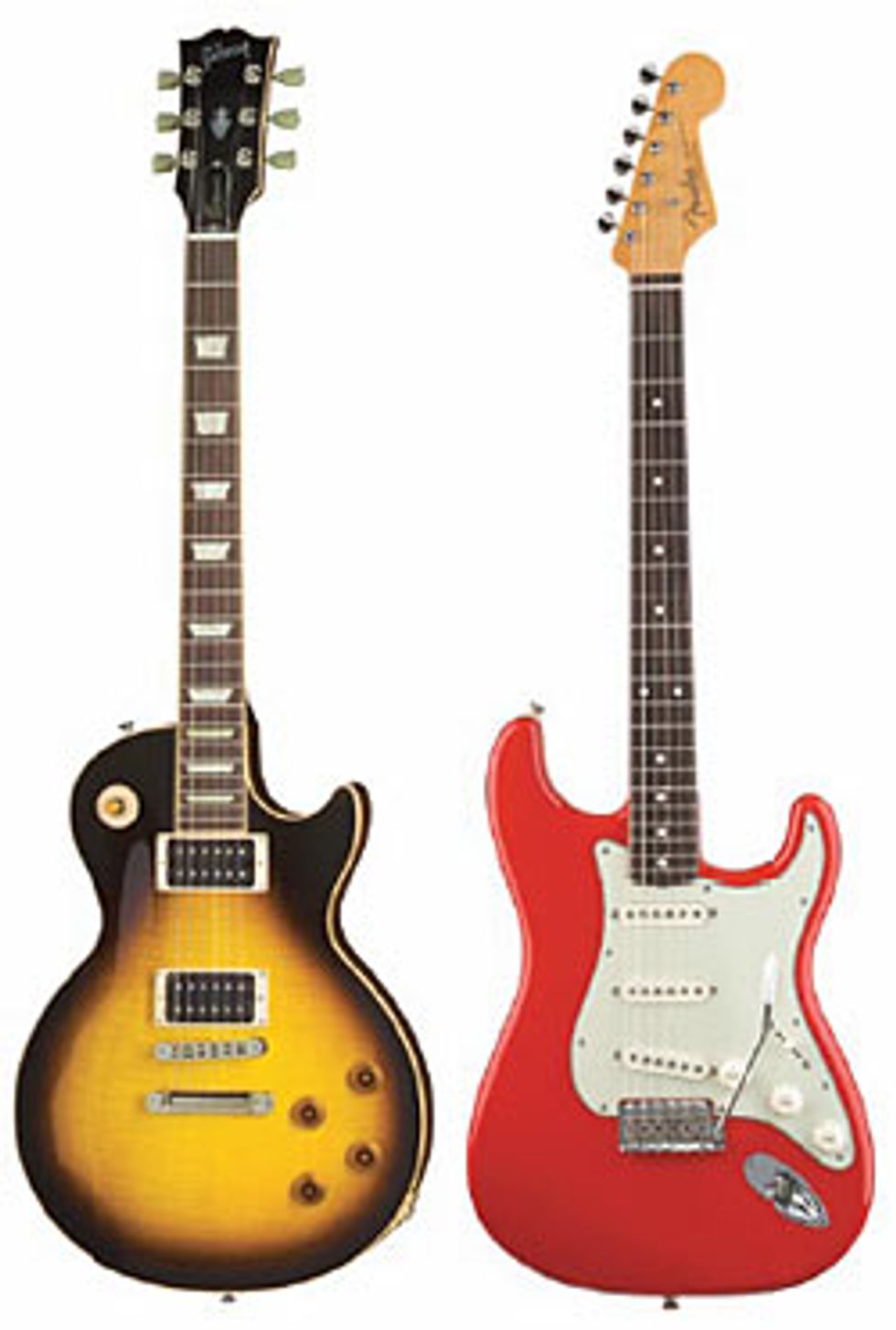 I recently presented a seminar for high school students interested in becoming guitar technicians and luthiers. As you can imagine, these hungry, young minds had all kinds of preconceived notions about guitar building and repair. A few even brought along instruments they had built, with a couple of those actually looking like guitars. In spite of their conspicuous lack of expertise and a few hints of trepidation, there was an overriding sense of passion for the guitar present in each of them. To give them hope and validate their passion, I passed on some of the following lesser-known stories about two guitar icons.
In 1943, a saxophonist named Leo made a guitar out of oak and gave it away to country music star Roy Acuff. A few years before that, Lester Polfus attached a neck to a 4x4 piece of lumber and took it to a gig at a nightclub. He later cut two sides off of an acoustic guitar and attached them to the 4x4, "so it looked like a guitar." Lester called it "the log." In 1948, that same man from Waukesha, Wisconsin shattered his arm in a nearly-fatal car accident, but was somehow able to get the doctor to set his arm permanently in a position conducive to guitar playing. In 1950, the saxophonist named Leo demonstrated that if a person could stand on a guitar neck placed between two chairs, it would be strong and durable enough to withstand the tension placed on it by strings.
As crazy as it may sound, these two men ended up producing not only the most popular electric guitars of all time, but in the process, became musical icons who will live throughout history. The Fender Telecaster and Stratocaster – designed by that visionary saxophonist, Leo Fender – and the Gibson Les Paul – the brainchild of Lester Polfus – are beyond what would typically be considered "industry standards." Every beginning guitarist pines for at least one of these axes and every seasoned pro has owned several examples in his or her lifetime. As evidence of just how symbolic they've become, an image of a Strat is carved into Jimi Hendrix's tombstone and Eric Clapton's "Blackie" Stratocaster sold for nearly a million dollars at a Christie's auction in July of 2004.
I wonder if Leo Fender or Les Paul actually thought that the likes of Jeff Beck, Stevie Ray Vaughan, Jimi Hendrix, Eric Clapton, Jimmy Page, Pete Townsend, Robben Ford, Zakk Wylde or Joe Perry would take their creations to such great places in music and world history. So much has been written about the guitars these men produced and endorsed, yet these two inventors were just men following their passion and interest whose ideas influenced generations of guitar makers and players.
They were also good friends. A commonly told story has it that one afternoon in the early 1950s, Leo Fender, an owner of a local radio repair shop, showed up at Les Paul's house in Los Angeles to talk about his ideas for a solidbody guitar. Leo told Les that they should form a company together, but Les told him he'd been loyal to Gibson all his life, even though Les had tried to convince Gibson to make a solidbody for ten years. Gibson even called him "the guy with the broomstick with the pickups on it." It was after Fender's visit that Les Paul contacted Gibson again and in a 30-hour meeting convinced them that "the log" was the future. Just imagine the guitars that would have been made through Leo and Les' collaboration!
Shortly after their meeting, Leo Fender released the first commercial solidbody and five years later followed with the legendary Stratocaster. The Precision Bass was also released during that time. Gibson answered in 1952 with its first Les Paul model, and history was made. Interestingly enough, a Gibson solidbody with no serial number was most likely made in 1952, as Gibson didn't use serial numbers that year. Fender had a similar faux pas while the Telecaster name was being considered, as Fender produced guitars with no name on the headstock. The resulting "Nocasters" are now sought-after collector's items.
For more than half a century, these two men have not only influenced the style and sound of modern music; they have created symbols of human evolution. Yes, they were a bit crazy, as all inventors are, but they were also deep thinkers with fun-loving attitudes and expert craftsmanship. So as you young or inexperienced guitar technicians get started, think about these two masters and their awkward beginnings and let your passion fuel your perseverance. Ultimately, I am glad that the Les Paul model is not a Lester Polfus and that Strats are not made of oak, although the idea of bringing home the latest oak Lester Polfus to show Ma and Pa does have some sort of strange appeal.
---
Rick Wheeler
Rick Wheeler currently works as Larry Carlton's guitar tech and front of house engineer. He is also an accomplished jazz guitarist, vocalist, and educator. You can contact Rick at
rickwheeler@hughes.net
True bypass loop pedals can keep your effects from harming your tone. You're getting concerned about your tonal health. When you visit your local health professional you find out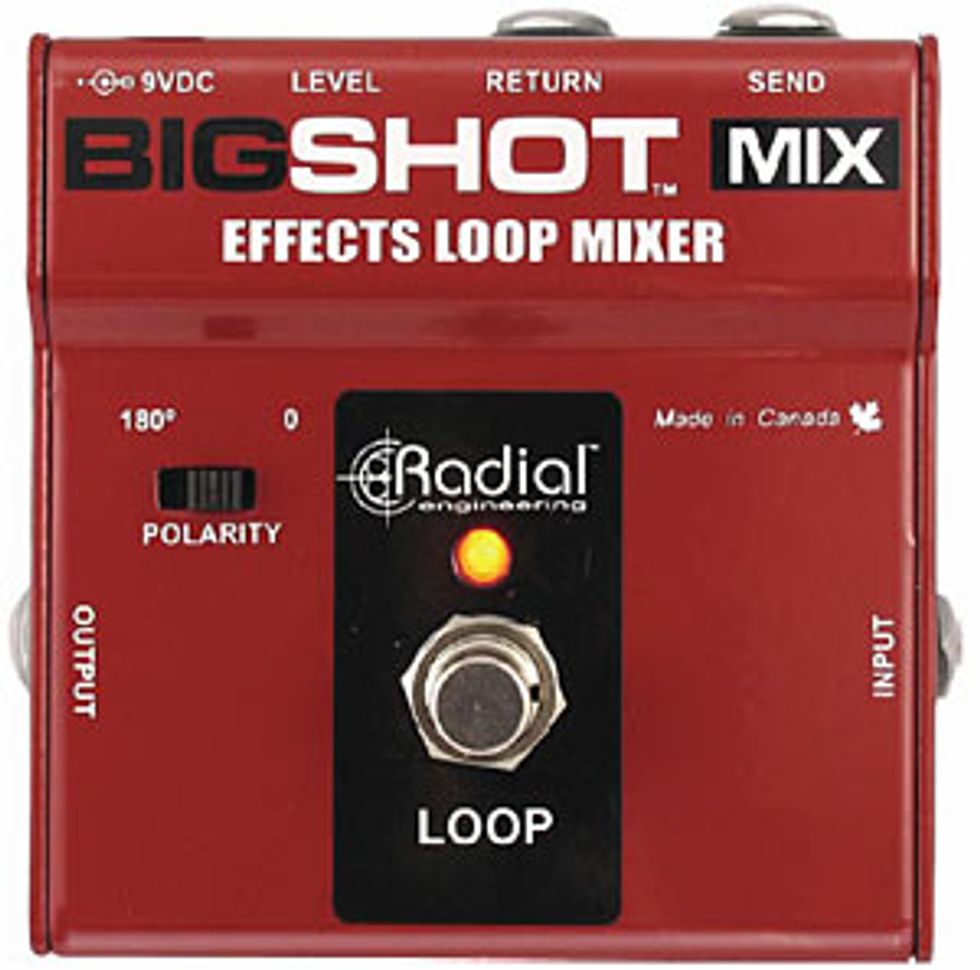 True bypass loop pedals can keep your effects from harming your tone.
You're getting concerned about your tonal health. When you visit your local health professional you find out that your tone is clogged and you need an immediate bypass – true bypass. Not the surgery that creates a detour around the blocked part of the coronary artery to restore the blood supply to the heart, but guitar signal routed directly to the guitar amplifier without any of the interference, loading or buffering effects that are often caused by the pedals you use.
So what is true bypass? In simple terms, it is connecting your instrument directly to your amp so the original tone of your instrument is preserved. Most pedals are not true bypass and they noticeably affect the sound of your guitar. Though you may only be using any given effect a short time during a performance, the signal is passing through the pedal the entire time, so the issue of bypass is important.
Pedals that aren't true bypass have input buffers. The input buffer is the circuitry that drives the signal into the effect and makes it work. A buffer is a preamplifier. The battery-powered built-in preamp in an acoustic guitar is a buffer; active basses are driven with a buffer; the input to any mixer or tape recorder is buffered; and all effects pedals from wahs to fuzzes employ buffers to make them work. Turning these pedals on or off usually introduces a popping sound when the circuit is charged that can be very loud. The way around this problem is to never turn the buffer off; the pedals are buffered and therefore not true bypass. Buffers let you drive longer cables with less noise, allow you to have a tuner connected with less interaction, and generally eliminate any loading problem you have when you connect several pedals together. But, of course, the big problem is that you are no longer directly connected to your amp. Your signal is now active or buffered and invariably the buffer alters the tone of your guitar.
Try to stay calm – no need to throw away the Bufferin in your medicine cabinet. In order to decide if your pedalboard needs bypass surgery, you will need to listen to your pedals one at a time. Test each pedal individually, using the same exact setup each time – the same guitar and amp with the knobs set at the same levels. More than one effect in the chain could give you false results. Disconnect the power for each pedal and see if the guitar signal passes through the pedal when the effect is off. Make sure you toggle the on/off footswitch so that it is set to off or bypass. What you'll inevitably find out is devices like tuners will immediately load down your signal and thin out the tone. When you get to your chorus, delay, or reverb, you will discover these are most likely buffered and not true bypass.
So now that you want to get your tone healthy again and have decided to go ahead with the surgery, what's next? Start by adding one or two high-quality (but not expensive) true bypass loop pedals to your rig. Most guitar stores will have a few choices and they are easy to find online, as well. These small true bypass loopers fit in the tightest of pedalboards and will give you a dramatic improvement in tone. Kick it in when you aren't using your effects and lo and behold – no drain, just gain! Your tone health is restored, and without a strict exercise regimen.
There is a caveat for players who use long cables and lots of pedals; there can be problems using true bypass loopers in these circumstances. If a 20' guitar cable is plugged into ten pedals, each linked by a 2' cable, and then run into an amp by a 30' cable, the total length of guitar output would be upwards of 50-70 feet with true bypass. This could cause a significant loss of tone and signal level, particularly if the guitar is a vintage type with low output and high impedance pickups. Keep this in mind when weighing what works best for your particular tone.
We all love our guitars and want them to keep breathing, crying, barking and spitting. The way our guitars react to the circuits we put them through is what completes our sound. So of course, in the end, what really matters is that you are happy with the sound. Use your ears, make your own decisions based on the sound and don't get caught up in any hype. After all, Jimi Hendrix did very nicely without true bypass.
---
Rick Wheeler
Rick Wheeler currently works as Larry Carlton's guitar tech and front of house engineer. He is also an accomplished jazz guitarist, vocalist, and educator. You can contact Rick at
rickwheeler@hughes.net