From vintage to modern, single-coil to humbucker, wide range to gold-foil, and just about anything else you can dream up, the world of JM-style pickups just keeps getting bigger.
If you're into modding guitars, there has never been a better time in terms of options for hardware, electronic components, and, of course, pickups––especially for fans of Fender offsets, where one quick Google search calls up an embarrassment of riches.
Over the last 20 years, pickup winders have benefitted these oft-maligned musical marauders by bringing to market a near-endless array of tone-twisting options. But with so many to sift through, it can be a tall order to pick out the crème de la crème.
If you're looking to change up the sound of your Jazzmaster, here's a rundown of some of my favorites from having swapped out hundreds upon thousands of pickups over the years.
Setting a Baseline
It's a fairly safe assumption that the majority of you reading this article might be starting with stock Fender pickups, whether your guitar is a Squier, MIM, MIJ/CIJ, or U.S. model. Even within that space, Fender hasn't made it too easy to know what it is you actually have. The popular Squier J Mascis model, for instance, features P-90s stuffed under Jazzmaster covers; same goes for the Classic Player line.
What exactly is a "proper" Jazzmaster pickup, then? Succinctly, it's a wide, flat coil wound hot around six alnico rod magnet poles. Fender's popular Pure Vintage '65s fit that bill, so let's use them as our baseline here. They're a fine representation of what a Jazzmaster sounds like, though I'd point out that they're a bit thin and underpowered at 6.5k ohms, compared with actual vintage units which typically measure out in the mid 7s through the high 8s.
So, where do we go from here? Let's start with "vintage" sounds, then work our way forward in time.
The black-bobbin pickups on early '58–'62 models are generally louder and darker than the gray-bobbin ones found on '64 and later guitars, with a few changes to wire type and magnet type in between that had a marked effect on the sound. For era-correct tones, I recommend the following, broken into two generalized groups:
'50s
Seymour Duncan Antiquity I Jazzmaster pickups, sans cover
Seymour Duncan's Antiquity I ($238/set street) set is a great over-the-counter option for a fuller, more present pickup that will add some much-needed girth to your sound. They feature alnico 2 rod magnets and average DC resistance over 8k in both positions, and are wax-potted to reject feedback.
The Antiquity I bridge pickup shines with some sorely-needed low end, while the neck pickup stays warm and syrupy. These are great if you want to tackle jazz and rock tones with your offset.
"The black-bobbin pickups on early '58–'62 models are generally louder and darker than the gray-bobbin ones found on '64 and later guitars, with a few changes to wire type and magnet type in between that had a marked effect on the sound."
In need of a more robust treatment? Curtis Novak's Historic line seeks to faithfully replicate four different eras of Jazzmaster pickup construction, but Curtis' finely tuned ear has allowed him to hone in on the specs and frequencies that really make a guitar sing.
Guitars lacking low-midrange thickness can be improved with Novak's Historic '58 ($145 street) set and '58-FAT models ($170 street), the latter adding even more heft to the bridge position and making it ideal for distorted tones. Rich and decadent like lava cake, the Historic '58 is among my most recommended sets.
'60s
Seymour Duncan's Antiquity II ($238/set street) strikes out at that mid-1960s Jazzmaster sound: brighter, sweeter, clearer. Featuring A5 magnets with similar resistance readings to the AI set, the added treble zing makes these pickups great choices for twangy surf, country, and 2020s lightly driven indie tones.
Back to Curtis Novak, he once again rises to the challenge with his Historic 1960-1964 ($145 street) and 1965-1969 ($145 street) sets, both of which emphasize treble definition with relaxed midrange. Quintessentially '60s, any of the above options will jangle to your heart's content.
Time Travelling
Now, the fun of having such distinct eras of pickups to choose from is the ability to mix and match tones for your own needs. When I'm building sets for a specific guitar, I'll grab an Antiquity I bridge and a II for the neck, or a Novak '58-Fat and '64 combo which lets me get the best of both eras: a darker, heartier bridge pickup with a brighter neck, with the added bonus of a thrillingly complex middle position.
The point is: don't be afraid to experiment with different pickups in either position!
Modern
A beloved Creston JM with Lollar Jazzmaster pickups
For many years at this point, Jason Lollar made a singular Jazzmaster set that served as the benchmark of a good, strong-sounding pickup. Like everything that comes out of his shop, that set has a sort of hi-fi quality to it: lots of clarity, dynamic articulation, perfectly suited for blues, rock, or funk sounds.
That's not to say Lollar's Jazzmaster pickups hold no connection to their Fender forebears, but rather that the Lollar sound is so unique and refined that categorizing them as purely "vintage" feels unnecessarily limiting.
That set is still in production, recently renamed Lollar Original '58 ($115 street) but retaining its design hallmarks, including radiused pole pieces for truly balanced string-to-string response and a mid-8k DC resistance range. It's a classy affair that feels like dressing up your guitar in a tuxedo. The name's Lollar. Jason Lollar.
"When I'm building sets for a specific guitar, I'll grab an Antiquity I bridge and a II for the neck, or a Novak '58-Fat and '64 combo which lets me get the best of both eras: a darker, heartier bridge pickup with a brighter neck, with the added bonus of a thrillingly complex middle position."
Along with that name change, Lollar has also introduced a companion set known as the Lollar '63 ($115 street), based on the pickups found in repair tech Jeff Hoppe's personal instrument. The '63 incorporates a fuller-sounding neck pickup, flat A2 poles, and matched DC resistance readings between the pickups for a bright yet percussive voice.
Last but not least, there's also the exclusive Lollar Black Bobbin set, a co-venture with the Chicago-based shop helmed by Shelby Pollard. With radiused A2 poles and lower output, this set mimics the sound of 60-year-old pickups for a darker tone than the Original '58.
The author's '58-style holoflake JM loaded with a set of Sunday Handwound's 5859s
I would be remiss if I also didn't give a shoutout to Sunday Handwound and their incredible 5859 set ($145/set). The name might fool you into thinking this recommendation belongs in the 'vintage' category, but like the Lollars, this set takes its inspiration from the old and blends it with the new.
Inspired by a custom Stratocaster set wound for a customer, the 5859s retain the general Jazzmaster construction ethos with some careful re-voicing to make them bigger, bolder, and punchier than you're likely to hear from stock pickups. Better yet, the bridge is overwound for a meaner personality, making it ideal for heavier single-coil tones.
I have the 5859s in my gold-guard holoflake Jazzmaster, and let me tell you, they are formidable. Loud and low-noise, superb for stage use. Paired with a Muff-style fuzz and some delay, I feel like I'm David Gilmour.
P-90
P-90 Jazzmaster pickups by The Creamery
For those about to rock, we politely suggest starting here.
If your tastes skew into the Gibson realm, you'll be happy to learn that most of your favorite winders probably already make the perfect pickup for you in the form of a P-90 in a Jazzmaster-shaped bobbin.
To name a few, Creamery's P90 Jazzmaster ($115 street), Fralin's Steel-Pole ($115 street), Lollar's P-90 for Jazzmaster ($145 street), Novak's JM-90 ($140 street), and Porter's J90 ($130 street) will fit the bill here. They all marry true P-90 bar magnet construction with a relatively Jazzmaster-like coil shape, so you get the more aggressive midrange bark of a P-90, but with some snap on top for good measure.
When using a P-90 in a Jazzmaster, do take your potentiometers into consideration. Each of these options sound great with the brightness of the stock 1M pots but can be declawed by stepping down to 500k as you'd find on a proper P-90-equipped Gibson. Again, don't be afraid to experiment!
Humbucker
Lambertone's Crema set
Throwing humbuckers in a Jazzmaster turns it into a Jazzblaster, something I back fully. I adore my single-coils, but there's something undeniably fun about slapping some double-coils in your trusty offset guitar.
Companies like Lambertone make this easy with the ability to grab their PAF-inspired Crema ($345/set street) model under a Jazzmaster cover, and the same goes for the Curtis Novak JM-PAF ($175 street). The McNelly Jazzmaster HB ($155 street) does a similar thing but allows you to select any of their traditional humbuckers for a drop-in fit.
Wide Range
Fender's Cunife Wide Range Humbucker set for Jazzmasters
Although first introduced on Telecasters in 1971, and later appearing as standard on Fender's semi-hollow Starcaster, there is perhaps no other humbucker model that feels like a perfect match for Jazzmasters than Fender's Wide Range pickup. Paradoxically single-coil-like in response, these massive humbuckers deliver big output, complex low end, and attenuated yet crisp highs.
Accounting for this, Curtis Novak, Creamery, and Porter have for years offered drop-in wide range pickups with appropriate plastic covers, and Lollar joined in a few years back with their Regal for Jazzmaster ($225 street) set. Each of these winders have a different take on the wide range, but they all sound excellent. Seriously, there's not a bad sound in the bunch.
"There is perhaps no other humbucker model that feels like a perfect match for Jazzmasters than Fender's Wide Range pickup."
Just this year, Fender released their own drop-in Cunife (Copper, Nickel, Iron) Wide Rangepickups ($399/set street), the company's first proper wide ranges since the '70s. With the correct magnet type in play, this is a return to form for the wide range with a vintage-correct sound.
Better yet, each of the makers listed in this section offer the original massive, chrome-covered versions of these pickups, so there's nothing stopping you from dropping them in your guitar—at least, nothing aside from some routing.
Noiseless
EMG's JMaster set in black
Since we're in the hum-canceling wheelhouse, let's talk about noise. For some, it's an unavoidable nuisance and a trade-off for having a preference for the sound and response of true single-coils. For others (myself included), it's far from the top of the list of guitar-related annoyances. In all honesty, it doesn't bother me at all, but I'll admit that I have my signal chain wired up for the lowest possible noise, my guitars are well-shielded, and I roll off my volume when not playing.
For the former group, there is hope! Kinman should be an already familiar name in the noiseless pickup landscape, and we're all lucky that the company offers a whole host of Jazzmaster options that includes three types of pole-piece spacing, and four different models to meet the needs of individual players: the FatMaster ($189 street), SurfMaster ($189 street), the double-voiced SurfMasterDV ($295 street), and the ThickMaster ($189 street).
It's not so difficult to intuit the sound profiles from the names of these pickups, so I'll refrain from describing them here. What I can say is that every experience I've had with these pickups has been stellar, so if you're sensitive to hum but also what's lost with most hum-canceling options, Kinman may be the ideal solution for you.
Other excellent noise-free pickups come from Brandonwound with their Noiseless Jazzmaster ($125 street), Novak's JM-Stealth HC ($170 street), Fralin's Hum-Canceling Jazzmaster ($159 street), and EMG's JMaster ($229/set street) sold as a pickguard assembly or in pickup sets.
I could write a standalone piece about the EMGs, but to sum up: I find them genuinely impressive in their versatility and utility, and the JMasters somehow stay true to the Jazzmaster flavor. If you're already an EMG fan, the JMaster is totally worth your time.
Off the Beaten Path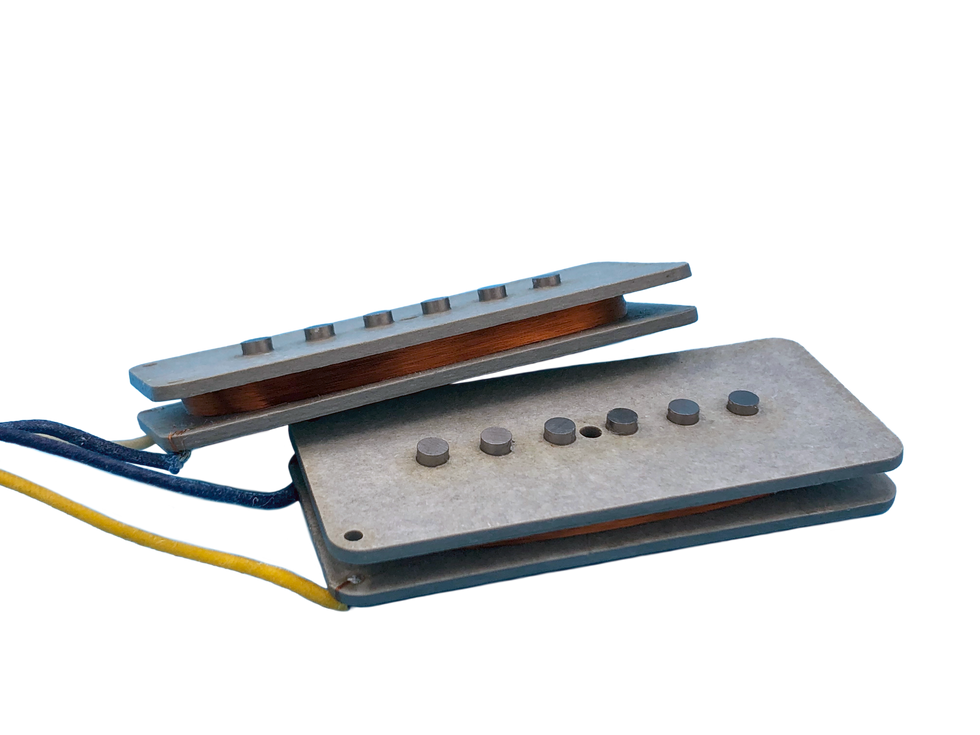 EP Custom Pickups Vintage Correct Jazzmaster Pickups
Before we close out, let's take a detour on roads less traveled. Most of the makers I've already mentioned have quirkier, less 'standard' pickups in their catalog. I'm thinking Novak's Gold Foils for Jazzmaster ($155 street), Gemini's SuproCaster ($85 street), Lollar's Blademaster ($155 street), and Fender's Cunife/Cobalt Chrome Jazzmaster pickups ($299/set street), but there are some smaller brands that I think deserve some attention.
EP Custom is a small operation based out of Santa Cruz, California, that specializes in Fender-style pickups with sounds that far exceed their modest price tag. Ever since installing their '62 Jaguar set in my Coke Bottle Sparkle Jaguar––a tribute to Dave Wronski of Slacktone––I can hardly think of a more perfect-sounding Jaguar for myself.
EP's Jazzmaster pickups are equally exceptional and come in two flavors: Vintage Correct ($170/set street) and Fat ($180/set street). The former features Formvar wire and has comparable output and tone to a proper 1958 set, woody and full-sounding with a nice amount of zing. The Fat is overwound for a proper 'hot' pickup, with a growl perfectly suited for overdrive.
The Creamery: The majority of winders named in this article are based in the United States. With acknowledgement to the connected world we all live in, I wanted to give a proper shout to The Creamery (see the "wide range" heading above) based out of Manchester, U.K.
For as long as I've been in the offset-guitar space, The Creamery has been one of my most consistent recommendations for folks outside the U.S. who are looking for something different, something unique, something that feels specially made for them. Creamery offers everything from classic Jazzmaster pickups, wide range, and PAF-style pickups, but also an extensive list of custom options. Pole spacing, magnet type, wire––you name it.
Whether you're within or without the U.K., keep The Creamery in mind if your tastes take you off the beaten path.
Black Mass: You may already be familiar with Black Mass Electronics thanks to the game-changing 1312 Distortion, a RAT-style pedal that boasts a huge range of sounds thanks to its 8-way clipping diode selection dial. What you may not be aware of is that Black Mass has entered the pickup winding world with the JMXL ($190/set street).
While it appears to be a traditional Jazzmaster pickup on the outside, it boasts 1/4" alnico 5 rod magnets and a double-tall coil with the bridge wound to around 11k. This is a heavy, punishing set that'll put you in the mood for doom.
Winding Up
With an article like this, it's impossible to feature every winder out there, each of them putting their own spin on dozens of classic designs. I've attempted to narrow down the list by sticking to pickups I have real-world experience with, so if something you love isn't on this list, that doesn't mean it's not great. Drop a line to call out your favorites so that we can all benefit from your experience, too!
There's a perfectly good reason why the famous offset's most high-profile ambassador has a new signature Telecaster—andthe silver-maned fuzz lord also turned to a number of other surprising choices for Dinosaur Jr.'s wonderfully varied new Sweep It Into Space.

Dinosaur Jr. has long had a home with fans of fuzzy indie rock, but they've also never sounded quite like any other band. The sour/sweet juxtaposition of J Mascis' gentle, reedy vocal textures against his hallmark wall of swirling, violently massive guitars isn't without precedent, yet in the context of Dinosaur Jr.'s music it's always stood out as something unique and genuine—and it's had a major influence on the hordes of contemporary artists chasing the alt-rock glory of the '90s.
The Massachusetts-based trio has had three distinct periods as a band, yet Mascis' earnest songwriting and equally vicious, noisy, and melodic guitar have always been the eye around which the band's sonic hurricane revolves. He is a revered tone hunter, a passionate student of rock's grimy past, and a prolific gear collector. Weaned on a steady diet of '80s hardcore punk, '70s proto metal, and especially Stooges records featuring Ron Asheton's primal guitar work, Mascis has a style—particularly in his soloing, which feels like a 6-string stream-of-conscious monologue—that's unmistakable.
Dinosaur Jr. - Full Performance (Live on KEXP at Home)
Dinosaur Jr.'s original lineup of Mascis, bassist Lou Barlow, and drummer Emmett Jefferson Murphy III (known as "Murph" to everyone but the government) formed in 1984 in Amherst, Massachusetts, and put out three highly influential albums before splintering. Mascis continued to make Dinosaur Jr. recordings, chiefly by himself, until 1997, at which point he began a solo career in earnest. However, Dinosaur Jr.'s founding triumvirate unexpectedly reunited in 2005. And the band's third act has added four critically acclaimed albums to its discography—now followed by an inspired and vibrant fifth, the new Sweep It Into Space.
Mascis has historically been downright negative about the role producers play, however, this time the band opted to call in friend, fan, and prolific singer-songwriter Kurt Vile to help bring Sweep It Into Space to life. Mascis says that, unlike the typical artist-producer relationship, Vile's role was more like a fourth band member and cheerleader. "Kurt was good because he likes the band already and wasn't really trying to tell us anything to do. He was mostly playing and singing different parts to the songs, and if I liked them I'd put 'em in. Kurt was also a good vibe guy and I think he made the other guys feel a little more comfortable, because we can get a little tense when we record. Kurt kept the vibe good." Mascis adds that he and Vile have similar tastes as guitarists, and that "if we were both being interviewed, you'd hear some similarities in the things we like from the past."
I bought a Les Paul Deluxe just because I was in Thin Lizzy mode. That was an interesting new purchase, and I played some rhythm stuff on the album on that guitar.
So many high-profile reunions fail to yield strong new albums, let alone five. Sweep It Into Space elaborates on the magic of Dinosaur Jr.'s beloved early output. It's a pure representation of Mascis' songwriting, with the classic Murph and Barlow support, and every track is a feast for fans of Mascis' guitar work. From the jangle and bash of opener "I Ain't" to the hulking, Black Sabbath-informed riff that opens "I Met the Stones" to the layered acoustic guitars and blazing solos that punctuate throughout (particularly the burners on "Hide Another Round" and "N Say"), Sweep It Into Space finds Mascis at the peak of his prowess. Though Mascis claims not to have noticed any specific changes in his playing throughout the pandemic's isolation, he did find himself on a serious Thin Lizzy kick he admits probably found its way onto the new album (perhaps as manifested by the harmonized leads on "I Ran Away").
"I was watching a lot of Thin Lizzy videos. My friend Graham [Clise] that's in [side-project] Witch with me told me to watch this video of Gary Moore on [BBC TV program] The Old Grey Whistle Test,and his backup band is Scott Gorham, Phil Lynott, and Cozy Powell on drums, and he's really ripping in that! That video led me to get more into Thin Lizzy, because it sounded a lot like [MC5 guitarist Fred "Sonic" Smith's band] Sonic's Rendezvous Band or something that was definitely up my alley. I bought a Les Paul Deluxe just because I was in Thin Lizzy mode. That was an interesting new purchase, and I played some rhythm stuff on the album on that guitar."
TIDBIT: While much of Sweep It Into Space was recorded before the pandemic, Mascis also tracked alone at home. "Quarantine made me a better engineer, if anything."
Mascis is a renowned gearhound, so it's no surprise he picked up some new old guitars over the course of the pandemic. However, the big news in Mascis' gear world is his latest collaboration with Fender: a signature Telecaster based on his favorite 1958. Mascis' wildly popular signature Squier Jazzmaster was first put into production in 2011 and is considered by many offset fans to be the best bang-for-buck Jazzmaster available. But despite the role Mascis has played in popularizing Jazzmasters by playing vintage models live since Dinosaur Jr. began, the guitar Mascis has relied upon for the lion's share of the iconic solos heard on the band's albums is indeed that very special '58 Tele, which sports a blue-sparkle refinish, mirror pickguard, jumbo frets, and a "top-loader" bridge. The new Road Worn Series J Mascis signature Telecaster immortalizes that guitar and its unique features in a relatively affordable package.
J Mascis' Gear
Another new gear switch-up: Whereas Mascis blasts through a wall of Marshall and Hiwatt stacks live, for the new Dinosaur Jr. album, he relied on a Vox AC30 and Fender Bandmaster instead.
Photo by Jim Bennett
Guitars
Fender J Mascis Signature Telecaster
1958 Fender Telecaster
1972 Gibson Les Paul Deluxe
Ernie Ball Music Man St. Vincent
Amps
Vox AC30 AC30HW2 Hand-Wired reissue
1x12 cab with Tone Tubby Hempcone Speaker
Tweed Fender Bandmaster
Effects
Jerms Tone Bender MkI clone
Chase Bliss Brothers
Jam Pedals RetroVibe
Lovetone Cheese Source
Lovetone Meatball
Wren and Cuff J Mascis Garbage Face fuzz
Bad Cat X-Treme Tone
Strings & Picks

Ernie Ball Regular Slinky (.010–.046)
Dunlop Tortex 1.12 mm
Rig Rundown - Dinosaur Jr.'s J Mascis and Lou Barlow
So, for a guy whose name is synonymous with the Jazzmaster, what exactly is it about that old blue Tele that's made it his go-to when it comes time to lay down a solo? "I seem to play differently on a lot of guitars, which is another reason why I like to buy different guitars. I come up with different things, and maybe the guitars have some songs in them already. On that Tele, I find my solos are more interesting. If I play the same solo on a Strat, it just sounds like a Strat to me. It's slightly more boring somehow? I don't know where my brain or fingers go or why that happens, but I usually find that if I play solos on different guitars for the same song, the stuff I play on that Tele is always more interesting. The top-loader was the first Tele I really bonded with, and it was about the feel. When I pick up Teles with string-through-body bridges, the strings are a little harder to bend. People say the top-loaders don't have as much sustain, but I never thought of a Tele as a sustain guitar anyway, and when you hit a Big Muff, every guitar has sustain. So that argument doesn't really work for me."
People say [Telecaster] top-loaders don't have as much sustain, but I never thought of a Tele as a sustain guitar anyway, and when you hit a Big Muff, every guitar has sustain.
Sweep It Into Space came together right before the pandemic began to shut things down. While all of its songs were fundamentally tracked by the time lockdowns began, Mascis had to capture some of his solos and overdubs at home and was forced to learn Pro Tools in the process. "I guess quarantine made me a better engineer, if anything," he says. "I did some 12-string guitar overdubs and recorded some solos myself." Although, live, Mascis is often photographer-slamming his sound through a confrontational trio of Marshall and Hiwatt stacks, recording himself led to a different option. "I tended to use a handwired AC30 head, because it has a master volume. Because the amp was right next to me, I could make it really quiet with the master volume, which really helped out. I think I played it through a cab with one of those Tone Tubby hemp speakers."
Dinosaur Jr. (left to right): Bassist Lou Barlow, J Mascis, and drummer Emmett Jefferson "Murph" Murphy III.
Photo by Cara Totman
Another reason Mascis fired up his Vox is that he prefers the way AC15s and AC30s handle fuzz pedals for recording. "I tend to always want to put the mic right on the speaker, and lately I've tended to favor a Vox amp for fuzz. I like the way fuzz hits a Vox amp. It seems to work well with them and it's never that loud when I record, so it's very different than how I get that sound live. I'm trying to recreate maybe the live feel, but it seems much easier to get a cool sound at a lower volume so the mic can handle it." Mascis also says that it's usually a germanium Tone Bender MkI that he reaches for as a starting point for his recorded fuzz sounds, and seldom the Big Muffs he loves live. However, the guitarist is still happy to experiment. "I tend to add different things to that, and I usually always stack fuzzes together to come up with a cool sound."
The only time I'll ever reach for a slide is if I think a song really needs it, because I'm not very good at it.
Interestingly, while the main riff on "I Met The Stones" features one of the most savage guitar sounds on any Dinosaur Jr. release, no fuzz pedals were involved in shaping the track's core tone. "That song I ended up playing in C# … and I think I was using a St. Vincent signature Ernie Ball guitar, because it seemed to play in-tune well at that pitch. A lot of those rhythm parts are on that guitar through a tweed Fender Bandmaster. I think the sound on that song is mostly from the amp and the mini-humbuckers in that guitar."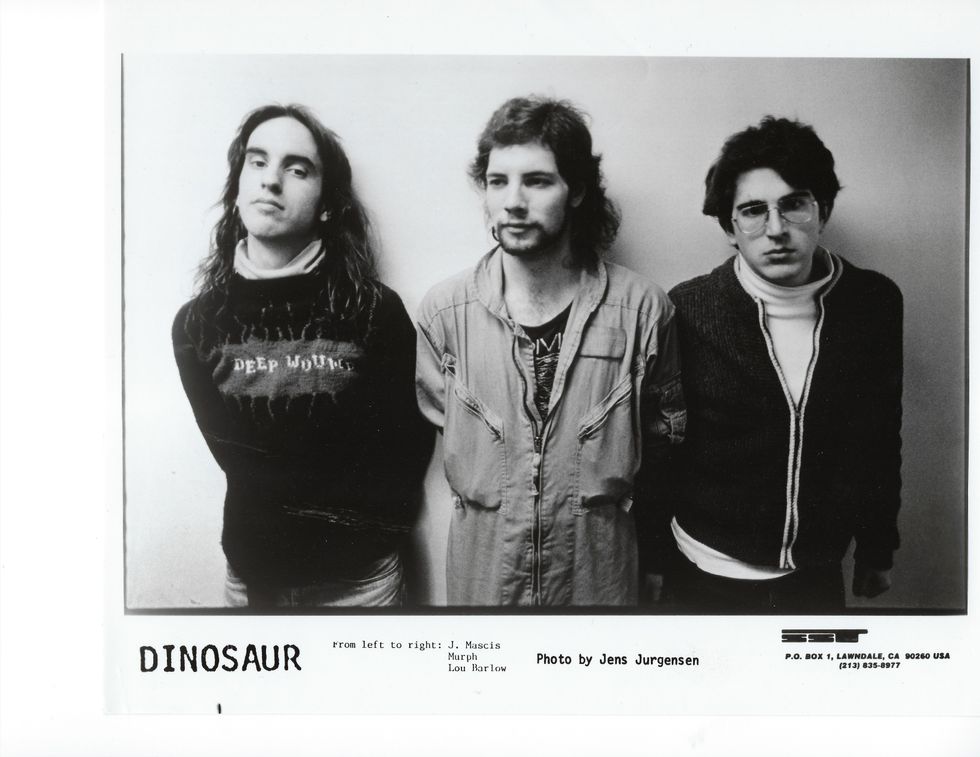 A 1987 SST Records press photo of Mascis, Murph, and Barlow before a name dispute caused them to add the lovably diminutive appellation to their moniker.
Even though Dinosaur Jr.'s reinvigorated trio lineup has proven yet again to be a fertile and stable partnership with Sweep It Into Space, in 2019 Mascis revisited the major-label releases the band put out during Murph and Barlow's mid-'90s absence, with a series of vinyl reissues. Given that project's proximity to Into Space, one can't help but wonder if any ideas from that '90s output seeped into the new album's tunes. "You definitely hear some songs, and it's like you didn't remember some of them at all," he says. "It's interesting when you record a song and never play it live and then hear it again 20 or 30 years later. You sometimes don't remember much about it. So it was cool to hear them again and wonder what I was thinking about when I wrote them. 'How'd You Pin That One on Me' off of Green Mind has a lot of slide, and the only time I'll ever reach for a slide is if I think a song really needs it, because I'm not very good at it. So it's interesting to hear myself playing slide. I usually don't like listening to people playing slide unless it's someone very specific. Something about slide guitar doesn't appeal to me that much. I like Mick Taylor's slide stuff, which wasn't too crazy."
The major-label years of the mid '90s had stranger things in store for Dinosaur Jr. than an unexpected slide guitar part, though. For example, the band made its television debut on Late Show with David Letterman in 1993, at a time when Letterman's house band typically backed up the show's musical guests. The performance saw Mascis and company rip through an impassioned, barnstorming version of "Out There," with Paul Schaffer and the rest of the Letterman band jamming along, And while that in itself is YouTube gold for fans of rock oddities, it gets better. David Sanborn spends the entire song blowing the living hell out of his saxophone from a perch in the background. It's a weird sound, but one that actually kind of works. Mascis remembers the experience fondly. "I was trying to encourage David Sanborn to jam out on the song, and all those guys are just sitting there, so I figured he might as well just play and see what it sounds like. I remember it being good, but I also remember a few sax notes seeming out of tune … which was surprising for Sanborn."
Fender Musical Instruments Corporation (FMIC) today announces the global launch of the J Mascis Telecaster, Mascis's second Fender Artist Signature guitar, joining his Signature Squier Jazzmaster. Sticking to his unique style, Fender worked closely with Mascis to recreate his infamous original 1958 top-Loader Tele guitar, the main axe he used in the mid-90s when he wrote some of his most iconic songs and lead work throughout his career.
"It means so much to be working with Fender," said J Mascis. "Already, the Tele® represents three decades of leads that I've recorded with this guitar. It's been my go-to for recording leads since I got it. It feels amazing to have a signature guitar. It's not something I ever imagined, but I'm truly honored."
J Mascis' penchant for running Fender guitars into stacks of amps to create massive fuzzy riffs, incendiary leads and huge hooks have made him an alt-rock icon. While primarily known as a Jazzmaster player, Mascis's Tele® is one of his favorite instruments in his collection. Growing up in Amherst, Massachusetts he became a drummer at age nine and pivoted to guitar when he founded Dinosaur Jr. in 1984. The band went on to help create alt rock as we know it, releasing dozens of hits including "Start Choppin," which was recorded with Mascis's original '58 Top-Loader Tele. "I find I play leads that are more interesting to me when I pick it up,'' added Mascis. "Even if I try another guitar, I usually end up liking what I played better on this guitar. I improvise all my leads when recording and my best stuff comes out of this guitar."
Exploring the J Mascis Telecaster | Artist Signature Series | Fender
The dazzling Bottle Rocket Blue Flake finish pulls inspiration from Mascis' old drum set dating back to his early days. Uniquely made for Mascis' playing style, the custom J Mascis Telecaster pickups are voiced to replicate the sound of the original 1958 Telecaster® pickups in Mascis's guitar; these single-coil Tele pickups have a classic vintage tone. Additionally, the Tele is made with a Top-Loader Telecaster® Bridge. A unique bridge type originally introduced in the late 50s, this top-load bridge offers reduced string tension and a shallower break angle compared to the traditional string-through bridges for a slinkier feel. Finally, the "C" neck with 9.5" radius and jumbo frets recreates the feel of J's original Tele, while the 9.5" radius fingerboard and jumbo frets provide easy playability and effortless bends.
J Mascis and Dinosaur Jr | Fender Signature Sessions | Fender
"We're honored to have had the opportunity to partner again with J Mascis, this time to recreate one of his favorite guitars," said Justin Norvell, EVP of Fender Products. "From the Bottle Rocket Blue Flake finish to the mirrored chrome pickguard, the top-load bridge to the Road Worn maple neck, this guitar is a celebration of the J Mascis sound that helped define alternative rock."
For more information:
Fender