Need to mix it up? Here are 10 options that can go from twang to growl to … gristle.
One of the most effective—and least invasive—ways to mod a guitar is to swap out the pickups. Wanna experiment with a 'bucker in the bridge? Leave the router at home. We've rounded up 10 options that range from affordable and effective to boutique and beyond.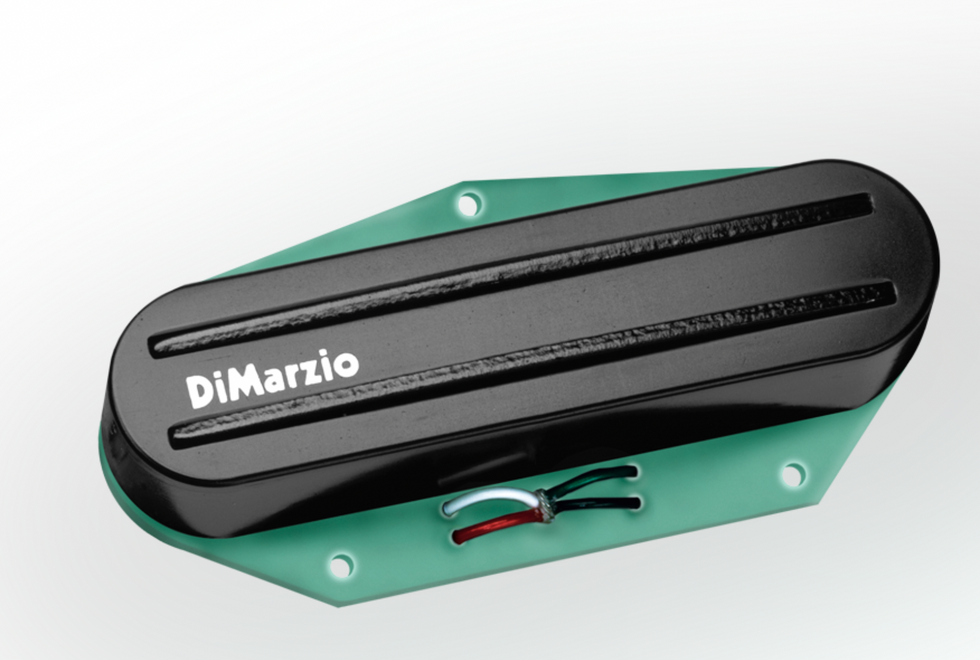 This single-coil-sized version of the company's legendary Super Distortion is aimed at T-style players who want the thick sound of a 'bucker in the bridge. It has a pronounced low-mid response with a roll-off on the high end.
$99 street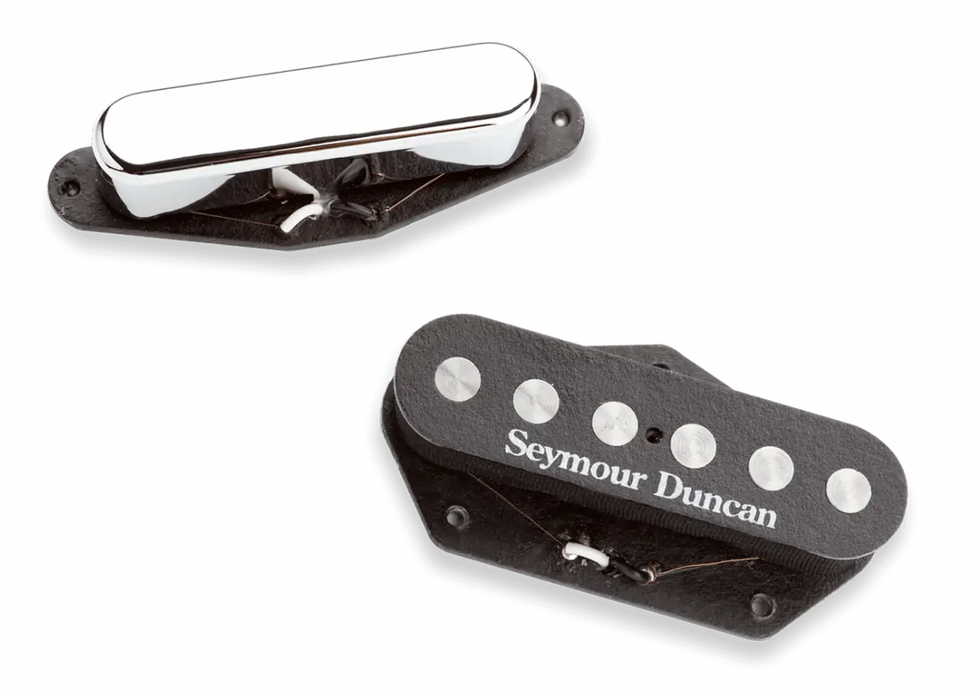 Centered around a set of alnico 5 magnets, this high-output single-coil crosses into P-90 territory. You can also get a tapped neck variation that allows for both vintage- and high-output sounds within a single set.
$89 street
Introduced in 2016, this T-style pickup features the guts of the company's T-Armond pickup, but with a little more juice. Like many of the pickups on this list, it's a straight drop-in replacement for standard-sized pickups.
$120 street
With less than 10 components in a single pickup, Mojotone made these designs very simple. They use their "Quiet Coil" technology to get rid of the hum without batteries or stacked coils. The pickups are also scatterwound for more sensitivity and clarity.
$98 street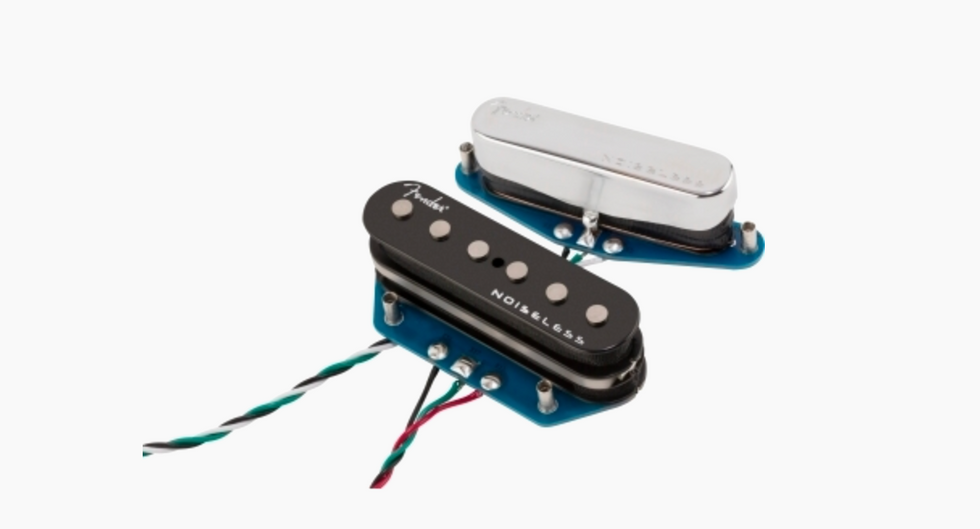 These stacked-coil setups aim to capture the classic sound and sparkle of vintage Tele pickups. They use alnico 5 magnets, Polysol-coated wire, and flat, non-beveled pole pieces. The neck pickup measure about 11k resistance and the bridge comes in around 10k.
$199/set street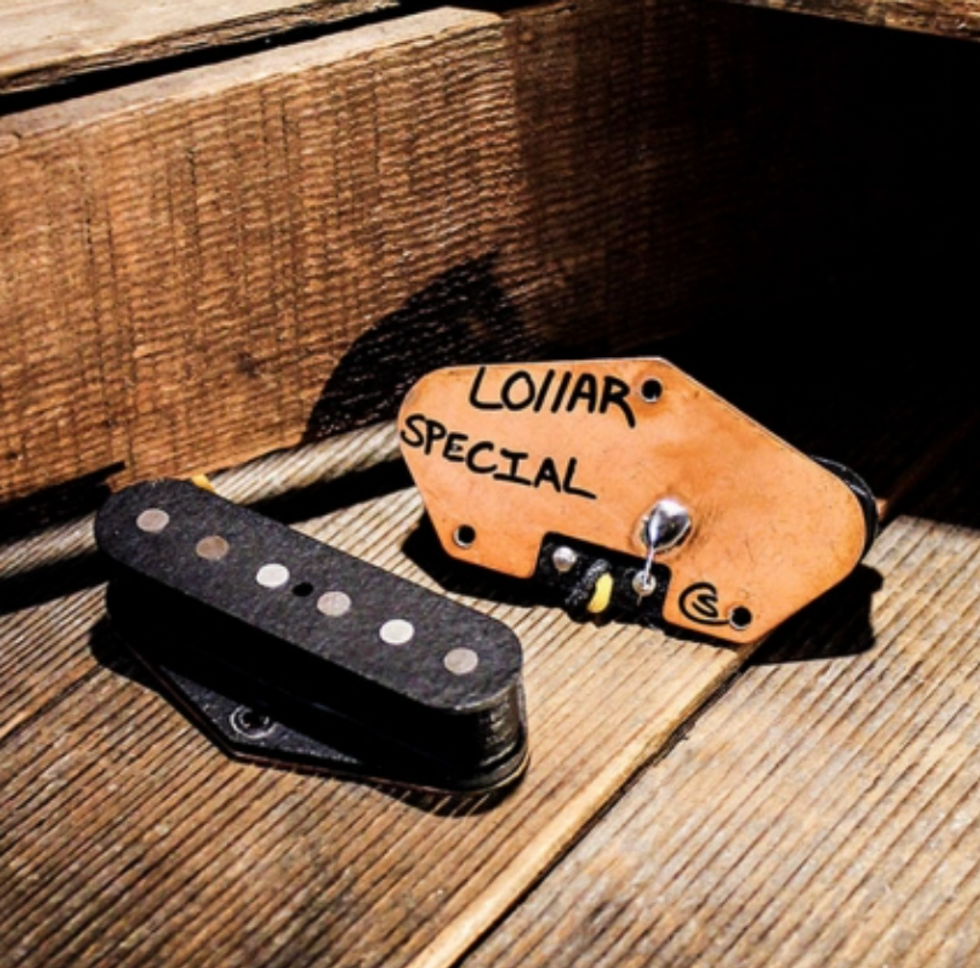 Jason Lollar is a bona fide pickup genius, and his take on the classic '50s Tele sound is represented here with a pronounced mid and bass response along with a smoother top end. Described as slightly hotter than a vintage Broadcaster pickup, the bridge comes in at 8.0k.
$125 street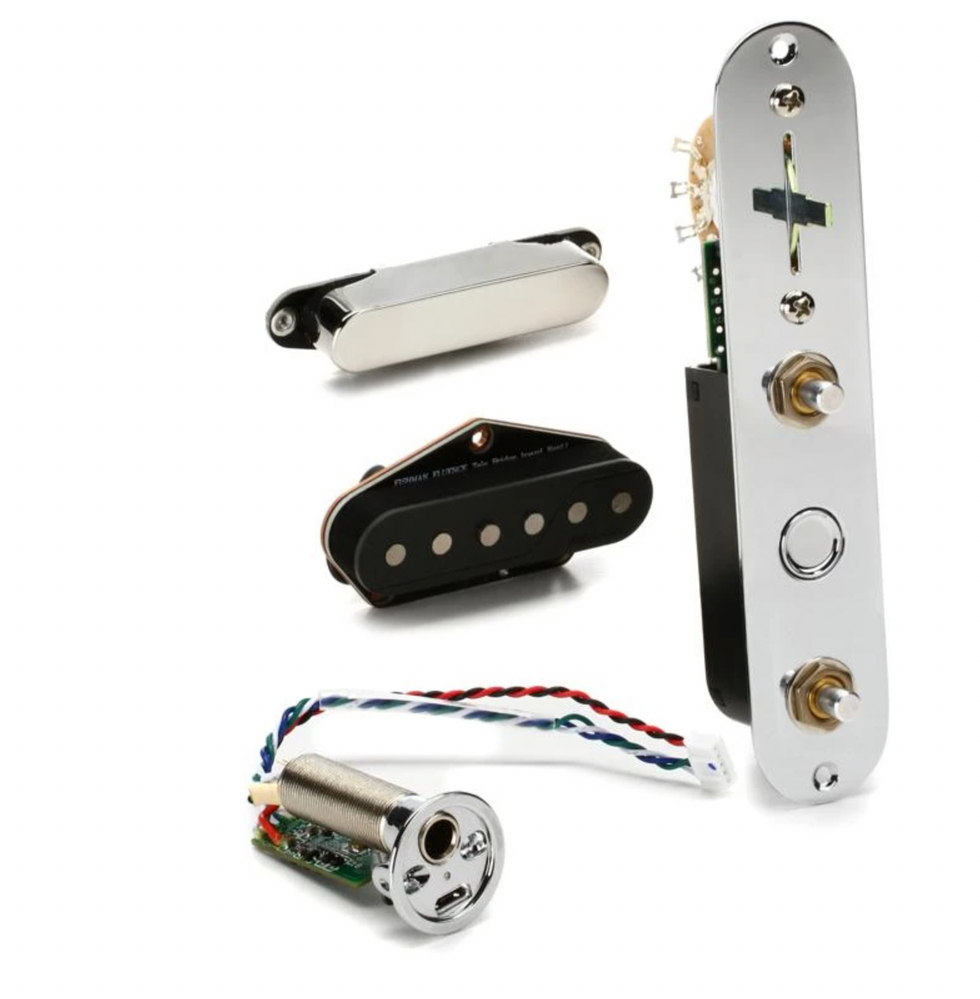 Wisconsin's most gristly guitarist teamed up with Fishman to create an entire T-style setup based on their Fluence technology. Each set includes both pickups, a control plate, and an output-jack cup with a USB charging input. With the push of a button, you can easily go between "blackguard" and "whiteguard" tones.
$359/set street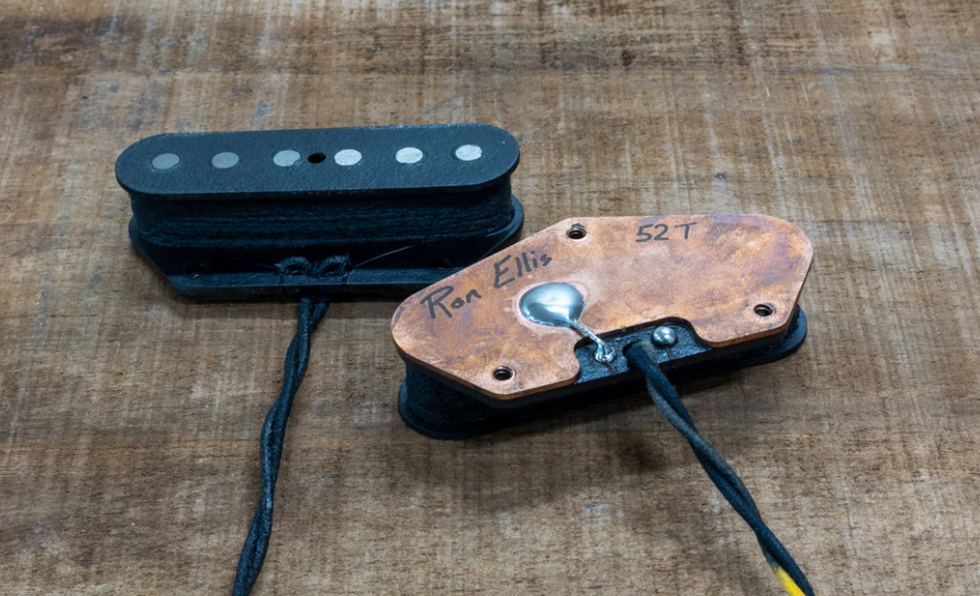 Ellis might be one of the most in-demand pickup designers around today—and the going rate for his offerings bear that out. This particular flavor goes after the "blackguard" tones of classic Tele pickers such as Vince Gill and Brent Mason.
$375 street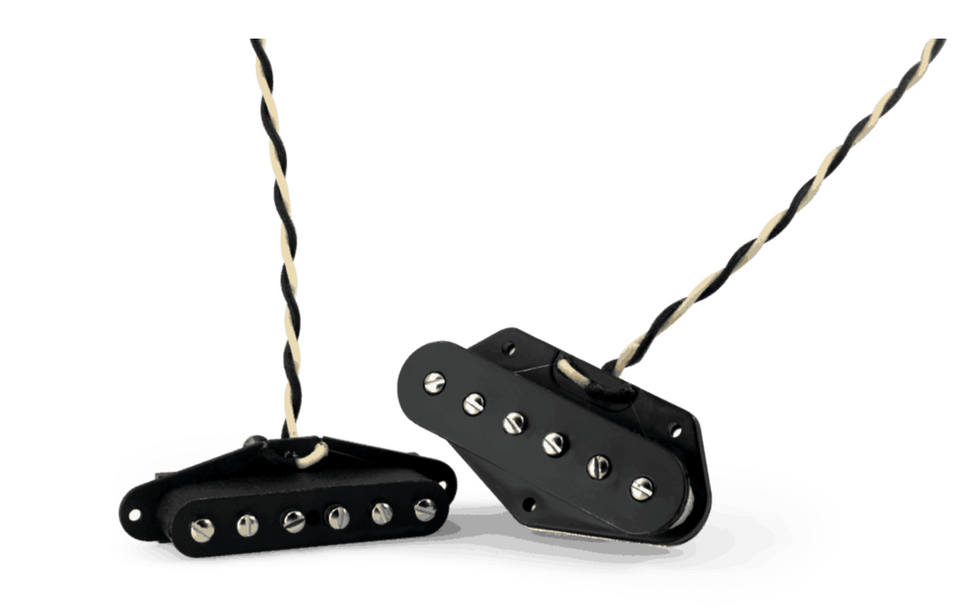 Described as a cross between a T-style pickup and a P-90, this design houses a ceramic magnet and adjustable steel pole pieces. Sonically, it has a mid-forward tone that offers a faster breakup when playing with distortion.
$115 street
Hate the hum? These active pickups aim to balance the punch and clarity of vintage Tele pickups with the modern convenience of quiet. It uses alnico magnets and a custom winding to increase bandwith and fullness of tone.
$89 street
The company teamed up with Fralin Pickups to design a humbucker with note clarity and focused mids that's based on Fralin's Unbucker.
Scottsdale, AZ (November 17, 2017) -- Mad Hatter Guitar Products is excited to announce the release of the Mad Hatter Super Shredder humbucker pickup to their amazing product line.
Now covering the full spectrum of guitar electronics, Mad Hatter Guitar Products has teamed up with Fralin Pickups for their first set of pickups.
The Mad Hatter Super Shredder humbucker pickups were designed to have incredible note clarity and be very responsive. The pickups have focused mids that sit perfectly in the mix, and double-screw coils that have no volume loss and sound like a true single-coil.
Starting with pickups that Mad Hatter recognized as a benchmark, they developed a criteria as to what the Super Shredder humbucker pickups should be. Working with Lindy Fralin and starting with the prized Fralin Unbucker as the base, the Super Shredder was born.
The Super Shredder humbuckers are available exclusively at madhatterguitarproducts.com and available in Black, White, & Zebra with the choice of Nickle, Gold, or Black screws. Black and Zebra are available in both standard and tremolo spacing. White is available in tremolo spacing.
The Super Shredder Humbucker Pickups are priced at $174.99 per pickup.
Watch the company's video demo:

For more information:
Mad Hatter Guitar Products
Michael Kelly Guitars is once again teaming up with Lindy Fralin for the Michael Kelly CC50 Fralin.
Anaheim, CA (January 23, 2016) -- Michael Kelly Guitars is once again teaming up with esteemed pickup builder Lindy Fralin for the Michael Kelly CC50 Fralin guitar. The combination of the Steel Poled 43 pickups with the ebony topped body optimizes this custom model to deliver a full, rich, and dynamic tone. These short run guitars are available now at www.michaelkellyguitars.com and select dealers.
The Steel Poled 43 pickups, named for the steel adjustable pole pieces, have a bar magnet in the back and are wound with 43 gauge wire which gives the pickup 25% more output. The bridge pickup registers at 10k ohms, along the lines of a P-90, making it a very strong single coil. The single coil in the neck registers at 8.5k ohms. In addition to the distinct pickups, the wiring has been modified with a specific set of CTS and Bourne pots and a Mojotone Dijon cap creating a better, cleaner signal. A push-pull feature has also been added to reverse the phase and give additional tone options.
This alder body guitar comes with maple binding and striped ebony top. The 25.5" bolt on maple neck has a 10.5" radius, rosewood fretboard, 22 frets, and dot inlays. The 1950 headstock includes die cast tuning keys. Controls include master and tone volume and a three-way blade switch. The CC50 Fralin is complete with a T-style bridge and a chrome hardware finish.
$1,015
Watch the company's video demo:

For more information:
Michael Kelly Guitars