Three little brute combos by Fender and Danelectro.
Delivering dirty brujo tone is not simple. Just grab a ouija board and ask Hound Dog Taylor or Pat Hare. Or, if communing with the spirits in a literal way isn't your thing, check in with Patrick Sweany. He's easy to find since he'll be on the road for most of November and December touring a double-bill with fellow Nashville-guitar sparkplug JD Simo. And when he's at home … even easier, since he holds down the Monday early evening slot at Music City's indie mecca, the 5 Spot, with the Tiger Beats, a blues tribute band he co-fronts with McKinley James, who was profiled in last month's PG feature "10 Young Guitarists to Watch."
Sweany swaps the ouija board for raw-speaking amps and a '90s Epiphone Riviera with gold-foil pickups, plus a sawdust-and-blood voice that would make Howlin' Wolf cock an ear, as a means to conjuring the dirtiest, deadliest tones of primal electric blues—like those found on nascent recordings by the labels Chess, Cobra, and King. Or, for that matter, on Sweany's own catalog of a dozen albums, including 2018's Ancient Noise, where his abilities as a songwriter propel the blues form into the present, leaning toward the future.
But enough about Patrick. This is an amp column, and when he turned up at a recent Tiger Beats gig to talk gear, he brought three Clydesdales with him: a vintage '60s Danelectro Explorer, a Fender '57 Custom Pro-Amp, and an Excelsior from Fender's Pawn Shop series. What do his favorite amps have in common?
"A 15" speaker with an alnico magnet is it for me," he says, "and 15 to 20 watts is my sweet spot, where the amp breaks up and still has some bottom end. I'm a fingerstyle player, with a thumbpick and two finger picks, so compression is the devil. Amps with 10" speakers are too harsh, which can work for playing lead like Freddie King, but when I was trying to find my sound, 15s were the answer. It's very full and rich."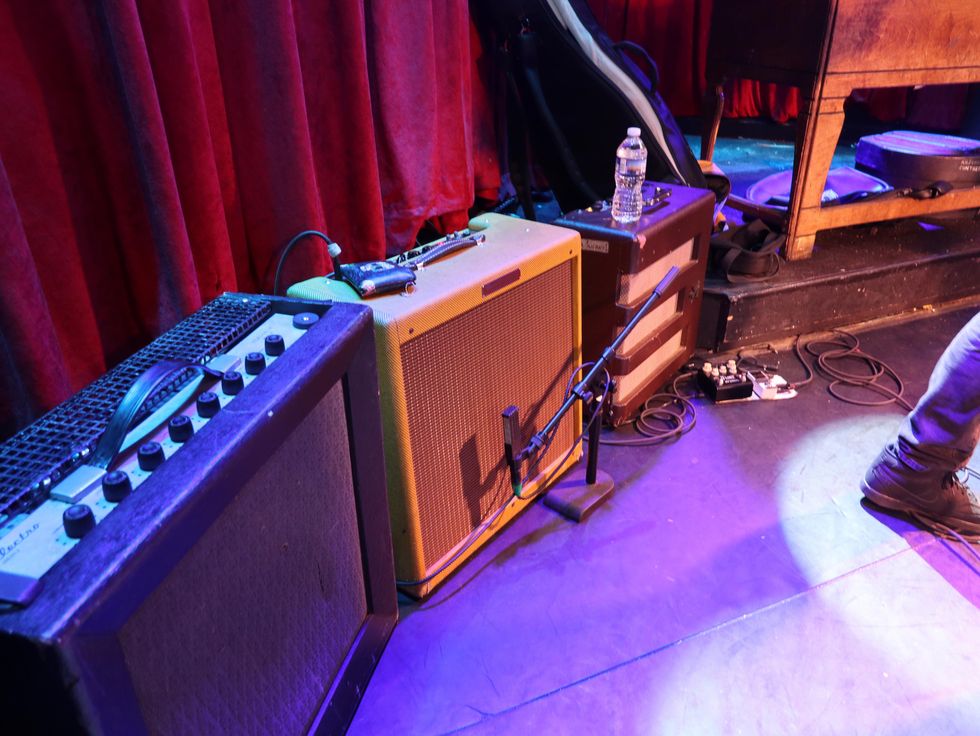 All three of his amps are in harness, but only the Fender '57 Pro-Amp has the microphone for this gig.
Sweany says his signature sound crystallized when he got the Danelectro, which is a quirky beast. Unlike some earlier Explorers, this model has its tubes and transformers on display, enclosed by a cage at the rear top of the amp. Better yet, that cage flips open, which means the amp—with its array of two 6L6 tubes, a 6FQ7, a 12AX7, a 12AU7, a 6AU7, and a 5Y3GT, plus heavy transformers—can be its own workbench while remaining plugged in. Explorer amps came with a single Jensen C15N speaker. Sweany's is all-stock except for a recapped power supply, and amp tech Kyle Wierzba cleaned it up and restored it to original spec.
While the Dano Explorer isn't worth a fortune, Sweany values the amp enough to keep it at home or nearby, so it doesn't join the Pro or the Excelsior on tour. "If you're a piece of my equipment, you're not in a comfort environment," he says, laughing. "You're a shovel handle."
His favorite road amp is his '57 Custom Pro, a killer reissue I had the pleasure of reviewing for PG in early 2017. Sweany's first chance to play through the model was while filming a demo for Fender with Laur Joamets. "They gave it to me after the session," he says. The amp has a thin tweed cabinet and is inspired by Fender's famed 5E5A circuit. It's got a 12AY7 and two 12AX7s preamp tubes, two 6L6 power tubes, and a 5AR4 rectifier tube, and it is a loud 26 watts. As a shovel handle, Sweany's Pro has not led an easy life. After it died on the road, Wierzba replaced the transformers with Mercury Magnetics, swapped the caps, and installed reissue GE 6L6 tubes, along with some lesser maintenance.
I'm a fingerstyle player, with a thumbpick and two finger picks, so compression is the devil.
And finally, there's the Excelsior: a 13-watt tiger that emulates the look and sound of Valco-type late-'50s/early-'60s circuits. Sweany had his eye on the Excelsior the minute it was unveiled in 2012. It's got two 6V6s and two 12AX7 preamp tubes. It has the simplest control array of his troika, with old-school mic, accordion, and guitar inputs, a bright/dark switch, and volume and tremolo dials. But this Excelsior was modded by Nashville amp builder Mickey Sandora, who added a tone stack with more headroom and bottom end, activated by a toggle switch.
In addition to tremolo, another thing these amps have in common is an absence of reverb. "For a long time, I didn't use reverb—just tremolo, which is another important part of my sound," Sweany says. But his Tiger Beats compadre James' Fender Super Reverb always sounds so damn good that it wore him down. His team of plough horses now have a partner: a Strymon Flint. And you'll hear them all when the Tiger Beats finish their debut album of original music that's in the works.
PATRICK SWEANY "Up And Down" **OFFICIAL VIDEO**
Hear the nasty old-school sound of Sweany's Danelectro Explorer amp in "Up and Down," from his most recent album, Ancient Noise.
Rivera Amplification releases the Venus 3–a Class A, 15-watt amp powered by a pair of 6V6 tubes.
Burbank, CA (February 26, 2013) -- 2013-Rivera released a new version of their Venus 3, a Class A 15watt combo powered by a pair of 6V6s, loaded with a Celestion G12H-30 and an Accutronics spring reverb. The new Venus 3 (debuted at NAMM 2013) now features a foot switchable and adjustable gain boost making its single channel even more flexible. The Venus 3 also features a modern/vintage switch that can run it 15 or 8 watts, great for bedroom players. The Class A/6V6 combination gives a smooth and spongy clean with the "slight break-up" tone when hit hard. Click on the Gain boost for super overdrive and clean sustain while keeping lower stage volumes.
Specs:
Single channel with Foot switchable and adjustable gain boost.
Class A 15watts using a pair of 6V6s and 2 12AX7's.
Features Volume, pull-gain, treble, Middle, Mid-Notch, Bass, Master, Reverb, Presence
Accutronics spring reverb
1x12 version features a Celestion G12H-30
Effects Loop, Line out, Modern/Vintage Switch
Available in Pearl White or Black in a 1x12 for $1799.00 Pro-User Net, 1x10 for $1599.00 Pro-User Net or Top for $1499.00 Pro-User Net.
Watch the company's video demo:

For more information:
Rivera
I primarily use it as a practice amp at home, typically at lower volumes, and I'd love to get tones similar to a Fender Tonemaster. Is that possible?
Produced between 1987 and 1992, the Fender Champ 12 is a 12-watt, 1x12 combo with a single 6L6 power tube and a pair of 7025 preamp tubes. Photo courtesy of telecaster.com
Hi Jeff,
I have a Fender Champ 12 from the late '80s that I'm curious about. The input jack is broken, and it has never been re-tubed or probably even serviced since it was new. I've given up on trying to get any useful, adjustable gain out of it, and the reverb is pretty much just full on or off. I primarily use it as a practice amp at home, typically at lower volumes, and I'd love to get tones similar to a Fender Tonemaster. Is that possible?
Thanks,
Leonard
Hi Leonard,
When a customer brought his Champ 12 in for service years ago, a couple of this amp's unique "innovations" had me scratching my head. There are aspects of the electronic design I've not seen in any other Fender amp.
The Champ 12 I repaired had multiple problems: Its output was low and distorted, and it wouldn't switch channels. Before pulling a schematic on the unit, I took a few minutes to troubleshoot it. Sure enough, the output looked very bad on the oscilloscope, and there was no low voltage for the switching circuitry. When I started tracing the wiring associated with the switching circuitry, it unexpectedly led me to the output stage! I figured this can't be right—someone must have already gotten their inexperienced, grubby little paws into the amp and moved some wires.
It was then I realized what was actually going on. The amp had been designed to tap voltage off of the cathode circuit in the cathode-biased output stage as a low-voltage source for the switching circuitry. Wow, I hadn't seen that before. I checked the resistors in the cathode circuit, and then replaced one that was way out of tolerance. That was it—the switching circuitry now had voltage and the output of the amp was great. Okay, I won't forget that the next time a Champ 12 comes in with the same set of problems. But let's move on to your amp and see if we can address some of your concerns.
The first thing I'd suggest is to re-tube the amp, especially if that has never been done before. You may hear a noticeable improvement. Also, be sure to have the cathode resistors in the output stage checked, as we already know what kinds of problems they can cause. I'd also recommend having the broken input jack replaced. It's generally the number 1 input jack that breaks and typically that's the most useable input for guitar.
Being a 10–12 watt amp, the Champ 12 is, of course, never going to sound as big and bold as the 100-watt Tonemaster, nor will it have that kind of distortion unless the entire circuit is completely rebuilt. So what I'm shooting for is to bring the amp's tone closer to the Tonemaster.
We'll start with the tone stacks, as they're noticeably different in these two amps. Locate the three main capacitors in the Champ's tone circuit—C3, C4, and C5. Replace the 250 pF ceramic cap (C3) with a 150 pF with at least a 250V rating. Next, replace the 0.1 μF (C4) with a .047 μF 400-600V. Feel free to use the original C5 cap here, as C5 will be replaced by a 0.022 μF 400-600V cap. This should set up the tonal characteristics to be closer to the Tonemaster.
You mentioned the amp didn't have much gain adjustability. This may be due to the type of "shunt-to-ground" volume controls (something I generally don't care for) used in the Champ 12, but if you've found the gain is a bit too loose and broken up, I'd suggest changing the value of C1. Using a 25 μF capacitor on the first gain stage can sometimes provide too much amplification of the lower frequencies, which can muddy up the overdrive. I'd suggest switching the locations of C1 (25 μF) and C8 (0.68 μF). Install the 0.68 μF capacitor in the cathode stage of V1A and the 25 μF capacitor in the cathode stage of V1B.
Another option would be to switch the locations of C1 and C12, instead of C8. This would place the 25 μF cap one stage further down the line.
You mentioned that the reverb is delivering all or nothing, but this may be due to an incorrect adjustment. The reverb in these amps is the other unique "innovation" I mentioned earlier. It's actually driven by the signal going to the speaker!
I had seen this done before in early amps from a different manufacturer, but not in a Fender. It seems this unique design requires the proper adjustment of an internal pot to work properly. I won't go into the procedure for this because you can find it on Fender's supplied schematic for this amp. If you have this adjusted properly, it may make your reverb a bit more useable, although I wouldn't expect full reverb bliss from this frugal design.
Last and definitely not the least, I'd encourage you to change the speaker. The Tonemaster came stock with either a Celestion Vintage 30 or Celestion G12- 80, both of which would sound substantially different from the stock Fender blue-label speaker currently in your amp. I hope these suggestions make your amp a real Tone Champ!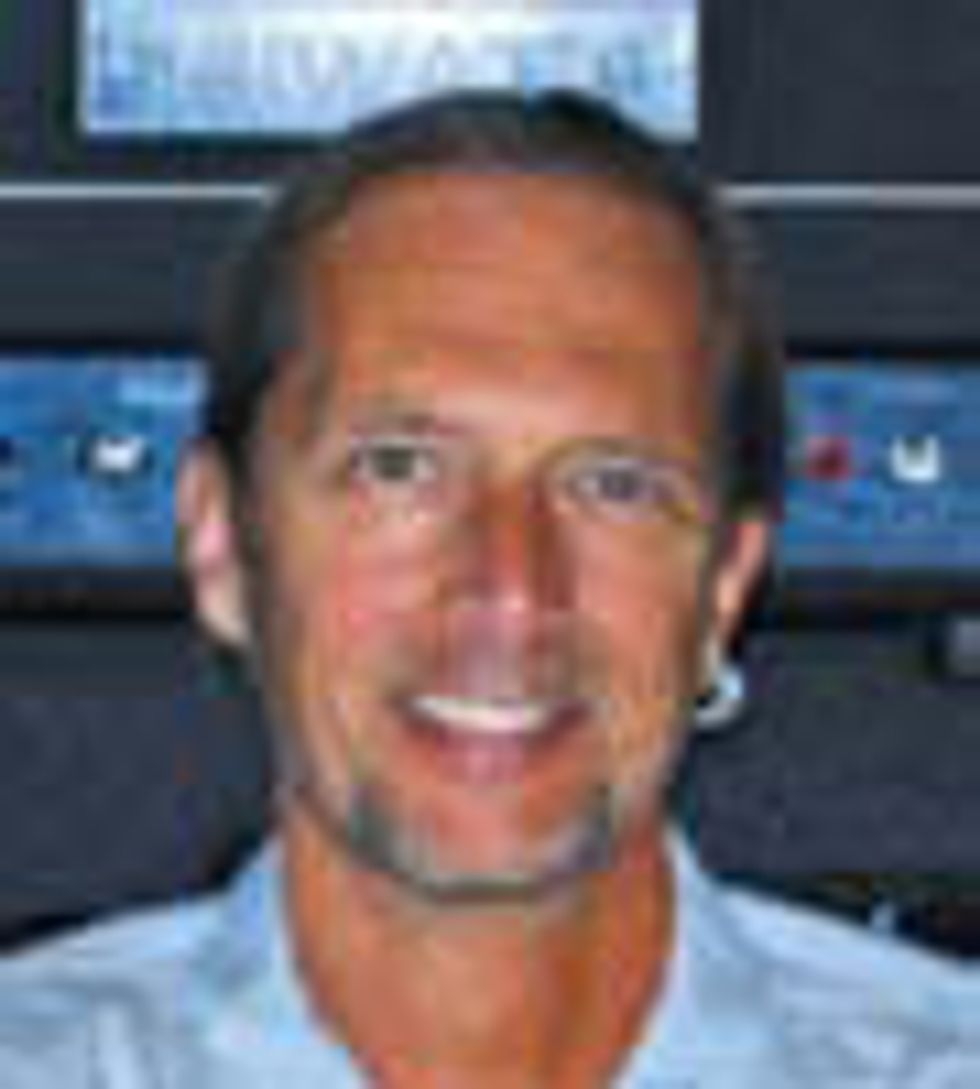 Jeff Bober
is one of the godfathers of the low-wattage amp revolution, co-founded and was the principal designer for Budda Amplification. Jeff recently launched EAST Amplification, and he can be reached at
pgampman@gmail.com
.