How to expand classic Fender amp sounds with different speaker configurations.
As you know, replacing or augmenting the speakers of your Fender amps is the easiest way to organically change your guitar tone. So, let's discuss some alternative speaker configurations for classic Fenders. We'll also explore some basic knowledge about resistance, current, and power distribution along the way, which will enable you to safely experiment.
If you are replacing or adding speakers, it is important to verify that all speakers are in phase and that you wire the plus and minus terminals correctly. Otherwise, the speakers will cancel each other out and the result will be a thin, weird tone without much bass or character. This rule applies to all speakers in the main amp and in extension cabinets. For all the examples in this column, I will refer to 8-ohm speakers wired in parallel, if not explicitly mentioned otherwise. I will also use both the terms "impedance" and "resistance," which are commonly used in these conversations, even though the correct term for speaker resistance is impedance. Got that?
Now, let's use a Deluxe Reverb as an example. The most common trick to create a bigger tone and more spread from a Deluxe is adding a second cabinet with a 12" speaker. The Deluxe has just enough power to drive them both. However, I've found that the Deluxe's 22 watts is not enough for adding a 15" speaker. The bottom end gets too loose and farty. For that option—which features a full clear bottom end and opens up the array of overtones—I would typically recommend a bigger, 35- to 40-watt amp. But there is an option for adding a 15" speaker to a lower-powered Deluxe. You can replace the 6V6s with 6L6GC tubes for more power. Then, adding a 15" speaker makes sense.
"It is important to verify that all speakers are in phase and that you wire the plus and minus terminals correctly."
Here comes a few even-more-advanced tricks with the Deluxe Reverb. The first: Replace the original 1x12" baffle with a 2x10" baffle for snappier low-end response, more sparkle, and a more scooped tone. It is very easy to cut out a solid pine board and staple grille cloth onto it. With two 10" speakers, the total speaker impedance also changes from 8 to 4 ohms, and will suit the 6L6GC tubes better, since they have a lesser output impedance than the 6V6 tubes. After that mod, if I want to play at lower volumes, I unplug one speaker and use the Deluxe Reverb as a single 1x10".
An even more creative and rarer variant is to use both 10" speakers together with a 15". In this setup, you have to wire the two 10" speakers in series and connect the 15" via the external speaker output. The amp will then see two resistance branches in parallel:
Branch 1: the two 10" speakers = 8 ohms + 8 ohms, for 16-ohms resistance.
Branch 2: the single 15" speaker = 8-ohms resistance.
The current always wants to follow the path of least resistance, so the second branch with the 15" speaker will get twice the amount of power and current as the first branch. And since there are two speakers in the first branch, that total branch's power is divided equally between them. This results in a roughly 67 percent + 17 percent + 17 percent power distribution for the three speakers. This is a healthy and good-sounding balance, since a 15" speaker requires and can take a lot more power than a relatively tiny 10" speaker. Be aware that you must not use the amp in this configuration without the 15" plugged in, or you will damage the power tubes. The amp expects a 4-to-8-ohm impedance with the 6L6GC tubes. The two 10" speakers alone at 16 ohms is too far outside the safe operating range.
I will also briefly mention a change-up for the 2x10" 35-watt Vibrolux Reverb. If you want more punch and a bigger low end from this model, you can replace one of the 10" speakers with a powerful and efficient 12". I have had great fun fitting a 12" Celestion Alnico Gold on the preamp side of the amp and a lighter, neodymium Jensen Jet Series Tornado 10" on the power transformer side of the amp, where there is less physical space for a big speaker magnet. You now have three power levels: the 10" alone, the 12" alone, or both together for maximum punch. I can even add another 12" external speaker cabinet via the external speaker output for a mega spread on big stages. If I want to add a 15" extension speaker, I prefer to disengage the internal 10" and use the 12" and the external 15" together. My favorite modern 15" is the Eminence Legend 1518. It is impressively responsive. Also, it balances nicely with a classic vintage black-panel Fender tone.
I hope these ideas and tricks inspire you to experiment with speakers.
This fistful of Eko hails from the land of spaghetti westerns.
I know a lot of you have your idols and altars when it comes to favorite players and guitars. I think about one of my old high school buddies, who, after graduation, went from looking like a football player to sporting long, curly hair à la Kirk Hammett. He also had the same amp, same guitar, and same effects setup.
Looking back, I think of other players I've known—like, "he's a Strat guy," or "she's into P-90s," or something else that sort of defined them. Would you believe there's a large swath of players who find themselves in the Eko camp? How many of you even know about Eko guitars?
Initially, I only knew of Eko guitars because of the characteristics that usually draw me in: sparkle finishes, a bunch of pickups, and crazy shapes. But it wasn't until I started frequenting guitar shows up and down the East Coast that I came to find a small but focused group of Eko enthusiasts. These kindly people span the U.S. and beyond, and soon enough I was enjoying correspondence with fanatics from Texas, Kentucky, Vermont, and Wyoming. I've never reached their rabidity, but I did always enjoy the passionate guitar talk and admired this group's tenacity. They really loved Ekos, and through them I learned a whole bunch of random facts and theories, all strung together with love by people who were part storyteller, part sage, and part eccentric.
Initially, I only knew of Eko guitars because of the characteristics that usually draw me in: sparkle finishes, a bunch of pickups, and crazy shapes.
Eko is a rather long-running Italian brand name that stretches back to 1959, when it was founded by Oliviero Pigini. Similar to Shiro Arai in Japan, Oliviero started importing guitars to Italy and eventually started making his own in the late '50s and early '60s. The early Eko designs were something to behold, because they were extreme in just about every way. Push-button multi-controls and tricked-out finishes were the selling points, and these early designs led to even more experimentation with body shapes and outrageous cutaways as the '60s wore on.
Eko guitars sold in relatively small numbers here in the U.S., but the guitars weren't cheap! Many of their models were priced equal to, or, in some cases, higher than Fenders and Gibsons. And when most companies were folding or selling off assets as the guitar boom ended, Eko was busy building new facilities. In one of the 1967 Eko catalogs, Oliviero even touted his new factory as "one of the world's largest," featuring "unbelievable advances in research, development, and sparkling new manufacturing techniques."
Among the new Eko models to emerge from that era was the Kadett (Photo 1). Its standout design featured a sharp sweep of the upper-body bout that combined nicely with its sawed-off horns (Photo 2), and it became a long-running guitar that retailed for $365 in 1967. This model was even copied by Kawai as a green-burst monster that often featured four gold-foil pickups and a Kimberly name badge.

Photo 2
These little screamers are well-balanced—both in weight and tone—and if you can find one with a nicely tuned vibrato bridge, you will be impressed by it. The pickups have some nice bite and the electronics are a bit simpler than the Kimberly, and thus a bit more practical. I enjoy these Kadett guitars more than most of the Eko models from the same era. Plus, the red color on this guitar was one of the sleeker finishes offered at the time. Fire-engine times 10!
In general, Eko guitars were always built rather well, but I think the solidbodies hold up better than their hollowbody cousins. Either way, the Eko cult is always on the lookout for slight variations in models. Certain colors, body shapes, and pickup combinations are prized above others. You Wisconsinites out there should rejoice because, back in the day, the famous Lo Duca Brothers in Milwaukee served as the main Eko pipeline to the states. I'm certain there are some legendary Eko guitars living the good life in closets and storage rooms up north!
Tonight, I'm going to pour a glass to all those cool Eko fanatics I knew back in the day, and their fascination with the extreme and obscure. The pre-internet days were certainly adventurous, and if you had a Kadett slung on your shoulder, you were about to become a member of a nice little club, whether you realized it or not.
See and hear this 1969 Eko Kadett demoed by Mike Dugan.
This original archtop Coronado's Vistatone pickups speak the language of Ry Cooder and other tone hounds.
Many of my favorite tales from instrument manufacturing history are connected to the Dopyera brothers. So many brands are linked to their family name that it's almost unimaginable. And that includes Supro, a classic brand that has experienced a modern renaissance.
Recently, this 1961 Supro Coronado electric guitar came through the doors at our shop. I mention that it's a guitar, because Supro also used the Coronado name for an amplifier—and, in fact, still does. But the Coronado electric 6-string was a staple of the company's catalog for years, and went through a variety of permutations, including the archtop design of this month's guitar and, by 1963, a Res-O-Glass version. There's even a current model inspired by the latter, called the Coronado II, that sports what the new Supro calls an "Acoustic-glass" top.
"At about $1,300, this 1961 Coronado is a great, cool-sounding, and affordable vintage American electric."
This class of '61 Coronado is a very cool guitar. But before I get too nuts-and-bolts deep, let's revisit the Dopyeras. By 1933, the family had lost and regained one of their most famous companies: the National String Instrument Corporation. And once they got National back, they merged it with Dobro, which brother John Dopyera had co-founded with two partners from outside the family in 1929. After the merger, the brothers moved the bulk of their operations from southern California to Chicago, where Louis Dopyera also relocated to head up operations.
By 1936, Louis noted the trend toward electric, amplified instruments and wanted to diversify to meet that growing demand. He partnered with Victor Smith and Al Frost to create Valco—an acronym for Victor, Al, and Louis. Valco quickly began producing instruments, amps, and accessories for a variety of other brands, including Harmony, Regal, and Montgomery Ward's Airline, but their own core brand was Supro.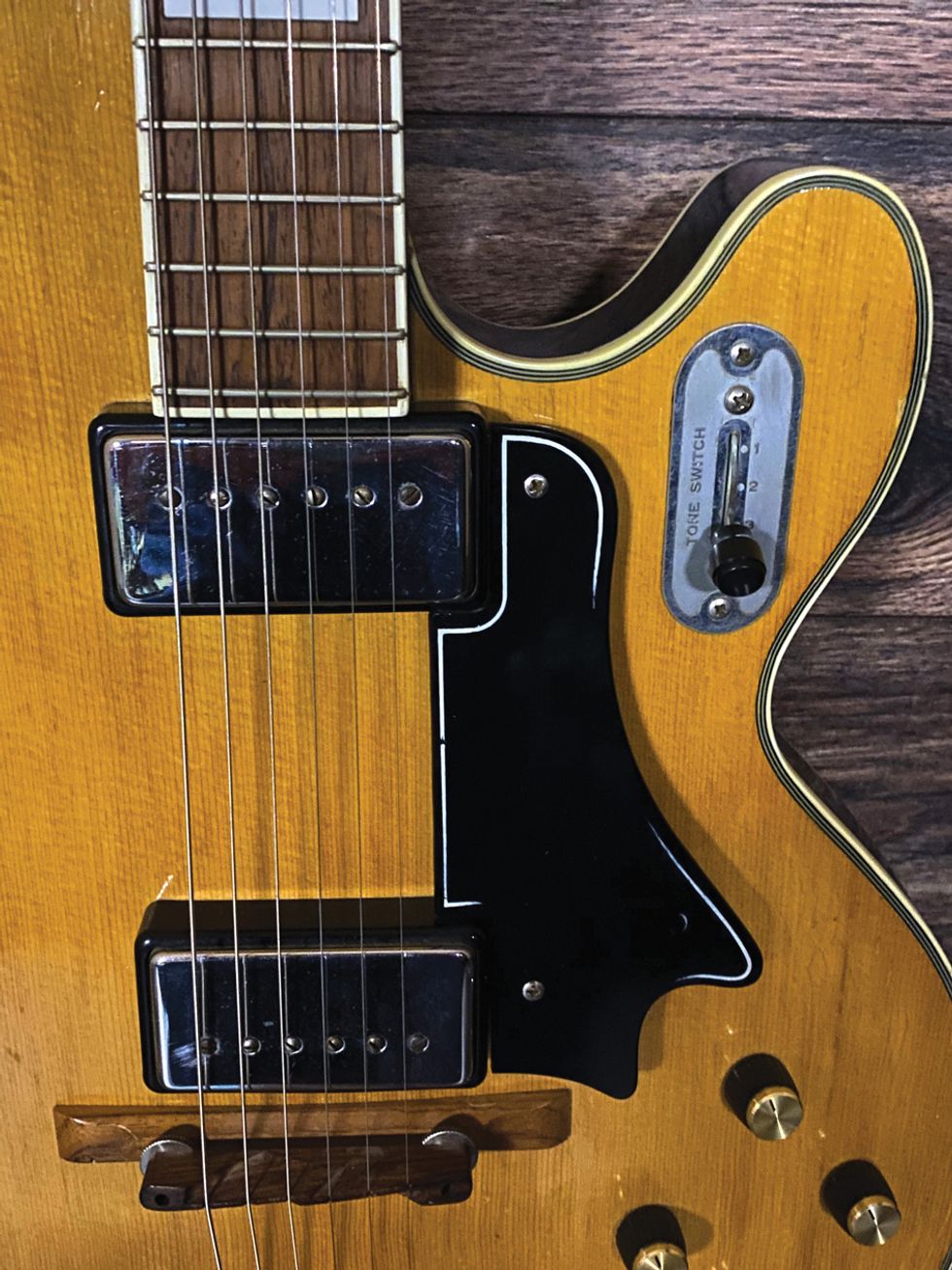 Supro labeled this model's 3-way pickup selector as the "tone switch," but tone is actually controlled by the two bottom speed dials. While the pickguard once bore the Coronado name, the Vistatone pickups are arguably the guitar's crowning feature.
I'm a huge fan of all Valco products, but Supro guitars are my favorite! So, let's get back to that '61 Coronado, which also happens to probably be my very favorite Supro 6-string. In 1960 and '61, the Coronado sported an arched spruce top, two volume dials, two tone knobs, and a 3-way switch labeled "tone switch" that was, obviously, a pickup selector. Our guitar has all of that, and two original Vistatone pickups, which look like humbuckers but are actually single-coils dressed in a humbucker-size cover. These were developed and patented in 1952 for Valco by Ralph Keller, to provide a big, fat sound not unlike Gibson's P-90s, which debuted in 1946. Vistatones are one of the things I really like about the old Supros I own. They provide a big, raw tone that's a slide player's dream. The lap-steel version of these pickups was made famous by Ry Cooder, whose modded "Coodercaster" guitars feature them in the bridge slot.
This month's Coronado has a few nicks here and there, but overall is in great shape. The model name has worn off the pickguard and the original tone knobs have been replaced, but Valco's OEM butterfly keys and the smaller "Gumby"-style headstock with a D-shaped neck gives the guitar a nice, slinky look.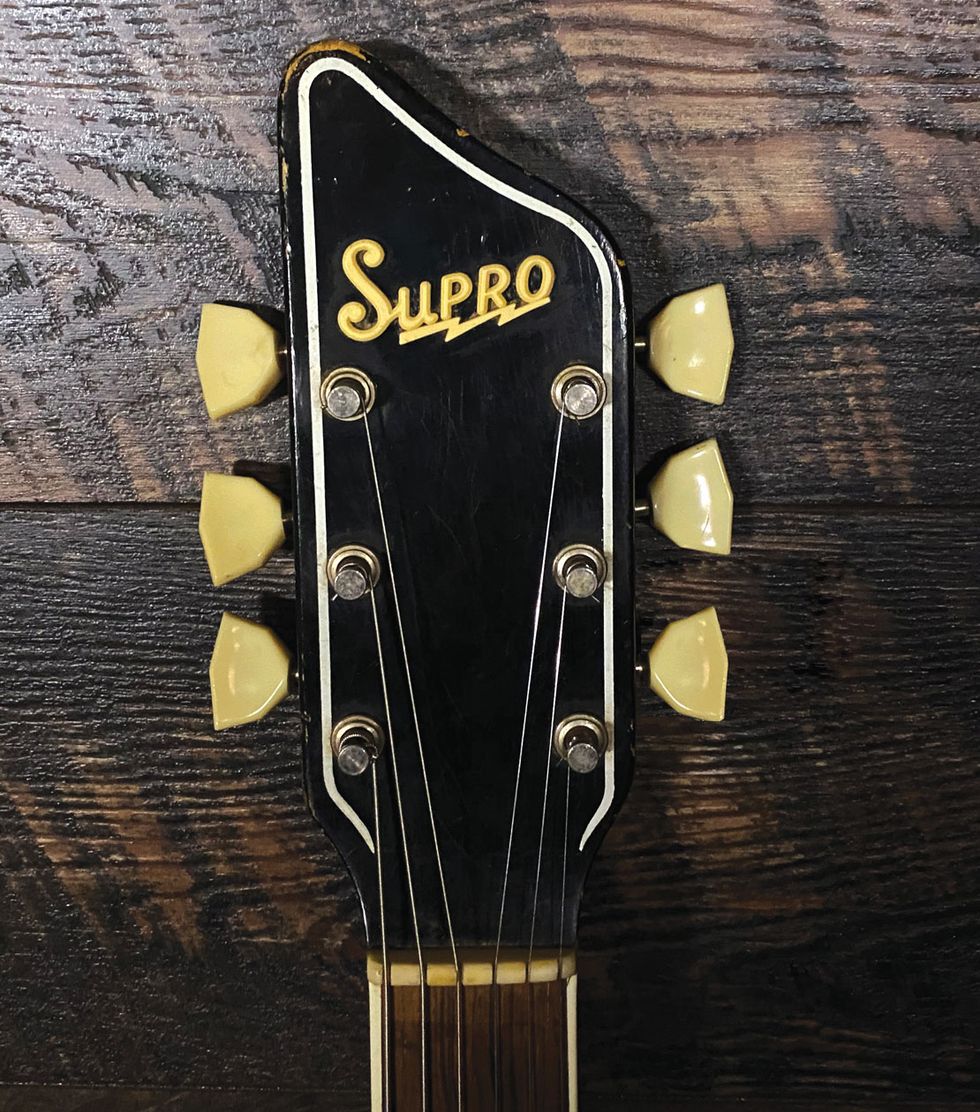 This headstock is classic vintage Supro: the "Gumby" shape with white trim, the lightning bolt logo, and butterfly tuners.
Sadly, like a lot of instrument companies in the late '60s (check out my narrative on Grammer's union with Ampeg in the September issue's Vintage Vault), a merger spelled the end of Valco. After Valco joined the Kay Musical Instrument Company in 1967, financial stress busted both companies. Here's an interesting sidebar: Famed Nashville musician Tut Taylor—who, along with his son Mark, was a builder of resonator guitars, banjos, and mandolins—bought a lot of Valco's machinery and materials at auction and moved into the old Grammer guitar factory in Music City to create Tut Taylor Music, which produced the Tennessee brand of instruments and would become Rich and Taylor in the '90s.
At about $1,300, this 1961 Coronado is a great, cool-sounding, and affordable vintage American electric. Over the decades, Jimmy Page, Jimi Hendrix, Dan Auerbach, Jimmy Reed, Howlin' Wolf, J.B. Hutto, and many other notable players have wrapped their hands around Supro models like this one. If you haven't tried this historic guitar or one of its siblings, you've got a treat just waiting for you.