Boss introduces a powerful new wireless desktop amp for guitar and bass.
Katana-Air EX delivers professional stereo sound and acclaimed Katana tones in a compact footprint, supported by a larger cabinet and other enhancements over the standard Katana-Air model. Advanced Boss wireless technology and integrated Bluetooth provide convenient cable-free operation, while the companion Boss Tone Studio app (iOS/Android) offers deep-sound editing and built-in tools for skill development with YouTube content.
In 2018, Boss introduced Katana-Air, the world's first totally wireless guitar amplifier. Katana-Air EX expands on the original model's impressive feature set with 35 watts of maximum power, increased fullness and sound projection, and additional recording and performance options.
Katana-Air EX has been engineered to provide an authentic stage-style playing experience in a desktop size. Two custom five-inch speakers are loaded into a carefully designed wood cabinet, generating full sound with rich resonance typically only available with performance amplifiers. Punchy, high-definition tones offer an inspiring platform for honing natural techniques, while the tuned bass-reflex port ensures tight bottom-end response for low-tuned guitar riffs and electric bass practice.
Katana-Air EX comes equipped with sounds derived from the Katana stage amplifiers, dialed in for maximum expression with its desktop cabinet. Five unique amp characters provide tones from sparkling clean to high gain, including a dedicated character for acoustic-electric guitar and bass. The amp also features access to 60 Boss effects, with a wide selection of overdrives and distortions plus mod, delay, and reverb effects optimized for the amp's stereo speaker system. Six onboard memories allow users to store their favorite amp and effects setups for instant recall.
Boss Katana-Air EX | The freedom of wireless
With onboard Bluetooth, Katana-Air EX users can wirelessly connect with the Boss Tone Studio app and play along with songs streamed from a mobile device. It's also possible to record tracks directly to computer music software via USB and use the stereo line output with mic'd cab emulation for live performances in direct-to-PA setups. Going further, Katana-Air EX does double duty as a high-quality portable Bluetooth speaker for casual listening.
The dedicated Boss Tone Studio app provides complete wireless control of Katana-Air EX from a smartphone or tablet. Users can adjust amp settings, customize effects, and access deeper functions only available from the app. Integrated YouTube support energizes daily practice sessions with the ability to watch videos, create song lists, loop sections, and more. It's even possible to change sound memories automatically during video playback, providing an inspiring hands-free experience when jamming along with popular songs and backing tracks.
Katana-Air EX can be powered with the included adaptor or via eight AA batteries or an optional Roland BTY-NIMH/A Rechargeable Amp Power Pack for completely wireless operation.
The new Katana-Air EX Wireless Guitar Amplifier is available now for purchase at authorized U.S. Boss retailers for $599.99. To learn more about Katana-Air EX and the original Katana-Air, visitwww.boss.info.
Cut the cord and run wild and free.
Always ahead of the curve, guitarists were going wireless long before tablets and cell phones. This month, we've put together a list of 10 wireless systems that'll let you roam without the worry of getting tangled up.
LINE 6
Relay G70
Offering eight-plus hours of battery life, this rugged stompbox-format system features support for multiple instruments with its programmable presets for signal routing and levels.
$399 street
line6.com
SENNHEISER
XSW2-CI1
Sennheiser's latest includes a compact, sweat-resistant body transmitter and a rugged, metal-enclosed receiver that boasts an intuitive LCD and 12 compatible channels in a stable UHF band.
$349 street
sennheiser.com
SHURE
GLXD16
The GLXD16 is a pedal-style system that operates in the 2.4 GHz spectrum, offers up to 16 hours of run time on the lithium-ion battery, and features an integrated tuner.
$449 street
shure.com
XVIVE
U2
This compact, simple system delivers a frequency response of 20 Hz to 20 kHz, offers a 100-foot range, and provides up to five hours of run time on its rechargeable batteries.
$149 street
xviveaudio.com
PRA AUDIO SYSTEMS
WiC
The WiC setup uses 2.4 GHz wireless technology and boasts simple one-touch connectivity, a range of up to 500 feet, and over 20 hours of use per battery charge.
$299 street
praaudio.com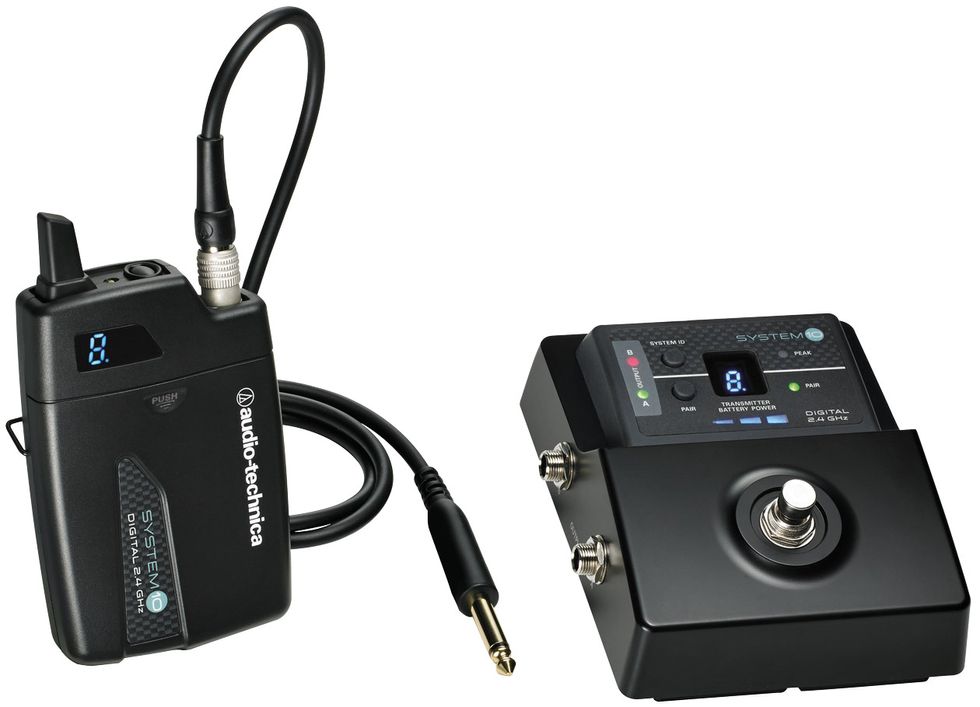 AUDIO-TECHNICA
System 10
A-T's 2.4 GHz system features a pair of balanced 1/4" outputs and an output-mode selector so players can toggle between the two for a dual-amp setup or mute an output for convenient tuning.
$299 street
audio-technica.com
SAMSON
Concert 99 Guitar
This UHF-frequency system is simple to set up thanks to the group-scan and IR-sync functions, and its transmitter features a gain control, mute button, and 300-foot range.
$279 street
samsontech.com
AUDIX
AP61 Guitar
With 14 hours of run time on two AA batteries, the AP61 has 207 pre-coordinated frequencies for quick and easy setup, and features one-touch syncing.
$579 street
audixusa.com
ONBOARD RESEARCH
Intellitouch Freedom One
The affordable Freedom One has a range of 30 feet and consists of a compact wireless transmitter and a pedal-tuner receiver. The transmitter run time is about 10 hours on a single AAA battery.
$71 street
onboardresearch.com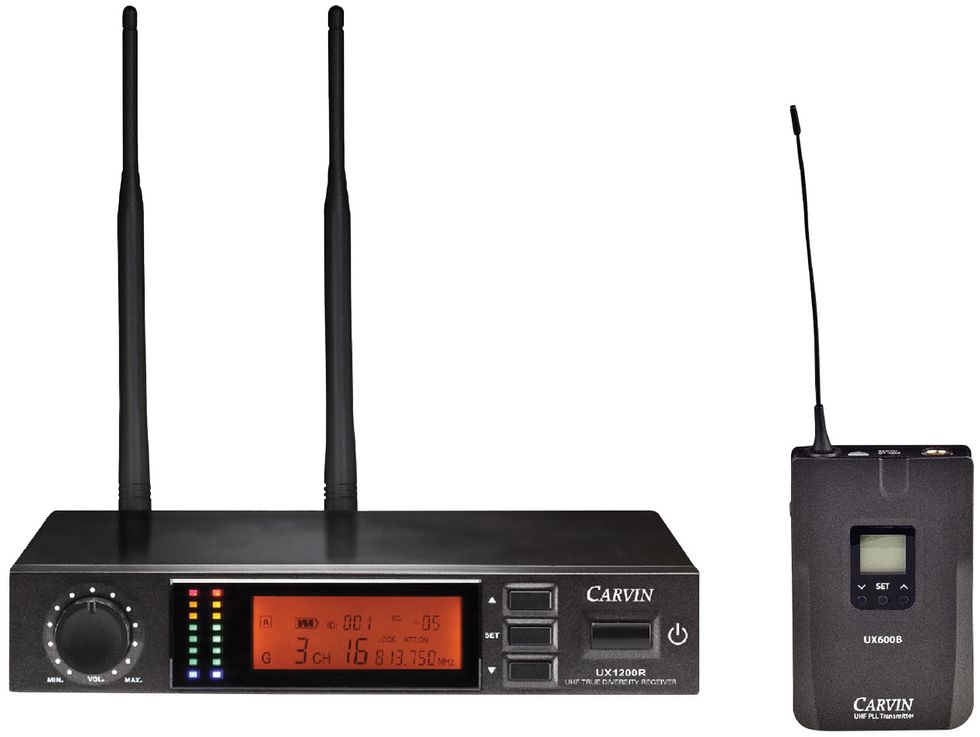 CARVIN AUDIO
UX1200B
This system's receiver has a user-friendly backlit LED display and features two completely independent RF receivers to help reduce possible dropouts or interference.
$298 street
carvinaudio.com
The FC-1 Controller features a bright, graphic display that shows patch name and number, plus a useful selection of status indicators.
Anaheim, California (January 13, 2016) --With the new TriplePlay FC-1 Controller, players can now extend the capability of the award-winning TriplePlay Wireless Guitar Controller and breathe new life into their MIDI gear and performances.
MIDI synths and sound modules can be played wirelessly with a TriplePlay-equipped guitar, eliminating the need for bulky cables and connectors. With the addition of the FC-1 Controller directly controlling the player's sound sources from the floor, guitarists no longer have to bring their computers to the stage. Three assignable footswitches let users step through TriplePlay patches, change presets on MIDI devices, control Hold and Loop functions and more.
The FC-1 Controller features a bright, graphic display that shows patch name and number, plus a useful selection of status indicators, including MIDI activity, TriplePlay battery level, and the position of the Guitar/Mix/Synth switch on the controller. It also provides access to the TriplePlay built-in tuner and allows easily routing of a guitar's pickups through the integrated relay switcher to enable mixing of guitar and MIDI sounds.
The FC-1 also connects to a DAW as a USB peripheral, extending the functionality of the TriplePlay software by providing stomp-box style footswitches, expression pedal input, and a class compliant MIDI interface. Using the included Mac/Win utility software enables users to customize the footswitch functions to suit their needs.
Ready for use right out of the box, and housed in a smart, road-ready design, the TriplePlay FC-1 Controller is ready to become the center of anyone's live or studio rig.
The TriplePlay FC-1 Controller is a wireless host for the TriplePlay Wireless MIDI Guitar Controller that features three programmable foot switches, MIDI In/Out, Relay-switched 1/4 inch Guitar In/Out, expression pedal Input and a 192 x 64 backlit graphic LCD display. Patch manager software included.
Price: $MSRP: $319.99 - MAP: $199.95
For more information:
Fishman