Tools for the Task: Wireless Guitar Systems
Cut the cord and run wild and free.
Always ahead of the curve, guitarists were going wireless long before tablets and cell phones. This month, we've put together a list of 10 wireless systems that'll let you roam without the worry of getting tangled up.
LINE 6
Relay G70
Offering eight-plus hours of battery life, this rugged stompbox-format system features support for multiple instruments with its programmable presets for signal routing and levels.
$399 street
line6.com
SENNHEISER
XSW2-CI1
Sennheiser's latest includes a compact, sweat-resistant body transmitter and a rugged, metal-enclosed receiver that boasts an intuitive LCD and 12 compatible channels in a stable UHF band.
$349 street
sennheiser.com
SHURE
GLXD16
The GLXD16 is a pedal-style system that operates in the 2.4 GHz spectrum, offers up to 16 hours of run time on the lithium-ion battery, and features an integrated tuner.
$449 street
shure.com
XVIVE
U2
This compact, simple system delivers a frequency response of 20 Hz to 20 kHz, offers a 100-foot range, and provides up to five hours of run time on its rechargeable batteries.
$149 street
xviveaudio.com
PRA AUDIO SYSTEMS
WiC
The WiC setup uses 2.4 GHz wireless technology and boasts simple one-touch connectivity, a range of up to 500 feet, and over 20 hours of use per battery charge.
$299 street
praaudio.com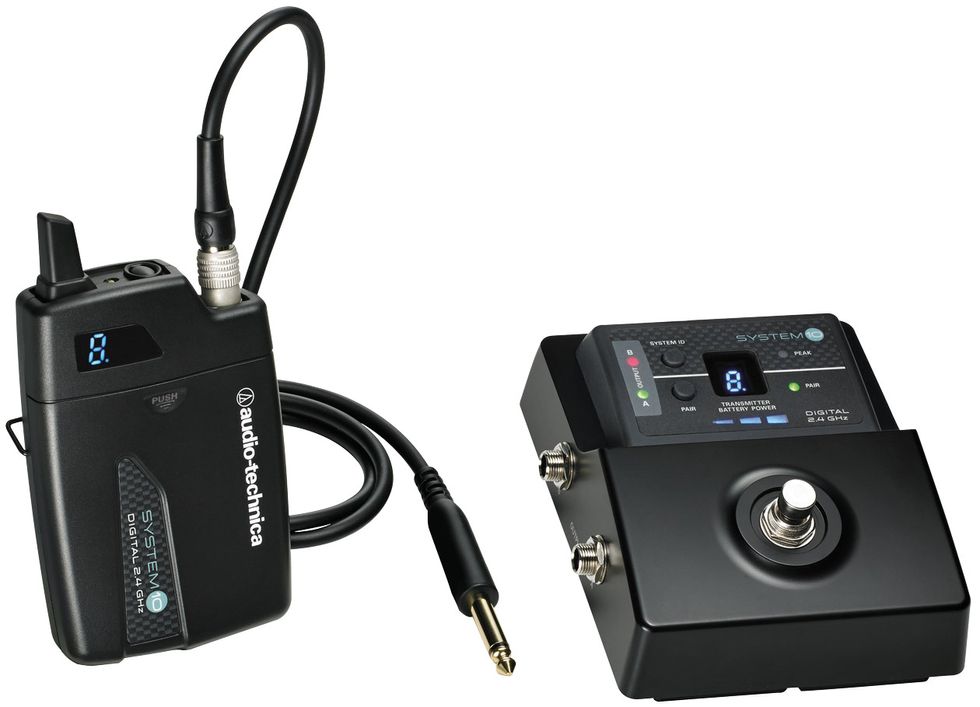 AUDIO-TECHNICA
System 10
A-T's 2.4 GHz system features a pair of balanced 1/4" outputs and an output-mode selector so players can toggle between the two for a dual-amp setup or mute an output for convenient tuning.
$299 street
audio-technica.com
SAMSON
Concert 99 Guitar
This UHF-frequency system is simple to set up thanks to the group-scan and IR-sync functions, and its transmitter features a gain control, mute button, and 300-foot range.
$279 street
samsontech.com
AUDIX
AP61 Guitar
With 14 hours of run time on two AA batteries, the AP61 has 207 pre-coordinated frequencies for quick and easy setup, and features one-touch syncing.
$579 street
audixusa.com
ONBOARD RESEARCH
Intellitouch Freedom One
The affordable Freedom One has a range of 30 feet and consists of a compact wireless transmitter and a pedal-tuner receiver. The transmitter run time is about 10 hours on a single AAA battery.
$71 street
onboardresearch.com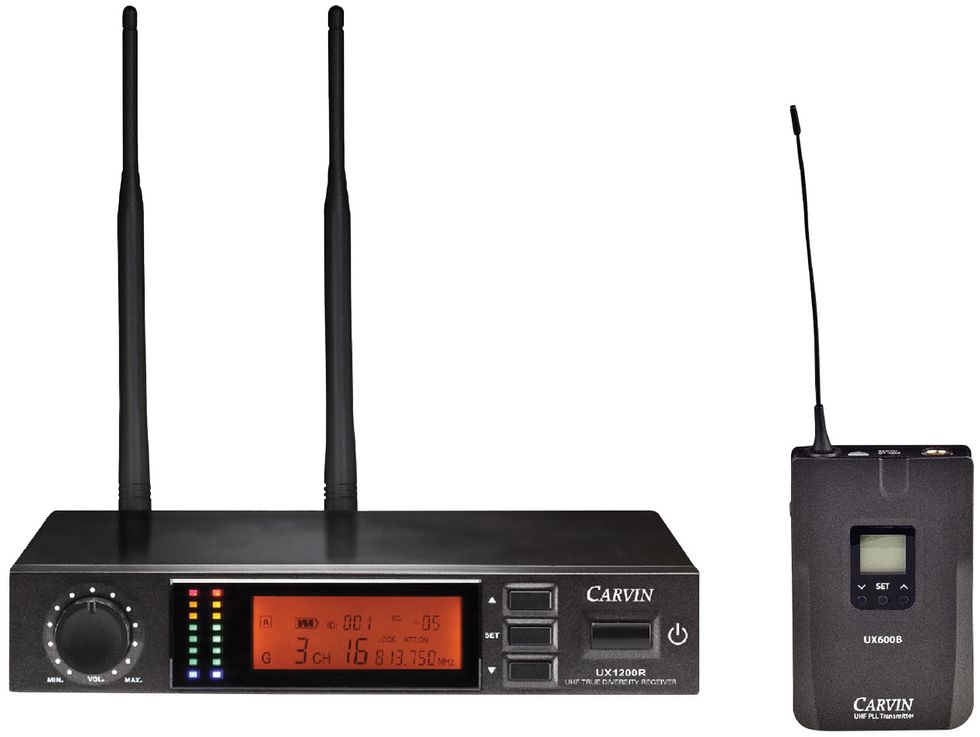 CARVIN AUDIO
UX1200B
This system's receiver has a user-friendly backlit LED display and features two completely independent RF receivers to help reduce possible dropouts or interference.
$298 street
carvinaudio.com