When it comes to fine-tuning your tone, guitarists often forget the value of a good speaker. ToneSpeak's new models offer a wide range of versatile end-of-the-signal-chain options, in classic to fresh flavors.
Electric guitarists are constantly on a tone quest, but too often we forget to look in the most obvious place: our amp speakers.
In many ways, this oversight is totally understandable. Hey, it's easy to obsess about a gorgeous instrument sporting a flame maple top or classic vintage vibe. And there's a vast array of pedals and effects out there screaming for our attention. (Yes, we used "screaming" intentionally. Please don't hate us.) Of course, pickups, strings, cables, amplifiers, and preamps also have a big impact on our tone.
However, it's important to remember that
every
item in our signal chain eventually goes through our amp's speaker­—the crucial transducer that converts electrical impulses into sound.
The speaker always gets the final word in our musical conversation. It is literally the last piece of gear that we control before our playing reaches the listener's ears or the sound engineer's microphone. And if we're wondering how to upgrade our overall sound—or breathe new life into a battle-weary amp—maybe it should be the first place we look for answers.
ToneSpeak, a newly launched speaker company based in Minnesota, aims to give you some great new options when you select that all-important piece of gear. Since the company's birth in 2021, their goal is to provide speakers that are clearly rooted in classic sounds, but with unique tones of their own.
Modern Speakers Saluting Iconic Predecessors
ToneSpeak's Liverpool 1275—a 12" speaker designed to appeal to Vintage 30 users—provides a case study in the approach. "In selecting what models we wanted to build," explains Anthony Lucas, ToneSpeak's senior transducer engineer, who designed the new speaker line, "we started with American and British roots. We didn't want to copy anything. If you want a Vintage 30, then you should get one from Celestion. It's a great speaker. But we were okay with using a Vintage 30 and a Greenback as an inspiration, to provide a baseline. The first prototype sounded too much like a Vintage 30"—he laughs—"and we knew we didn't want to do that. We ended up giving the Liverpool warmer, smoother upper mids and highs, and a bit more lows."

Lucas knows his stuff: He designed products at Eminence in the U.S. for years before departing the company in 2020 and building the new ToneSpeak line, with help from another former Eminence colleague, Josh Martin.
"At this company, most of us are musicians and involved in music," says Lucas, "and all of us speak the language of tone, so that's how ToneSpeak came about. We talked to musicians and manufacturers and asked what they liked and didn't like about various speakers. We tried to respond to them by keeping what they liked and improving on the things that they didn't."
Plenty of 12" Options—and Other Sizes, Too
The Liverpool 1275 is one of five 12" speakers in the growing ToneSpeak line. Other models include the British-inspired Birmingham 1275—a natural fit for fans of the G12H Greenback, with balanced, throaty midrange and lots of articulation—and the formidable Manchester 1290. A high-powered brute, the Manchester will appeal to any player who loves the Celestion Classic Lead but seeks a bit more flexibility. "The common complaint about high-powered speakers is that they sound sterile unless you push them pretty hard," notes Lucas. "So, we designed the speaker to sound very musical even at lower volume, while still being able to handle 90 watts and sound great. It's probably our most balanced, most transparent speaker in the whole line."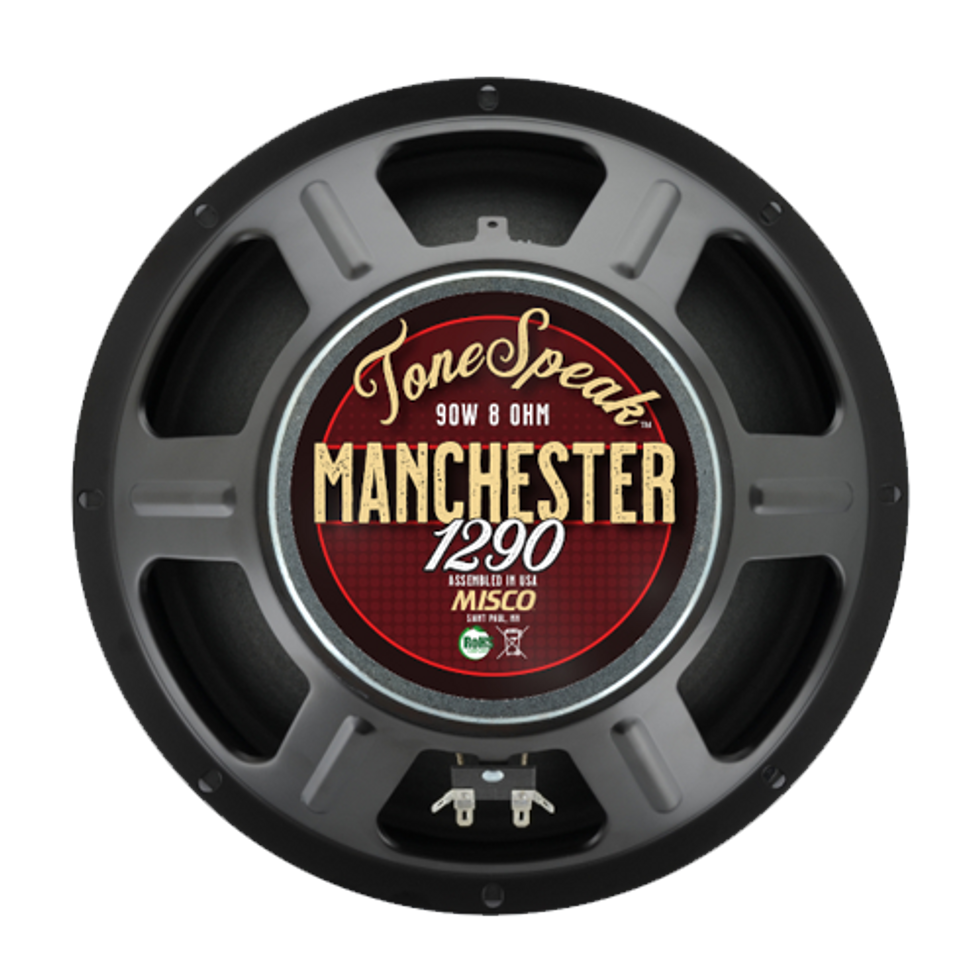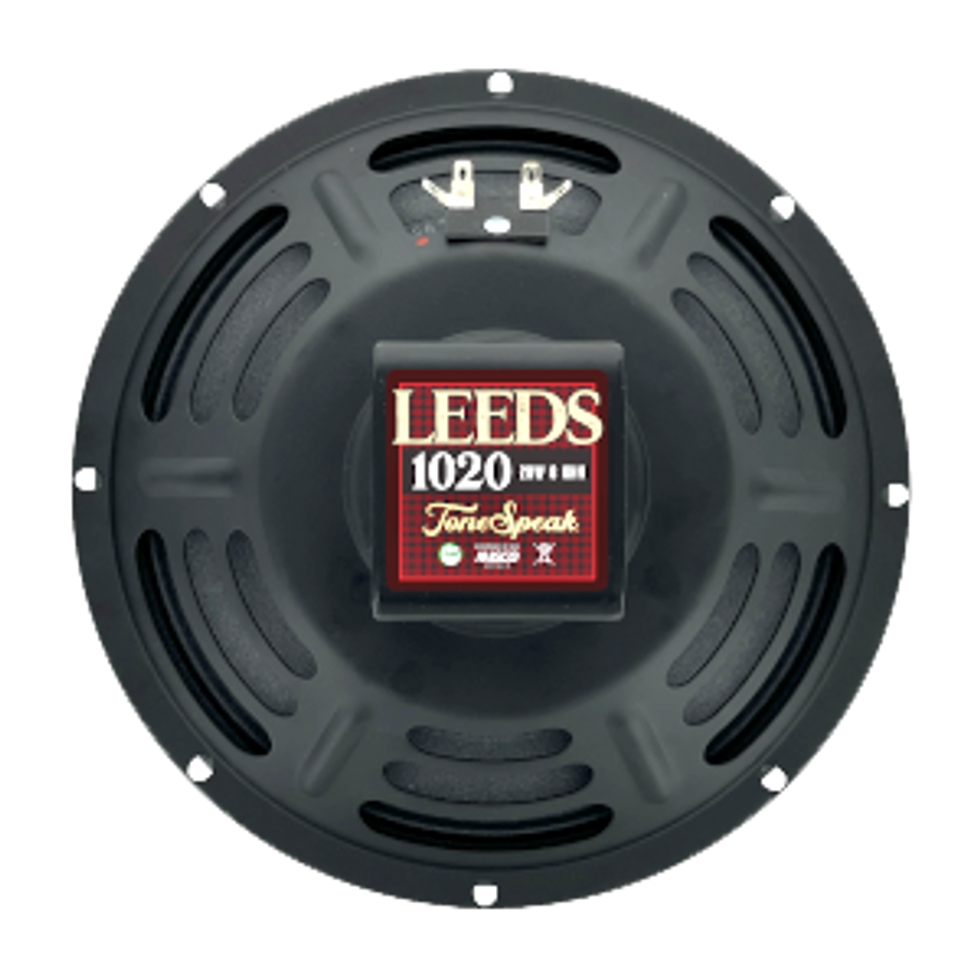 If you've got a 4x12 closed-back cab that could use an upgrade, ToneSpeak's Birmingham or Liverpool models are your go-to options for classic tone bliss. And if you want to raise the aggression factor a notch or two—while still sounding great at lower volumes—the Manchester might be your cup of tea.
ToneSpeak: The Chris Condon Demos
Seeking a specially individualized tone that perfectly fits your unique style? Blending two different speakers with varying tonal characteristics in a 2x12 or 4x12 cabinet can produce amazing results. Just ask Robben Ford: He's using the Austin 1250 and the Manchester 1290 in his Little Walter 2x12 cabinet.
On the other hand, if you're outfitting an open-backed combo, ToneSpeak's 12" offerings include a pair of American-based speakers: the Austin 1250 (the same one Robben Ford uses—see above) and New Orleans 1250.
The Austin harkens back to the classic Eminence GA-SC64 speaker. Looking to upgrade your Deluxe Reverb? This is the ticket. "The Austin 1250 is more or less transparent, so you really hear the amp," explains Lucas. "We brought the mids up—because guitar is a mid-dominant instrument—so they're more forward and clear without being harsh. The highs are really open and it's very solid in the lows."
ToneSpeak: The John Szetela Demos
The New Orleans is designed for players who like the smoky, subtle tone of a hemp cone. "We felt that other hemp-cone speakers are a bit too dark," says Lucas, "so we designed our hemp cone to have a more open sound. It's still warm and smooth, but it fills the room and takes to distortion really well. The high end doesn't sound like it has a blanket put on it."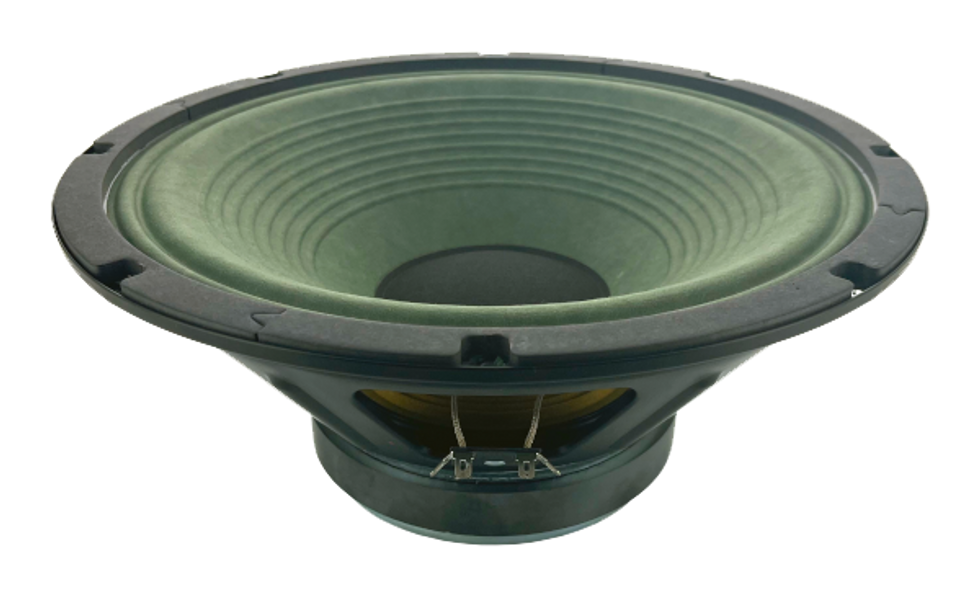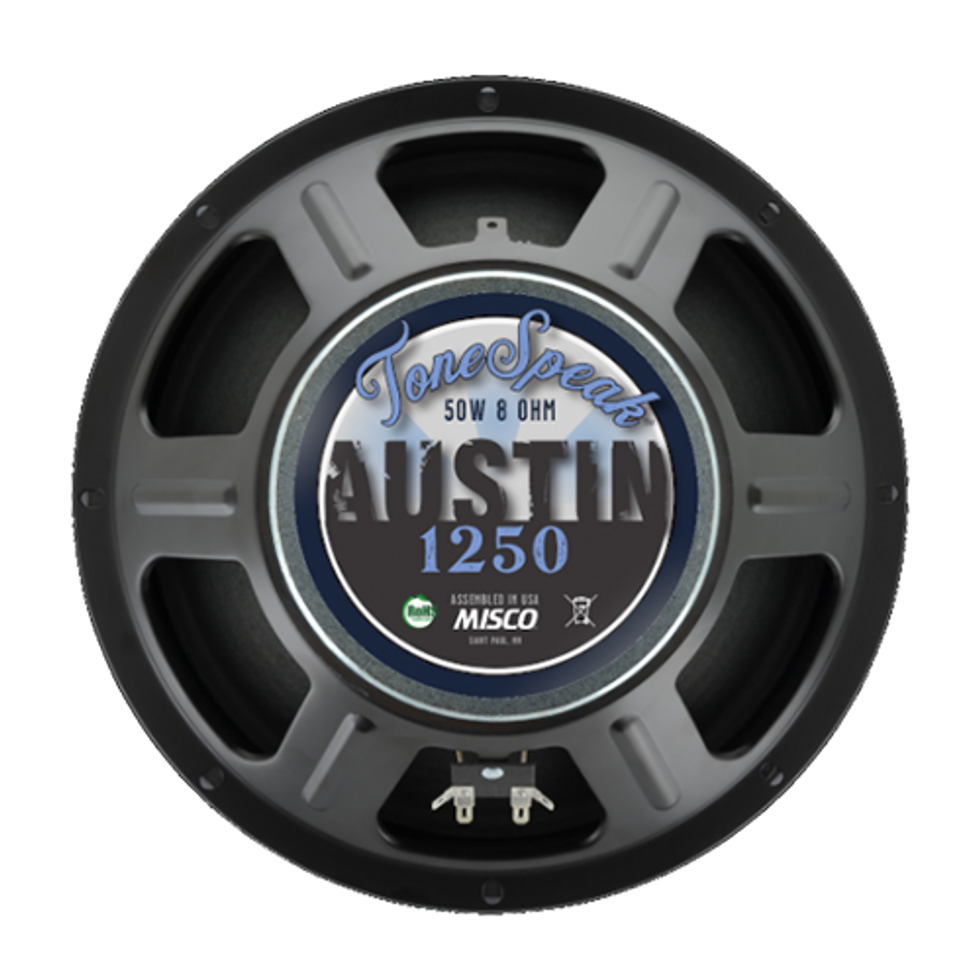 ToneSpeak also offers a range of speakers in other sizes. The company's four 10" models include American-inspired options (the Boston 1020 and Minneapolis 1050) and British voicings (Leeds 1020 and Glasgow 1050). And a pair of 8" models include a British-inspired Belfast 820 and American-voiced Detroit 820, with a hemp-composite cone that makes it perfect for Tweed Champ enthusiasts.
In designing the broad range of ToneSpeak's product line, Lucas considered all of the components that go into a guitar speaker and affect its tone: cones, coils, and spider suspension. He also delved into a factor that might not be familiar to most players: edge doping—treating the edges of the speaker cone with a substance that works as a shock absorber, to keep the cone under control at high volumes. "We compared a few different edge dopings, which have a big impact on defining upper mids and highs. They can sometimes roll off the highs too much if you're not careful. We developed our own proprietary edge doping, which I'm really proud of. It makes a big difference in the sound of the speakers and we're using it on the entire line, except for the New Orleans hemp-cone speaker, which sounded better without any doping at all."
If you're wondering how a brand-new speaker company can offer so many models so quickly, the answer is simple: They are allied with the long-established builder MISCO, aka the Minneapolis Speaker Company.
An Ongoing Legacy of U.S.-Made Speakers
Launched in 1949 by Cliff Digre, a World War II veteran with a deep interest in electronics, MISCO has been led by Cliff's son, Dan Digre, since 1990. The company builds a dizzying array of products and speakers for a variety of industries—including aerospace—many of them far-removed from the musical instruments realm.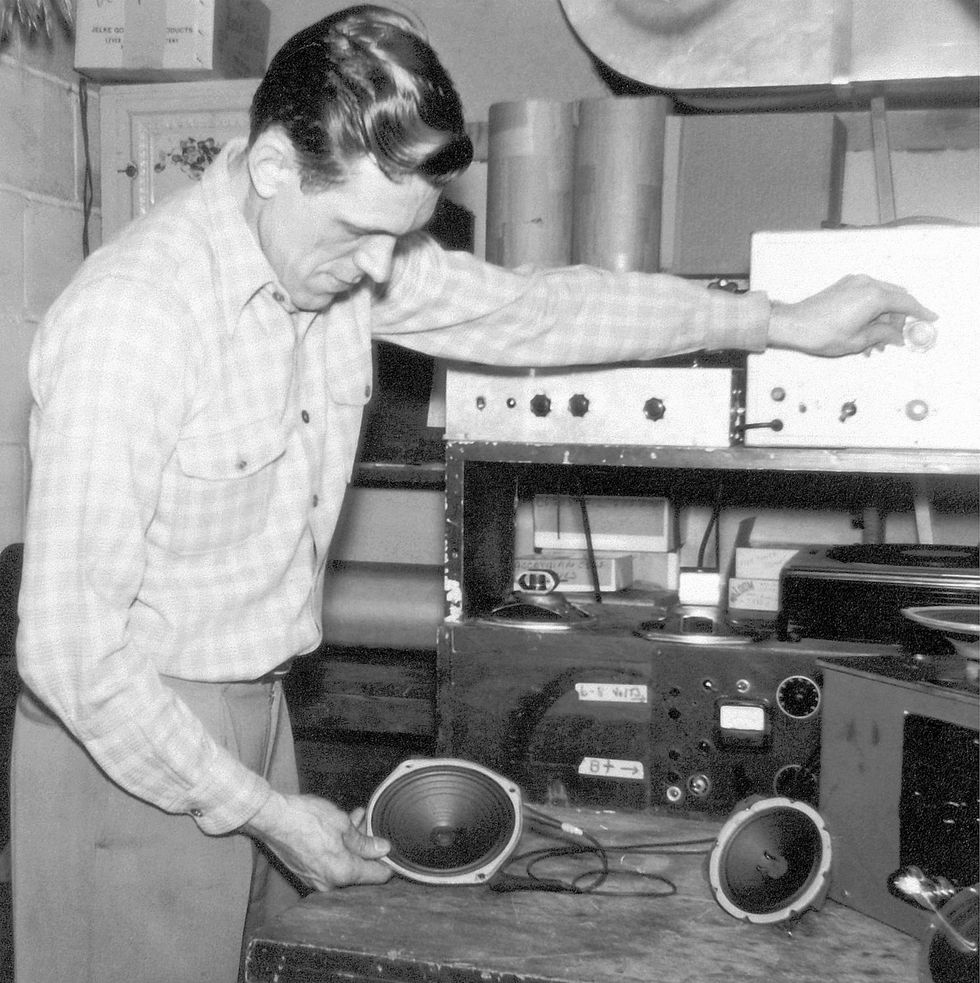 MISCO founder Cliff Digre tests an early speaker in his workshop.
However, MISCO has been making OEM guitar speakers for more than 60 years, and in the 1960s even had its own brand of speakers called Redline, that featured red cones. So, when MISCO partnered with Anthony Lucas to launch the ToneSpeak brand, the company possessed decades of know-how in the guitar-speaker arena. It was a perfect opportunity to fill a need in the marketplace. "Anthony had a lot of experience designing speakers when he worked at Eminence," notes Digre. "For decades, our core has been OEM, which by its nature means people are asking you to do things for them. ToneSpeak exists because the market was asking for some alternatives to what was out there, with an American brand behind it."
Digre readily acknowledges that building guitar speakers presents a unique set of challenges—starting with the end user's tastes and preferences. "Guitarists have an amazing sensitivity to tone color. These players have fabulous ears—they're very discerning, and I have a great respect for them. The philosophy of designing a guitar speaker is different from almost any other type of speaker because it's part of the sound of the instrument. Most other speakers are designed for the signal to pass through it as uncolored as possible. But the guitar speaker requires the color of the driver to become part of the instrument. And it's not a commodity: You need to be able to consistently, repeatedly replicate the tone color. Controlling the variables that affect tone color is very important. MISCO has the means of measuring and controlling those factors."
The Science Behind the Speakers
MISCO's engineering and manufacturing expertise is the secret sauce behind ToneSpeak's rapid rise. "There's some serious engineering in this company used by a lot of different industries," Digre admits. "MISCO builds the speakers for NASA. They're used in the space station and the Orion spacecraft that's going to land on Mars one day. While those aren't musical products, they do require a very specific set of attributes. These are very demanding applications, and your quality really has to be top notch."
Those high standards inform the entire approach behind ToneSpeak. "Whether we're building a speaker for a spaceship or a guitar amp, we're devoting the same attention to detail and consistency," Digre says. "One of our brands uses the phrase 'Our Science, Your Music.' That philosophy applies equally to ToneSpeak. We've got the science of design, the science of manufacturing, the science of testing—but they're all in the service of music. By design, I want musicians to be in this company, because a musician is going to understand a lot of things that a pure engineer is not. We need to have the musical perspective embedded into the DNA of the company."
Digre's outlook is perfectly aligned with Lucas' stance on speaker design, and the satisfaction he gets when they've nailed the formula just right. "I get a smile when a real player gets a hold onto a tool that I've made and they connect with it," Lucas says. "You can always tell by watching and hearing them. They can't stop playing. They're hooked. It's like they get lost in the music. That what really brings me joy as a designer. I've done my job."
Ultimately, electric guitarists are the beneficiaries of this approach. Whether you're upgrading your main gigging amp—or resuscitating a garage-sale find—you'll find a new range of options in the ToneSpeak line. So, roll up your sleeves, have some fun, and crank it up. Great tones are waiting for you!
To find a speaker that completes your sound, head over to ToneSpeak.com
Handwired in small batches, the AxLabs Habanero-loaded pickguard system features all top-shelf components including USA-made Habanero Serrano Pickups from the legendary GroverJackson, a Pure Tone multi-contact output Jack, custom AxLabs switches and potentiometers, Orange Drop capacitor, and Gavitt cloth jacketed wire.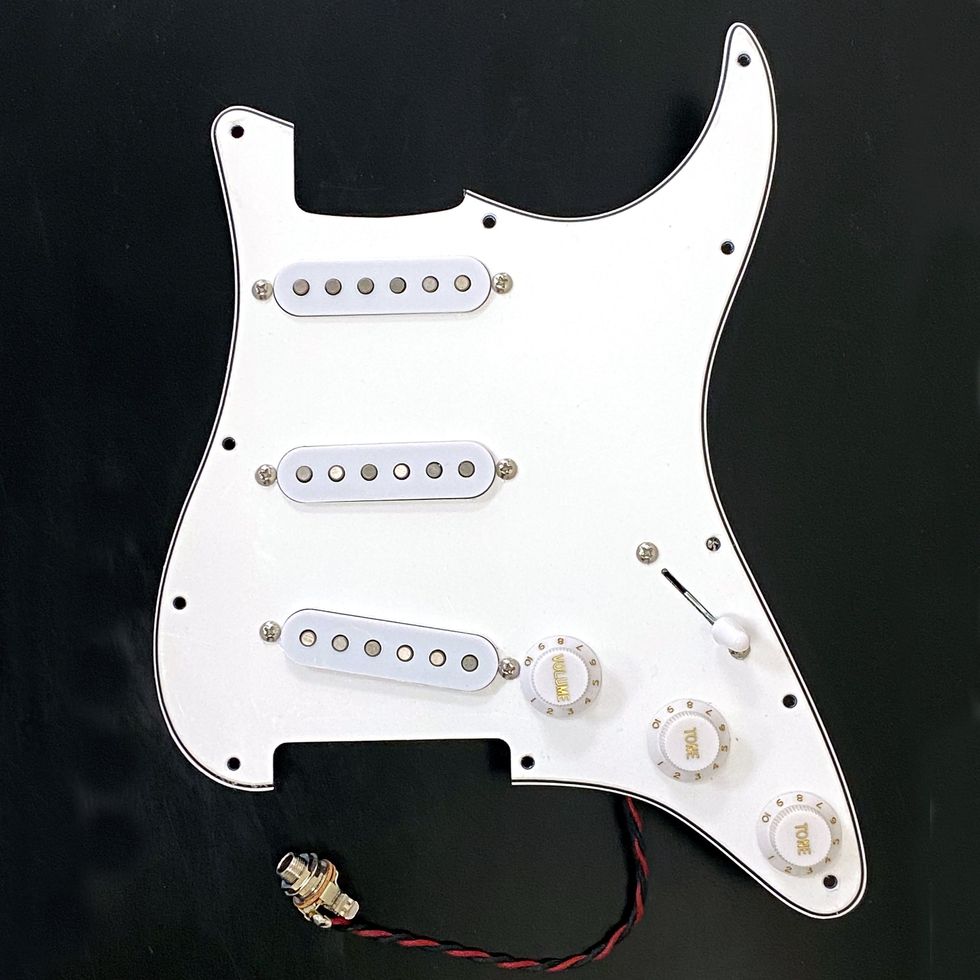 AxLabs Hardware is celebrating their official launch with the release of the Habanero by Grover Jackson prewired pickguard. Standard 8 (vintage) and 11 (modern)mounting hole patterns will allow for drop-in fitting on most S-type guitars. Installation can be completed in mere minutes!
Habanero Serrano Pickups by Grover Jackson
The Habanero Serrano Single Coils are Grover Jackson's own Texas-style, high-output take on the classic designs from the 50s and 60s. Utilizing his decades of experience and passionate knowledge of the instrument, the Serrano pickups are designed and handmade in California with all top-shelf alnico magnets, bobbins, and wire.
Using Alnico III magnets, the fuller and warmer tones offer the right amount of fatness for the modern player while still retaining the chimey high end of the classics. The neck has warmer bubbliness, the middle pup harnesses a fatter midrange, and the bridge cuts through the tastebuds with stinging clarity. And when combined in a set, positions 2 and 4 give off those prototypical "out-of-phase" chucks of yesterday with a distinctively modern flavor. Grover also modified the staggering of the pole pieces to better suit modern neck shapes and string gauges than its vintage predecessors.
Custom AxLabs Potentiometers
Unlike any other potentiometers on the market, AxLabs pots were specifically designed for electric guitars with painstaking attention to detail.
Featuring the first completely linear taper available, the AxLabs volume control offers the smoothest (and most musical) feel without any of the lag normally associated with turning the knobs. Volume swells are now 100% linear whereas tone controls retain the classic audio taper.
AxLabs potentiometers also feature machined brass shaft sleeves and are lubricated with 3different types of grease used in specific areas of the moving parts for ultra-smooth rotation. Shafts are then reinforced with a retainer ring positioned for strength and to reduce friction. Lastly, a nickel-plated steel housing was used for the ease of gripping solder as well as the classic, high-end look of vintage pots.
Pure Tone PTT1 Output Jack
A modern-day classic, the patented Pure Tone full-contact jack contains dual tension grounds and dual positive tips for optimal signal flow and lowest possible noise. 100% greater surface area at all contact points creates a more stable connection while eliminating frequency spikes. No more noise crackle caused by pressure grounds!
For more information, please visit axlabshardware.com .
Breedlove's new USA-made travel-sized companion guitar is taking center stage.
Small-bodied acoustic guitars inhabit a unique place in the world of 6-strings. For some, they are the secret weapon that gives their music a unique character. Unfortunately, other guitarists consider them starter guitars, toys, or a compromised design that is only good for travel. We firmly belong to the former category, believing these guitars can be as fine as any other acoustic-guitar body shape. Their usefulness as travel acoustics and beginner guitars is just one more reason to love them.
Lately, we're happy to have seen a shift in guitarists' perspectives on these acoustics. It's not uncommon to see major artists toting their favorite small-bodied guitars on massive stages around the world. They don't need a small guitar for convenience's sake. They love the tone, which, due to their typically brighter sound, can sit exceptional well in live or studio mixes.
With that in mind, we wanted to take a deeper look at small-bodied acoustic guitars' history, present, and future. We'll discuss where they came from, who they're suitable for, and why now is the perfect time for Breedlove to release high-end, small-bodied USA-made masterpieces, like the Premier Companion E Red Cedar-Brazilian LTD, alongside a collection of Custom Shop stunners.
The Small-Bodied Acoustic Guitar: A Quick History
There are a handful of genuinely iconic acoustic guitar body shapes, each famous for a different reason. The dreadnought offers an outstanding balance of power, low end, and clarity. Orchestra models are incredibly versatile. And it's hard to beat a jumbo for rhythmic punch.
Those shapes deserve all the recognition they enjoy. But smaller shapes shouldn't fall under the radar. Robert Johnson's L-1 launched much of the blues—and therefore, much of modern, popular music—into mainstream culture. Singer-songwriting icon Joan Baez has her own signature Martin 0-45. Nick Drake even put his Guild M-20 on the cover of his 1971 album, Bryter Layter. But it's still a niche instrument. And you can't mention small-bodied acoustic guitars without discussing the parlor shape.
The Parlor Acoustic Guitar
The parlor is the quintessential small-bodied acoustic guitar shape. Its compact dimensions and elongated lines are more closely related to the first steel-string acoustic guitars than any other popular shape today. Like many modern, smaller guitars, it got its good looks by putting convenience first, gaining its notoriety as the centerpiece of at-home family entertainment. Before TVs, smartphones, video games, and streaming, families would gather in their parlors (hence the name) while Mom or Dad played and sang for the family.
The guitar's diminutive size made it perfect for storing out of the way until needed. These original parlors were quality musical instruments with a beautiful voice. That voice and the parlor's convenient size continue to inspire all the small-bodied acoustic guitars made today.
The Benefits of Small-Bodied Acoustic Guitars
We'll get into the tone of small-bodied guitars in a bit, especially when we discuss our latest addition to the design. Still, we need to consider the pragmatic benefits of owning one of these acoustics.
Travel Acoustic Guitars
One of the parlor acoustic's key features was its ability to stay out of the way. That quality is more important than ever these days. Whether cramming in a band van, camping/overlanding, or fighting for overhead storage on a flight, a great, small travel guitar is worth its weight in gold. It's a big reason we designed our Companion models. They're easy to carry, small enough to store, and are still premium acoustic guitars that we're proud to put our name on.
Ideal for Guitarists with Smaller Hands
Diversity is one of the most beautiful things about humans. This, of course, also goes for guitarists and means that different guitarists have different preferences for the guitars they play. Many beginning players, children, and anyone who finds full-size acoustics cumbersome flock to small-bodied acoustic guitars. Designs like our Concertina are ideal for these players as they offer a full-scale length while being easier to play, more comfortable against your body, and feature an accessible, inviting neck profile.
The Tone of Small-Bodied Acoustic Guitars
The above benefits are fantastic reasons to choose a smaller guitar. However, the size can still bring a stigma that these guitars are cheap, beginner guitars that always require tonal compromise. It simply isn't true, and, increasingly, guitarists embrace the small-bodied design these days strictly for tonal purposes.
Excellent small-bodied acoustics, like parlors, the famed L-1, and our Concertina and Companion models, sing with a deep, rich tone, crystalline highs, and a signature midrange that's positively addicting. It is perfect for the rootsy tones of Robert Johnson's delta blues, and it sits beautifully in a full band mix while offering the folksy character many singer-songwriters crave.
Premier Companion E Red Cedar-Brazilian LTD
We want the world to know more about these beautiful, compact instruments and to demonstrate how inspiring they can be. The new Breedlove Premier Companion E Red Cedar-Brazilian LTD is our realization of that goal. Crafted from the finest materials, we spared no expense in offering guitarists a small-bodied acoustic guitar with impeccable quality only matched by its aesthetic and sonic elegance.
The first thing you'll notice about the guitar is its beautiful, all-solid Brazilian rosewood back and sides. This exceedingly rare tonewood is famous for its sustain, bell-like response, powerful low end, and string-to-string definition. Though rarely seen on modern, smaller guitars, it is a crucial element that makes this Companion pure magic. We top the Brazilian rosewood with a solid red cedar soundboard to add crisp note articulation and a warm balance. Leaning on our proprietary Sound Optimization process, every piece of the tonewood is hand-shaped, tweaked, and analyzed multiple times through the build process to ensure precise frequency response and perfect tone. If there are still guitarists who overlook small-bodied acoustic guitars, the Premier Companion E Red Cedar-Brazilian LTD will change their minds.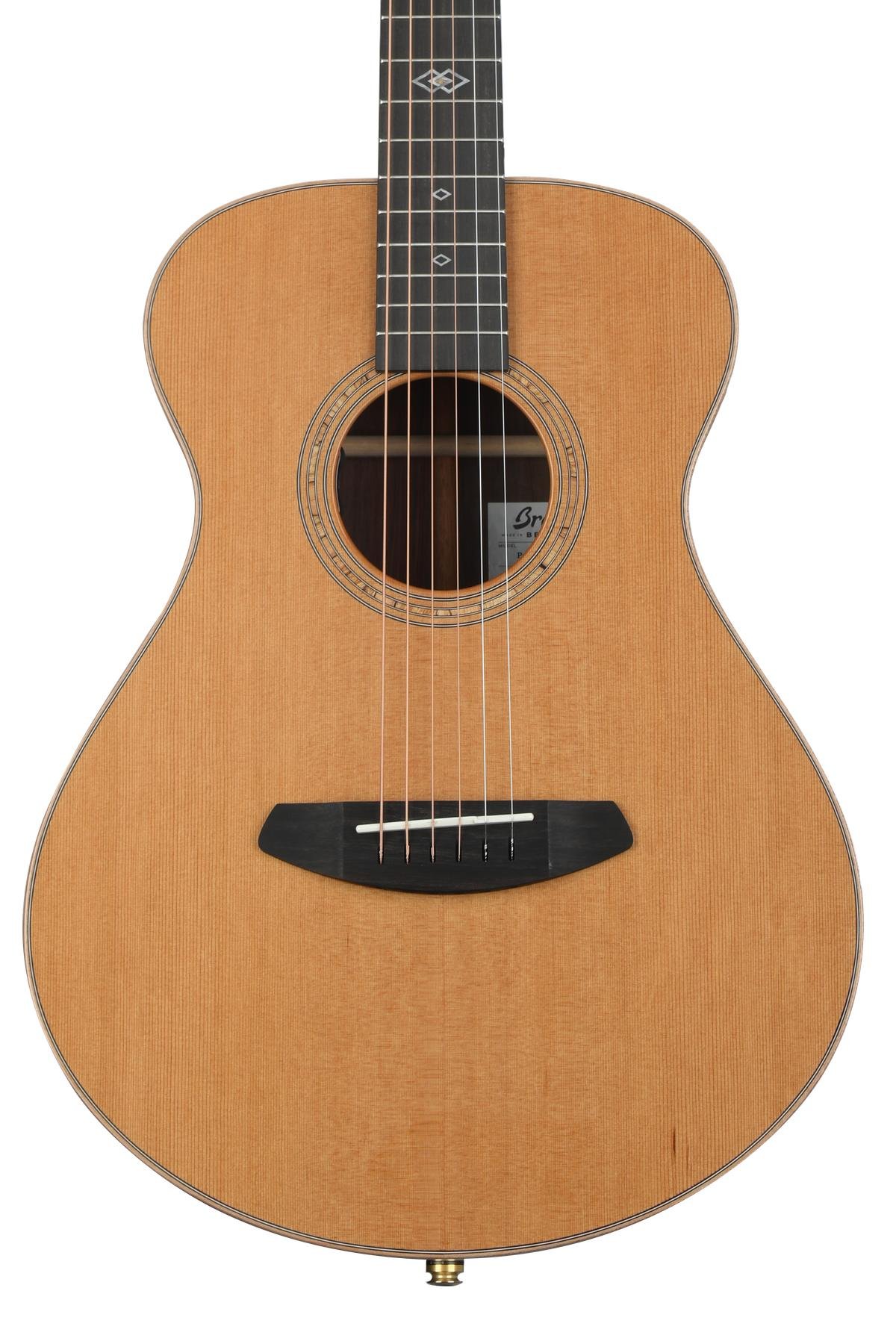 Breedlove
Oregon Companion CE Myrtlewood-Myrtlewood
Myrtlewood, while native to Oregon's Pacific coast, might just be the most "exotic" of all tonewoods, capturing the deep bass of rosewood, the pure warmth of mahogany and the sweet, glassy treble of maple in one exquisite, visually enchanting package enhanced by a gloss finish. This sustainable acoustic-electric is much more than just a travel guitar.
"Anyone could make a travel-size guitar," said Breedlove Wood Management & Product Development Manager Angela Christensen. "Our goal was to give the Companion an even more captivating voice while maintaining its size, shape, and overall feel. We also wanted it to handle any playing style you throw at it."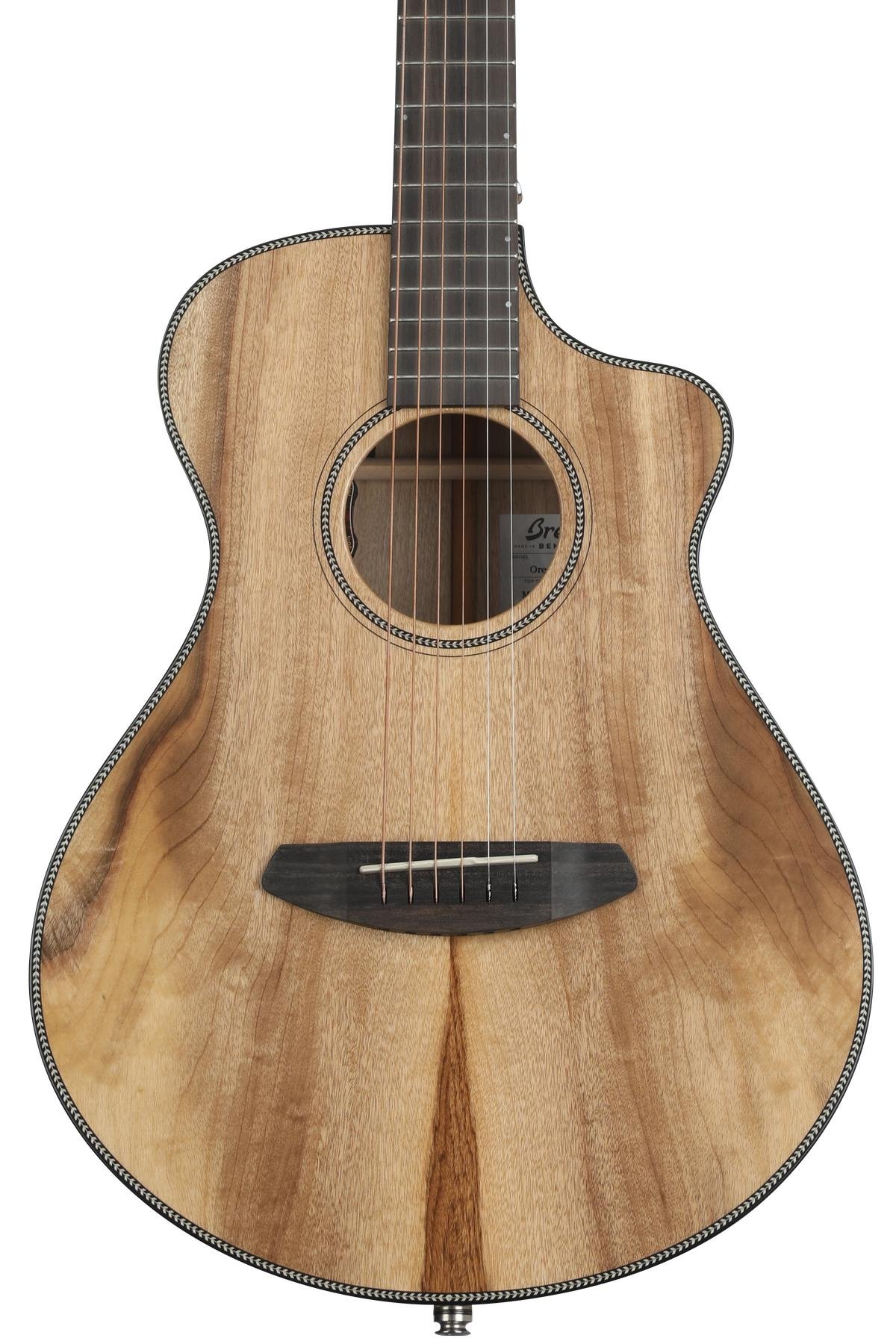 Breedlove
Oregon Companion Stormy Night CE Myrtlewood-Myrtlewood
The Oregon Companion Stormy Night CE is a stunning acoustic guitar that will accompany you throughout your musical journey. Crafted in Bend, Oregon, this guitar does our hometown proud, boasting a solid top, back, and sides of beautiful Myrtlewood. The Companion's smaller body makes it perfect when you're on the go and still offers surprising warmth and low-end power.
It comes with L.R. Baggs electronics, taking its full-size tone to the stage. The Oregon Companion Stormy Night CE also features our Stormy Night finish, giving this guitar a deep, enchanting aesthetic that needs to be experienced in person.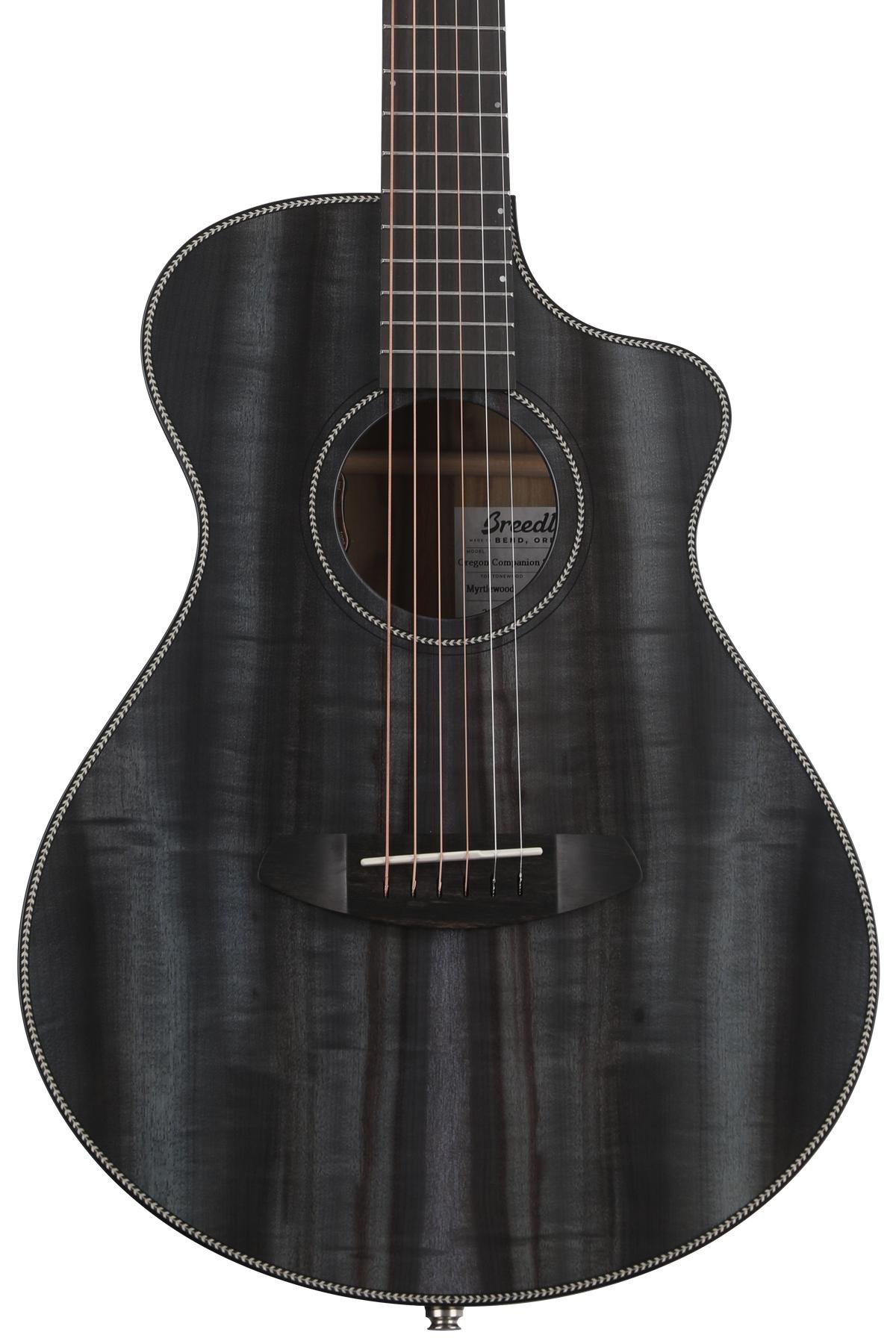 Breedlove
The Big Picture on Small-Bodied Guitars
Small-bodied acoustics have been a guitar design mainstay since the beginning. Often relegated to cheap but convenient alternatives, we don't think they've received the respect they deserve. The design can exude stunning sonic character that larger designs can't match. Our Premier Companion E Red Cedar-Brazilian LTD proves that.
Whether you're looking for a fantastic travel/beginner guitar or yearn for premium tone in a compact package, we highly recommend you check out the Premier Companion E Red Cedar-Brazilian LTD or one of our other Companion or Concertina models. They're all premium instruments that showcase Breedlove's commitment to quality and tone.