Tools for the Task: Guitar Humidifiers
A peek at a few of the many options that will help you keep your cherished axes properly humidified.
Whether or not you live in an über-dry climate, humidity should always be front-of-mind when it comes to your prized instruments. Here's why: Maintaining an optimum humidity level inside your cases will help you avoid some costly repairs down the road. To help you accomplish this, we've rounded up some of the available options designed to prevent those splits and cracks nobody wants (except for work-hungry luthiers).
D'ADDARIO
Two-Way Humidification System
This humidification system protects your instrument by maintaining a constant 45-50 percent relative-humidity level in your case, with no need to make adjustments based on seasonal changes, temperature, or geographical locations, and does so without water, drips, or mess.
Street: $20
daddario.com
KYSER MUSICAL PRODUCTS
Lifeguard Acoustic Humidifier
No additional parts or replacement packets are needed for this humidifier that keeps your acoustic guitar at just the right humidity to preserve its wood. Simply immerse the humidifier in water, shake off excess, and then position it in a soundhole that measures between 3 3/4" and 4 1/8".
Street: $15
kysermusical.com
HUMISTAT® CORP.
Model No. 3 and Hygrometer Combo
This hygrometer and adjustable humidifier combination eliminates guesswork by allowing guitarists to monitor and dial in the humidity level they want, and view the easily refillable humidifier's water level to know when more water is needed.
MSRP: $24.60
humistat.com
DAMPIT
Super Guitar Humidifier
This easy-to-use system keeps the humidity level at an optimum 45-55 percent and the included monitor with number-indicator spots allow the user to take a relative-humidity percentage reading.
MSRP: $29.95
dampits.com
OASIS
OH-3 Combo Pack
Consisting of the OH-1 humidifier and OH-2 digital hygrometer, this combo system will accurately measure the relative humidity in your home or guitar case to let you know when to put the OH-1 humidifier to work and help prevent the risk of cracking.
Street: $48.95
oasishumidifiers.com
GROVER
GP7960 Humidifier Package
This guitar-case humidifier helps maintain proper humidity levels to prevent adverse effects caused as a result of dryness. It's made of soft latex—which is harmless to all instrument finishes—and includes a user-friendly humidity gauge and cover to seal the soundhole during usage.
Street: $16.95
grotro.com
ARION
In Case Humidifier
This easy-to-maintain and no-leak humidifier boasts a unique design that relies on a proprietary solution combined with hydrogels enclosed in a plastic unit that allows continuous moisture to escape through its walls. Maintenance requires only tap water every one to three months.
Street: $19.95
arionmusic.com
C. F. MARTIN & CO., INC.
Martin® Guitar Humidifier
The tubes for this humidification system are extruded from non-vinyl, non-allergenic resin that's soft enough to not exert pressure around the soundhole, yet sturdy enough to minimize contact with the inside parts of the guitar while it slowly emits moisture through the holes.
Street: $12
martinguitar.com
HERCO
HE360 Guitar Humidifier
The clay material of this easy-to-use humidifier helps prevent the drying out and cracking of wooden instruments: Simply submerge the opened container in water for five minutes, close it and wipe off any excess water, place inside your case, and repeat the process approximately twice a month.
Street: $3.89
jimdunlop.com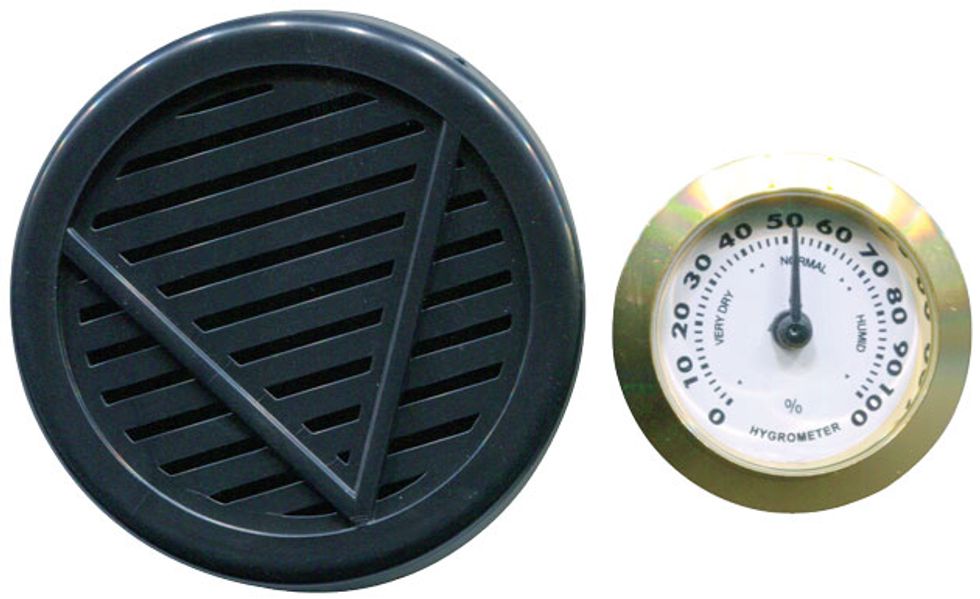 BREEZY RIDGE INSTRUMENTS
John Pearse® K-Saire™
This case humidification system consists of a precision hygrometer and an efficient humidifier which mounts in the headstock area of a case to ensure maximum humidification. Simply recharge the humidifier with distilled water when the case-humidity level falls below 40 percent.
Street: $24.95
jpstrings.com