Deep functionality yields seemingly infinite phase colors.
Almost infinite phase-shaping power. Impressive build quality.
Controls can feel too sensitive and interactive at times. Steep learning curve.
5
4.5
3
4
One of the most satisfying developments of the boutique pedal age is the quality and attention to detail we see from the best small builders. Another benefit is the leeway for small-batch builders to play mad scientist and build for tastes and creative tendencies that fall outside the mainstream.
Thorpy delivers a tip-top quality phaser/vibrato that is both practical and experimentally aligned with the all-analog Pulse Doppler. Inspired in some measure by the UniVibe and David Gilmour's custom-built Doppola rotary speaker, it's a phase nerd's dream—with functions for inverting phase notches, high-pass filtering, and an interactive control set that is complex, but which yields seemingly infinite micro-shades of phase. The merits of this deep functionality may elude casual one-knob phaser fans. But it will open up whole planes of possibility for detail-oriented sound sculptors, engineers, and producers, and players that relish the hunt for lush and off-kilter modulation tones.
Thorpy Pulse Doppler Review by premierguitar
Control Freak
While there is appeal in a stupidly simple phaser, using one regularly tends to reveal the homogeneity in its modulation colors. The Pulse Doppler's control set, however, is most certainly conceived to avoid sameness. Apart from the vibrato switch—which removes the dry signal—and the wet/dry blend, rate, and depth knobs, the controls are somewhat unorthodox.
The enhance control, which emphasizes resonant peaks by feeding phased signal back into the circuit, will be familiar to phaser users that have evolved beyond the caveman stage. But other controls take more time and practice to sort. The manual knob is the trickiest of these. In simple terms, it enables you to shift notch filter frequency emphasis. In practice, it's much harder to pin down, and it can drastically affect output level and phase intensity, depending on where you situate the other controls. For most players, the noon position, which yields the fullest phase effects, will be the best place to start. But it's illuminating to turn down the depth entirely and sweep through the manual control's range to see how it shifts frequency emphasis. Once mastered, it can help sculpt unusual and mix-specific phase sounds.
Though the Thorpy can feel temperamental in the get-to-know-you stage, it's easy to find varied and harmonically complex conventional phase textures.
The dual/figure 8 toggle is another source of mystery at first. In the figure 8 position, it inverts filter notches so they move in opposition to each other instead of in sync. At many manual settings, this results in a smoother, clearer phase sound that seems to foreground the dry signal. But at manual settings that emphasize higher frequency notches, that relationship is inverted, and this position yields more intense throbs.
The 3-position invert/pulse/normal switch yields more predictable results. At modest depth, blend, and rate settings, the invert position produces more syrupy and elastic phase textures that are both cohesive and trippy, while the normal setting creates harder, almost percussive pulses from within a more natural, full-spectrum voice. Thorpy attributes these differences to the straight and phase-shifted waveforms being in phase in normal mode and out of phase in inverted mode. The pulse position, meanwhile, acts as a high-pass filter, yielding highly focused modulations that can be fashioned into intense tremolo-like textures—particularly at high depth and wet blend settings.
Though the Thorpy can feel temperamental in the get-to-know-you stage, it's still easy to find varied and harmonically complex conventional phase textures. But because the controls all have very wide range, it's important to start with conservative settings. And exploring the wet/dry blend, feedback, and depth controls within the lower half or lower third of their ranges reveals many deep, immersive, and familiar phase tones.
The Verdict
The Pulse Doppler is an extremely powerful phase tool. Once you master its highly interactive and sensitive controls and get a feel for its more unconventional functionality, the possible tones, musical applications, and creative prompts become myriad and thrilling. If you intend to use the Pulse Doppler in a live context, you'll want to put in the time to learn it backward and forward. Very small alterations to the highly sensitive controls can shift the phase texture drastically. And without preset capabilities, you'll need to mark your favorite settings very carefully or have a pretty precise and unfailing memory. The upside is that all this range means that you can readily move from deep, liquid variations of familiar phase tones to intense and weird modulation colors that can make a pedestrian riff unforgettable. Gigging players may want to seek simpler solutions, but as a creative studio tool, the Pulse Doppler is a phaser with few rivals.
One guitar (with no knobs), one amp, and one pedal is all this punk-rock papa needs to command the stage.
It's pretty astonishing that a sophomoric band of misfits and outcasts have chiseled a 40-plus-year legacy of punk rock, but that's what the improbable Descendents have been doing since 1977. Their brand of snotty, snarling, snarky, succinct songs have endeared them to rock titans like Dave Grohl.
"[They have] this shameless, love-song aesthetic—none of the other bands had the balls to do that," proclaimed Grohl in 2013's documentary Filmage: The Story of Descendents/All. "Everyone was screaming about Reagan or whatever."
Additionally, through their blending of hardcore, drag-strip tempos, and melodious harmonies, they designed a vehicle for the '90s pop-punk explosion—paving the expressway for bands like Green Day and Blink-182 to crash into the mainstream. "They're like the punk-rock Beach Boys," said Blink-182's Mark Hoppus in Filmage.
And don't forget their iconic, line-drawn mascot Milo, patterned after lead singer Milo Aukerman. That nerdy caricature's singular outline comically defines the Descendents' simplicity, humor, subtle brilliance, and everyman appeal. It also reflects the persona of Aukerman, who stated in Filmage, "I have this dichotomy of desires. I wanna rock out. I wanna be a punk-rock guy, but I also have this really strong ambition to be a scientist."
The band's redlining riffer Stephen Egerton welcomed PG down to Birmingham, Alabama's Avondale Brewing Company, where he blasted through his punk-rock-approved, simplistic-yet-seething setup.
[Brought to you by D'Addario Auto Lock Straps: https://ddar.io/AutoLockRR]
No Knobs, No Problem!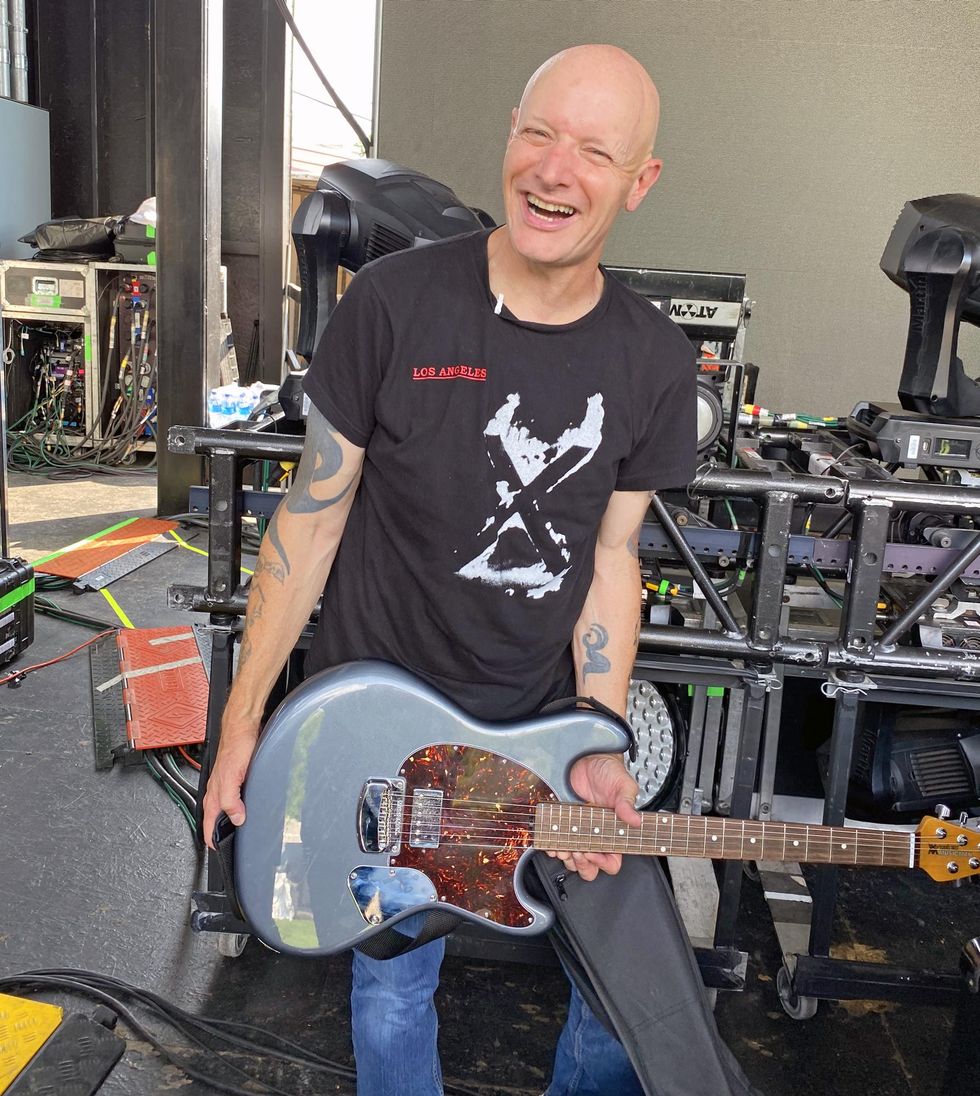 Descendents' guitarist (since 1987) Stephen Egerton holds his only axe—an Ernie Ball Music Man signature StingRay, with no knobs or switches. In a 2016 PG interview, Egerton explained his pragmatic reason for removing everything from his namesake instrument: "Years ago, I just wired the pickup straight to the jack. It was really a practical matter, because I tend to play harder than I probably should and there was the issue of me slamming my hand into the volume knob or pickup selector switch when I played, and those electronics tended to rust out on me, so it was helpful to have them removed."
Ready for Your Close-Up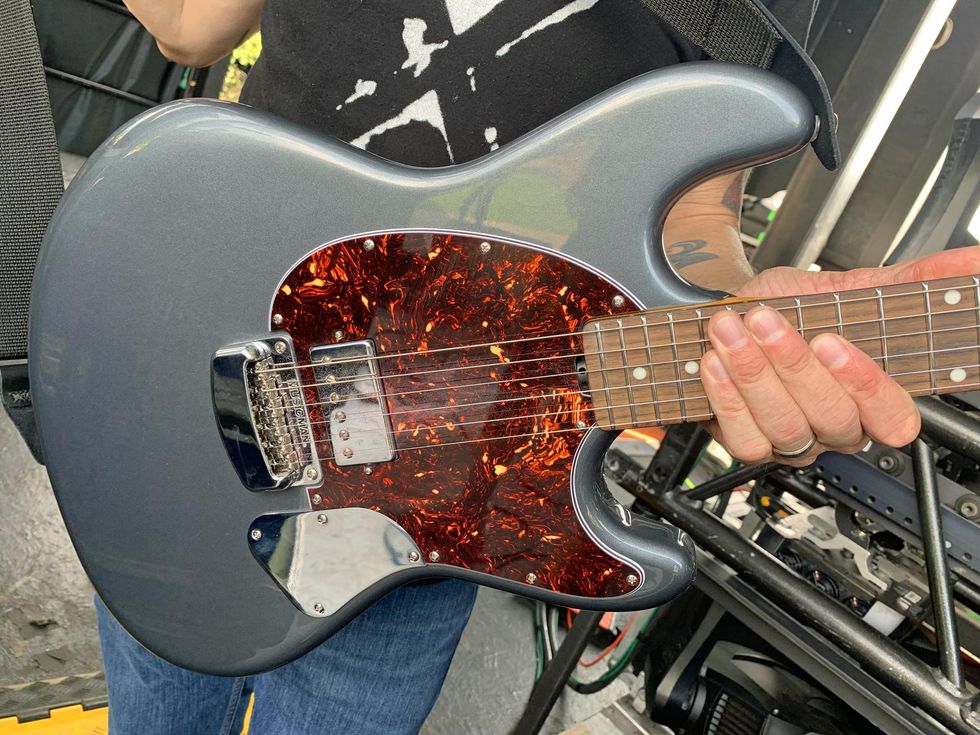 Other appointments of the streamlined 6-string include an okoume body, a maple neck paired with a rosewood 'board, 22 high-profile medium frets, a custom-wound Music Man humbucker, and a striking charcoal frost finish.
For strings, Egerton stays loyal and locks in Ernie Ball Power Slinkys (.011–.048), while he opts for custom-made Dunlop Celluloid Shell Heavy picks featuring a portrait of himself done by his young son.
Blasting Off With Blackstar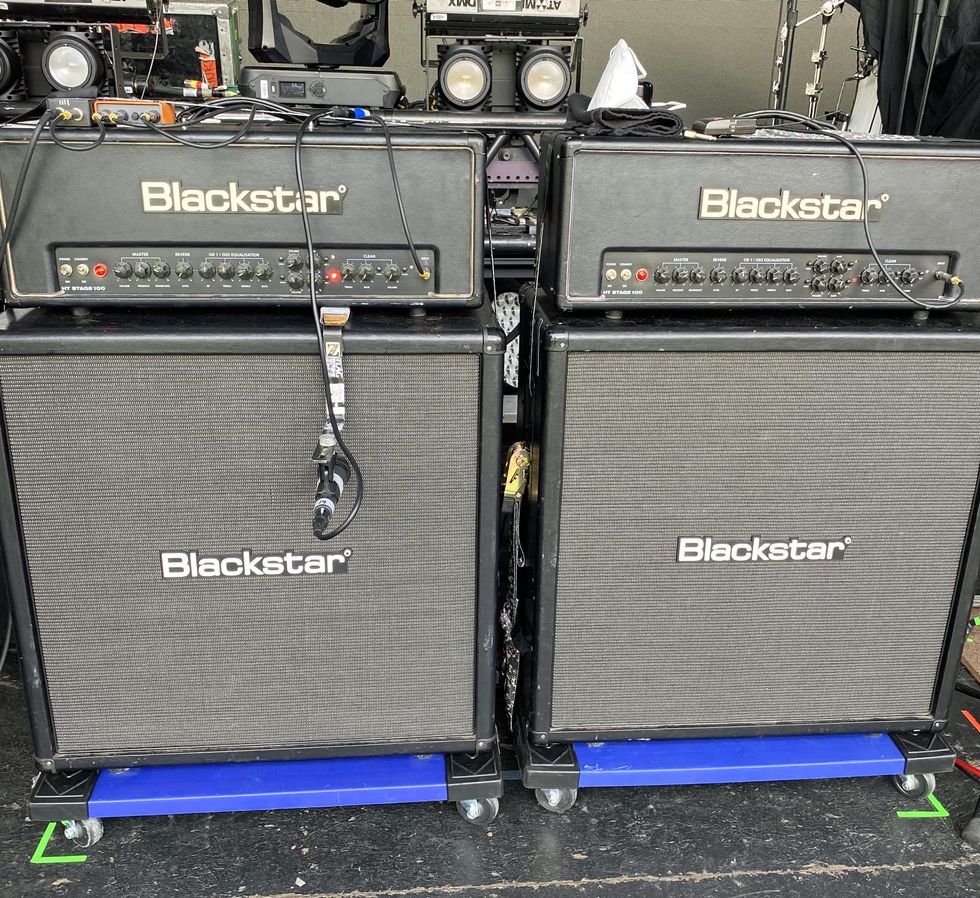 Stephen packs a punch with a pair of 100W Blackstar HT Stage 100 heads. (One is hot, while the other is a backup.) Each head has its own Blackstar HTV-412 cabinet that is stocked with a quartet of Celestion Seventy 80s.
Stephen's Settings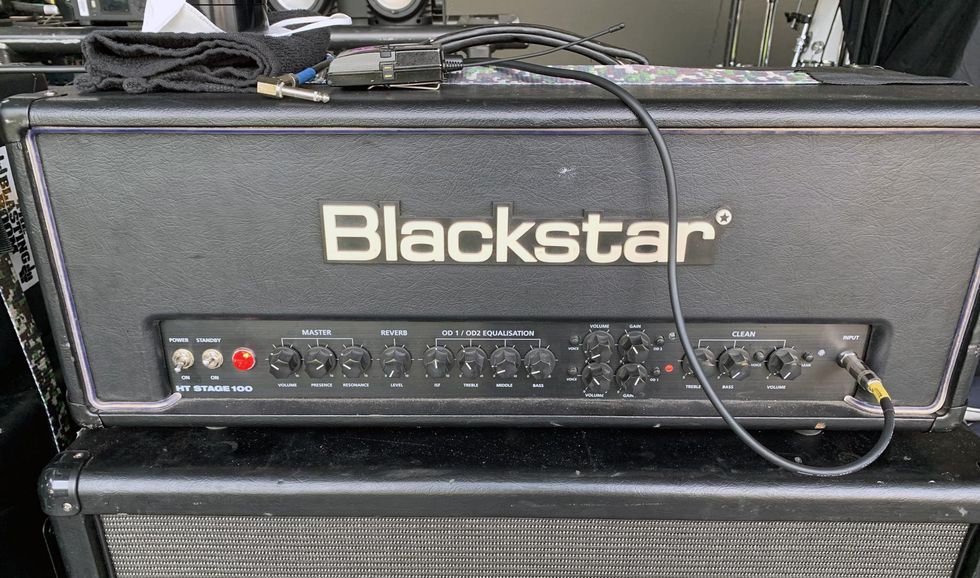 As you can see, Egerton dials in a punk-rock platform that eases off the gain to retain note clarity for his furious right-hand hammering.
The Punk's Preamp Pedal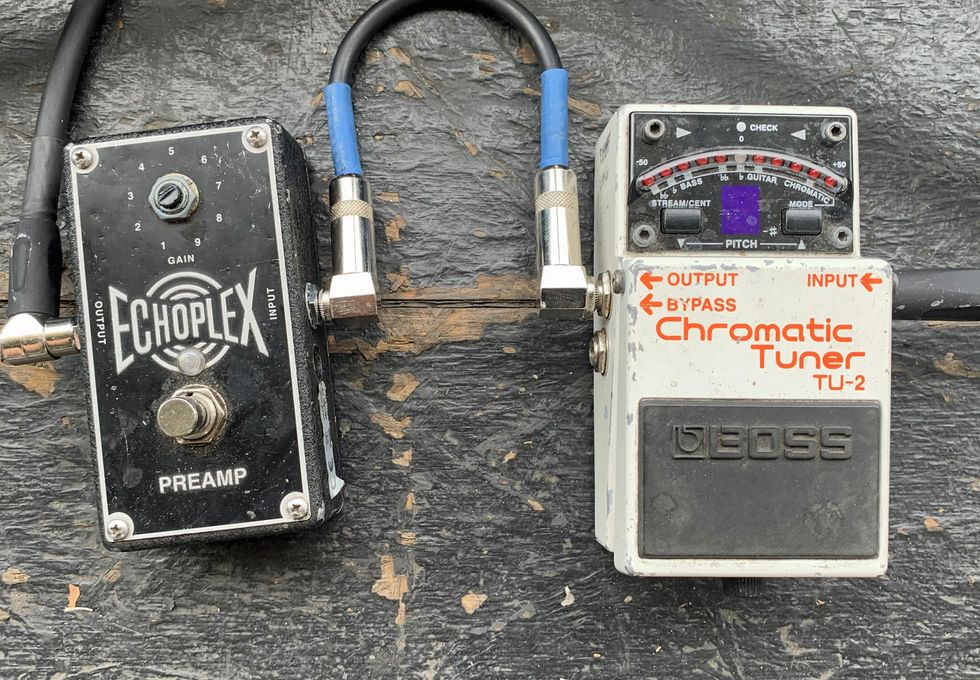 Since the punk-rock papa doesn't have any knobs on his guitar and relies on varied attack for dynamics, he enlists a MXR Echoplex Preamp Mini for the singing sustain he needs for soloing. And because punks still gotta tune, he's trusted a Boss TU-2 Chromatic Tuner for keeping the StingRay in line.
The legendary Texas Blues slinger professes his love for the blues, the Stratocaster, flatwound strings, Nile Rodgers, and the "wild guys."
Jimmie Vaughan and Cory Wong Talk Strats | Wong Notes Podcast
Still devoted to the Strat at 70, the Texas Blues slinger bonds with Cory over their mutual devotion to Leo's "cool-looking" creation.
With its cascading Marshall-meets-Boogie tones, this Danish dirt box is a simple, oft-transformative delight.
Powerful variety of responsive high-gain tones. Makes small amps sound huge!
Decay can sound unusual at low-gain settings. Could benefit from a more powerful EQ.
4.5
4
3.5
4
With its oversized, comfortingly luminescent red lamp, dark finish, and diagonal control array, the latest from Danish stomp outfit LunaStone—the Deep Metal—is simple and handsomely evocative of WWII-era military electronics. And like said devices, its aesthetics belie the mayhem it unleashes. Innards consist of two PCBs that nearly run the length of the enclosure and face inward, thus concealing a view of the analog circuit's primary tone generators—a combination of clipping diodes and an op-amp driven by JFETs and BJTs (bipolar junction transistors). Designer Steen Grøntved says the goal of the Deep Metal was "an old-school heavy metal 'square sound.'" LunaStone certainly succeeded.
To test the manufacturer's claim that Deep Metal will make riffs and solos "sound huge" though a small combo, I employed an ESP LTD SN-1000FR with Fishman Fluence humbuckers and an Eastwood Sidejack Baritone DLX with Curtis Novak JM-WR pickups through a 2x10 Fender Vibrolux Reverb (sometimes along with a Fender Rumble 200 bass amp), and a 1x8 Fender Vibro Champ, in addition to Jaguar HC50 and Sound City SC30 1x12 combos.

​Huge, But How?
Deep Metal's simple control set features just a soft-touch footswitch and level, tone, and gain knobs. As you might guess from its name, Deep Metal's lowest gain output is still fairly aggressive. And it's at minimum dirt that the pedal's most unusual characteristic—a slightly pulsating decay as notes fade—is most obvious. In most players' experience, this will likely feel quite unlike the response from tube amps. But the good news is that this somewhat industrial-sounding (for lack of a better term) characteristic in the decay sits well in the background—far enough to avoid being distracting. At minimum gain, Deep Metal also yields surprisingly dynamic, mellower sounds as you rein in your guitar volume.
Satisfying as the low-gain sounds can be, Deep Metal isn't about mellow. And, fortunately, as you increase the LunaStone's gain, the slight anomaly in the decay fades away, leaving in its wake a range of cascading, highly saturated classic-, thrash-, death-, and black-metal tones that cranked Marshall and Boogie fans will be at home with. To test how transformative Deep Metal can be, I began with the Fluence-outfitted ESP and my silver-panel Vibrolux Reverb set to clean tones and a middle-of-the-road EQ. Even with the cleanish Fender combo, Deep Metal facilitated everything from soaring, effortless legato runs to deep, chunking dissonance. But I was most impressed when I switched to the even smaller Vibro Champ and my Eastwood Sidejack, whose Jazzmaster Widerange pickups sounded both brutal and crystalline through the LunaStone. With a good mic, you could track an album's worth of evil through a rig like this, and the average player might never be wise to the fact that you didn't use big heads and 4x12s.
​The Verdict
Apart from that odd decay at low gain, the LunaStone Deep Metal's only other slight shortcoming is its simplicity. While it delivers on the promise of making smaller amps sound big and mean, without a 2- or 3-way EQ, it's harder to get the balance of cut and body you might need when routing Deep Metal to a thumping 4x12 or both a guitar amp and a bass amp. Even so, Deep Metal puts forth a healthy range of big tones with no need for a menu or interface deep dive. For many of us that's a huge, huge plus.

While raised on the classics, this Nashville rocker explains how a dulcimer riff illuminated a "path of permission" to tackle the guitar.