A brief history of Fender's heavyweight champ amp—plus, how to make it float like a butterfly and sting like a bee.
"If an alien came to earth and wanted to hear an American guitar sound, I'd play him my Twin with a set of Jensens."
I found this statement many years ago and it summarizes my feelings about the Twin Reverb, the flagship of Fender amps. So, let me share my insights about the biggest brother in the Fender family and discuss speakers, tube swaps, and how to unlock its secrets. My goal is to turn you all into educated fans of this legendary amp that has somewhat lost its place in the modern world. But first, a few facts.
Fender released the Twin Reverb as we know it today in 1963 as one of the first black-panel-era amps. It was a dual-channel combo with two 12" speakers, a diode rectifier, reverb, tremolo, and four 6L6GC tubes producing 85 watts. It was targeted at professionals and was the most powerful amp Fender had ever made. During the earlier tweed era, the Twin arrived as a 2x12" combo amp—first, a low-power 25-watt version with a single power tube pair; then, after 1958, a high power-version with four 6L6GC tubes and 80 watts.
"Speakers are like ice cream—everyone has their favorite."
The blonde Tolex Twin came in 1960 and looked more like the black-panel classic that we know today, with separate normal and vibrato channels on the faceplate. Reverb and a diode rectifier were added to the black-panel Twin Reverb, which had all the features and the biggest iron that Fender could offer at the time. It was the first and only black-panel amp with a full tone stack on both channels, with bass, mid, treble, and a bright switch allowing you to dial in everything between a Dick Dale Strat surf tone and a mellow jazz sound for, say, a big box Gibson. The silver-panel Twin Reverb went through several changes from 1972 onwards, mostly in the power circuitry. There was a 100-watt and 135-watt silver-panel version with master volume. They aren't very popular today but will work well as a cheap practice amp if you can find one in good condition.
The cons of the Twin Reverb are weight and loudness. Depending on the speakers, a Twin weighs 73 to 88 pounds. The 13-pound JBL D120F speakers that came in the original black-panel Twins were, in my opinion, too heavy for the amp, as were the four 10" JBLs in the Super Reverb. While these speakers are highly collectible, the weight of these ceramic JBLs will eventually tear the wooden cabinet apart. So, you cannot transport these amps around for regular touring.
My favorite vintage speakers for the Twin Reverb are the lighter Jensen C12N (7 pounds) or the Fender Oxford 12T6. The Oxfords sound surprisingly tight and good, and not as mushy as the Oxfords you find in other, low-powered Fender amps. The 1965 reissue black-panel Twin Reverb's modern Jensen C12Ks sound unforgivingly stiff to my ears. Even if they improve after years of playing, I prefer to replace them with the lighter Jensen P12Q, which has a smaller voice coil and a vintage steel basket, or Warehouse Guitar Speakers' brighter G12C/S. The G12C/S delivers a great authentic Fender tone at a reasonable weight (10 pounds) and price. But don't solely trust my speaker advice. Speakers are like ice cream—everyone has their favorite. With the right speakers for your ears, a reissue Twin Reverb will deliver all the goods for you.
While other Fender amps typically break up at around 4 with a Strat, the Twin Reverb stays clean up to almost 6—and those clean notes are sharp as a knife's edge and will hold up against heavy drummers and bass players. This is exactly what the amp is made for: being played un-miked in, say, a gospel band in a 300-seat church every Sunday, or on Friday nights in a cowboy bar in Bakersfield, circa '63. It is designed to not break up. You therefore need to have your expectations set correctly—or be adept with pedals—to really appreciate the evil Twin.
A simple trick to lower the headroom is to disengage one of the speakers and pull the two inner or outer power tubes. You will, then, essentially, have a 1x12" 40-watt amp while still benefiting from the ambience of the large speaker cabinet. Other than that, there are no mods that I recommend with this amp. The Fender Twin Reverb is made for big occasions, and once you learn how to use it correctly, you'll enjoy a very physical tone experience together with everyone else onstage—who will have no problem hearing this amp. I promise.
The Deluxe Atlantic Baritone and Deluxe SS Baritone were designed to offer exceptional comfort and vivid, articulate tone—unmistakably different from most baritone offerings.
D'Angelico Guitars has announced the release of two baritone models. The Deluxe Atlantic Baritone and Deluxe SS Baritone were designed to offer exceptional comfort and vivid, articulate tone—unmistakably different from most baritone offerings. Custom pickups from Seymour Duncan capture every nuance in the low-end, while premium features such as Grover Locking Tuners and Jescar fretwire result in professional grade performance and feel.
Deluxe Atlantic Baritone Demo with Zach Comtois | D'Angelico Guitars
The Deluxe Atlantic Baritone is a bold new take on our standout single-cutaway solid-body, offering both remarkable articulation and unprecedented depth of tone. Powered by two Seymour Duncan Seth Lover A4 humbuckers, the Deluxe Atlantic Baritone provides the sparkling top ended needed to achieve baritone clarity, but with thick, rich midrange that yields powerful, gut-punching tone. An ebony fingerboard offers sustain and brightness, while a 26.75" scale length strikes the balance between prioritizing player comfort and achieving vivid tone. Designed to be both highly powerful and highly wieldable, the Deluxe Atlantic Baritone features a deep belly cut and a mid-weight Alder body wood. Now available in Solid Black and Satin Walnut.
US MAP $1699.99
Deluxe SS Demo with Kirk Schoenherr | D'Angelico Guitars
The Deluxe SS Baritone is a wholly unique semi-hollow. Pairing its punchy, undersized body shape with two Seymour Duncan D'Angelico Great Dane P90s, the Deluxe SS Baritone stirs together seemingly disparate elements into something all new. A fifteen-inch-wide semi-hollow body offers airy woodiness on top of thick, pronounced midrange—providing enough power to lead a heavy ensemble and enough elegant clarity for emotive clean tones. A 26.75" scale length strikes the balance between prioritizing player comfort and achieving vivid tone. Now available in Satin Trans Wine and Satin Honey.
US MAP $2199.99
Great pedal giveaways keep coming during week #5 of Pedalmania! You could win gear from Carvin Audio, EHX, Gamechanger Audio, Hotone Audio, PRS, and Wren and Cuff!
Click here to jump to the entry.
The design criteria for the X1 was to deliver the sounds of the classic Carvin X-100B amplifier in a compact package with added connectivity. The result is a full tube preamp in a pedal format, able to fit in a carry-on or backpack. The X1 incorporates tube technology with simple, yet flexible modern features to interface with many types of gear.
Carvin Audio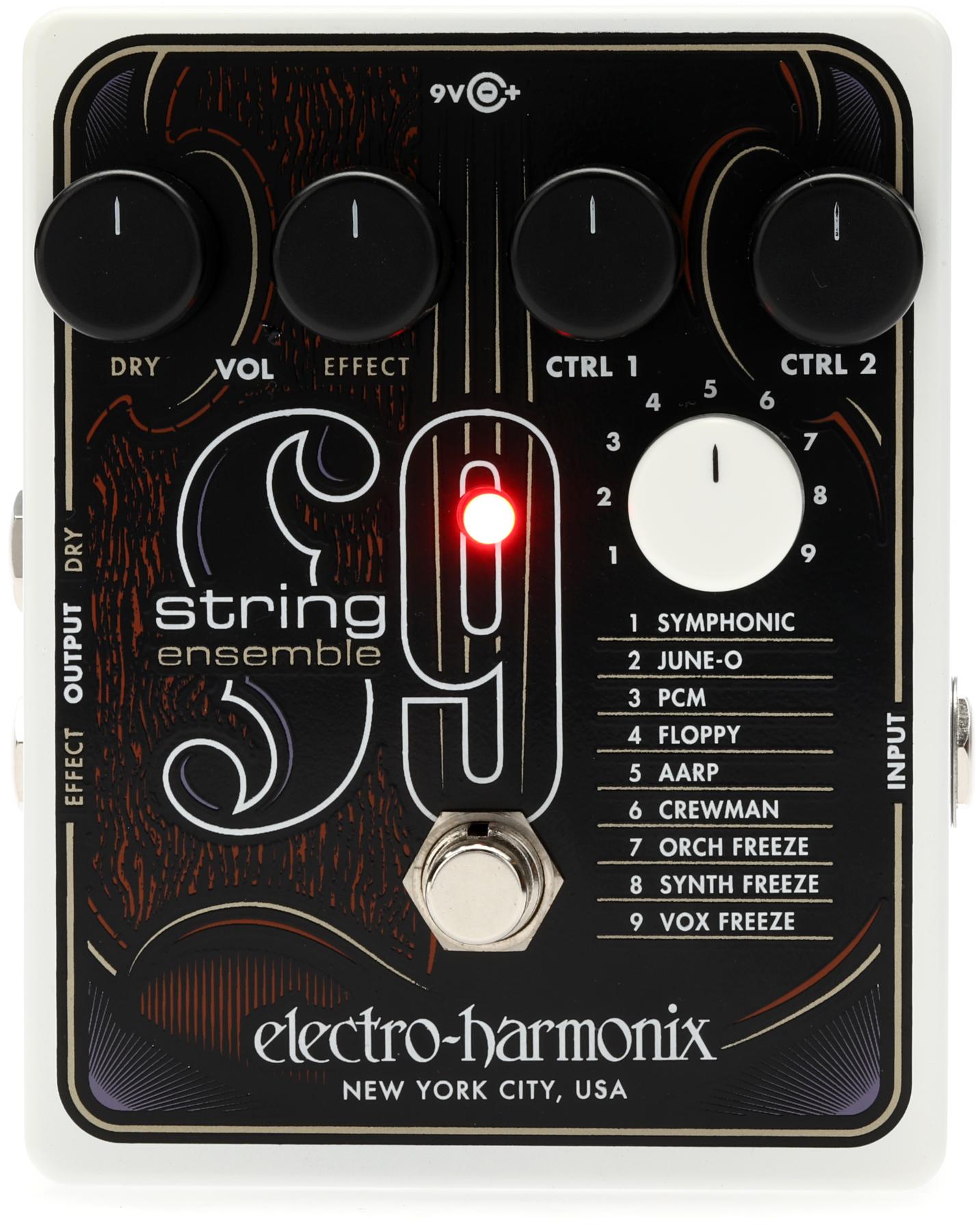 The polyphonic STRING9 String Ensemble transforms a guitar into nine different string ensembles and string synthesizers while requiring zero modifications, special pickups, or MIDI implementation. It relies on the same technology powering all EHX 9 Series pedals. In a 9 Series first, the STRING9 includes the signature EHX Freeze effect on 3 of the presets to sample and hold notes and chords with infinite sustain.
Electro-Harmonix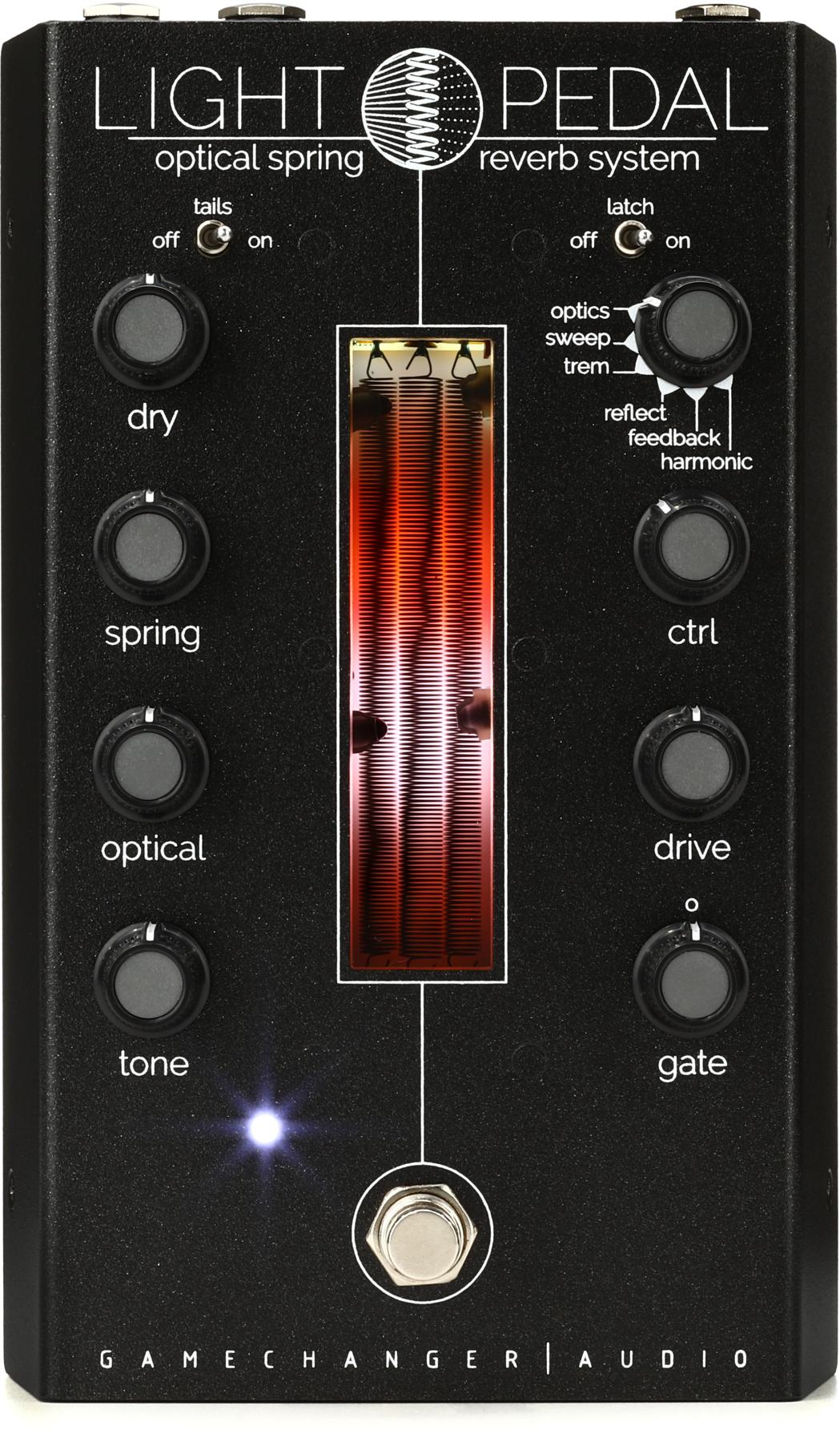 The LIGHT Pedal is an optical spring reverb that combines all the best features of a classic spring reverb with an innovative infrared optical sensor system and a unique effects section. Create countless new types of reverb textures that have never been possible before.
Gamechanger Audio
Ampero Press 25kΩ Edition is a compact, passive volume/expression 2-in-1 pedal designed not only for controlling Ampero II Stomp* but also for other musical devices (with external EXP pedal jacks requiring 25kΩ EXP resistance) or being used as a passive volume pedal. It has a solid aluminum alloy casing, delivering a smooth and comfortable user experience.
Hotone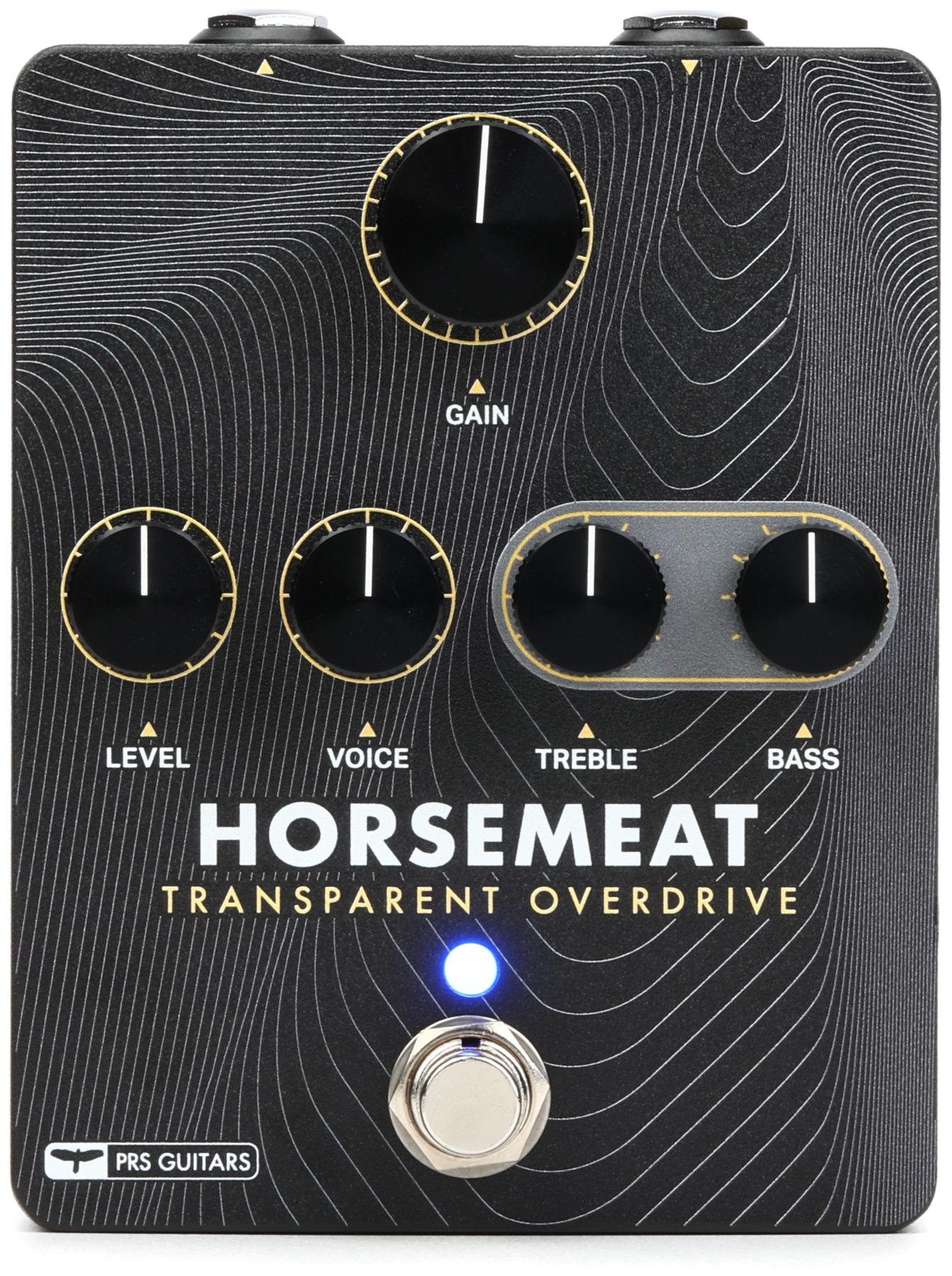 The PRS Horsemeat transparent overdrive is a from-scratch circuit designed to enhance guitar tone without coloring it. Using germanium diodes, Horsemeat will give throatiness without sounding nasal or too high-pitched and harmonic richness by boosting both low- and high-end frequencies, all while providing more available headroom. Depending on the setting, the PRS Horsemeat can be used as a clean boost, straight overdrive, or even enhance an amplifier's distortion by slightly pushing the front end of the amp's preamp section.

PRS pedals were created to be high-end pieces of audio gear.
Designed by PRS Guitars in Stevensville, MD, USA. Made in the USA.
PRS
Inspired by Mr. G. Smith's particularly amazing vintage 1972 Big Muff® that came into the shop for repair, the Good One is a 100% reverse-engineered replica of that exact unit.
The "Triangle Knob" era Big Muffs have been known to have up to 18 different circuits within the same enclosure-style during the inconsistent early years at EH in NYC. Some of these circuits sounded glorious, some, not so great.
Having done many vintage restorations over the years, Matt was not sure what to expect when this wounded pedal landed DOA on his bench for a restoration.
Once the much needed repairs were complete, and after the first strum of a chord blasting through the pedal, all in the shop immediately knew that this particular triangle muffer was indeed, one of the GOOD ONE's.
Like the original unit, The Good One uses ceramic disc capacitors, odd component values, and the much loved mojo producing vintage style carbon composition resistors. Add to that our premium-line heavy duty folded steel enclosure, top tier building quality, and you've got a pedal destined to be a future classic.
Wren and Cuff
You could win 3 Red Panda Pedals and Gator Cases Pedalboard + Power supply courtesy of Kraft Music! Enter below before October 31, 2022.
Red Panda
<p>Particle™ is a granular delay / pitch shifting pedal. It chops your signal into small grains and then rearranges, shifts, and mangles it, using the techniques of granular synthesis in real time. Results range from radical pitch and delay modulation to shimmering repeats to time stretching, stutter, and glitch sounds.</p><p>Five delay and three pitch modes give intuitive control over random delays, bubbling textures, time stretching, and rhythmic glitches. Take a unique approach beyond conventional delay, pitch, flanging, and chorus sounds. Freeze notes with adjustable threshold for stutter, punch in, or drone-line effects. Lock multiple parameters to tap tempo or MIDI sync with independent note divisions for intricate rhythms. Access all parameters via MIDI, tablet, or "modeless" front-panel operation for full control over granular processing.</p><p>The Particle 2 is performance friendly, with controls spaced for real-time tweaking and designed so you can explore new sonic territory while remaining in control. Use the assignable expression pedal or DIY-friendly remote switch for hands-free control. The Particle 2 is pedalboard-friendly with all jacks on top. With full MIDI control, stereo input/output, and +8 dBu maximum input level, it is also at home in modular setups or the studio.</p>