Checking out of hotel in Aarhus, Denmark Photo credit: Lynn Stroud The question I'm asked most often is, "What's it like on tour? What do you do with your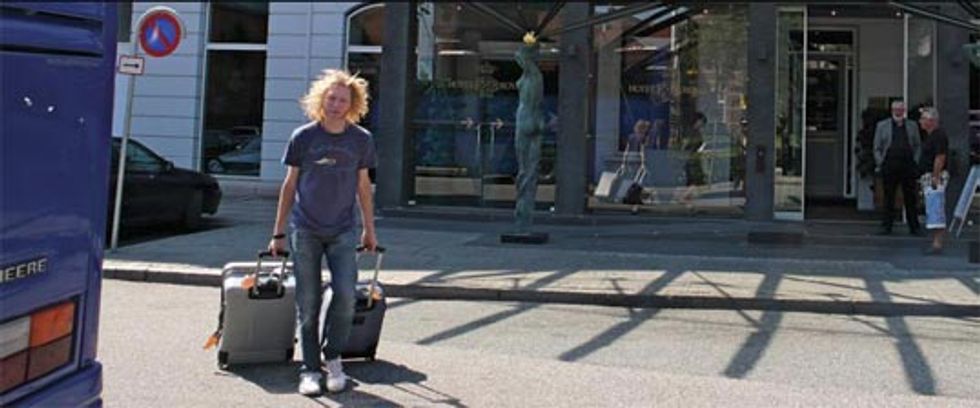 | | |
| --- | --- |
| Checking out of hotel in Aarhus, Denmark | Photo credit: Lynn Stroud |
The question I'm asked most often is, "What's it like on tour? What do you do with your time?" There's a certain vision of idle time hanging out, waiting to play… soundcheck… eat… play… party… destroy hotel room… sleep… you get the picture. What's it really like? All of the above.
I just finished a tour across the U.S. with Sheryl Crow, along with James Blunt and reggae legends Toots & The Maytals (Toots' 1968 song, "Do the Reggay" named the entire genre).
Here's our daily routine:
3:00 – 8:00 a.m. Arrive in new town, check into hotel
We awake from our bunks on the tour bus, having driven in from the previous town's show the evening prior.
1:30 p.m. Bag Call
Our personal luggage is packed and left outside our hotel door for the bellman to collect.
2:00 p.m. Leave hotel for soundcheck
2:30 – 3:30 p.m. Soundcheck
As well as running through songs for the benefit of our FOH (Front of House) sound engineer, we often work up more songs to include in the show, as well as practice edited version of tunes to be played on upcoming TV performances. Occasionally, we jam on new ideas. Our soundcheck is scheduled early to allow ample set-up and soundcheck time for James Blunt and Toots.
5:30 p.m. Dinner Served
…in Catering. Sheryl has a catering company touring with us. We eat well. Too well, actually. Too much.
6:00 p.m Doors open to the audience
7:00 – 7:35 p.m. Toots & The Maytals
8:00 – 8:55 p.m. James Blunt
9:20 – 11:00 p.m. Sheryl Crow
Most venues have a strict curfew, due either to outdoor sound restrictions or local union labor laws (running over by even just one minute can cost you thousands of dollars). We'll usually hang out for a half hour or so after a show. We take showers, change clothes, and visit with local friends and guests before getting back on the bus to head to our next gig town. Often, we'll do a "runner," which consists of jumping right off stage and running directly onto the bus, usually to beat the traffic out of the venue or if we have a long drive ahead of us. From there…
3:00 – 8:00 a.m. Arrive in new town, check into hotel
…And start all over again. I'll let you fill in the blanks as to what we do in those little segments of time in between. You can help us keep up the mystique to make it appear more glamorous than it actually may be. Party on Garth!
---
Peter Stroud
is co-founder of 65amps
www.sherylcrow.com
65amps.com