Ampeg GVT52-112 Amp Review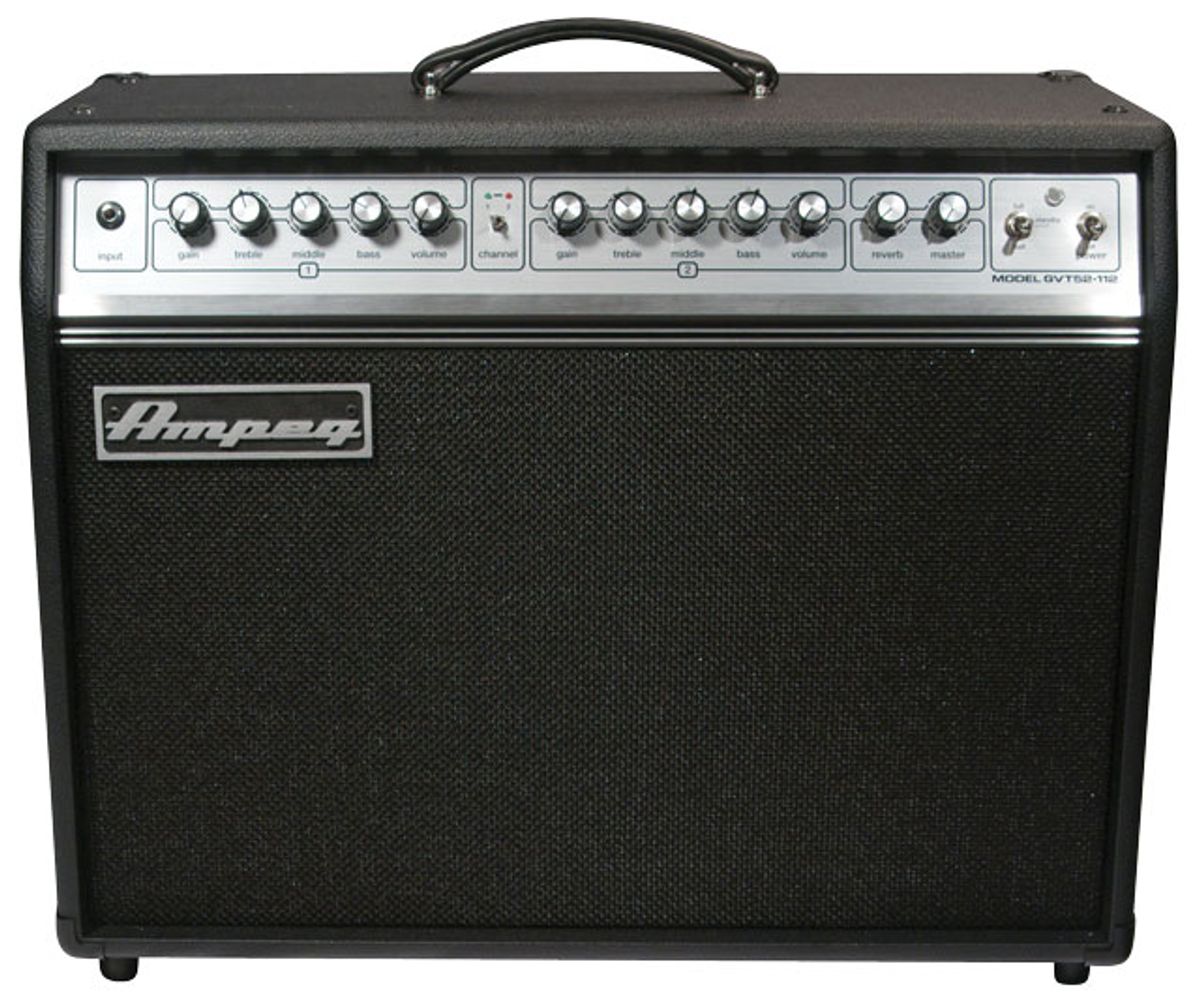 Ampeg's new GVT series, which offers a power range more suited to clubs than Yasgur's Farm, honors this oft-forgotten part of the company's legacy with authentic vintage rock tone and styling.
When rock venues began to include bigger arenas and festival grounds in the late '60s, the clamor for more potent guitar and bass amplification became as deafening as the amps themselves. Few companies skipped a chance to cash in on the big amp movement, and Ampeg, a company that had built well-regarded amps for years, stepped up with its own line of high-decibel bass and guitar amplifiers. The monstrous SVT bass amp packed a then-unprecedented 300 watts of all-tube power, and their 100-watt V series heads (also available in combo form with more modest output under the VT moniker) were adopted by many high-profile performers—most notably the Rolling Stones, who used V series prototypes on their historic (and infamous) 1969 world tour.
Ampeg's new GVT series, which offers a power range more suited to clubs than Yasgur's Farm, honors this oft-forgotten part of the company's legacy with authentic vintage rock tone and styling. And like the V and VT amps of old, they are an interesting option for players looking for something outside of the typical Fender and Marshall spheres. The GVT52-112 reviewed here is a 50-watt (switchable to 25 watts) 1x12 combo that covers a lot of tone territory.
An Honest Homage
This GVT52-112 weighs in at a hefty 52.2 pounds and sports a pair of 6L6 power tubes and three 12AX7s in the preamp section. The birch plywood cabinet of our review specimen comes packed with an 80-watt Celestion Seventy 80 speaker, which can aptly handle the higher wattage output of the GVT52-112. The amp looks sharp with its vintage-correct black vinyl covering, a black sparkle grille cloth, and a silver faceplate. The control array is especially user-friendly, with everything well spaced and logically arranged. The GVT52-112 offers 2 channels, each with its own discreet Baxandall EQ section, Gain, and Volume controls. The footswitchable spring reverb and effects loop can be bypassed. And a multi-color LED that's too bright to miss indicates the status of the Full Power/Standby/Half Power switch. Around back, effects loop and footswitch jacks can be found aside a variety of speaker outs for extension cabinets.
Running the Range
I plugged in a Custom Shop Stratocaster to get a feeling for the amp's clean and mild breakup flavors on Channel 1. As I strummed open chords with the EQ knobs at noon, the GVT52-112 delivered an elusive combination of warmth at the low end of the spectrum and sweet musical clarity in the upper midrange and highs.
With its ability to independently boost and cut frequencies, the Baxandall EQ made it easy to tweak what's a very balanced tone to begin with. I could easily adjust the EQ to conjure a variety of crystalline and round Fender-inspired jazz tones that still packed a punch for solos. But the amp's wide range of bright clean tones and impressive, snappy responsiveness would suit country styles as well. Tonal complexity was quite good across all these cleaner highheadroom settings and excellent for an amp in this price range, but lacked some of the indefinable singing harmonics you'll hear in the best point-to-point circuits. And though our review unit exhibited a bit of cabinet vibration at certain settings, the amplifier is extremely noise free, which is great given how well it works with stompboxes.
A Voice All Its Own
The Ampeg really started to shine when I pushed Channel 1 to the point of breakup. And working through various EQ settings and gain levels revealed a uniquely fierce personality. With the EQ knobs dimed and the Gain at 75 percent, I got an awesome live Stones sound with a touch of bright, near-fuzz flavor that would cut through almost any band mix with ease. Breakup sounds organic, and distortion is easy to control with the guitar's volume knob.
My Les Paul helped deliver classic '70s crunch in spades. The GVT52-112 loves humbuckers, and at the same gain level, the punchy, fuzz-like tone I extracted from the Stratocaster was transformed into a killer raspy sizzle, roaring with girth.
The higher gain Channel 2 remained defined in grittier settings—even on the Les Paul's neck pickup. Though the amp's slight tendency toward the bright side is accentuated in this environment, it works great with humbuckers. Huge sustained chords in the vein of Thin Lizzy's "The Boys Are Back in Town" ring out in full glory at lower gain levels, with great bloom and sustain. Turning up the gain to noon and switching to the bridge humbucker yielded a thick "Reelin' in the Years" lead sound that became more focused and gritty when I emphasized the mids with the EQ. After nailing so many classic distortion flavors, I was impressed that the GVT52-112 had much more usable gain on tap—the upper reaches of the Gain knob put me well on the way to Mastodon territory. The footswitchable boost offered a usable bump in output, perfect for the quick switch from rhythm to lead.
The Verdict
From the spot-on vintage design to the unique-but-familiar palate of clean and overdriven tones, the GVT52-112 offers a fresh alternative for those in search of classic sounds and styling that also isn't from the usual suspects. And its ability to stand apart from the crowd while fitting just about any classic rock setting is its greatest accomplishment. The switchable power, classic, userfriendly control layout, ample gain range, and added modern features lend real-world versatility to this tastefully styled throwback design. And at an accessible price, there's little reason not to give this combo an audition.
Buy if...
you've been looking for an affordable Fender/Marshall/Vox alternative to set you apart sonically and visually.

Skip if...
you have little interest in deviating from proven tone templates.

Rating...