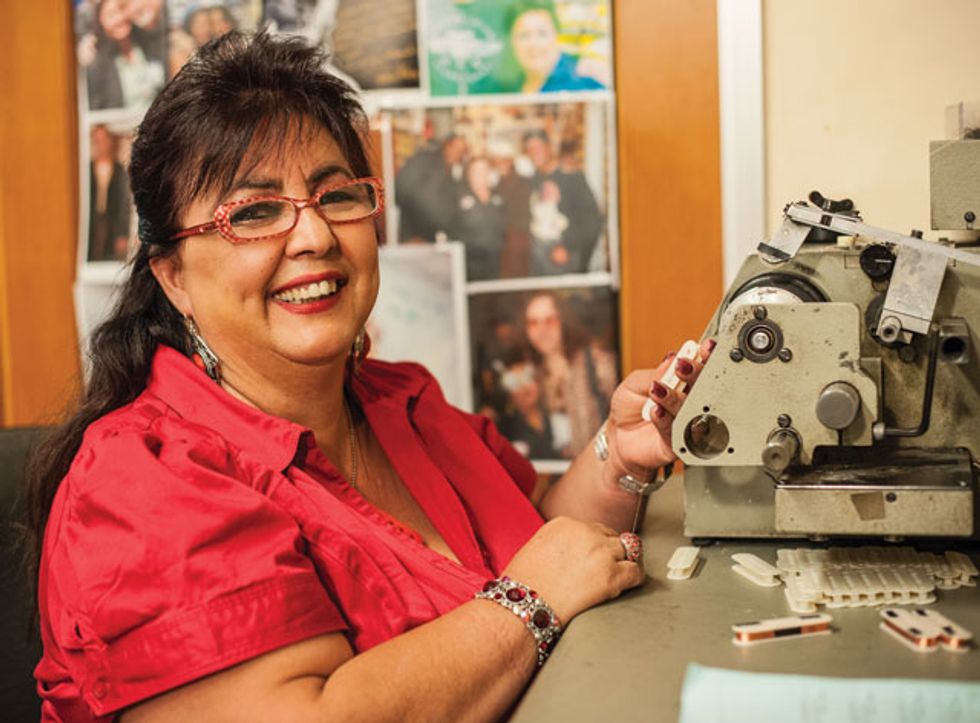 Maricela "MJ" Juarez manning her pickup winding station
"The heart and soul of your guitar has to connect with your own heart and soul," says Seymour Duncan Custom Shop manager Maricela "MJ" Juarez.
Juarez has worked alongside Seymour Duncan for more than 30 years, establishing herself as the legendary pickup builder's most trusted collaborator. She's also become a custom pickup builder to the stars, helping the guitar's most demanding tone junkies connect better with their instruments. Some say she's wound more pickups heard on gold and platinum records than anyone. Her clientele includes Billy Gibbons, Eric Clapton, George Harrison, Eddie Van Halen, Vince Gill, Slash, James Taylor, Peter Frampton, Warren DeMartini, and Steve Miller—not to mention countless discerning players around the globe.
Juarez began her Duncan tenure as a production-floor pickup winder, but Seymour eventually asked her to manage the growing Custom Shop. It's expanded so fast that they recently brought in Seymour's son Derek to help manage. Nowadays they're only partially joking when they refer to Juarez as the Queen of the Custom Shop. But like so many things in life and music, her path to pickup-winding royalty was anything but what she'd planned.
Tortillas vs. Tone
Just how unlikely is her story? Rewind to early 1983, when Juarez's then-job moved to North Carolina, while she chose to stay in Santa Barbara, California, with her new husband and their five-month-old baby.
"I was in my apartment making homemade flour tortillas when my neighbor knocked on the door," she recalls. "She asked for a ride to drop off a job application. I said, 'Sure,' but then she saw that I was making tortillas and said, 'I'm so sorry—I didn't know you were busy.' I told her, 'Don't worry—I can finish them later, and they'll be warm for dinner.'"
When they arrived at the neighbor's hoped-for place of employment—you guessed it, the Seymour Duncan factory—the friend listed Juarez as a reference. Inside, Juarez recognized several employees and chatted with them before heading home to finish her tortillas. But then the phone rang. It was the Duncan shop supervisor with a job offer.
"I started laughing," Juarez remembers. "I said, 'Excuse me, you've got the wrong person—I was only the driver.' He said, 'I know, but I would love for you to come work for us.' I said, 'But I didn't fill out an application! I'm the wrong person!' but he just kept saying, 'I know!'"
Day 1: Pickups for Who?
Given the prestige of Seymour Duncan—the man and the company—it's hard to imagine any pickup winder experiencing a first day on the job like Juarez's. Not only did she come to the factory not knowing exactly what she'd be crafting, but she also had no idea her very first project would be for one of the world's most revered musicians: Jimmy Page.
The former Led Zeppelin guitarist was about to embark on a tour and needed new pickups for one of his Les Pauls. "I cannot forget those humbuckers," Juarez says. "The DC resistances were 8.2 kHz on the neck and 8.8 on the bridge."
Despite her knack for recalling specs decades after the fact, Juarez is a notorious note taker. She's chronicled just about everything she's made at Seymour Duncan, both in general production and in the Custom Shop.
"I started taking notes so I wouldn't make mistakes," she says. "I noticed that Seymour also takes notes of almost everything. He said, 'You take notes? I do it the same way. Look, let me show you!' That's when he started showing me notes from when he made pickups for Roy Buchanan, Danny Gatton, Eddie Van Halen, Elliot Easton, Rick Nielsen, and David Gilmour. Seymour liked the idea that I was following in his footsteps on the note taking."
Juarez says it even became competitive: "I used to say, 'Okay, Seymour, here's a customer request,' and I'd write down my specs without showing him, and he'd write down his. We'd put them together and they'd be the same!"
Between Seymour, Juarez, and others, note taking at the Duncan Custom Shop is pretty extreme. Many large file cabinets hold records of everything they've ever made—thousands of full pages mixed in with scraps of paper scrawled with specs.