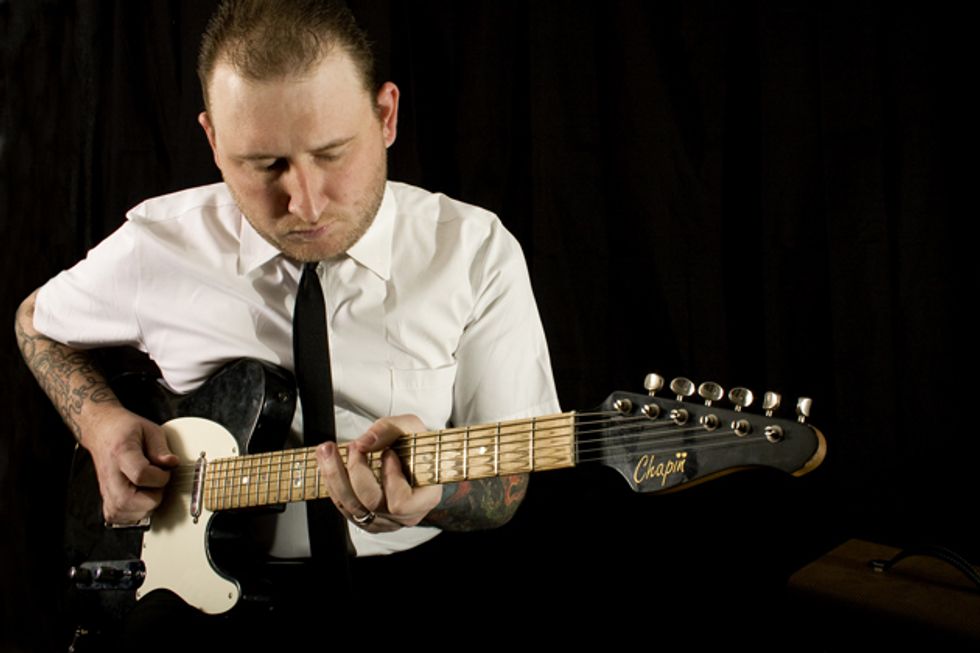 Built by Bill Chapin, Smith's main guitar is a T-Bird model.
Josh Smith's career is emblematic of the YouTube age: The Los Angeles-based guitarist gets as many hits for his product demo videos as for his live gig posts. He spends hours on tour buses answering gear questions from fans in awe of his magnificent tone.
But endorsing a piece of gear doesn't mean Smith uses it for every gig. "Sometimes guys get mad because they see me on TV, and I'm not using their gear," he explains. "But if it isn't right for that gig, I won't use it. They didn't hire me—the artist did, so I have to use what's right for the artist's sound."
Still, Smith is loyal to the people with whom he works. "The companies I get involved with are my friends, and I go out of my way to help them. I don't just take free gear. I try to be involved with guys who make the gear I use."
First and foremost, though, Smith is a player. A blues prodigy, he was gigging steadily at 14 around his hometown of Pembroke Pines, a suburb of Fort Lauderdale. "Back then I only knew blues, blues, blues," he recalls. "I wanted to be the next Kenny Wayne Shepherd or Jonny Lang. Until I was 22 all I did was put out records, travel in a van, play clubs 300 days a year, and not make any money. Then I decided I wanted to be able to pay bills and not live in my parents' house, so I took a break and a leap of faith."
Shifting gears. The leap of faith involved moving to L.A. and shifting gears from solo artist to sideman, including work with American Idol winner Taylor Hicks and former Tony! Toni! Toné! member Raphael Saadiq. "It turned out to be a good move," says Smith. "It took 10 years, but we just bought a house. Also, doing sessions and sideman gigs couldn't help but expand my horizons. You learn new stuff all the time, and it sneaks into your playing."
Both old and new stuff were on display for Smith's 2009 instrumental record, Inception. "I think of that record as a business card," he says.
Among other things, Inception displays Smith's formidable country chops. "When I was 16, a dude handed me a tape," he recalls. "One side was Danny Gatton, the other was Roy Lanham—an old school country-jazz player. Gatton is one of the greatest, and Roy Lanham playing triple stops and four-part chord melody over simple country changes blew my mind. Overnight I went from anchoring my hand on the pickguard to free-floating hybrid picking. Everything I play now is hybrid picked, even B.B. King licks. People say, 'You sound so clean and precise!' That's the hybrid picking. I don't play as fast as I did when I was younger, but I'm way cleaner!"
"I want every nuance of picking to come through, and no guitar does that like a Telecaster."

Soon after Inception came out, German label Crosscut re-released Deep Roots, an older Smith blues record. "They renamed it I'm Gonna Be Ready and repackaged it," says Smith. "It started doing well, and for the first time in 12 years I toured playing blues for a month straight. My own music, full rooms, selling CDs—I realized how much I missed it. I could see things building over there and started going over once or twice a year."
Crosscut's desire for a new blues record led Smith to record Don't Give Up on Me. But he says he found himself uninspired by the current crop of blues records: "Ninety percent of the records were guys playing museum-quality blues—brilliantly, I might add—but not breaking new ground. Or else it's heavy blues, like Joe Bonamassa. He's an amazing guitar player, but I did that style when I was a kid. What's the point of making another blues record unless it's something special? So I wrote 40 new songs, and then whittled them down."
Smith's goals were to write the next "The Thrill is Gone" or "Crosscut Saw," and to make a record that stood out from the low-budget productions he heard on blues radio. "I'm a blues guy who does sessions," he says. "One of my favorite blues records, Bobby Bland's Dreamer, was cut with Larry Carlton and Dean Parks—top session guys who play blues. On this record I wanted to play the solos like Albert King, but play the rhythm like Larry Carlton. I wanted strings, like blues records had back when there were big budgets. By the grace of my wonderful musician friends I was able to pull it off."
Backed by a swinging organ trio, Smith lays down spanky, soulful blues licks in B.B. King's "Payin' the Cost to Be the Boss." Smith starts his extended solo at 3:03 by paying homage to King and then gets increasingly jazzier with each chorus, playing across the bar lines and coaxing sheets of altered tones from his heavy-gauge strings.