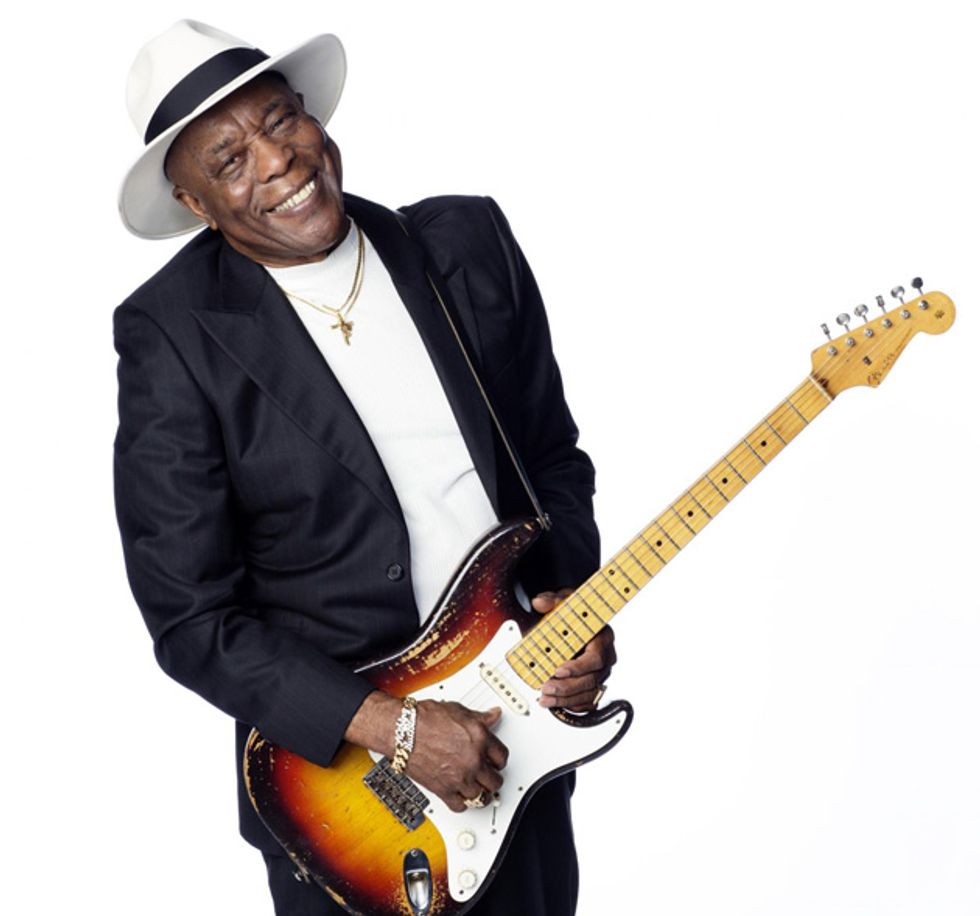 Buddy Guy says his last three albums have been his most creative to date, owing to the freedom he feels in the studio when working with producer Tom Hambridge.
If Chicago is the blues capital of the world, there probably isn't a living artist who holds a better claim to the title of mayor than Buddy Guy. The pioneering Windy City player has thrilled audiences worldwide with his hard-nosed take on the genre for nearly six decades. The list of guitarists inspired by Guy reads like a who's who of rock and blues: Eric Clapton, Jimmy Page, Jeff Beck, Jimi Hendrix, and Stevie Ray Vaughan are but a few of the players Guy has influenced.
Guy turned 77 in July but he continues to tour at a breakneck pace. He's currently supporting his new double album, Rhythm and Blues, which features such heavyweight guests as Gary Clark, Jr., Kid Rock, Keith Urban, Beth Hart, and three-fifths of Aerosmith. Guy recently opened up to PG about the new record, his love affair with Fender tone, and his mission to keep the blues alive.
On your last record, Living Proof, you explored the theme of longevity, as if to say, "I'm still here." Is Rhythm and Blues more a celebration of the blues itself? I'm not really an expert at what I've done, or what I'm going to do. I just try to be my best. The last three albums have been more of the Buddy Guy I've been trying to be ever since I got into this business. I've never had more freedom than I do now with my producer Tom Hambridge. When I go to the studio he says, "This is your studio now and I want you to be Buddy Guy." In the past when I went into the studio everyone wanted to teach me how to play in the studio. They would bring in some producer who was affiliated with some hit record, and I had my friends like Eric Clapton and Jeff Beck tell me, "Man, when I was making hit records I didn't listen to nobody. We played what we wanted in the studio." I've always tried to play what somebody else wanted, and if you go back to some of my albums in the early days, it was always six or seven songs done by Muddy Waters, Howlin' Wolf or Little Walter, and you can't fill those shoes. So these last three albums have been more creative Buddy Guy stuff that let me go and do what I wanted.
Willie Dixon once described the blues as "the facts of life." What's your definition? The blues is the facts of life. If you ever run into a problem in your life, you just got to keep living. If you can go through life and never run into any sorts of problems, please call me and tell me how you did it! You never really know what's gonna happen to you, and blues players have been singing about crap like that since before I was born.
You dedicated your recent autobiography, When I Left Home, to Muddy Waters, who you call "a father to us all." What can you share about your relationship with Muddy and what he meant to you? When I went to Chicago I didn't have any relatives or nothing. I was just looking for a job. I'd been working in Baton Rouge at Louisiana State University, and someone told me I could make twice the money working at a university in Chicago. I never did land that job though, because somebody found out I could play Jimmy Reed or a few licks like Muddy, so I got the chance to meet him. He took me, he took Little Walter, he took Junior Wells, he took James Cotton, and he treated us all like we were his children. I just felt like, this isn't my biological father but the father of me in music and I better listen. This is my second dad and I better listen if I want to learn something. That was the kind of connection that we all had with him, and until the day he died, I felt like he was the father of my musical career.
You had a long creative partnership with Junior Wells. How did it feel to do your own version of his trademark song "Messin' with the Kid?" You know, we used to sit up and laugh and talk about "if I go before you or you go before me," and what was gonna happen. "If you don't do this, I'm gonna come back and run your ass crazy," and all this ghost stuff. So I said to myself, "He's been gone now for about 14 years, so I better let him know that I didn't forget what we talked about." When it came time to do the session for that song and I listened to it on playback I went, "You know who would kill that?" I'd teased Kid about it before because I thought he was going to beat me to that song, so I wanted to beat him to it. He was at the Kennedy Center Awards with me, so I approached him about it and he said he'd do it.
What is your approach to writing new music? Every time I talk to my producer Tom Hambridge at dinner or before a show, he always has a pad of paper and a pen and he says, "Buddy, you don't realize, but every time I talk to you, you're writing songs." The song "Skin Deep" is something my mother told me when I was about nine years old. She had a broken mirror sitting on the porch on our farm in Lynchwood, Louisiana. I ran by it and I said, "Oh my, I'm good lookin'!" And she looked around and said, "Yeah son, but guess what? That's only skin deep." I was telling Tom that story and he was writing it down, which is how we came up with that song.