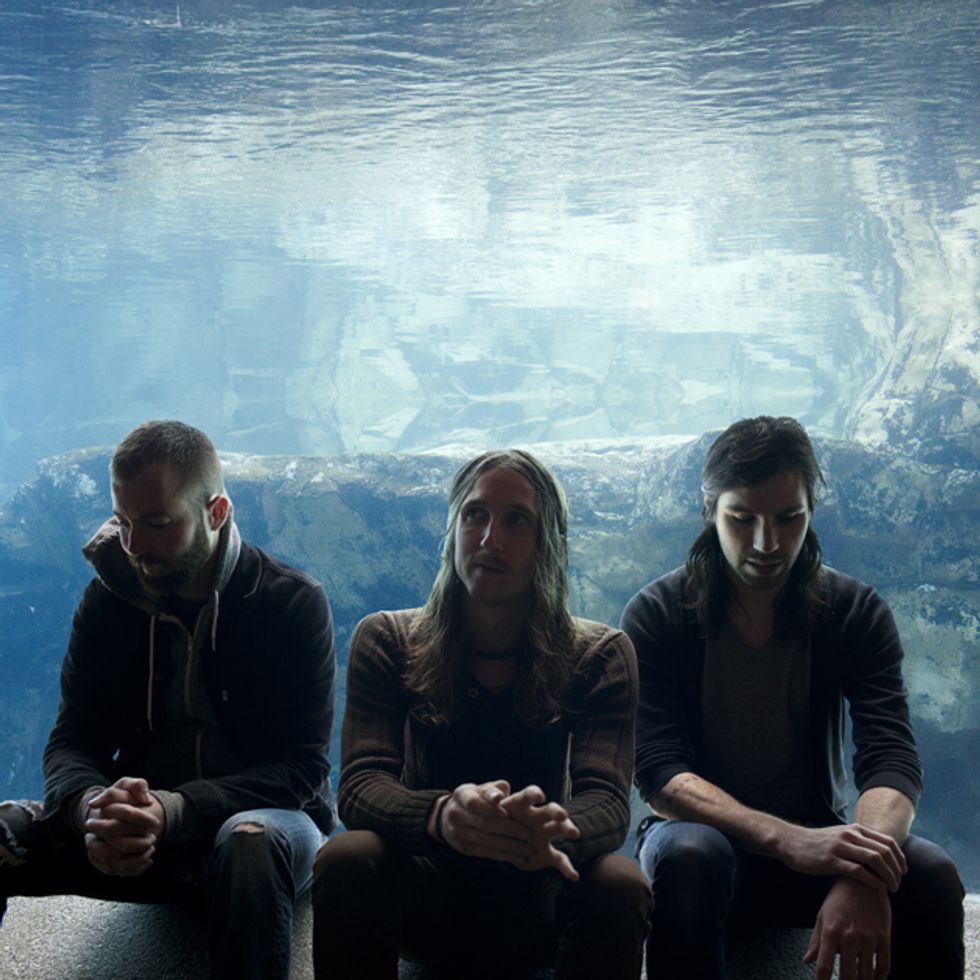 Chicago's prog power trio Russian Circles' consists of bassist Brian Cook,
guitarist Mike Sullivan, and drummer Dave Turncrantz.
Last spring, in an unassuming building on Chicago's West Belmont Street, acclaimed instrumental rockers Russian Circles were busy crafting their fifth studio album, Memorial. They developed their new opus in Studio A of Steve Albini's Electrical Audio Studios, which offers three tracking spaces: Center Field, the Kentucky Room, and the Alcatraz Room.
Each room is specifically designed to help capture tones associated with particular instruments. The spacious Center Field room provided natural acoustics for Dave Turncrantz's drums, and the Kentucky Room's liveliness made it ideal for guitarist Mike Sullivan's dark-sounding amp setup. Brian Cook's bass rig sat in the controlled isolation of the Alcatraz Room, which uses a brilliant combination of perimeter venting and membrane absorbers to deaden the space.
"Just today, I was comparing the El Capistan to my vintage Memory Man. It can nail every delay tone you could possibly think of."
—Russian Circles guitarist Mike Sullivan

With the recording prowess of acclaimed engineer Greg Norman, intimate production guidance by Brandon Curtis (The Secret Machines), and a mountain of rare, custom, and boutique guitars, amps, effects, and recording equipment at the ready, Russian Circles produced its most diverse release yet—one that deftly weaves metal, classical, prog, post rock, industrial, and a slew of other influences into a heaving, breathing mass of ethereal power.
Russian Circles graciously invited Premier Guitar into the studio to get a first-hand look at the recording process, peek at Electrical Audio's amazing gear, and watch Curtis (who produced the band's 2009 album, Geneva) steer the project to completion.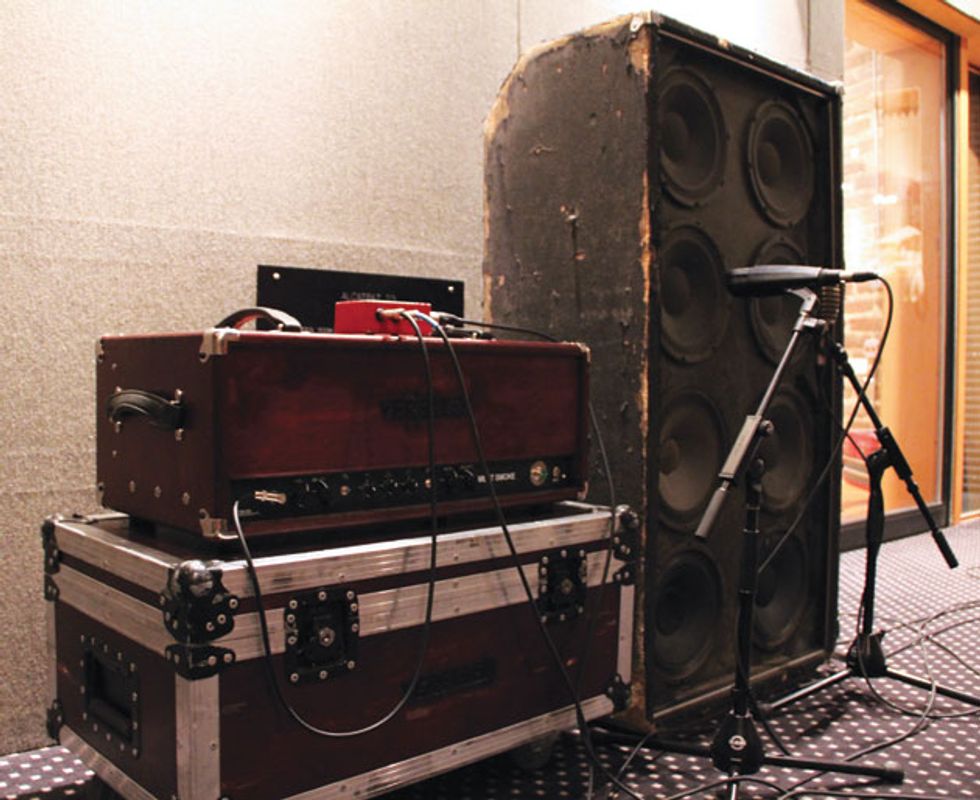 Brian Cook's bass rig consists of a 6550-powered Verellen Meat Smoke head paired with an Ampeg 8x10 cabinet.
Laying the Groundwork Both Sullivan and Cook say that almost all of Memorial was written before entering the studio. Still, the band wanted the freedom to experiment with ideas and gear while recording, so there was consensus that parts would change along the way.
Capturing the band's dense, complex music was no easy task, and according to Sullivan, working with Curtis again was the best choice in terms of production. "He's really good at throwing the ball in your court and letting you think about what could happen there, guitar-wise," explains Sullivan. "We'll have a song's arrangement done, and while he won't try to change it, he'll ask questions to get us second-guessing certain things."