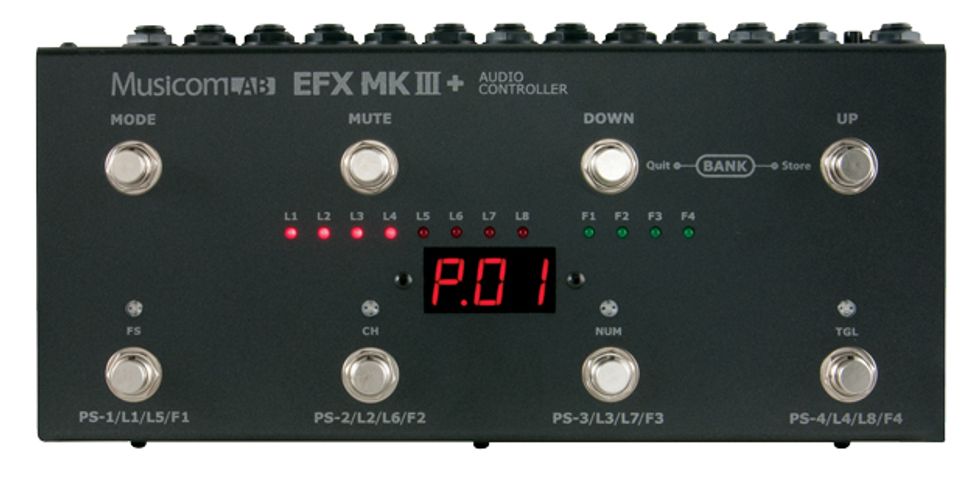 Musicom Lab's EFX MKiii+
The Musicom Lab EFX MKiii+ is the Swiss army knife of pedal switchers. It provides 60 banks of four presets each and full MIDI capability. The MKiii+ has eight effect loops, buffering, ground lift, and amplifier channel switching. It's the priciest model in this shootout, and the one with the smallest footprint.
With just two rows of four switches each, the MKiii+ appears simple, though these switches perform different functions in various modes. As with most other units, the front row of switches is for editing and selecting presets, while the back row is for mode changing, muting, bank selection, and other tasks, depending on whether you're in preset, edit, or expression + MIDI mode.
Practice Your Modes Preset mode is for switching between banks and presets in performance. A numerical LED displays the active preset, while individual lights indicate which of the eight effects loops are active. Pressing the up/down footswitches steps through banks, while pressing and holding a switch shuttles you quickly through the 60 banks. Switching doesn't occur till you've selected a band and a preset, which means that you can jump from, say, bank 1/preset 1 to bank 52/preset 3 without engaging unwanted presets along the way. A mute footswitch silences everything except the tuner output.
Ratings
Pros:
Large preset library. Eight loops. Can switch amp channels. Expression pedal input. Inputs and outputs galore.
Cons:
Relatively pricy. Only four footswitches for eight loops.
Tones:


Playability/Ease of Use:


Build/Design:


Value:


Street:
$749
Musicom
musicomlab.com
Instant access mode is for configuring presets. With only four footswitches to engage eight loops, you must tap the mode button to access all the loops. (This system is a bit less straightforward than on the other units, but that's a minor gripe considering that, theoretically, you'll rarely use this mode onstage.) Another tap of the Mode button accesses the function switches, which are among the coolest MKiii+ features. These send footswitch control messages via a pair of TRS output jacks on the rear of the unit. For example, you can use them to switch channels on a compatible amp and store the channel status as part of your preset. Want to use your vintage Tube Screamer for the overdrive on the verse, but use your amp's high gain channel on the chorus? No problem. You can also use these outputs to engage reverb and/or tremolo on many amps. The ability to pair effects and amp channel selection is a massive plus for the MKiii+.
Edit mode lets you get the most from powerful MIDI-compatible stompboxes from such companies as Eventide, Strymon, and Moogerfooger. The MKiii+ supports both program change and controller messages via standard MIDI in/out jacks. There's also an expression pedal input (pedal not included) that lets you tweak effect parameters in real time and store the assignments with your presets. For example, you might create a preset for a surf tune that allows you to modify the tremolo speed on an Eventide ModFactor patch. On the next song, the same pedal might control the wet/dry level of a delay effect.
The Verdict If you're one of those gadget-loving tone junkies with too many pedals and not enough ways to connect them, the EFX MKiii+ may be the pedal switcher you're looking for. It's has unique features, yet is straightforward enough for the player who wants to start with the basics while having room to grow. The EFX MKiii+ is one of the most versatile pedal switchers on the market.