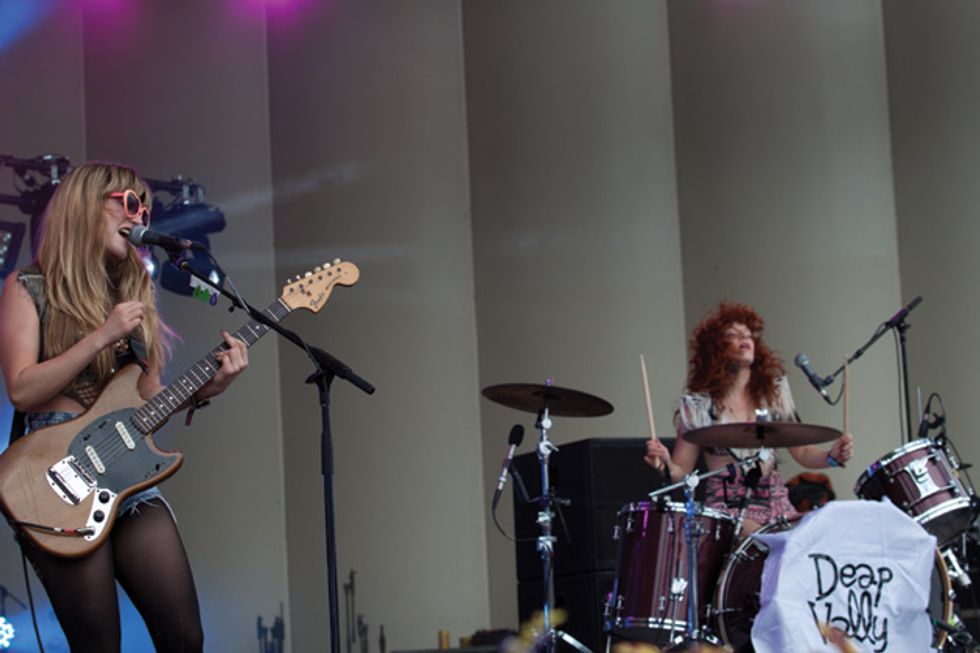 Photo by Chris Kies
What if music had an odor? We asked Deap Vally frontwoman and guitarist Lindsey Troy to hypothesize what her band's tunes might smell like. Her answer: "Peaches, patchouli, garlic, and dirty panties."
On the Southern California duo's debut, Sistrionix, sexy femininity underlies a whole lot of scuzzy, fuzzy, rocking blues jams. Troy's vocals are equally biting. Her delivery possesses an unabashed and unwavering quality in both high and low registers. ("I love Nina Simone, Fiona Apple, John Lennon, Screaming Jay Hawkins, Janis Joplin, Joan Jett, Courtney Love," she says.)
"Being in a duo makes it easier to play in sync with each other. It's kind of like having sex with one person versus having sex with three people."

But Troy wasn't always an in-your-face player—she started on classical guitar and fingerpicking. Her father, a rock biographer, taught her "Knockin' On Heaven's Door" when she was 10. She didn't get serious about guitar until age16, graduating from a "cheap, shitty child-size guitar" to a Baby Taylor, and borrowing her dad's full-sized Taylor acoustic whenever she could get her hands on it.
Believe it or not, Troy only plugged in three years ago, when she met Deap Vally's other half, drummer Julie Edwards. The first electric Troy played was a wood-finished 1976 Fender Mustang, which remains her No. 1 axe. At first she just liked it because it was free. "My dad bought it off of his friend who was hard up for money and living in his van," she recalls. "First I just asked my dad for it because he wasn't using it, I needed a guitar, and I was broke. But then I fell in love with it. I'm really protective of it. It's old, it has its own sound, it's light, and I'm just used to playing it."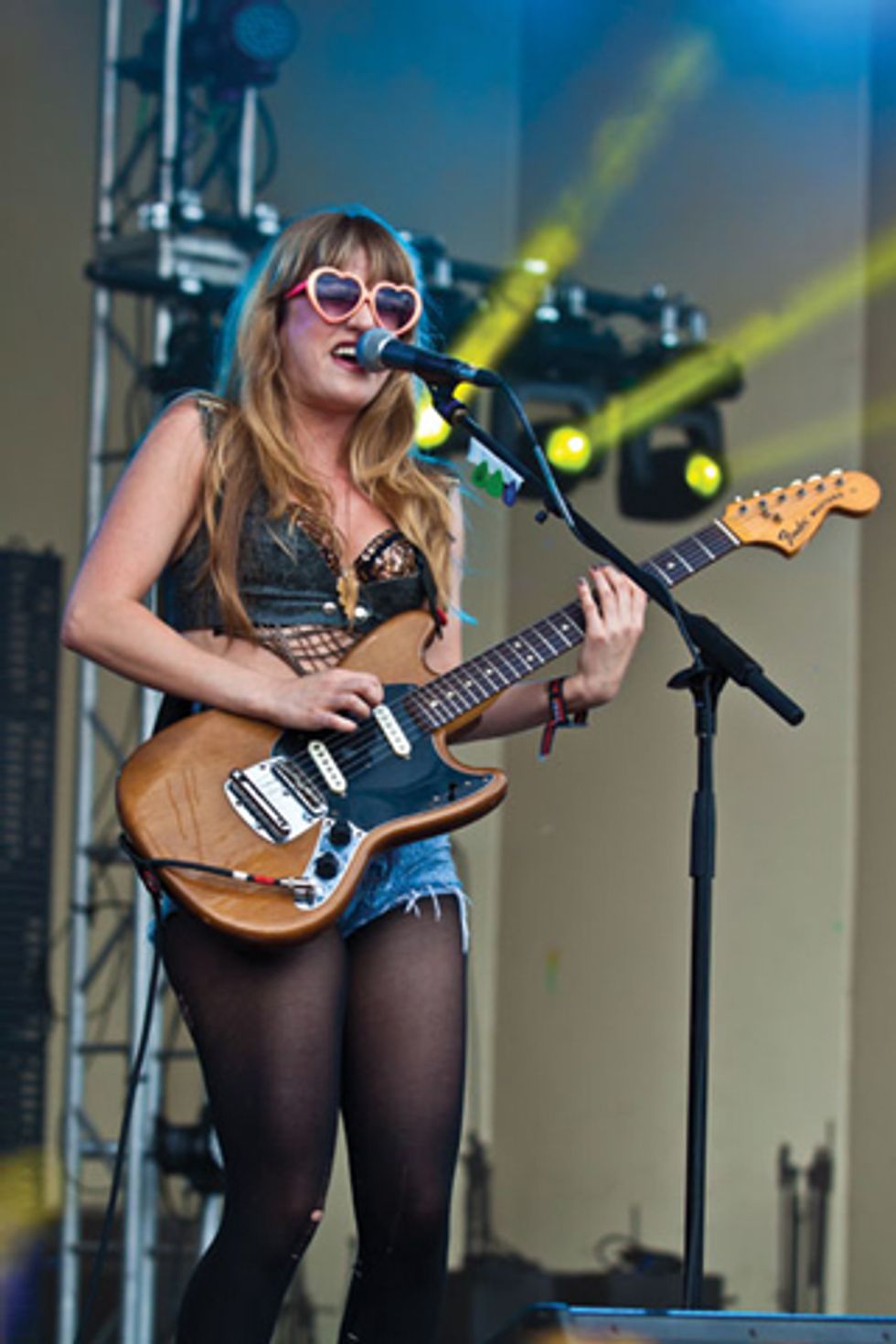 Photo by Chris Kies
Troy's main guitar influence was her sister Anna, two years her senior. They had a family band. "She's a fantastic guitar player," says Lindsey. "She was always better than me, and I really looked up to her and admired her," As a teenager Lindsey was into softer pickers like Elliott Smith, but now cites harder-edged influences: Jimmy Page, Jimi Hendrix, Nick Zinner, Jack White, Joan Jett, and Black Sabbath.
Despite the fact that Deap Vally is often compared to other rock duos such as the White Stripes and the Black Keys, they didn't set out to be a two-piece. "The first time we jammed together we played with a female bass player," Troy says. The bassist, Ashley Dzerigian, was too busy with other commitments (she's currently playing with Adam Lambert and Maximum Hedrum), so the band carried on without bass, and that format progressed naturally for Troy and Edwards.
"As a two-piece, you just get those comparisons," Troy notes. "But those groups laid a lot of groundwork for two-pieces, showing that it's possible to have a full, cool, original sound with two members. Being in a duo makes it easier to play in sync with each other. It's kind of like having sex with one person versus having sex with three people." The duo's songwriting is collaborative—they conceptualize and develop ideas together, whether a song is born from a lyrical concept, a guitar riff, or a beat.