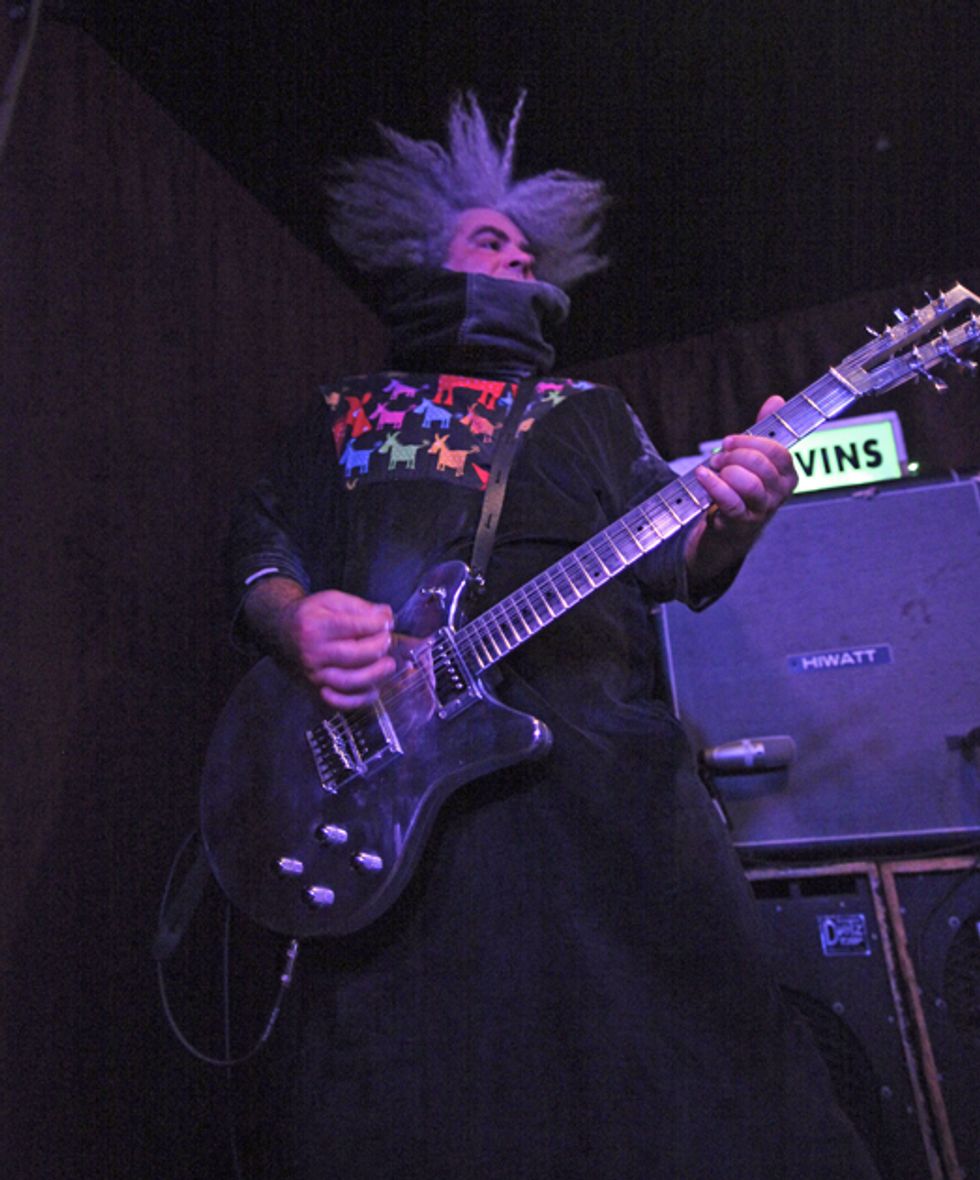 Melvins' King Buzzo pounding away on his Electrical Guitars Company Custom DC model during a recent show.
The Melvins are not a joke. Don't be fooled by frontman/guitarist Roger "Buzz" Osborne's graying Sideshow Bob hairdo. Don't dismiss the quirkiness of originals with titles like "Sky Pup" and "Rat Faced Granny," or their haunting cover of Paul McCartney's "Let Me Roll It" from last year's Freak Puke, or the new Melvin-ized version of the traditional tune "You're in the Army Now" off their brand-new album, Tres Cabrones. But if you do happen to laugh at the 30-year doom-grunge vets, just know they're laughing, too.
"Sure, we want to be funny, but those songs are still very meticulously done when we're recording them," says Osborne. "It works because it's good—it's not just some joke. It has a melody, it's well crafted, and they're catchy as hell." Therein lies the success of the Melvins—they've got the ying of Sabbath-style, oozing-tar riffs mixed with the yang of melodiously delivered, tongue-in-cheek lyrics and wonky song titles.
While they've never been known to dwell in the past, for Tres Cabrones—their 19th studio album—the Melvins opted to reconnect with original drummer Mike Dillard. "I've known Mike since probably 8th or 9th grade—we were partners in crime well before music," says Osborne. "Now he's an all-American guy with a union job, a wife, and kids, so I was just happy to get Mike on a real Melvins album. He's a great guy, a solid drummer, and I'm happy that he can tell his kids when they're old enough that their dad was a rock drummer."
With Dillard sitting in on drums, longtime drummer Dale Crover moved to bass, and the change effected something of a nostalgic trip back to the group's more simplistic hardcore origins. "It was fun because we played to our strengths with this lineup and we ended up making an album that sounds like a throwback to our early material," says Osborne.
I love when people come up to me and say "Your guitar sound was better on Stoner Witch, when you used a Les Paul." I'm just, like, "What album do you think I only used a Les Paul on? Plus, I used a Fender Mustang reissue on that, dumbass!"

Osborne says the approach resulted in simpler, more digestible songs that sound like they've been excavated from the band's late-'80s or early-'90s canon. To break up some of the heaviness, they also got their funny bones working on traditional covers of "Tie My Pecker to a Tree" and "99 Beers."
"We worked as hard on "Tie My Pecker to a Tree" and "99 Beers" as we did anything on Tres Cabrones, but we were laughing our asses off while doing it—we had to redo takes because you could hear us in the background," he says. "I think music has made us nuts."
We recently spoke to Osborne about the making of Tres Cabrones, as well as all the crap he takes for his vibrato technique and why he opts for mainstream stompboxes. And don't miss our interview with Crover (page 3) about relinquishing the drum chair and taking on bass duties for the new album.
Mike Dillard hasn't been in the band since the early '80s. What led to him joining you for Tres Cabrones?
A few years back we put out some original demos on [former Dead Kennedys frontman] Jello Biafra's label, Alternative Tentacles. He had a 50th birthday party in San Francisco and he asked if the Melvins would play. Dale mentioned that we should have the original lineup—or close to it—play the show, since the demos they released were from that iteration of the group.
How did you parlay that performance into an album?
Well, before the gig we got Mike down from Washington and we recorded some of our rehearsals—and we sounded really good. We talked out loud how cool it would be to record new songs to perform as this de facto original lineup. All of us were onboard immediately. Obviously, Mike's a very busy guy with a limited amount of vacation time, so it required some planning to make sure every time he would come down here to record we had material and ideas to work through.
Aside from flying Mike down for recording, how were these sessions different from previous Melvins sessions?
What you have to understand is that we do a lot of bulk recording. During our last recording cycle, on one day we'd do vocals for a [alternative band lineup] Melvins Lite song, bass parts for our Everybody Loves Sausages cover album, guitar overdubs for Tres Cabrones, and a solo for a song on Freak Puke.