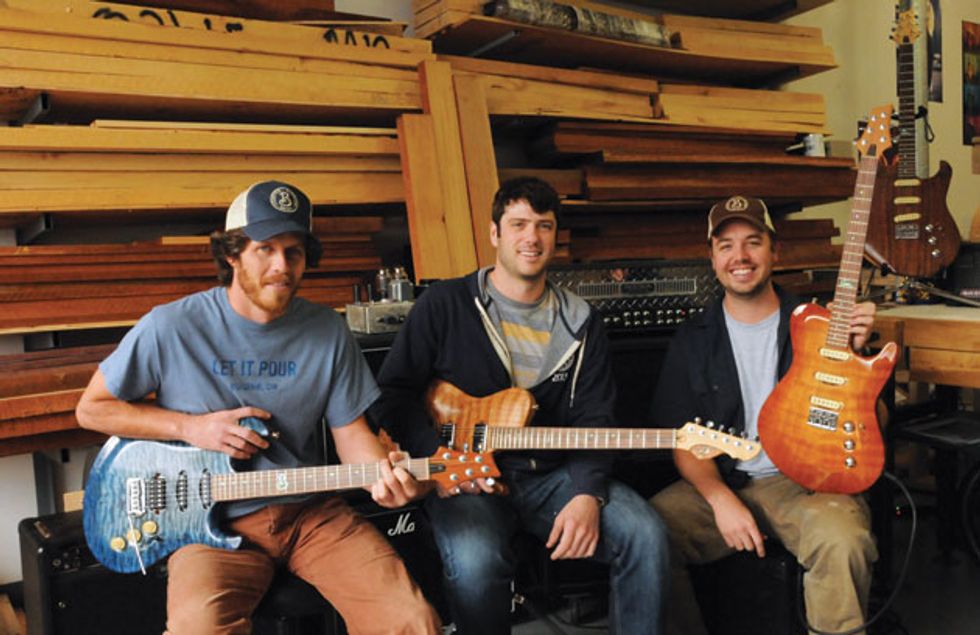 Born Custom Guitars' cofounders (left to right) Dan Hehnke, Campbell Davis, and Jonathan Miller practice what they preach with conscious green efforts like sustainable wood gathering and tree planting.
Sustainability has become a watchword of our times. Overfishing, excessive drilling, and mass deforestation have driven entire industries around the globe to scramble for alternative ways to produce high-grade products that consumers expect. The guitar industry is no stranger to depleting resources: That coveted Brazilian rosewood—a common fixture on fretboards for decades—is now a thing of the past. Just two years ago, industry juggernaut Gibson was raided for allegations of violating the Lacey Act, a law set up to regulate illegal trafficking of woods into the country. Gibson was eventually cleared of all charges, but just the fact that the U.S. Government investigated a guitar manufacturer should give us all pause.
As inhabitants of the beautiful foothills of the Colorado Rockies, the crew at Born Guitars doesn't take their surroundings for granted. Owner Jonathan Miller, along with cofounders Campbell Davis and Dan Hehnke, are striving to walk the walk and are committed to doing little things every day in the goal of promoting a greener world.
"The shop stays pretty warm in the summer and pretty cool in the winter," Davis says with a laugh. "We don't have the luxury of being in a really high-tech green facility, but we do what we can with what we have. We also decided as a company to all have eco-passes, which is a local transit bus pass, and even though it's only three of us, we try to encourage each other to use public transit a lot."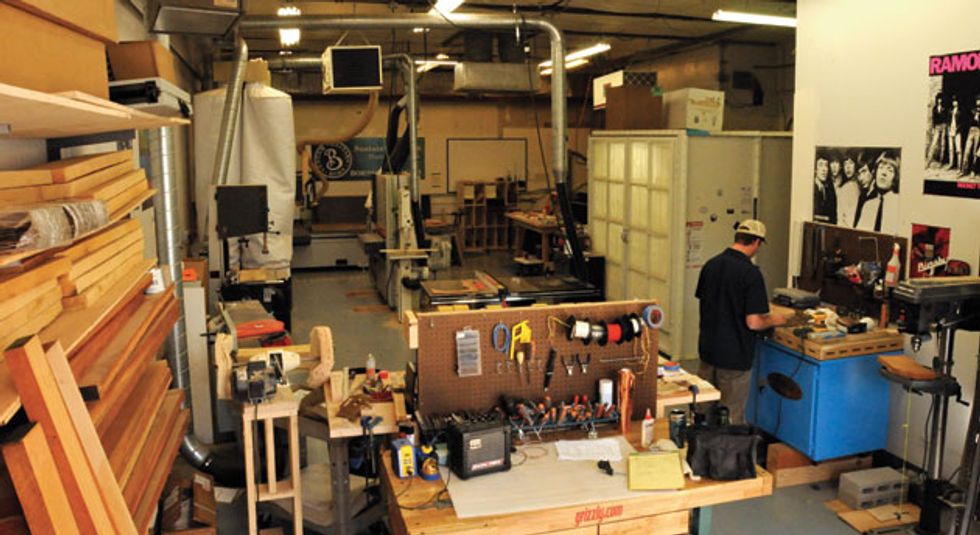 To save energy, the Born Guitars workshop is warm in the summer and cool in the winter, says Campbell Davis.
Other sustainable business practices for Born include purchasing carbon offsets and planting at least one tree for every guitar they make—a minimum of 100 trees a year. They don't stop there: Every piece of tonewood used by Born is acquired sustainably, which means it was salvaged, harvested, or reclaimed in a manner that has little or no detrimental impact on its surrounding ecosystem and does not disrupt the life cycle of a forest.
"Our pistachio wood, for example, is salvaged in entire trunk sections when commercial pistachio farmers remove the trees from their farms once they're no longer able to produce commercially valuable nuts," Miller says. "Our redwood is also salvaged in large trunk sections, but these are trunks that were left on the forest floor from logging operations in the late 1800s."
Born's mahogany, maple, alder, and swamp ash come from commercial logging operations that are either 100-percent certified by the FSC (Forest Stewardship Council) or are sustainably operated under the watchful eyes of forestry and government officials. "Our mahogany actually comes from community-managed forests in the lowlands of Mexico, Guatemala, and Honduras where a harvest usually consists of a single tree," Miller explains. "Many of these communities lack roads, so trees are often removed from the forest by donkey. None of the commercial logging operations that we source woods from practice clear-cutting."
The Big Picture
This budding guitar-building operation based just outside of Boulder, Colorado, may be small, but Born is fueled by passion and big ideas. "My vision is to be an example in the industry and lead it on a more sustainable path," remarks Miller, who says he consciously modeled his company's mission to represent his own personal beliefs and aspirations.
The beginnings of Born Custom Guitars can be traced back to Miller's professionally unsatisfying days working in the financial industry in Chicago. "I had a dream of getting involved in the guitar industry in one way or another for eight or nine years—it was a long time coming. I set out a plan and I knew that in that point in my life, I didn't have enough business acumen to feel comfortable starting any sort of business and pushing forward in any industry, so one major step was getting out of the financial industry and learning how to start a business. That was when I moved to Colorado and got my MBA at CU-Boulder."
Once ensconced in the 'Centennial State,' Miller began researching how to turn his dream into reality. "I visited a few guitar shops on my own and that was the tipping point where I said, 'If these guys can do it, I can do it too.' So I kind of blindly jumped into it and used my savings to start the company and haven't looked back."
Though he had a bit of experience working with guitars, Miller felt he didn't have enough technical expertise. "I had taken some classes in guitar building and had modified some guitars already. I had a Gibson Explorer that I stripped out and rebuilt and repainted. I'd also built a guitar or two on my own by hand." It was around this time that he received some help from one of the industry's true living legends: Fender Custom Shop founder, John Page.