Blackstar Amplification has only been around since 2007, but the fast rise of the Northhampton, England-based manufacturer shouldn't be all that surprising, since its design team boasts a number of Marshall veterans. Quality, sound, and affordable prices have also helped make the high-gain-centric brand a top seller.
At Summer NAMM 2013, Blackstar introduced their new LT pedal line, which was designed with affordability in mind (prices range from $79 to $149). The series is comprised of five dirt pedals: LT Drive, LT Dist, LT Metal, LT Boost, and the dual-mode LT Dual. Unlike Blackstar's larger HT-series pedals, the LTs have no vacuum tubes and run on standard 9-volt power. LT pedals feature buffered bypass and click-less, noiseless footswitches. Here we check out the LT Drive, LT Dist, and LT Metal. (Look for upcoming web-exclusive reviews of the LT Dual and LT Boost at premierguitar.com.)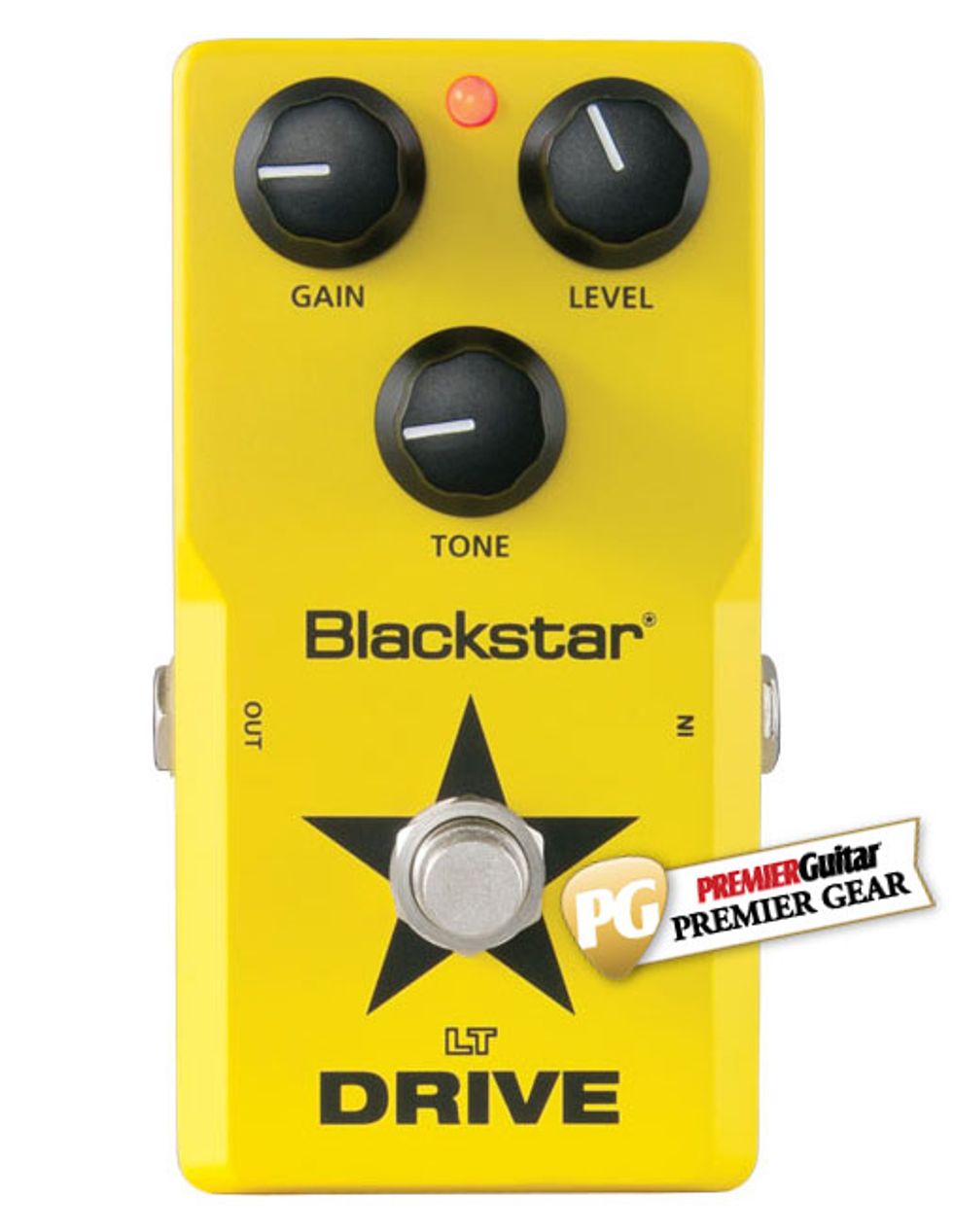 Ratings
Pros:
Excellent tones with a wide range of gain.
Cons:
More gain than some may want in an overdrive.
Tones:


Playability/Ease of Use:


Build/Design:


Value:


Street:
$79
Blackstar Amplification
LT Drive
blackstaramps.com
LT Drive
The LT Drive is Blackstar's new overdrive offering. Housed in a bright yellow enclosure, the LT Drive features gain, tone, and level knobs. Unlike most of the LT line, the LT Drive lacks Blackstar's ISF tone circuitry. But the pedal's simplicity is one of its best features. It's easy to dial in tones, and there's not a lot of "option anxiety" from having too many tone-shaping possibilities. The omission of the ISF circuitry also helps make the LT Drive very affordable at just 80 bucks.
The LT Drive has a fairly wide range of gain flavors. With the gain around 7 o'clock it works like a clean boost, exhibiting power tube-like characteristics. The tone control is very effective at these settings. Lower tone settings generate nice, singing lead tones. Higher ones provide more in-your-face aggression.
Bumping the gain up to noon produces a commanding rhythm guitar sound. Single-note leads are assertive too, if a little thinner than I might have expected. At these settings the output is fairly saturated—more so, to my ears, than comparable overdrives at similar settings. Still, the pedal offers great articulation, particularly with fast picking. Even in heavier saturation modes, the LT Drive is very dynamic. Picked lightly, notes get clearer and cleaner. Under heavy attack, they pop ferociously. This dynamism was more noticeable on the lower strings, and sounded especially great when I pummeled the LT Drive with A-string bends.
I expected more compression when I jacked the gain up to its highest reaches. But I was pleasantly surprised by tonal clarity and minimal loss of dynamics and definition. Maxing the gain is a ticket to hair/pop metal zones. The LT Drive sounds more aggressive than comparable overdrive pedals here, stopping just short of nü metal territory.
The Verdict
The LT Drive has greater range than most overdrives. It will happily go from a low-gain, "always on" pedal to metal bombast. If you have enough amp gain to work with, there's not much it can't do short of extreme metal. It's a great all-purpose dirt pedal that can rise to many occasions.