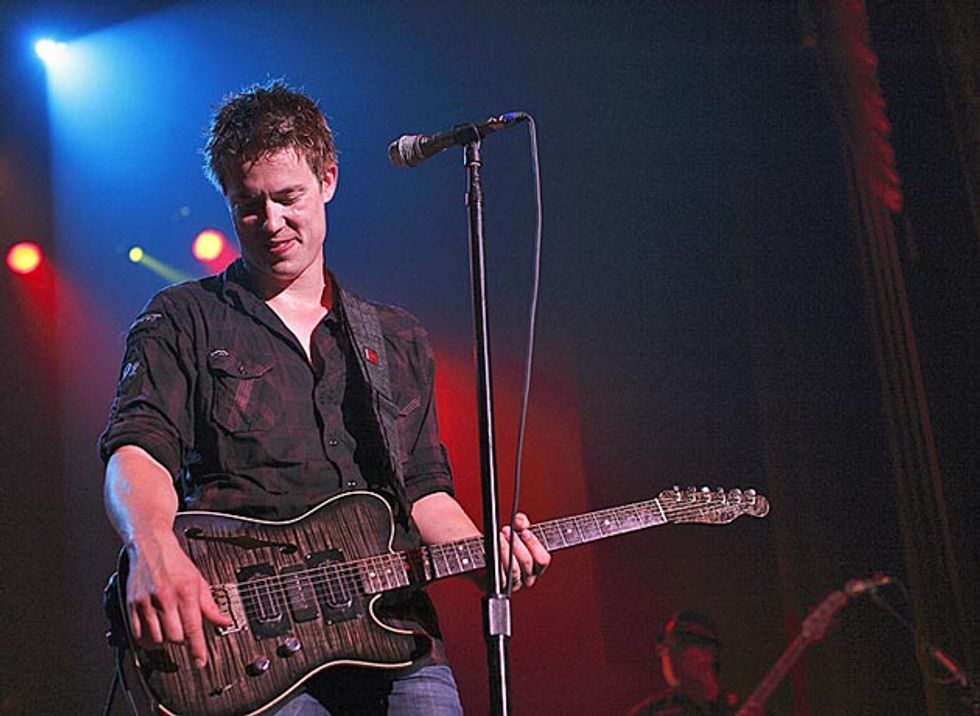 Two of Lang's early influences, Albert Collins and Tab Benoit, both played Teles and he credits that guitar
for shaping his style. Photo by Ken Settle.
When you were coming up, you were known as a Tele player. Lately, you have been using a Les Paul pretty often. When did you start to make the switch?
I'm like 50/50 with the Les Paul and Tele. The Les Paul that I have is a really special one. Basically, it's a '58 reissue. I have a couple of friends who have the highly sought-after Les Pauls and they brought them into the studio and this one has beaten every one of them. It's just a really good one. I got really lucky with it.
What made you originally start with the Tele?
Albert Collins and Tab Benoit. He was the other guy. He plays the semi-hollow Tele and that's where I got that idea. His tone is so unique and he gets such a great swampy midrange out of that Tele. When I saw that, I had to get one.
Do you feel like the Tele shaped your guitar style?
I do. More so on a Tele than that first Strat that I had. I got used to the tension of the strings with the stop tailpiece instead of the floater like the Strat. That's partially why I like Les Pauls. There's something about the scale being smaller that you just can't go crazy on them because the intonation gets weird. You have to be a little more reserved and precise with a Les Paul.
How did you get that thick tone for the solo on "I'll Always Be?"
I had the Les Paul going into this other amplifier made by this boutique builder called Mill Hill amps. They're all about a purity of signal path so there's no volume knob. You just plug it in—just a tube, transformer, and a speaker. The version that I played is called the Love amp. It's just beautiful with a Japanese symbol on the front. It's a Class A, so you just go for it. Actually, I think it was just waiting for that Les Paul.
Jonny Lang's Gear

Guitars
2002 Fender Custom Shop Tele loaded with three Bill Lawrence humbuckers
Gibson 1958 Les Paul Reissue
Martin J-40
Amps
Modified Fender Deluxe Reverb with Celestion Greenbacks
Mill Hill Audio Love
Effects
Visual Sound Route 66
Fulltone Ultimate Octave
Jam Pedals TubeDreamer+
Vox Wah
Boss AW-3 Dynamic Wah
Whirlwind The Bomb
Strings, Picks, and Accessories
D'Addario EXL110+ (.0105-.048)
D'Addario EJ26 (.011-.052)
Dunlop Gator Grip 1.5 mm picks
Dunlop straps and strap locks
3 Monkeys Dual Amp Switcher
Trailer Trash pedalboard
When you go in to track a guitar part do you have a basic tonal formula in your head or do you start from scratch every time?
I start from scratch, especially on this record. I wanted to honor the songs as much as possible and I did end up going back and putting a few more guitar things on at the end. I had my pedalboard, which is pretty simple, and a few different amps. I plugged into the board directly on several occasions—that worked out really well. Between five or six different configurations of stuff, I would just try and make all of that work.
Do you use the same pedalboard in the studio as you do on gigs?
It's the same board, although I do need to start a studio collection of stuff. I have a Visual Sound Route 66 pedal—which is a Tube Screamer-type deal. Then I have a Fulltone Ultimate Octave, a Boss AW-3 Dynamic Wah, a Jam Pedals TubeDreamer+, a Vox Wah, and a Whirlwind pedal called The Bomb. That's basically just a clean boost. I really like that one. If there was a delay or something going on I would just use Pro Tools for that.
You don't use any delay in your live rig?
I typically don't. I used to have an Echoplex, which I loved, but that disappeared.
Did you stick with your live rig of a pair of Fender Deluxe Reverbs in the studio?
Yeah. I use Deluxes a lot. They are new ones that've been modified. They're supposedly handwired to be like the older ones.
What is it about the Deluxe Reverb that you like?
Everything. The cut, the punch, and they're loud. They hold up without getting squishy when you turn them way up. They are like little Marshalls almost. I run them pretty wide open, maybe just a notch or so away from fully up. I run two of them, but I don't have them set up in stereo. Our front-of-house guy makes them stereo in the mix.
Who mods them for you?
It was this guy who was a friend of a friend of a friend and I could never really get him to come out to shows. I've actually never met him and I don't even know his name. It's funny, he's one of these guys who is really good and just shacks up on his own and does his thing. It's a little under the radar. I could probably do some detective work and get his name.
Sounds like a sketchy back-alley deal.
Exactly. [Laughs.] You might get your amp back or you might get a frozen liver. You never know.
YouTube It
During his European tour, Lang broke in "Blew Up (The House)" in front of an appreciative Paris crowd. During his solo (around 2:49) you can see his percussive right-hand attack.